With the advent of cloud technology, facilitating online ordering, and the ongoing COVID outbreak, cloud kitchens suddenly seem like the only logical thing to do to manage high rentals and reduced margins. Cloud kitchen or the digital restaurant is the latest trend that has quickly established itself in the restaurant space as a formidable restaurant format. With the ongoing situation in the restaurant industry, extreme competition, high rentals, and rising costs, Cloud Kitchens seems like a smarter way to run the restaurant business. According to statistics, the Global Cloud Kitchen Market size is estimated to reach USD 71.4 Billion by 2027, with a CAGR of 12.0% from 2021 to 2027. This shows the immense potential this wonder format holds. In this article, we will discuss in detail what exactly is a cloud kitchen, and all you need to know to open a cloud kitchen business.
1.

What is a Cloud Kitchen & How Does It Function?
A cloud kitchen is primarily a restaurant kitchen that accepts incoming orders only through online ordering systems and offers no dine-in facility. Cloud kitchens are also known as dark kitchens, ghost kitchens, virtual restaurants, and satellite kitchens. Cloud kitchens are typically located
Understand the complete operations of the cloud kitchen model here.
Cloud kitchens can have their own online ordering website and online ordering app, or they can accept orders through various food delivery platforms. Since the primary source of revenue for these internet restaurants is through the different food ordering platforms, such as Swiggy, Zomato, etc., it is essential to have a Point of Sales software that accepts orders from multiple sources. This would save you the hassle of manually adding and calculating orders from different ordering services at the end of each day.
Faasos by Rebel Foods, Hoi Foods, and Biryani By Kilo, are some of the famous examples of Cloud Kitchens.
2.

All You Need To Know About How To Open A Cloud Kitchen In India
In this article, we will take you through the investments, licenses required, type of location, and everything else you need to know about how to open your very own cloud kitchen. 
2.1. Deciding The Location Of The Cloud Kitchen Restaurant
The primary reason behind the low investment needed to open a cloud kitchen is the real estate cost. Location is the biggest differentiator that reduces the cost of opening a cloud kitchen as compared to a traditional dine-in restaurant.
In the cloud kitchen model, the location doesn't have to do anything with footfalls, parking space, and high-end site. However, it does have a lot to do with proper sanitation and water supply with low rentals.
Also, the location should be chosen based on the customer demography and the type of food product that you are selling. The cloud kitchen should be located where there is a high demand for the food that you'd be offering. For instance
📚 Suggested Read: 11 Things to Consider While Deciding Your Restaurant's Location
2.2. Implementing The Online Food Ordering
Once you have decided on the location, you need to decide on the technology to accept orders. There are many online ordering and delivery platforms such as Swiggy, Zomato, Foodpanda, etc. that accept online orders on your behalf and also deliver the food to your customers. These companies usually charge 18-30% of your revenue per order. There is also a one-time integration fee involved for some FoodTech companies.
Since a cloud kitchen relies solely on its online presence to draw in customers, a website with the option to order food online is an absolute must. Various website developers can build a well-optimized website for you. However, you can also go for the services provided at Posist, which also gets integrated with your POS software, which further increases your efficiency in taking orders and managing customers. Also, customers can track their orders on a real-time basis.
2.3. Acquiring The Licenses For The Online Kitchens
Licensing is an integral part of setting up a restaurant. Few licenses are essential to procure in the first month of operations for a hassle-free business. These are FSSAI license, GST Registration, Municipal health trade licenses, fire licenses, etc. It is advised to hire an agency to apply for all the permits because it is the most tedious and time-consuming task. Apart from this rest of the permits would cost you around Rs 10,000 (if the FSSAI license is applied for one year)
📚 Suggested Read: All You Need To Know To Run A Successful Food Delivery Business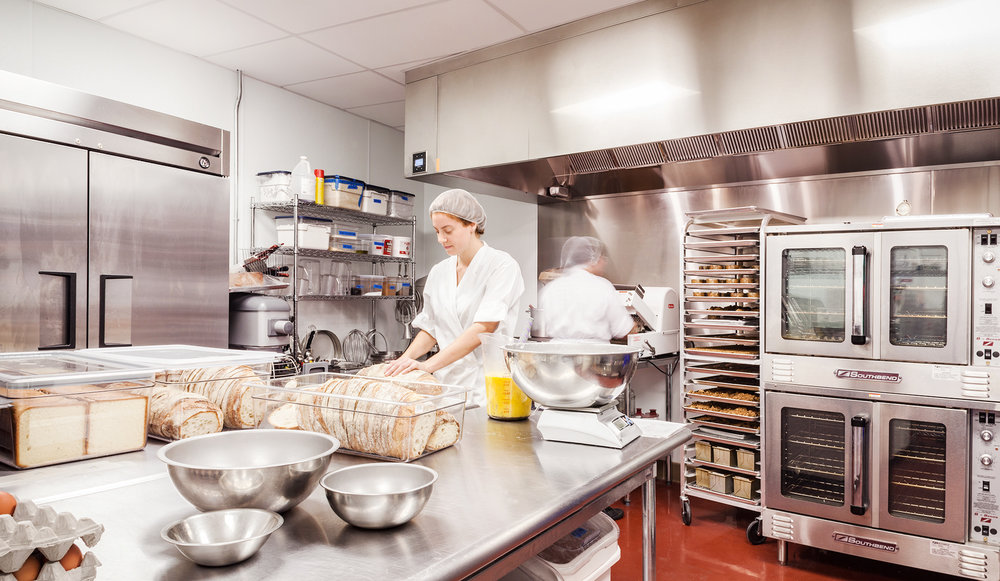 2.4. Kitchen Equipment, Raw Materials, And Packaging Needed For A Cloud Kitchen
The cost of setting up the kitchen will vary depending upon the cuisine and food you are offering. For example, the cost of setting up a cloud kitchen that wants to serve items like burgers, Pizza, Pasta, and Sandwiches will not cost more than Rs 2,00,000.
If you spend wisely on equipment by procuring new electronic items and old equipment such as tables, racks, and storing shelves, you can save up a lot of money. The cost can go up because of the heavy equipment like a chimney, deep refrigerators, and burners. If you are planning to run multiple brands from the same kitchen, you can leverage the same kitchen equipment and resources for multiple brands. This would help you save on the equipment cost.
Here is how you can choose the kitchen equipment for your cloud kitchen
Raw materials required to start the cloud kitchen operations depend on the type of food you're offering It is important to choose the right vendors at this stage for the raw materials.
You should allocate an extra budget for packaging as it plays a crucial role in creating a brand recall for the customers. The packaging must be sturdy to preserve the quality of the food during the delivery.
Since you are no longer able to provide a physical guest experience, packaging should leave a good impression on the minds of the customers. Ensure that the packaging contains your restaurant's logo and reflects the theme and concept of your restaurant.
📚 Suggested Read: Use The Right Food Delivery Packaging To Convey Quality And Create Brand Recall
2.5. Staff Requirement In A Cloud Kitchen Restaurant
The secret sauce behind a successful restaurant is the team that works for it, with the Chef being the most critical part of the team, as they not only prepare the food but also help in designing the menu. In an online kitchen, a minimum of five employees is required. You'd need at least two chefs, two helpers, and one housekeeper. The salary of the staff depends on their experience.
The average salary of the Chef at Commis level 1 is Rs 14000- Rs 15000, while that of helpers and other staff salary range between Rs 6000- Rs 8000 based on their work. Apart from the kitchen staff, two employees at the delivery and one at the counter for receiving online and telephonic orders are required. Here we would also like to recommend you to partner with the third-party delivery services which work on a per-order basis.
2.6. Staff Uniform For Cloud Kitchen Employees
For a cloud kitchen, one may feel that a staff uniform is not required. However, it is still heavily recommended to have a dress code for maintaining discipline, cleanliness, and hygiene. Also, provide your cloud kitchen staff with essential hygiene and safety standards equipment such as masks, hair caps, and gloves.
2.7. Point Of Sale Technology Needed For A Cloud Kitchen
The entire online food ordering and delivery system is heavily dependent on the proper acceptance of food orders. It is also essential to keep track of the number of orders incoming from the various online ordering platforms. Tracking of orders and detailed reporting is essential for the smooth functioning of restaurants. Select a POS that is customized to suit the requirements of the online ordering website. The one we recommend is our very own Posist software, which is hardware-independent and completely browser-based. You can use any web-enabled device such as a computer, laptop, tablet, or even your mobile to generate the bills.
📚 Suggested Read: How To Effectively Manage Multiple Cloud Kitchen Brands
2.8. Mobile Phones And Other Miscellaneous Items
An online kitchen requires a board line, mobile phones, high-speed internet, stationery, small counters, and chairs. Apart from that, you can also get a Cloud Telephony subscription that ensures that no call gets missed. You can also record the call for training purposes.
2.9. Marketing Required For A Cloud Kitchen
Proper marketing and advertisement are essential to the success of a restaurant. For a cloud kitchen, marketing becomes even more necessary as it becomes the single source of getting orders. Since you are not spending on location and other maintenance costs, you can keep a sum aside for marketing. Online marketing works in favor of cloud kitchens quite well. The first thing you need to do is to get your restaurant registered on restaurant listing and review sites such as Zomato, Tripadvisor, Burrp, etc., and encourage positive reviews from your regulars. You can also try Facebook for advertising exclusive deals and discounts.
3. How Much Does It Cost To Start A Cloud Kitchen
Cloud kitchens use a hub-and-spoke system to deliver food where your customers are. Since dine-ins are not allowed in cloud kitchens, restaurants can save money on assets such as furniture and employee costs. In India, it costs about three times as much to set up a restaurant as it does to set up a cloud kitchen.
There are two parts to a cloud kitchen's costs – operations and marketing activities.
To start a franchise unit of a cloud kitchen, you need approximately Rs 30 lakhs. The rent for an area of 150 to 300 sq ft is Rs 45,000 to 1 lakh, which can be reduced to Rs 7 lakh if you lease it annually. The cost of equipment is somewhere between Rs 3.5–4 lakh. The interiors cost between Rs 2.5–3 lakh. Expenses such as license, registration, and security deposit should cost no more than Rs 2 lakh. Plus, running the kitchen costs you somewhere around Rs 1 lakh monthly if you employ seven–eight people for every shift.
You can use the remaining funds for marketing and sales, such as getting new customers online, social media marketing, branding, packaging, point of sale, and inventory. The good thing about marketing for a cloud kitchen is that it isn't expensive. Building a social media presence requires approximately Rs 30,000 per month. Branding and packaging costs are in the range of Rs 50–60,000. You also need to consider the third-party aggregator cost – aggregators such as Zomato and Swiggy charge only when a customer clicks on their listing.
4. How To Start A Cloud Kitchen From Home?
Starting a cloud kitchen from home, like any other business, may sound exciting but requires much work. First, you'll need to understand the costs involved, which will depend on your location and the size of your operation. These costs cover kitchen equipment, permits, marketing, and the technology needed for online orders and deliveries.
Here are a few more suggestions to get you started:
Location and equipment: Ensure your kitchen is large enough to fit all necessary pieces of equipment. Besides essential equipment—such as a stove and oven, a refrigerator, cutting counters, and knives—you would need some additional equipment, such as electric fryers, mixers, shelves, and an exhaust hood. Lastly, ensure your kitchen is adequately ventilated to reduce toxic emissions, stuffy air, and stale odors.
Food safety and hygiene: You must adhere to stringent food safety and hygiene regulations, especially at home, where it is easy to become lax. This includes keeping the kitchen and equipment clean and sanitized, and adequately storing and labeling food.
Legal and regulatory requirements: You need several legal and regulations to start a cloud kitchen from home. Depending on your location, you may require permits, licenses, and certificates from your local government, health department, and food safety agencies. So, checking the rules in your area before starting a cloud kitchen is essential.
Logistics and delivery: You must have a reliable logistics and delivery system. You also want to ensure the food is delivered on time and the presentation is not ruined. This might require collaborating with dependable delivery partners or investing in your distribution system.
Marketing and branding: Due to the lack of a physical location, your website is the first thing people notice about your cloud kitchen. So, invest in the user interface of your website and keep it up-to-date with captivating images and descriptions. Plus, you can create loyalty programs to improve customer retention.
With the wave of technology hitting the restaurant industry, we can assure you that the cloud kitchen trend is here to stay, and would only evolve multiple folds from here. While cloud kitchen formats are indeed one of the most profitable restaurant formats, with minimum risks involved, you still need to stay on your toes to make it a success. Employ these tips to increase the sales of your online restaurant, and let us know how they worked out for you.