The restaurant industry has been badly hit by COVID-19. Looking at the future, dining at restaurants may never be the same again. Dining out, which was once a luxury and convenience for the consumers, has now become a thing of worry. On the other hand, food delivery services, whose path to profitability was questionable, have now become a permanent part of the landscape, and restaurant players are taking all the possible measures to gain the customers' confidence. What should restaurants operators do to reassure customers? Will consumers prefer delivery over dine-in, or will things return to normal? Let's explore how restaurants can adapt themselves to meet the challenges of the new normal. 
Dine-in Or Takeaway: The Future of Restaurants Beyond COVID-19
Dining services and food delivery are explicitly becoming necessities. They are not defined in terms of convenience by consumers anymore. The ability to scroll through a broader selection of multichannel offerings is going to be the baseline of the marketplace in the future. Therefore, to capitalize on this trend, restaurants have to leverage customer education by communicating the safety measures they are taking to keep customers and employees safe. Here are some of the ways how restaurants can win customers' trust while ensuring their safety. 
Update Operating Procedures
As restaurant businesses are proactively reopening, operators must create updated standard operating procedures that provide a safe environment and also serve to reassure potentially concerned customers. It has to be ensured that hygiene and safety protocols are visible throughout the restaurant.
Operators can also create processes that improve labor efficiency and align with shifts in customer behavior. While restarting the dine-in services, an essential task that restaurateurs would have to take care of is bringing back furloughed staff in a way that it matches the restaurant's new needs with their skills. So, don't forget to provide staff training in order to align them to changing operational requirements.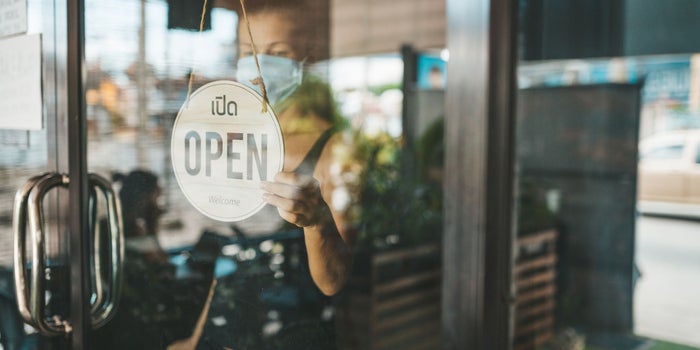 Optimize Delivery business
A substantial number of restaurant brands realized that delivery services have become a primary pillar for survival. According to a survey by Posist, 40% of dine-in restaurants started delivery services post COVID-19. 
In spite of dine-in options restarting, food delivery services are probably going to endure indefinitely. Therefore, it is advisable for restaurants to develop a long term strategy to streamline their delivery and pickup processes. Establish highly efficient delivery processes, partner with third-party aggregators, access end-user data, and utilize cost-effective packaging to make it as convenient as possible for the consumers.
Use a segmented approach
To entice customers back to on-premise dining, it is vital to implement a tailor-made approach to each customer segment. An effective way to do this is by sending them customized messages with information such as your restaurant timings, safety measures your restaurant is adopting, and details about any new changes to the dining experience.
Include loyalty-driven price promotions and offers featuring the most popular items and offer personalized options. Ensure that your digital presence is consistent across all platforms. Optimize your restaurant's menu so that it is well-aligned with the digital platforms such as in-premise QR code ordering, ordering via the app, food aggregator platforms, etc. 
Planning The Roadmap ahead
With effective Standard Operating Procedures (SOPs), that include hygiene checks, social distancing rules, tech-friendly service, reduction in the guest capacity, etc, every restaurateur needs to prepare a roadmap for the future.
The pandemic effect will be a significant deciding factor in how restaurants adapt to the changing paradigm. The new normal in the restaurant industry has to be addressed from a modified and enhanced socio-economic perspective that promises a better use of supply chain and labor implies a redesign based on limitations and enhances customer satisfaction while keeping in lieu of the overall deliverables business. 
To boost the restaurant business, it has to be ensured that menu prices are manageable, and both dine-in and delivery services are streamlined for consumers. Whether it's a fine dining restaurant format, casual dining restaurant, QSR, or a cloud kitchen format, it is highly essential to formulate strategies that focus on automation, hygiene, and proper implementation. 
On An Ending Note
The F&B industry has faced severe challenges during the pandemic, including sharp revenue declines to tremendous labor losses as well as some permanent closures. However, there is hope that beyond COVID-19, the restaurant experience will once again become popular with consumers. Thinking long term and effectively implementing process optimization measures will go a long way towards preserving business through this crisis and enable restaurants to continue serving customers.