Cloud kitchens have become a new trend in the past few years. According to statistics, the Global Cloud Kitchen Market size is estimated to reach USD 71.4 Billion by 2027, with a CAGR of 12.0% from 2021 to 2027. While it does not take much to start a cloud kitchen, one must realize that there are possibilities that your venture might turn into a complete failure. To avoid any such instances, you must know what all are the necessary prerequisites and cloud kitchen marketing ideas that will help you to increase the sales of your cloud kitchen and make sure that your restaurant blossoms.
What Is A Cloud Kitchen?
A Cloud Kitchen, or a Delivery Kitchen, is a restaurant where there is no physical outlet, and the food is prepared for all sorts of deliveries. Orders are accepted through online ordering aggregators and websites. There can also be several brands or restaurants operating in the same outlet.
In a cloud kitchen, the number of restaurants serving can be more than one. For example, if a restaurateur who owns a delivery kitchen specializing in Chinese Cuisine decides that he should start delivering Mexican food as well, he can create a different brand under the same parent company. Instead of adding Mexican to the current menu, he can operate a different brand that sells Mexican from the same delivery kitchen.
To know more regarding what cloud kitchens are and how they operate, read Cloud Kitchen Restaurants Decoded: All You Need to Know About Cloud & Delivery Kitchens.
Cloud Kitchen Marketing Ideas: Proven Tips To Boost The Sales Of Cloud Kitchen 
While cloud kitchens are a very lucrative domain to venture into, you can very quickly make a few blunders that will lead to the downfall of your business. To avoid any mishappenings, you should follow these quick tips on cloud kitchen marketing ideas, which will help you to attract and retain more customers.
1. Advertise Well 
A cloud kitchen has no physical outlet, where customers can walk in and dine at. There are no signages or display boards that can attract the people passing by to the restaurant.  
Hence, unless you advertise well enough, there are chances that people will not even be aware that you have started this fantastic kitchen of yours. The ways in which you can advertise your restaurant  are:
Advertise on online food aggregators: Online food aggregators such as Swiggy and Zomato provide a marketplace of restaurants to your customers. Therefore, aggregators are critical for generating online orders. However, the competition is very tough; even online. You need to promote your cloud kitchen on these apps and websites to reach out to your customers.
Run Online Ads: Running paid campaigns on online channels is a great way to boost your cloud kitchen sales. You can run an advertisement on Google and social media platforms to reach out to your potential customers. Remember to include a Call-to-Action in the advertisement banners which leads your customers to your cloud kitchen's online ordering landing page or to your online food aggregator listing.
Develop organic sources of online orders: While you can rely on paid campaigns to create brand awareness and generate your first few orders, you must also develop organic channels of online orders. Having an online-ordering enabled website is critical for a cloud kitchen business. The website must be Search Engine Optimized so that it appears organically whenever someone searches for the type of food you serve.
Take part in events:

If any

food festivals

happening in your city,  set up a stall there and let people taste your food, and spread the news of your arrival through word of mouth
Catering in events can help you catch the attention of many:

Catering at local organizations' events will help you to come into the limelight. Be these events be anything, from

Independence day celebration in your locality,  a local sports event, to school carnival, if you can provide some tantalizing food to the enthusiasts

in these events, they will surely come back to you.

Social Media Presence is a must:

In today's time, if you want to get in touch with all the potential customers out there, you must have a strong social media presence.

Create your social media pages, and post mouth-watering images and videos of your food items to attract customers.

2. Offer Something Unique
Since restaurants are cropping up like swarms of locusts everywhere, you must provide your customers with something that others in your area are not. Select a cuisine that is new to the locals of your vicinity. For example, if there isn't any place to satiate the taste buds of your customers with some mouth-watering Northeastern cuisine, then you can try and introduce this cuisine to the people. Unless you can offer people something out of the box, why do you think people will choose your cloud kitchen over other restaurants?
3. Do Not Compromise On Quality
While quality remains one of the main things that helps you retain your customers, it is needless to say, that its importance is even more in a cloud kitchen. This is because, since it is a cloud kitchen, people generally expect home-cooked food, whose quality is exceptionally high. Unless you can make your customers feel that they are eating from their own kitchen, you can hardly expect them to come back to you.
4. Integrate With Online Delivery Platforms
Delivery is the main thing in a cloud kitchen; hence it is very important for you to have the right personnel in place. Instead of just relying on your in-house delivery boys, integrate your cloud kitchen with the various online delivery platforms. This will not only help you to get a better online presence and make you more credible but will also help you to come right in front of all your potential customers who might be hovering on these platforms like Zomato, Swiggy to quench their hunger.
Moreover, delegating the task of delivering your food to the doorsteps of your customers to these delivery agencies will reduce the wastage of a lot of your energy and resources, which you can then use to bolster your cloud kitchen further.
Here are some Quick Tips to Master the Online Ordering and Delivery System of Your Restaurant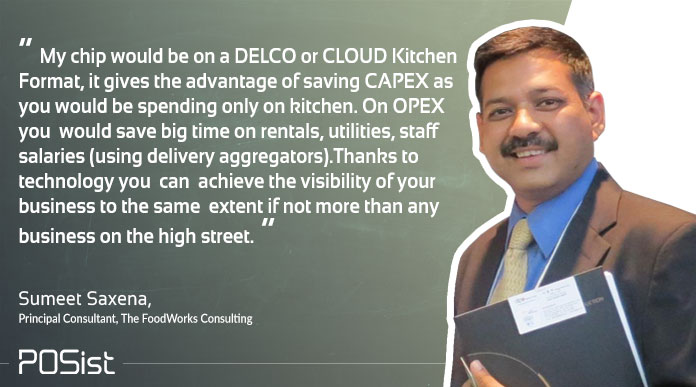 With the ongoing Covid outbreak and the spur of online food delivery, The growth of the cloud kitchen has been commendable. The recent changes in the restaurant fraternity have clearly shown that the cloud kitchen format is on a steady rise. The model is expected to be a significant factor in augmenting online delivery even more.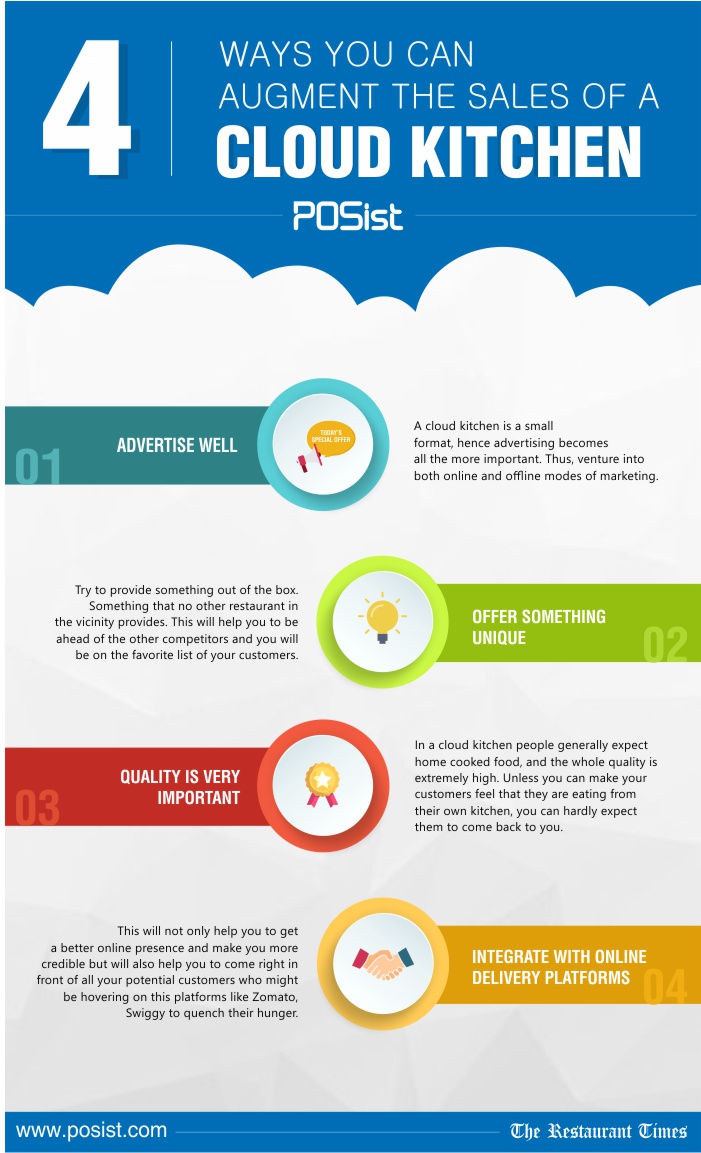 5. Manage Online Reviews and Ratings 
Entrepreneurs need to know how important online customer reviews are because they serve the same purpose as word of mouth. Positive reviews can help the cloud kitchen's reputation and also boost sales. Customers usually rely on the reviews on a search engine or a third-party app for food delivery to help them decide what to order. 
Additionally, to get a competitive edge, restaurant owners can connect with influencers who play a big role in promoting a business on social media, given their large number of followers.
6. Make it Simple to Order Online
Your website is where customers order food online, and it is like a silent server. It's what people will notice first about your brand. It's even more important for cloud kitchens because your website is the main way customers can reach you instead of a physical location. 
Make it easy for your customers to order from you online. Invest in the user interface of your website and keep it up-to-date with enticing pictures and descriptions.
7. Listen to Customer Feedback
Even though restaurants are built on careful planning and well-thought-out ideas, the industry is ultimately shaped by customers. If you want to be successful, you have to change to meet your customers' needs while staying true to who you are. 
Review your performance, pay attention to consumer feedback, and learn from reports. It will help you improve your menu, come up with the right deals and discounts to attract more customers, and plan for your busiest and most profitable days.
This is how you can bolster the sales of your cloud kitchen with these stellar cloud kitchen marketing ideas. While all you need to do and focus on isn't much, but there are a few intricacies which if you give heed to can help you to pave a very prosperous future for your cloud kitchen.