The restaurant industry has been on a roller-coaster ride, ever since the introduction of online food aggregators. Due to the fast increasing opportunities in the business, more and more people are willing to get into the restaurant space. Along with the upsurge of people dining out, the increase in demand for online delivery has significantly increased. Since online food aggregators are also expanding to tier-II and tier-III cities, even the restaurateurs of smaller cities are planning to tie up with them. Therefore, it becomes important to understand how to leverage these online food aggregators to be on top of the cloud kitchens marketing game! 
The process of tying up with online food aggregators is pretty simple. All you need to do is go to their website and ensure that you fill in all the required details. Here is the direct link for you to click on, to partner with the most commonly used online food aggregators in India, https://www.swiggy.com/partner-with-us/.
https://www.zomato.com/partner_with_us
Apart from this, you could also look up other food aggregators online to tie up with. Once you fill up all the required details about your cloud kitchen restaurant, including the license information of your restaurant, a representative of the food aggregator would come to your restaurant to verify the details. After your application is reviewed, you receive a confirmation notification from them and you are all set.  
Delivery-Only Restaurant Marketing On Third-Party Online Food Aggregators 
Once you tie up with them, you need to think of ideas of how to market your cloud kitchens on these platforms. Since there are a number of restaurants joining these platforms, every single day, there is huge competition. It is the right time to increase your restaurant's visibility by running particular marketing campaigns, especially if you have just entered the restaurant space. 
Per Click Bases 
Online food aggregators offer restaurants a way to market their brand on their platform on a per-click basis. Once a restaurant joins an online food aggregator's platform as a paid member, it definitely improves its visibility as the restaurant's listing appears at the top of the list of featured dining options. These online food platforms have a specific section on the top for sponsored marketing. 
The good part about this kind of cloud kitchens marketing is that a restaurant only has to pay these aggregators when a customer clicks on its listing. However, the aggregators do not take any responsibility for the customers ordering from that particular restaurant.
Third-party aggregators may charge an average of Rs 14-17 for each time a customer clicks a particular restaurant's listing.
Many restaurateurs invest an ample portion of their advertising budget to market their brand on food aggregator platforms. Since online ordering in India is on the rise and the market has about an 8% share of the total food industry in India, promoting your cloud kitchens brands on these online food aggregators is definitely a great idea. All you need to do is keep a set budget in your initial phases itself dedicated to the marketing of your restaurant, and you won't have any hurdles. 
One example of such successful restaurant marketing on online food aggregators is a new place in Gurgaon, called Level up! Devesh Pathak, the owner mentions how he dedicated a major chunk of his advertising budget to marketing on one of the online food aggregators.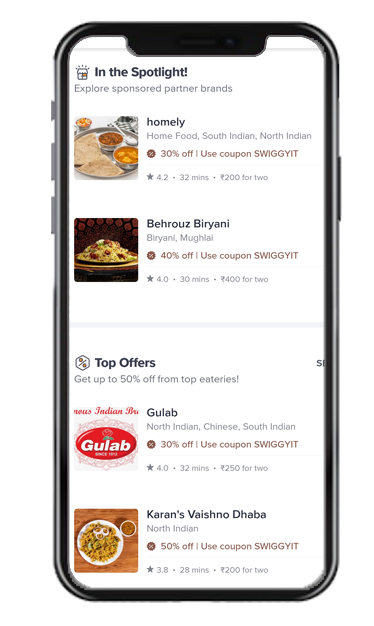 "Since the first thing that people do before actually frequenting a restaurant, is to check it on one of the online food aggregators, us restaurateurs are left with no choice but to market our brand on them in the best possible way. Spending a major chunk of my investment in such marketing has undoubtedly increased my sales to about 40%, and I'm quite happy with that number," adds Pathak. 
Restaurant Marketing Packages On Different Online Food Aggregators 
Online food aggregators offer several restaurant marketing packages for owners to be able to promote their brand at a reasonable price. These packages are majorly based on the number of clicks a restaurant owner wants to achieve in a month or in three months. The payments are made on a monthly or an annual basis. A restaurateur can choose different packages on the basis of his budget and targeted footfall. 
One thing to be noted here is that online food aggregators do not promote the campaigns particular to each restaurant.
So, if your restaurant has a special discount, online food aggregators might not be able to show it to your customers. But nevertheless, if they come with a similar campaign themselves, they might ask their restaurant partners to join them on it. 
Area- Specific Restaurant Marketing   
A great benefit that you get while marketing your cloud kitchen brand on any of the online food aggregators is the area-specific restaurant marketing they carry. These platforms have a dedicated area in their applications where they run sponsored advertisements from restaurant brands. This section is right at the top of the web page, increasing the restaurant's visibility to a great level. 
Within that section on the online food aggregator, there are multiple advertisements for restaurant brands that keep switching. These restaurants have paid for their names to be on the top of online food aggregators' application screen. 
Impact On Your Restaurant Sales 
Online food aggregators help restaurants in two major ways. One, by increasing their visibility. Two, by showcasing all the discounts that a restaurateur has in store for its customers.
Especially if your cloud kitchen is still in its nascent stages, you need to ensure that you spend enough money on increasing your visibility at the start. By making the right first impression to your customers in the initial days, you can build brand awareness and loyalty. Once your brand sets a good reputation among people, the word of mouth publicity may allow you to reduce your cloud kitchens marketing spend.  
All in all, cloud kitchen marketing on online food aggregators has a lot of perks. The only disadvantage of tying up with them is the high margins that they ask for. Apart from that, they undoubtedly increase up your sales. All you need to do is be aware of the ways in which you can promote your restaurant on these platforms and you'll be good to go!