A mélange of people from all over the country, Delhi has a diverse culture, which is also reflected in its eating habits. People are now more open to exploring new experiences, and a host of restaurants have come up to satiate Delhi food lover's inquisitiveness. And it's not just new cuisines that the customers are looking for, but also quirky and innovative ambiance, that gives them a unique and memorable dining experience. This article will serve as a guide to the top theme restaurants in Delhi NCR.
Top Theme Restaurants in Delhi that are a Must-Visit
Let's talk about these 35 super cool cafes and bistros around the hottest areas of Delhi that will give you a new perspective on dining.
1. Social Offline Cafe- (Urban/Collaborative Workspace Theme)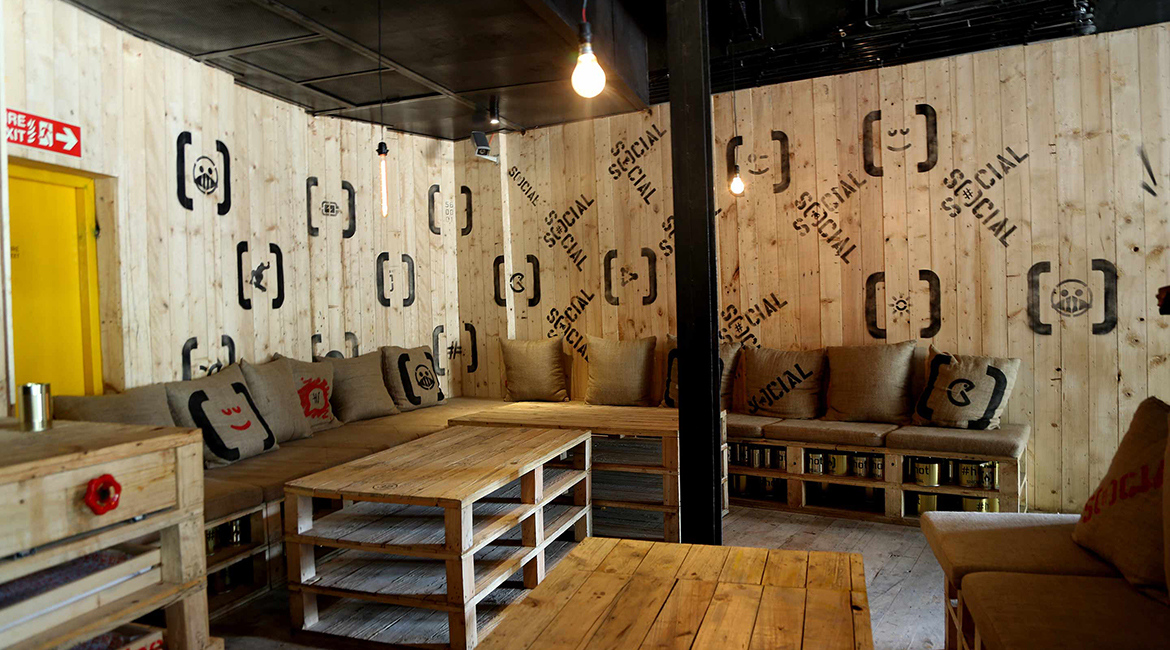 Oh, Cafe? Workplace? or should we call it a Workbar? Well, Social is one Urban hangout with a blend of cafe & workplace that has created a kick amongst the Delhiites. Situated in Hauz Khas Village and next to Delhi Art Gallery, you will find people of different coterie at Social. Having said that, it is known for its ridiculously tasty Cocktails and Music.
2. Soda Bottle Opener Wala- (Quirky Irani/Persian Theme)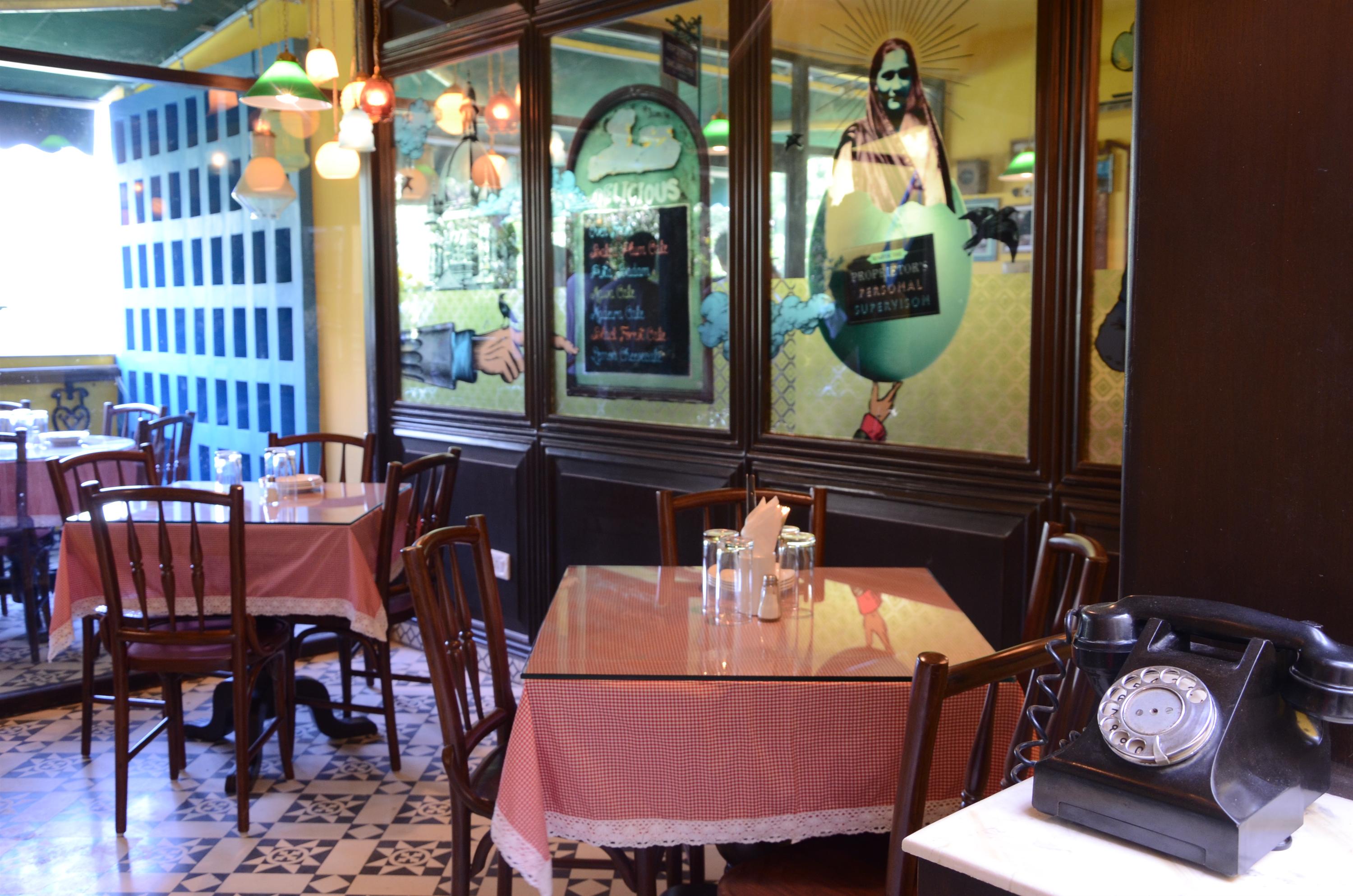 It has quirky, fun and contemporary Irani Style archetype with the menu full of parsi specialities and a hint of Bombay street food. Cafe has some of the delectable dishes like keema pav, Goan fish curry, Parsi kulfi and more. The ambiance will take you back in 1950's Parsi Culture. Its a must visit in Khan Market if you are in for some Parsi delicacies which is inexpensive too.
3. Farzi Cafe- (Artful and Fusionist Theme)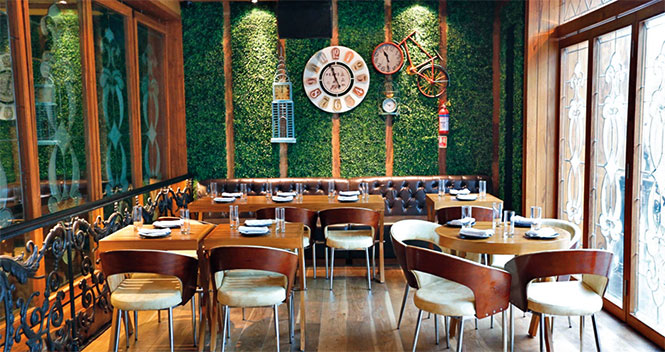 Why Farzi? Farzi Cafe is a fusion of Global & Indian menu and ambiance, yet making it a very chic and modern style cafe. Farzi Café offers a high energy molecular gastronomic culinary style, infused with modern casual dining affair. Also, try your drinks in Farzi style with Chuski margarita and more.
 4. The Biker's Café- (Bike Theme)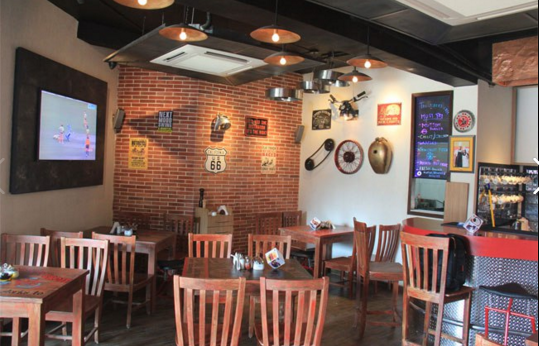 What do you need after a long ride on your bike? Fulfilling food accompanied with drinks and Biker's Café has everything you want. This place has the interiors which might be another home for any biker. With Harley parked infront, and Helmets hanging from the ceiling, will surely make anyone fall in love with the idea of riding bikes! So kickstart your bike, full throttle and meet your fellow bikers at Biker's Den : The Biker's Cafe.
 5. Mamagoto- (Pan Asian Theme)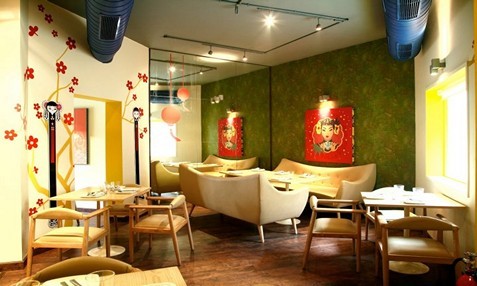 This place will never fail to delight you with the amazing Pan-Asian Menu they have! So are you up for some fun, doozie Japanese & Pan-Asian cuisine with a twist? Step in and you will know everything from their Manga inspired communal and modish decor. The food is not authentic but some experiments done by some MAD scientist, which results in the extensive mind-blowing menu they have. Catering to the popular demand, Mamagoto has a presence in Saket, Khan Market, and Vasant Kunj. Not heavy on pocket and serving portions good enough to be shared.
 6. Imly @ Rajendra Place – (Street Food Stopover – 250 Feet Long Luxury Train)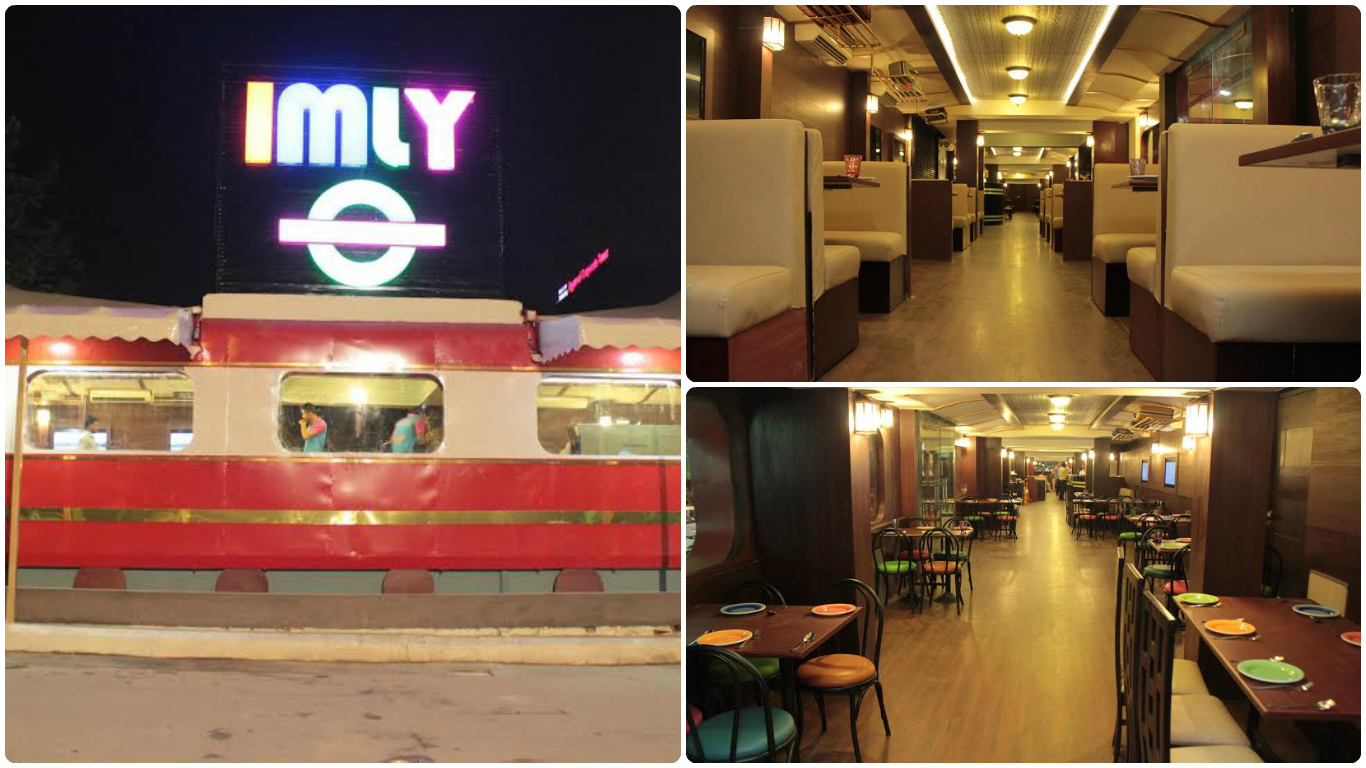 Well, since our childhood most of us were fascinated by Trains. And what do we see now, Parked Train with Street Food served? This vegan and vegetarian restaurant puts a big smile on every street food lover's face. Situated at Rajendra Place, the restaurant is in the shape of a train, offering delicious street food such as chatpatti chaat, Gol Gappas and more. Do book your seat in the train coach before visiting and don't forget to sip on some Buntas.
 7. Boombox Café (Music Theme)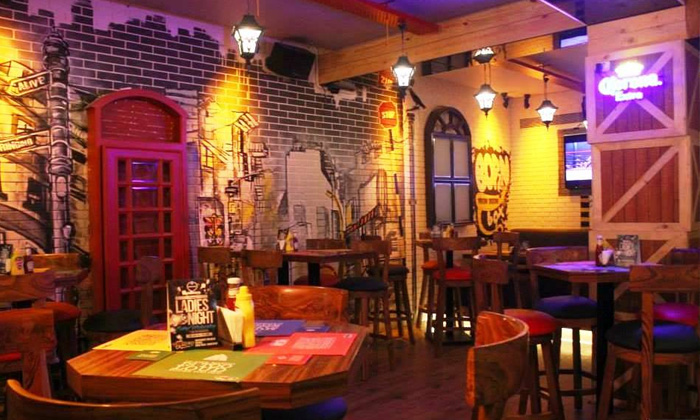 Boombox, what I know is a portable radio with powerful sound mainly used by Hip-Hop Dancers. And if you want to get the feel of it, then Boombox Cafe is the place! The restaurant has a hip hop music theme that is reflected in the interiors. Metal shutters, wall graffiti, and their diverse menu gives a variety of choices to its customers, Also, hit for their fruit based hookah. The Boombox Café has three outlets: in Connaught Place, Khan Market, and Rajouri Garden.
 8. Lights Camera Action- (Chic & Bollywood Theme)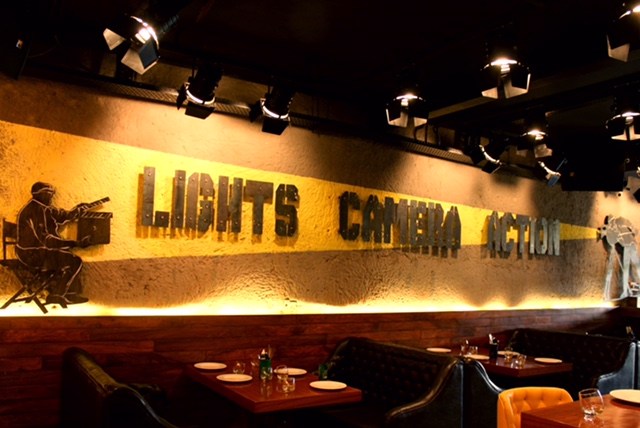 "Lights, Camera, Action!". No no, it's not the traditional cue of a film crew, but a place to be, if you are a foodie and love Bollywood. This place is to look out for if you have craving for filmy dialogues & some Bollywood drama! Boasting of a beautiful terrace lounge, the ambiance goes well with the Bollywood theme along with their tailored dishes influenced from favorite Bollywood movies.
The menu is cleverly designed, with dishes named after popular Bollywood dialogues and songs, giving movie buffs a great filmy time! LCA is situated in Rajouri Garden as well as the Hauz Khas Village.
 9. Lord of the Drinks- (Medieval Theme)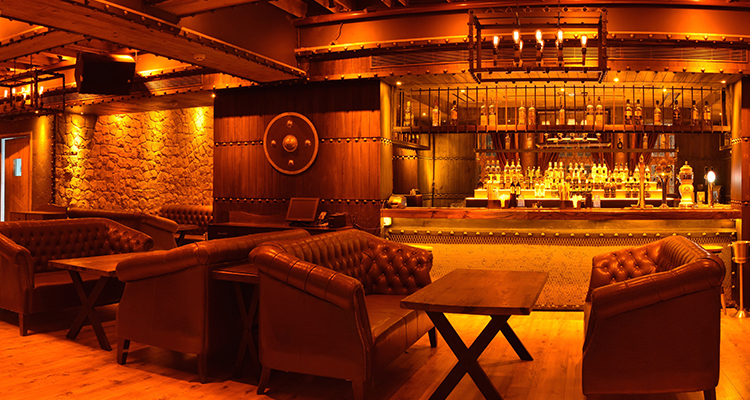 Have you ever traveled back in time? This is exactly the feeling you get when you enter Lord of the Drinks café. Climbing up a dimly lit staircase through a dungeon, welcomed by large wooden interiors, plush brown sofas and scrumptious bar that offers great food, and drinks. Also, if you are looking to making some new friends and sharing your table with strangers, visit this place as it's also known for its community table concept 😉
10. Woodbox Cafe @ Satyaniketan – (Rustic & Vintage/Victorian Theme)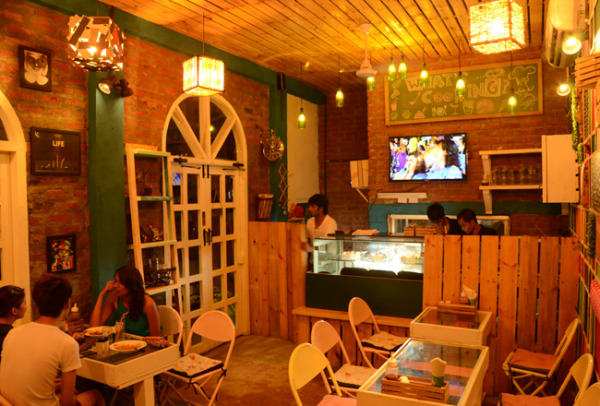 The Woodbox Café at Satyaniketan is loaded with funky items that are made out of recycled materials and elements such as glasses, CD drives, bicycle etc. Well planned and designed interiors attract the young crowd, and delicious food ranging from pastas to cakes keeps bringing back customers again and again.
So Its a cafe for youth which is decked out in wooden interiors, and also, where you will find liqour bottles cut into the shape of glasses.
11. The Vault Cafe @ Connaught Place – (British Colonial & Royal Theme)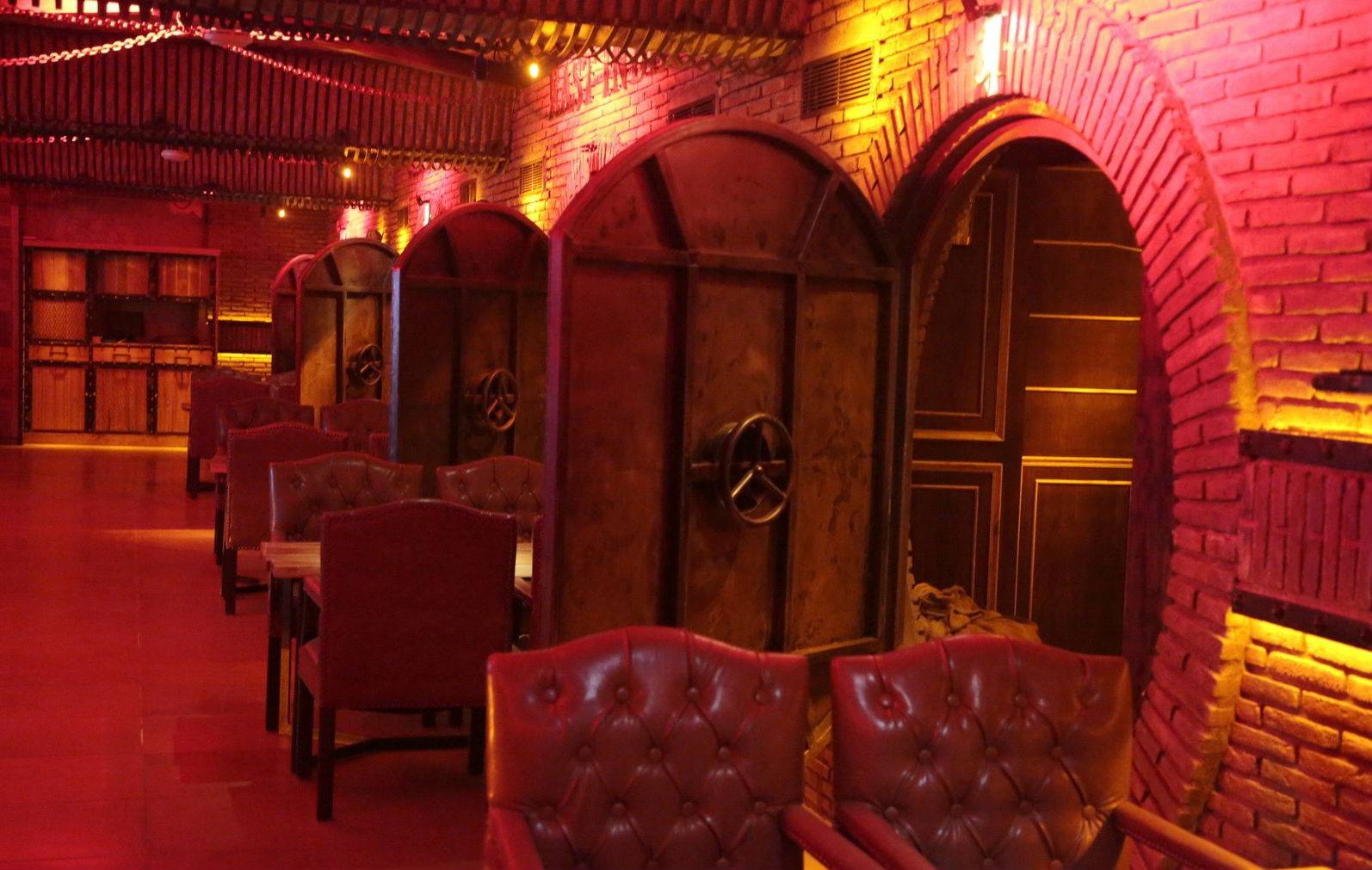 Introducing to you, The Vault Cafe at Connaught Place, which possesses an old heritage appeal to it, by introducing the concept of private vault chambers. So what can be better than sitting in your private chamber/vault and feeling royal as well! Not just that, it has delectable muti-cuisine along with some of their famous drinks like vault blue sea and more.
12. The Big Yellow Door- (Quirky Color Based Theme)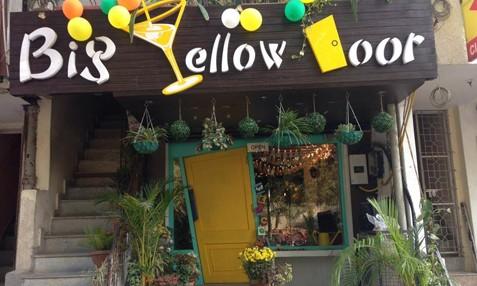 Pocket-friendly food and colorful vibrant interiors combined together can be found here, The Big Yellow Door. This place is popular amongst the DU students, because of its mouth watering food and inexpensive menu. Also, the vibrant yellow exterior attracts more of the young crowd, especially being situated in front of the Venkateswara College. The casual mood of the cafe makes it all the more relaxing and welcoming. The big yellow door at the entrance makes up for all the expectations of the ambiance!
13. Boheme- (Mediterranean Theme)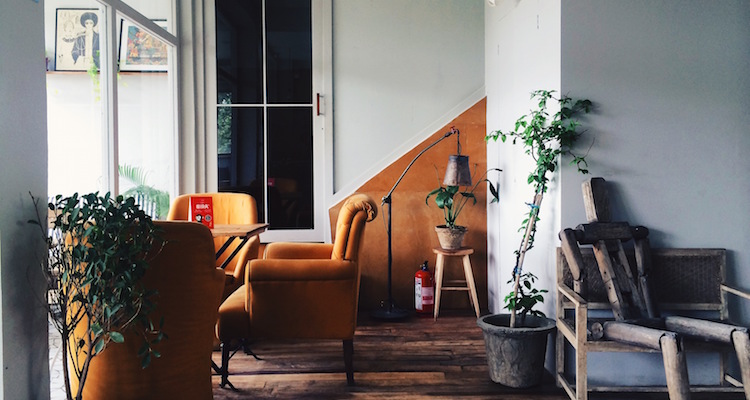 This place will make you fall in love at the first sight. The dim lights and soothing ambiance will make you relaxed after a long tiring day. Boheme radiates freshness with its homely and relaxing interiors, which gives serenity to your senses. The terrace spot is set to uplift your mood and does a great job giving you a complete Mediterranean experience.
14. Uzzuri Deli- (European Street Cafe Theme)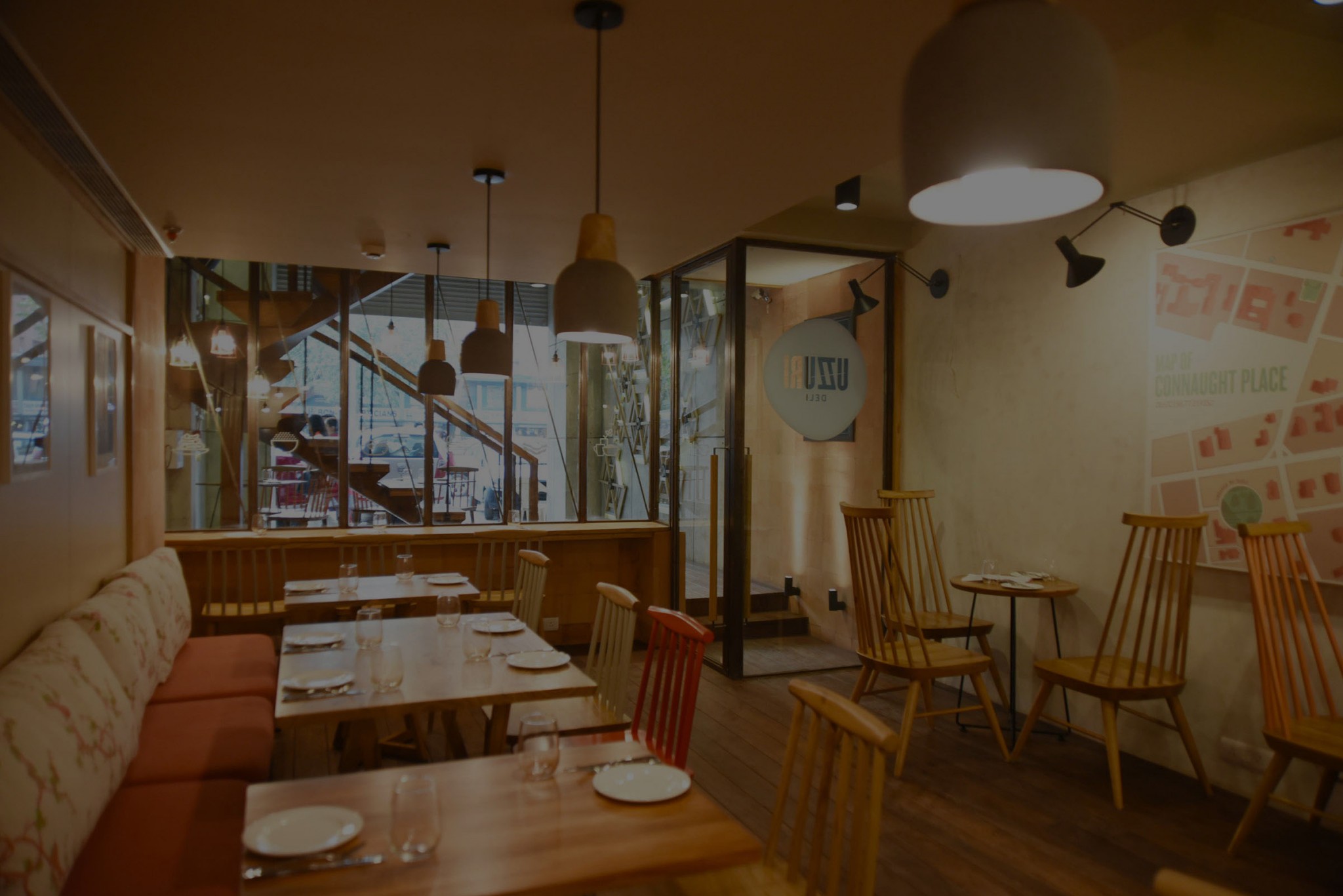 Uzzuri is known for its handcrafted cuisine and cocktails along with the posters on the walls which will tell a lot of stories and uncovering new places for its customers. So not just palatable food, but connoisseurs will have a fun time exploring new places for their next stopover. The place has sophisticated interiors carved of wood and continental style. A visit to Uzzuri will show you the path to your next unplanned journey for more food, & make new friends!
15. Rustom's Cafe & Bakery- (Iranian/Persian Theme)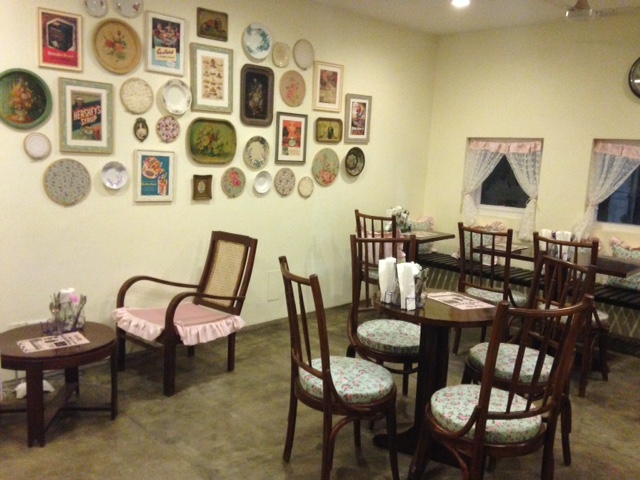 Rustam's Café & Bakery, situated in Malviya Nagar, serves exquisite baked goods rich in true Parsi legacy. The warm and homely ambiance gives authentic Parsi home environment and has been a great hit amongst the customers with a sweet tooth.
The menu has all the forgotten Parsi recipes, not found anywhere. Rustom's is a must visit for its Parsi delicacies, along with the old school classic music like Beatles, Abba.
16. The Chatter House- (Textured & Vintage Theme)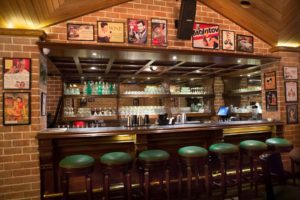 This English pub is surely set to make you tap your shoes on the dance floor with the full bar available at the restaurant. With the entire influence from Europe, it offers a contemporary feel. Located at Nehru Place, The Chatter House offers scrumptious multi-cuisine dishes without burning a hole in your pockets. Also, this gastropub has casual outdoor seating for you to relax.
17. Tabula Beach Cafe- (Exotic Beach Theme)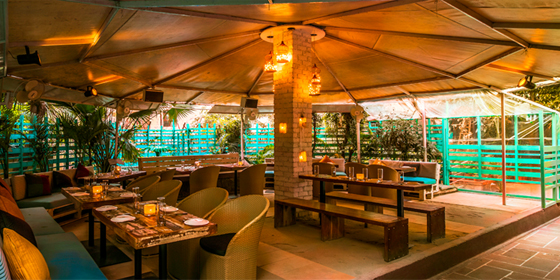 The name says it all. Tabula beach has a beach-like ambiance with amazing indoor & outdoor seating. Not just that, you will find a bar which has cocktails to offer you along with party music going on. This place has events and gigs happening regularly. The decor is simple and yet, elegant with woody touches. A small dance area will bring out your groovy mood. So if you want to get the feeling of sitting at the beach with your favorite cocktail, Tabula beach is the place for you!
18. Smaash Cafe- (Sports & Gaming Theme)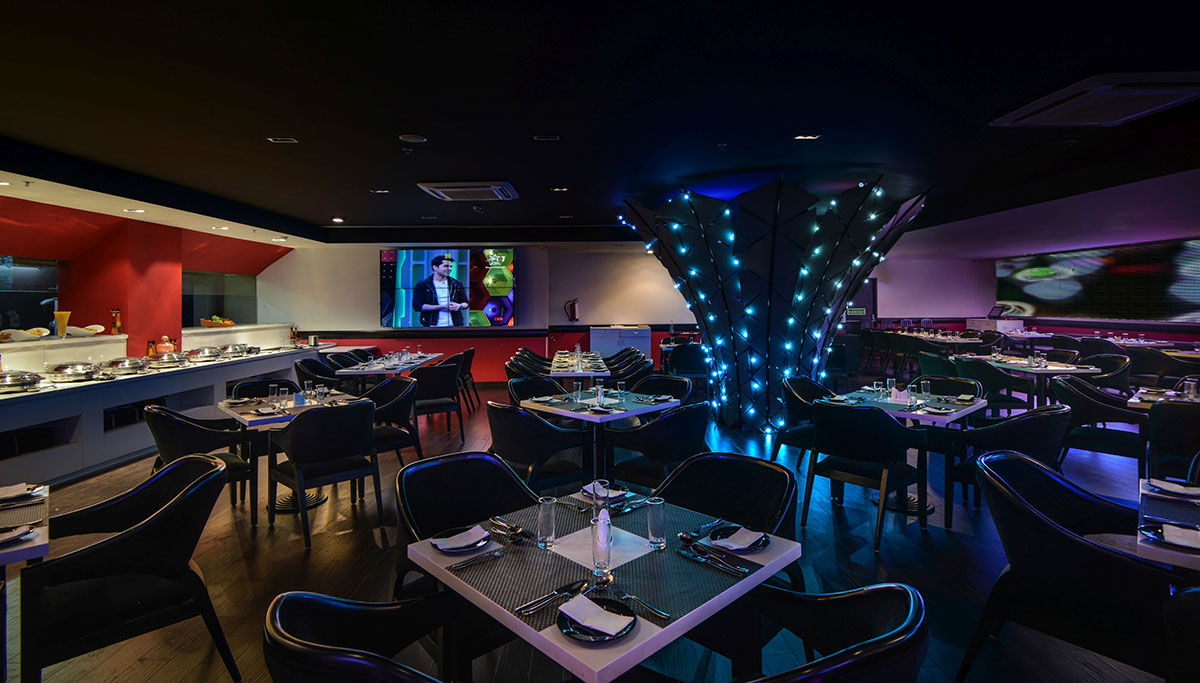 The Smaash Cafe is a family complex with a bowling alley, with multiple sporting options such as Air Hockey, F1 race, cricket and multiple dining choices. Located at Gurgaon, Smaash Café provides a virtual gaming experience to the visitors making it one of top theme restaurants in Delhi NCR. It is a must visit place if you are into sports and are looking for a place that provides complete entertainment.
 19. Lutyen's Cocktail House- (Grandeur & British Theme)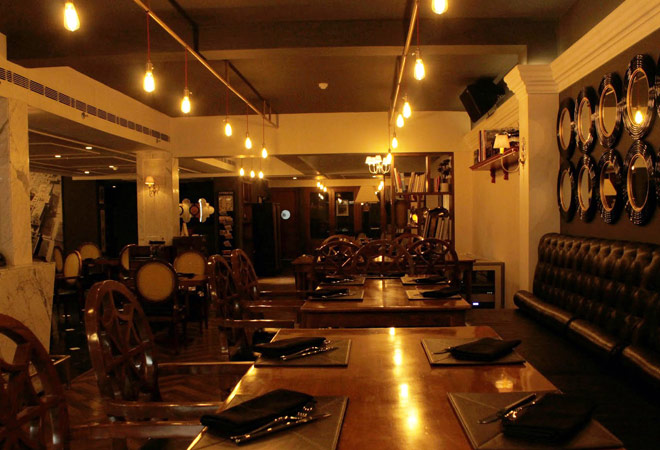 A tribute to Sir Edward Lutyens, the Lutyen's Cocktail House at Janpath is a classic bar, known for its mirrored walls, a large collection of cigars and its grand imperial appeal. Live band lighting up the arena and its cocktails do the magic and keep bringing back the customers.
20. Zambar – (Coastal India/Peninsular Theme)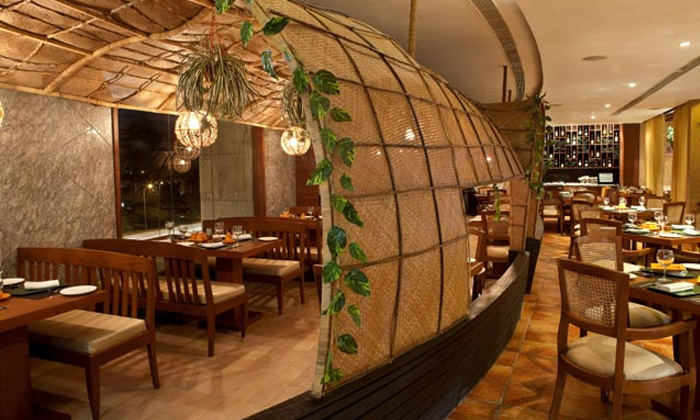 If you are looking forward for an experience of having a scrumptuous lunch or dinner at the backwaters of Kerala or wish to experience the magic of majestic South India, then this place is the one for you! It is designed in a shape of boat house, and takes you through the journey of coastal dining. Zambar at Gurgaon brings some amazing regional delicacies for you and delivers a memorable experience owing to the beautiful décor and ambiance, served with authentic Chettinad, Mangalorean, South Indian, Kuttanad and Madras cuisine.
21. Howzatt- (Sporty Theme)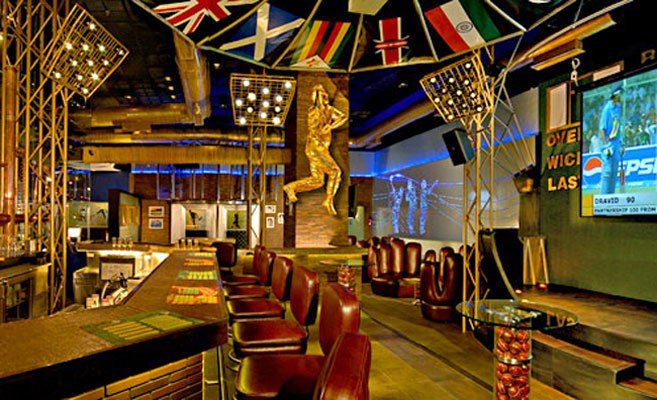 Howzatt at Gurgaon is a super cool pub and a brewery, frequented by the urban young Delhi crowd. Huge projector screens, glove shaped seating and low lighting giving the perfect feel of sitting in a stadium and enjoying a live match is a perfect feast for a sports freak. Flags of different countries adorn the ceiling, giving the place a great sporty look.
22. Mumbai Matinee @ Noida (Movie/Theatre/Bollywood Theme)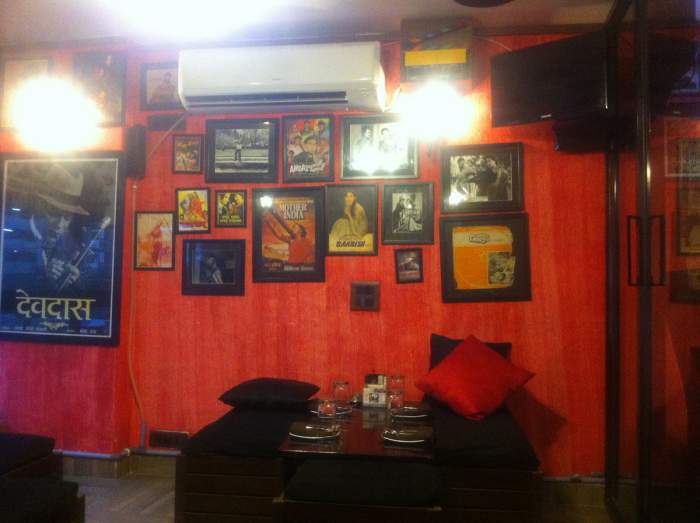 Mumbai Matinee, Noida, is all about movies, actors/actresses and Bollywood drama. The 80' theme, welcoming you with a red velvet curtain and great vinyl mirrors and pictures, posters of epic Bollywood movies and multi cuisine that is set to uplift your mood with great hookah flavors also available.
23. 21 Gun Salute @ Gurgaon – (Retro/Royal Raj Theme)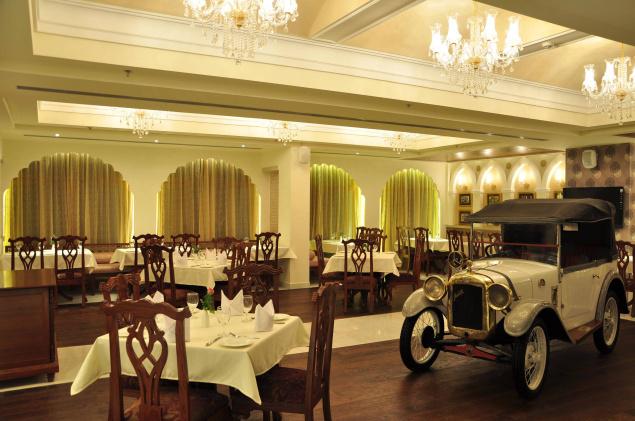 21 Gun Salute at Gurgaon is a lavish retro dining spot that serves Indian and Nepalese dishes. Beautiful historical artifacts and murals on display take your breath away and delight you with the ambiance showcasing the vintage car parked inside. Serving delicious food, the restaurant gives you a complete royal dining experience.
 24. Chor Bizarre- (Vintage Theme)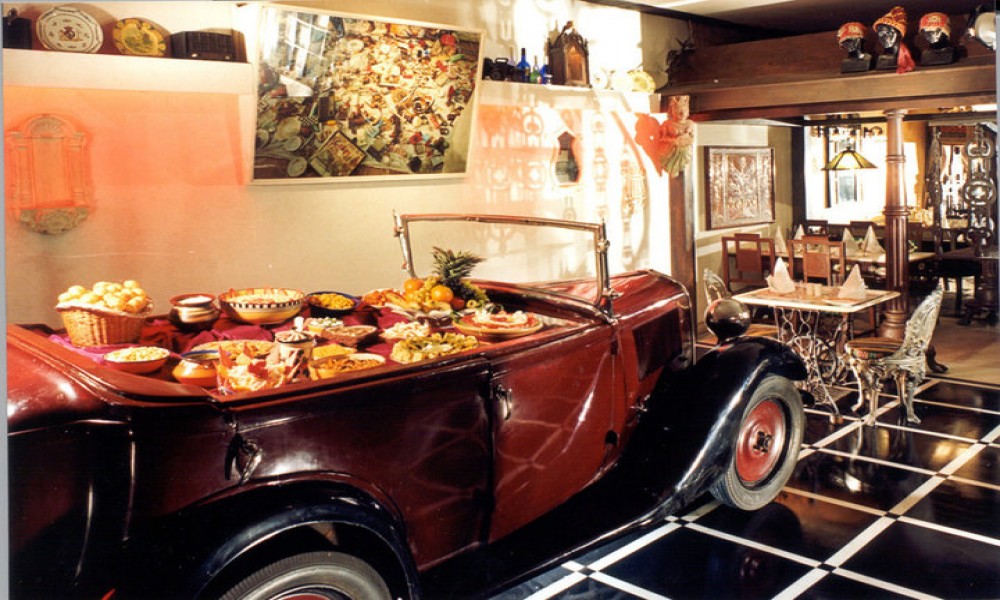 As the name suggests Chor Bizarre, set in Daryaganj is all about vintage creativity. With a car turned into buffet corner and various antiques donning the walls such as watches, lamps and pretty chairs, it looks like a thief market and serves multiple cuisines from all over the India.
25. The California Boulevard- (Hollywood Stardom Theme)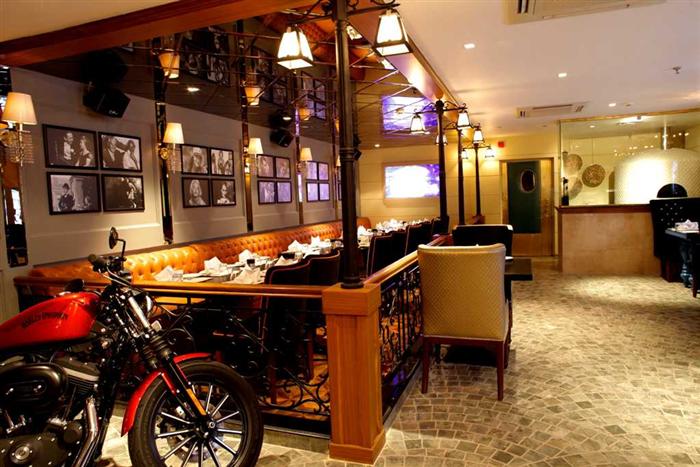 The California Boulevard at Gurgaon is a stylish cafe known for its Hollywood theme and cuisines from 33 countries and the great variety of wines and cocktails that it serves. Old Hollywood movies play on the cinema screen, the bar at the cafe is based out on a tramcar, giving variety and entertainment for all the Hollywood fans.
26. Rodeo Connaught Place – (Mexican Culture Theme)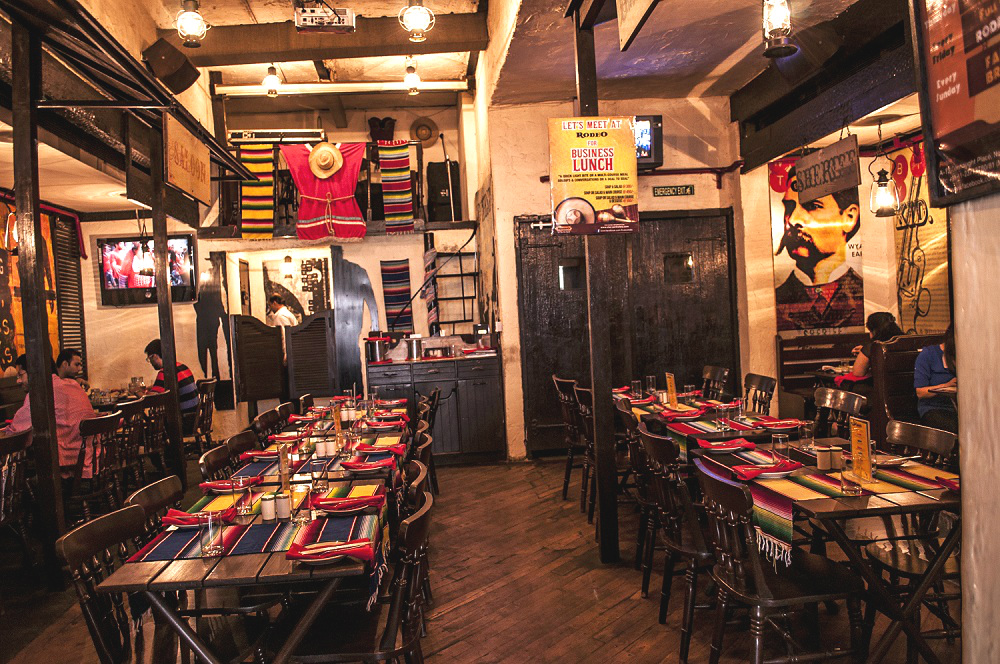 Rodeo at Connaught Place is all about Tex-Mexican food, ambiance, and great service. The Mexican wall art, murals, saddle stools at the bar, heavy wood usage, fake cactus plants and staff attired in the great sombrero hats are an added bonus to the delicious Mexican food served at the restaurant.
27. Yeti- The Himalayan Kitchen (Himalayan and Nepalese Theme)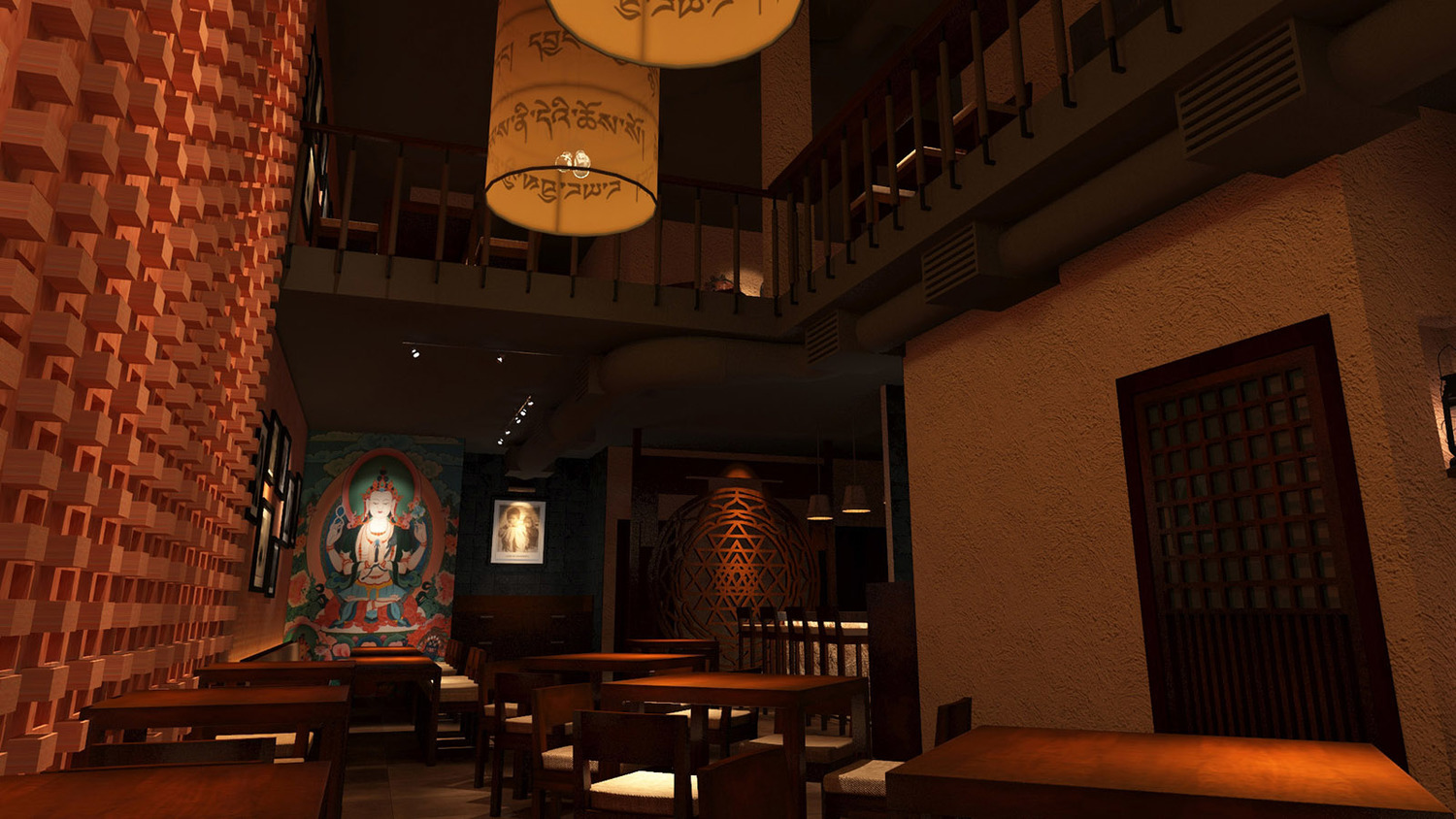 Located in Greater Kailash 2, Yeti the Himalayan Kitchen boasts of authentic Nepalese and Tibetan cuisine, the motif being prominent in their ambiance and theme. The restaurant is sure to take you on a reminiscent journey to the Himalayas.
28. Pirates of the Grill (Pirates/Caribbean/Barbeque Theme)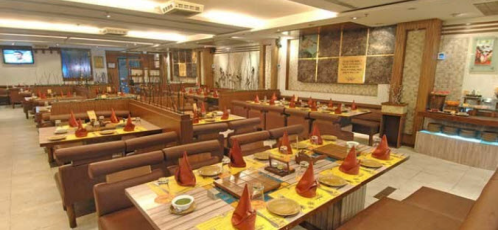 This restaurant is known for its amazing barbeque, and grilled veg and non-veg delicacies and set out in a simple and informal style; it is based on a theme of private pirate's ship along with brown and green color. Situated in Rajouri Garden as well as Gurgaon, it offers a scrumptuous buffet at great prices.
 29. Jungle Jamboree- (Jungle Theme)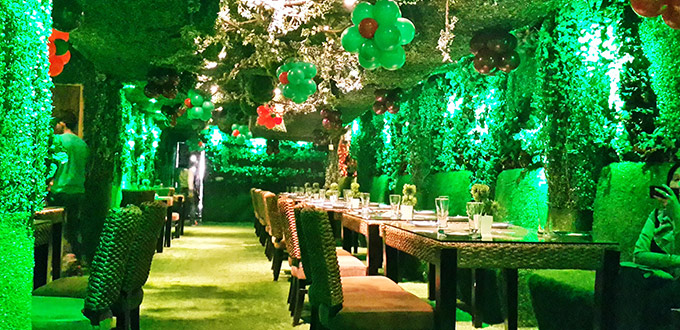 Jungle Jamboree has an ambiance of a jungle and an aqua cave and also has an outdoor space, with the design and decor of a forest. Serving customers at Connaught Place and Gurgaon, it is a very popular restaurant, also known for being kid friendly as well.
30. Garam Dharam- (Bollywood Theme- Inspired by Dharmendra)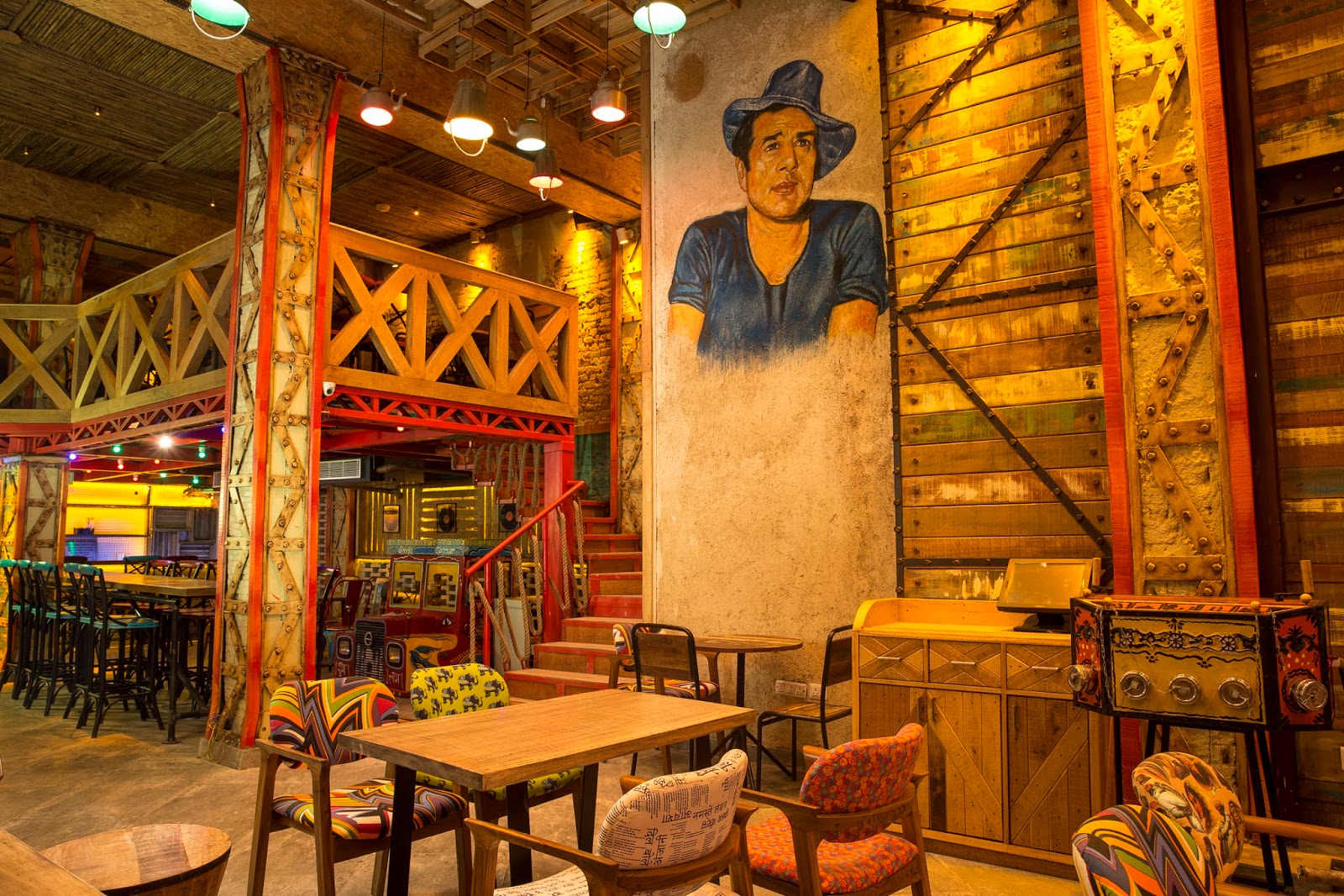 One of the few of its kind, Garam Dharam restaurant is situated at Connaught Place Outer Circle, and as the name suggests, gives a monumental tribute to veteran actor Dharmendra. The desi décor gives a typical dhaba look, and the ambiance is typically Desi Punjabi. A must-visit for Bollywood lovers, and desi food.
31. Café Dalal Street- (Stock Exchange Theme)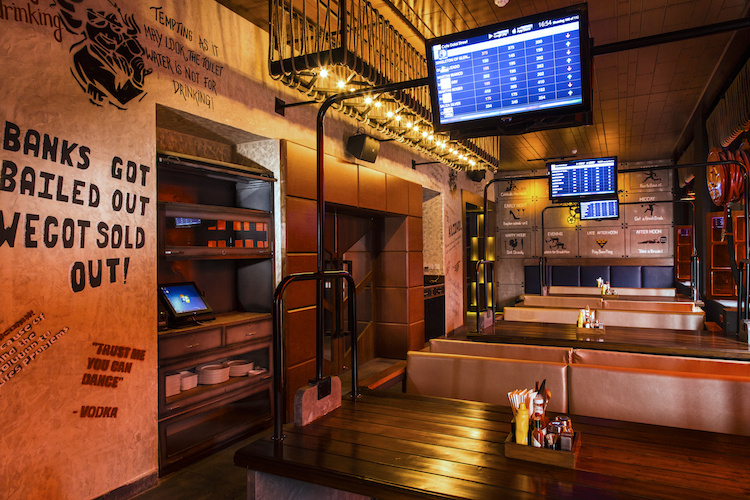 Serving drinks in an innovative way, Café Dalal Street at Connaught Place is a restro bar, where the drink prices rise and fall as per the demand and supply. Customers can monitor the price fluctuations of the drink through the Dalal Street app, and place their order directly.
32. Junkyard Café- (Quirky, Junk Theme)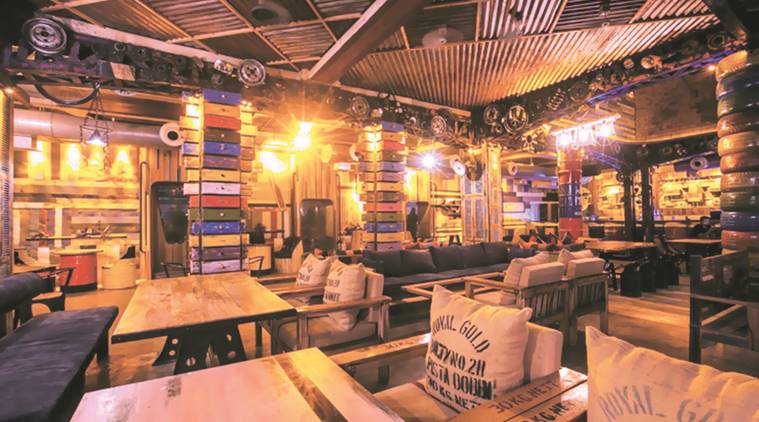 The Junkyard Café, doing justice to its name, has the décor made entirely out of junk. Tires, wooden logs, and barrels give the place a look of an upscale junkyard. Situated at Connaught Place, they have a huge menu, providing a variety of delectable choices to the customers.
33. Filmy Café and Bar- (Bollywood Theme)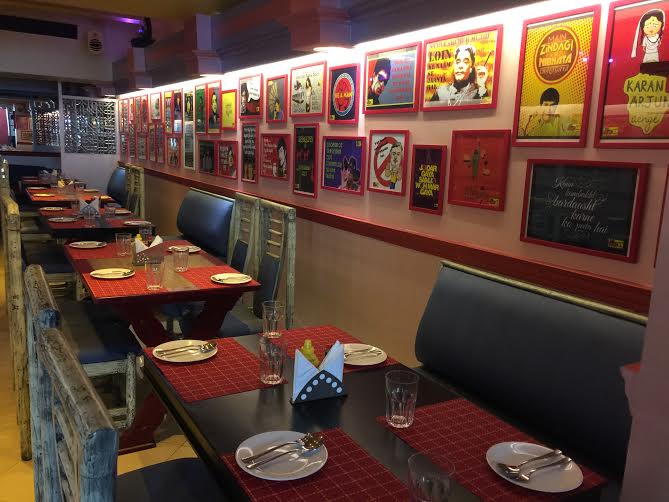 Located in Connaught Place, Filmy Café and Bar is another Bollywood themed restaurant that has become a favorite amongst the customers instantly. The walls are covered with Filmy posters that are sure to delight the movie buff in you. They serve a wide variety of mouth watering dishes and account for a complete entertaining-dining experience.
34. Unplugged Courtyard- (Courtyard Theme)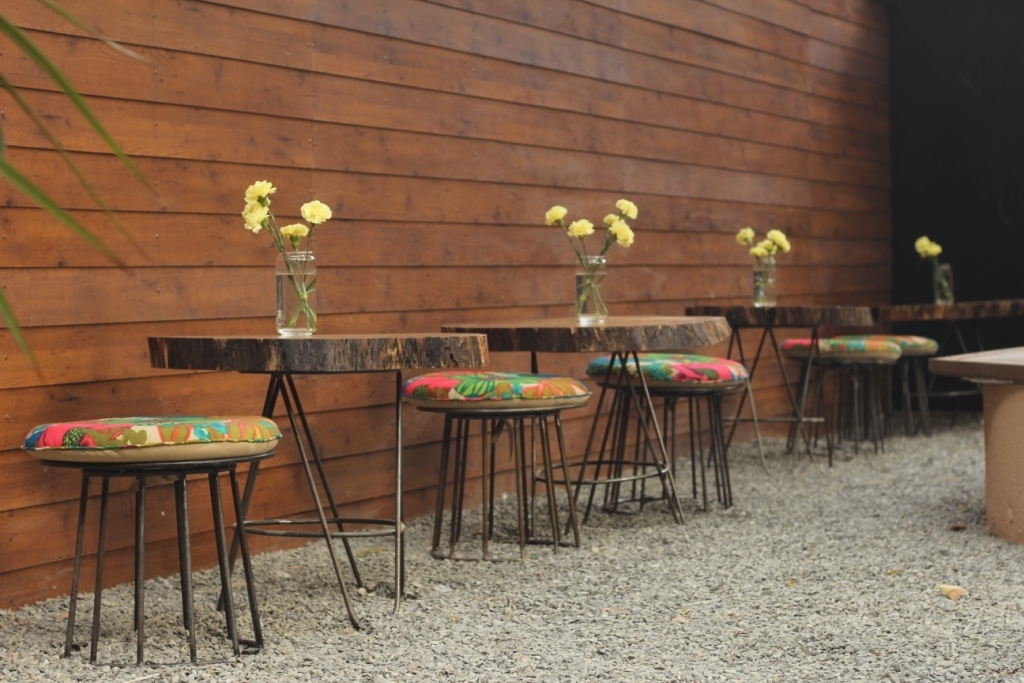 A first of its kind in Delhi, the Unplugged Courtyard in Connaught Place flaunts a beautiful courtyard with a tree. The open courtyard often hosts live performances, and the Mexican Countryside theme works well to give a classic vintage experience. The restaurant has indoor seating as well.
35.  Motorcycle Café- (Motorcycle Theme)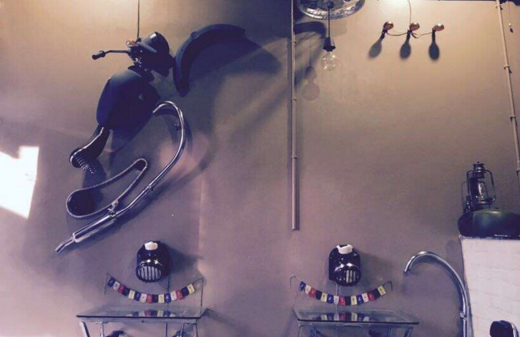 A must visit for bike enthusiast, the Motorcycle Café at Netaji Subhash Place boasts of cool, innovative interiors and great tasting food. The restaurant is largely inspired by the Bullet motorcycle, with a Bullet popping out of the front door, bike seats converted into seating chairs, and tires serving as tables.
Which one of these restaurants is your favorite? Let us know in the comments below!