A well-designed restaurant menu is a critical ingredient in running a profitable restaurant business. Careful planning and placement of items in the menu help not only restaurants to derive profit but also simplifies ordering for your customers Your restaurant menu is so much more than just a piece of paper with the dishes you offer listed on it along with their description and price. When planned carefully, it can act as a means of upselling your dishes as well.
Stellar Menu Design Tips To Craft a Perfect Restaurant Menu
A lot of thought goes into menu engineering, and here we have narrowed down to the seven menu design rules which delight customers and tempt them to spend more.
1. Promote the Most Profitable Items
Your most profitable item is the one that requires low-priced ingredients, an item that doesn't take much time to prepare, and which you can sell at a higher price. This item should be highlighted in the menu card or be presented as a daily or weekly special item on the table that catches the customer's eye. Or else, you can also place it in the 'Chef's favourite' segment to lure the customers to order it.
2. Use Relative Pricing
Playing on the psychology of the customer goes a long way to make your menu design work for the best. Menu engineering is one of the integral parts of restaurant management. Customers are more likely to order cheaper dishes when compared to an item that is expensive. Place your cheap, yet high-profit dish next to an expensive one which perfectly complements the previous item. Thus, you can highlight the expensive dish which complements the more inexpensive item and makes your guests order more.
3. Manage the Menu Size
Large menu design with too many choices of cuisines may end up confusing the customer. By narrowing down on a specific cuisine, you can cut down the menu size, reduce the variety of raw ingredients required, increase the efficiency of staff to prepare and present the food better and at the same time, help your customers make a quick decision. You can also introduce rare, local specials to beat competitors serving similar cuisines.
Also, it is too difficult to maintain a sizable raw material inventory for varying kinds of cuisines, whereas, dishes that use the same ingredients help you reduce wastage of raw materials and the time is taken to prepare them. It is always suggested to prepare the base of the dish such as gravy that can be used in multiple items beforehand.
4. Keep the Menu Design Uncluttered
The layout of the menu should be clear and uncluttered. Divide the Restaurant Menu into logical sections using lines or boxes such as Starters, Drinks, Pizzas/Pasta or Sweets. The font used in the restaurant menu should be bold, aesthetically pleasing and yet, clearly visible. The theme of the menu should reflect the font type, colour and should match the overall design of the restaurant. Thus, you can create a cuisine-centric look and feel to the menu card and the ambience that instantly connect people to the food. At the same time, also remember that too much graphics might look messy and take away the attention from the menu items.
5. Don't Skip the Description
Delicacies, especially exotic ones might be new to many customers. At that, a short menu description, explaining the critical ingredients of the dish might guide the guests to figure out what they want and what to order. You can put images of the dish as well, but make sure that the dish must live up to the image description. In short, write a short and engaging copy that is easy to understand for customers. Find out how to write restaurant menu descriptions that tempt customers to spend more here.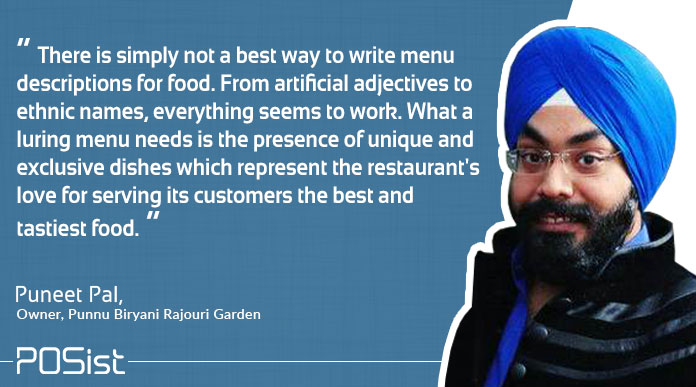 6. Keep the Menu Updated
It is important to update the menu every so often. You can take the help of your Menu Performance Reports to analyze which menu items are not contributing to sales, and then take them off the menu. Also, identify which menu items are sold the most. This will tell you what customers are liking the best about your restaurant. You can come up with variations around those menu items, and give your customers something new!
7. Revamp your Dishes
Renew dishes on your menu by giving them a fresh perspective. Experiment with ingredients and create unique flavours to existing dishes. For example, instead of serving simple milk kheer you can serve Bengali Payesh. While this would delight a person of Bengali origin, others would be tempted to taste something new.
Last but not the least, remember that a menu is not just a paper that lists all the dishes of your restaurant with their prices; it is necessarily the first step to the marketing of your food. A visually appealing menu design draws more orders from the customers which in turn boosts sales at your restaurant. You can create a useful Restaurant Menu by using free designing tools like Canva. Along with that, restaurant management software could help you in menu engineering like no other. The essence of menu engineering comes in the fact that the better-doing food items are moved towards the top.
While providing variety, try and incorporate those seasonal or festive special menu items that will keep your customers hooked to your restaurant for a long, long time. You must also give due importance to the online menu, know how you can optimize your online menu to drive more online orders, here. With these Menu engineering tips, we hope you can create a stellar restaurant menu which will boost your Restaurant profits.
Additionally, here's a detailed Restaurant Menu Engineering Checklist that will help you create the perfect menu for your restaurant business.