The online food delivery market is projected to grow from a $35 billion industry to $365 billion by 2030, globally, and restaurants' food delivery sales are growing more than three times the rate of on-premises revenue. Considering the high rentals and the increasingly thinning margins, restaurant operators are now closing up the storefront altogether and moving towards the more economically profitable, Cloud Kitchen business. 
According to an intricated report on the Restaurant Industry & Market Evolution, 52% of foodservice operators placed their bets on setting up a Cloud Kitchen or a delivery-only outlet of their brand.
Here we have explained in detail what is a cloud kitchen, various cloud kitchen business models, how to start a cloud kitchen business, how to make it profitable, the technology needed to run a cloud kitchen, and more!
1. What Is A Cloud Kitchen
A cloud kitchen, also known as the dark kitchen, ghost kitchen, virtual restaurant, satellite kitchen is a delivery-only restaurant format that offers no dine-in facility. Cloud Kitchens accept orders online or through telephone. They primarily rely on online food aggregators such as Swiggy, Zomato, Ubereats, and/or websites or mobile apps to accept online orders.
Cloud kitchens are considered as a low investment, low risk, yet high on profit format since the cost of setting up a cloud kitchen is significantly less as compared to a traditional dine-in or takeaway restaurant.
The cloud kitchen business provides restaurateurs with the opportunity to experiment with different concepts and formats, which has in turn, given birth to varied food delivery business models.
2. Types Of Cloud Kitchen Business Models
The cloud kitchen business model has undergone many variations and has diversified into the following types
Standalone/Single-brand Cloud Kitchens
Virtual Restaurants
Multi-brand Cloud Kitchens
Shared Kitchen Spaces
Aggregator-managed Cloud Kitchens
Operator-managed Cloud Kitchens
Let us understand the different types of cloud kitchen business models in detail.
(i) Standalone/Single Brand Cloud Kitchens
A standalone/single brand cloud kitchen operates under a single theme and concept. It typically offers 1-2 cuisines and has a small menu with 10-15 menu items. An average standalone cloud kitchen is around 300 Sq Ft in size.
(ii) Virtual Restaurants
A virtual restaurant is a brand that operates from inside an existing restaurant. These brands are only listed on the online food aggregators, and utilize the kitchen infrastructure and resources of the existing restaurant; just under a different brand name. The virtual brand offers a different menu from the main restaurant and can be a great way to experiment with a new cuisine that may be very different from what the established restaurant is known for.
(iii) Multi-brand Cloud Kitchens
The cloud kitchen business model provides restaurateurs the flexibility to launch multiple brands and provides easy avenues for business expansion.
A multi-brand cloud kitchen is a large kitchen infrastructure where multiple brands of the same company can operate, using the same equipment and resources. These brands are cuisine specific, each satiating a different customer need and catering to different Target Groups.
The multi-brand cloud kitchen model enables companies to cater to a wider audience and sell more to existing customers. Also, multiple listings on the aggregators provide the company with better audience penetration, enabling them to reach out to a wider customer base.
(iv) Co-working Kitchen Spaces
A co-working cloud kitchen space, also known as shared kitchen space, commissary kitchen, etc., is a large kitchen infrastructure, which multiple restaurant brands can rent and occupy and run operations. These kitchen spaces have individual kitchen units for each brand, fitted with the necessary equipment and utilities. These kitchens are again located at strategic locations with high customer demand, especially for specific cuisines.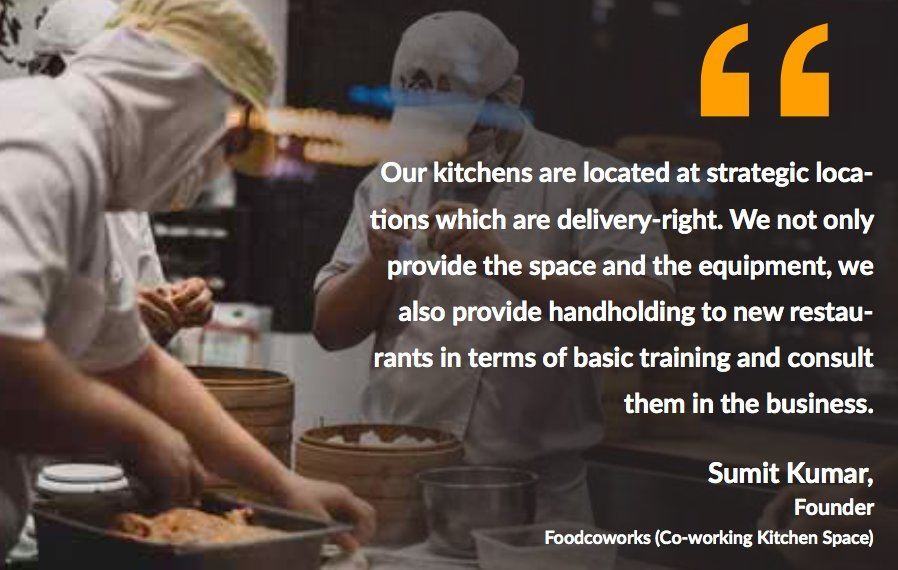 Read in detail how shared kitchen spaces are redefining the cloud kitchen business.
(v) Aggregator Managed Cloud Kitchens
Aggregator cloud kitchens are large co-working kitchen spaces managed by the online food aggregators. The aggregators invite their top restaurant partners to prepare food for delivery-only from these kitchen spaces.
The two major players in the Indian food delivery space, Swiggy, and Zomato have both tried their hands in the cloud kitchen business through this type of cloud kitchen business model.
Zomato launched Zomato Infrastructure Services in 2018, with the aim of providing restaurant brands the infrastructure and utilities to run operations. Although ZIS shut shop after the failure of its pilot kitchen in Dwarka, the idea of co-working kitchen space has become quite popular in the industry and has been adopted by several other players.
The other online food ordering giant Swiggy launched Swiggy Access that has partner restaurants setting up operations through co-working kitchen spaces. Swiggy Access is operational across the nation and plans to onboard new restaurants in over 30 cities by 2020. Swiggy Access also houses Swiggy's private labels The Bowl Company and Homely which are operational from the same infrastructure as the other brands. The company currently has more than 600 kitchens, both private brands as well as Access kitchens.

(vi) Operator Managed Cloud Kitchens
In an operator-managed cloud kitchen, the kitchen operator runs the operations of existing or upcoming restaurant brands on their behalf. The brands are listed separately on online food aggregators and can also receive orders from the cloud kitchen operator's central food ordering website/mobile app or call center. All operations, right from accepting the order online and preparing it, to getting it delivered through third-party logistics is taken care of by the operator.
Operator-managed cloud kitchens are like virtual franchising models, and one of the best ways of expanding the cloud kitchen business.
Popular biryani chain Biryani Blues has started operations in Dubai by partnering with the cloud kitchen operator Kitopi. Biryani Blues has currently three outlets with Kitopi and works on a revenue-sharing model.
Here is an in-depth guide on the different types of cloud kitchen business models, how do they function, who are they best suited for, and more.

3. Starting A Cloud Kitchen Business In 2023
The low investment and risk, along with the ease in replicating and scaling the business make cloud kitchens, one of the most profitable food business formats.
It takes one-third of the time and resources to open a cloud kitchen as compared to a traditional dine-in restaurant since you don't need a storefront at a prime location and wait staff to serve customers.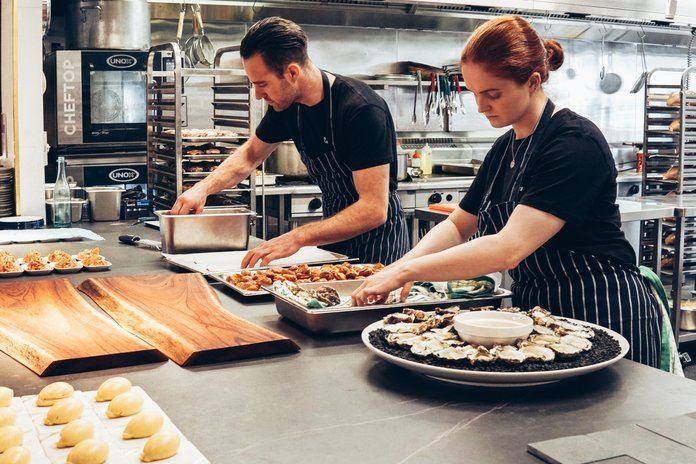 Here are the things you need to consider to open a cloud kitchen business.
(i) Location & Property
The location and property are the biggest differentiators between a traditional dine-in/takeaway restaurant and a cloud kitchen. A cloud kitchen does not require a location with a high footfall and prime property. Rather, it can very easily be set up in a 250-300 Sq Ft space since there is no Front of the House. This brings down the cost of opening a cloud kitchen significantly as you no longer need to spend on the interiors and furniture.
The cloud kitchen can be located at a relatively inaccessible area, but with high customer demand, especially for a specific cuisine. Residential areas, market backsides, unused parking lots make for a great location for a cloud kitchen. Alternatively, you can also go for a shared kitchen space, as that helps in cutting down the initial investment.
(ii) Licenses
Acquiring the proper licenses and certification is necessary for opening a cloud kitchen because of several reasons. First, having the licenses in place would save you from legal hassles.
Second, since customers cannot visit the outlet and check for the hygiene, food safety, and preparation themselves, having proper licenses gives them a sense of satisfaction. You can promote these on your website and in your marketing campaigns to give your customers assurance that the food prepared by you is of high quality.
The major licenses required to start a cloud kitchen business are FSSAI, GST Registration, NOC from the fire department, etc. Do ensure that you have these in place before starting a food delivery business.
(iii) Kitchen Equipment & Packaging
The kitchen equipment totally depends on the type of cuisine you are serving. The basic equipment needed to start a cloud kitchen are – stove and oven, refrigerator, cutting counters, knives, etc.
Here is a complete list of kitchen equipment that you'd require for running a food delivery business.
Packaging makes up for a crucial part of running a food delivery business. No matter how good your food is, if it's not handled well, it would end ruining the entire customer experience and bring a bad name to your brand. Packaging also depends on the type of food you're serving. You would need plastic containers, boxes, spoons, etc to ensure the proper packaging of your food.
(iv) Staff
Since there is no Front of the House, you don't need a lot of people in your cloud kitchen. You can easily open a cloud kitchen with 4-5 people who'd be focused on preparing and delivering the food. If you have multiple brands operating from the same kitchen, the same chef can prepare food for different brands. It is advisable to start with a small team and you can hire more staff when the incoming order volumes increase.
Read in detail how you can open a cloud kitchen business here.
3. Generating Online Orders And Marketing
Once you have set up the kitchen and staff, you need to generate online orders for your cloud kitchen business.
Since a cloud kitchen does not have a dine-in facility and only relies on online and telephonic food orders, it is essential that you spend on marketing your food delivery brand, at least in the initial days. Without a storefront with no display boards and signages for creating a brand recall, online marketing becomes critical in this case.
(i) Listing Your Cloud Kitchen On Online Food Aggregators
Since online food aggregators and marketplace already have your target audience, listing your cloud kitchen on the platforms becomes critical. You'll have to go to these aggregators' websites and submit an inquiry for registration. Once you have submitted your restaurant details, a representative from these platforms would reach out to you for verification.
Here's a detailed guide on how you can partner with popular online food aggregators such as Swiggy and Zomato.
(ii) Promoting Your Cloud Kitchen On Online Aggregators
For a new business, Paid Marketing is essential, at least in the initial days. Organic and word-of-mouth marketing takes time to spread brand awareness. Thus, Paid Marketing is critical since you need to generate business from day 1.
For a new business, promoting your cloud kitchen on online food aggregators is highly recommended. The aggregators charge a higher percentage per order revenue in lieu of giving higher visibility on the platform. While this may seem to eat into your margins, you still need to invest in promoting your business on these aggregators to attract customers initially.
You can also consider running paid ads on Google and social media to generate online orders.
The downside of paid restaurant promotions is that as soon as you stop spending money, you'll see a stark decline in the number of orders. This is why you need to work to build your organic channels of marketing since they are more feasible in the long run.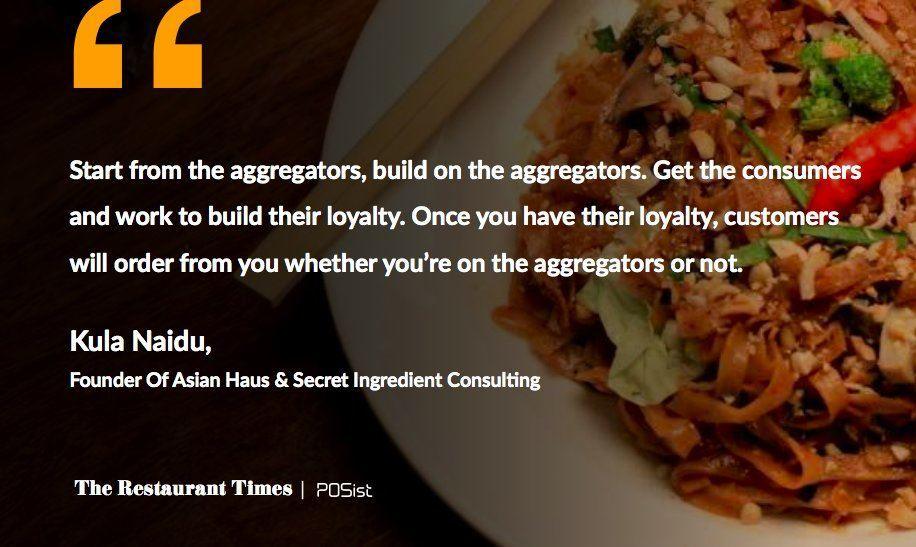 (iii) Social Media Marketing
It is a good idea to focus on social media marketing right from the initial days. Ensure that you have a business page on Facebook, Instagram, and Twitter and that you post enticing pictures of your food, promotions, etc, regularly. Use relevant hashtags to reach out to more people. You can also make use of user-generated content for better engagement with your brand.
(iv) Search Engine Optimization
Simply having a restaurant website would not result in online orders. You need to ensure that your website ranks for the right keywords and phrases when a potential customer searches for them on Google. And this is why you need to ensure that you have a mobile-optimized website, that has also been well optimized for Search Engines. Here is how you can do SEO for your cloud kitchen the right way.
(v) Loyalty Programs And SMS & Email
Loyalty Programs and personalized SMS and email campaigns tend to deliver high ROI when crafted smartly. You can create highly targeted SMS and email campaigns based on customer order history and behavior.
Here are some more ways you can increase the sales of your cloud kitchen.
4. Technology Needed For A Cloud Kitchen
Since a cloud kitchen typically relies on online food aggregators, websites, and mobile apps to generate orders, technology plays a crucial role in this business. A cloud kitchen requires an integrated online restaurant ordering system for accepting online orders and for aiding operations.
Here we have listed in detail, the technological requirements of a cloud kitchen business.
(i) Centralized Accepting Orders From Multiple Online Aggregators.
The biggest technological requirement for a cloud kitchen is having a POS system that receives orders from various online food aggregators such as Swiggy and Zomato centrally. Since your cloud kitchen would ideally be listed on multiple online food ordering platforms, manually entering the orders into the POS at the end of the day is a big hassle.
An integrated POS system accepts all orders from various sources and maintains records of orders received through each platform. You can then analyze the reports and identify which platform is working the best for you, and accordingly create strategies to increase sales.
(ii) Online Ordering Through Website And/Or Mobile App
While tieing up with online food aggregators is essential, you still need to have your own restaurant website or mobile app for accepting orders. Third-party online food aggregators charge a hefty margin per order, which typically ranges between 12-18% for accepting online orders and 18-25% when delivery is included too*. This number can severely eat up your profits, which is why having an organic source of online orders is essential.
You should have an online ordering enabled restaurant website and mobile app that is user-friendly, and SEO optimized so that your customers can order food online with ease.
Your food ordering landing page should also be smartly designed so as to garner more online orders.
(iii) Call Center Panel For Receiving Telephonic Orders
If you receive a high volume of telephonic food orders, then having an integrated Call Center panel is necessary for your cloud kitchen business. If you have multiple brands and outlets, a POS integrated Call Center panel would help you streamline all your telephonic orders, since orders are directly pushed into the POS.
You'd also be able to view the customer details and ordering history, thus, preventing the need for asking the customer's address and other details again and again.
(iv) Integrated Kitchen Display System
For a cloud kitchen, the order preparation time is usually around is 10-12 minutes, if you want to deliver the order under 30 minutes. In the high-paced cloud kitchen, an integrated Kitchen Display System works as a boon for optimizing the order preparation time.
As soon as the order is received, it gets automatically updated in the KDS. The kitchen staff can view the order details as well as the order pick-up time, and prepare the order accordingly.
This not only makes the operation smooth, but also enables you to identify any lags, and further optimize the preparation time.
(v) Integrated Delivery System For Food Delivery
Having an in-house delivery system for your food delivery will make your life much easier. For one, you would not have to pay the extra commission to third-party logistics, and second, you would have much better control over your delivery services.
A food-delivery system enables you to assign your orders to the delivery executive based on their location and availability. You'd also be able to track the order status and communicate the same to your customers through automatic SMS updates.
(vi) Robust Inventory Management System For Stock Management And Wastage Control.
Inventory control is essential for any food business, and the same stands true for a cloud kitchen. A smart inventory management system would enable you to track your daily stock consumption and also prompt you to order more stock when needed. It also helps you reduce wastage and keep your food costs in check.
Technology plays a critical role in the smooth functioning of a cloud kitchen business and also ensures operational efficiency.
Read in detail how a cloud kitchen management software streamlines your delivery-only operations.
5. Optimizing Online Food Delivery
Generating orders and preparing food is just one part of the food delivery business. The bigger challenge here is ensuring that your food is delivered to your customers on time and in perfect condition. You can either tie up with third-party aggregators or logistics companies or have your own in-house food delivery fleet to fulfill orders.
Packaging plays a crucial role in ensuring a great delivery service. You need to ensure that the food has been packaged and handled well when it is delivered to the customer.
Here are the ways you can optimize your cloud kitchen's food delivery.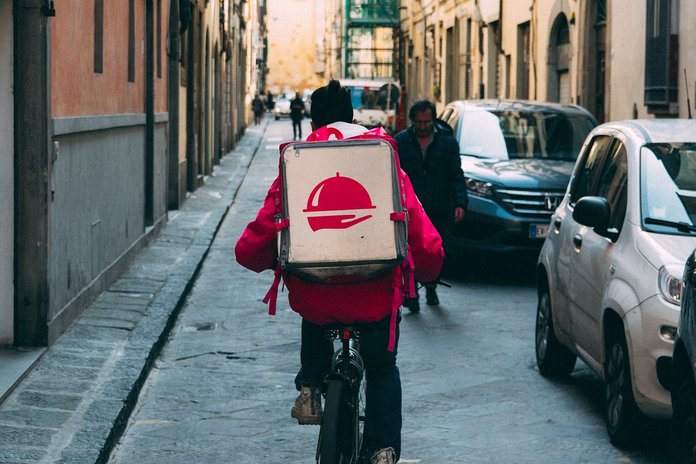 Admittedly, the FnB industry seems to be all set to witness the second round of the Food Tech revolution. With the increasing internet penetration, the demand for food delivery will further continue to Tier 2 and Tier 3 cities.
As per the NRAI Report 2019, in India alone, the cloud kitchen market is worth INR 928 crore in 2018-2019. The chain segment dominates this format with a 66% share with the standalone format having a 34% share in the cloud kitchen market space.
The cloud kitchen format presents a plethora of opportunities for both, the restaurateurs, and the aggregators and has also resulted in a number of spin-off businesses that are blooming in the FnB industry.
For restaurant brands, both, new as well as established, cloud kitchens are now fast becoming the most preferred restaurant format for opening a new business or for scaling the existing one.
*Industry statistics