The F&B industry is a competitive, evolving business where restaurateurs are constantly adapting to newer innovations to meet customer demands. With drifting trends in customer ordering patterns, high start-up costs, and fierce competition, restaurateurs have been seeking more sustainable and profitable ways of running their businesses. In this context,  the concept of cloud kitchens that changed the landscape of the traditional restaurant business. Also known as the virtual kitchen, ghost kitchen, or dark kitchen, this new concept has changed the dynamics of the food industry. 
From industry experts, well-known chefs, restaurateurs, food aggregators, and investors, the entire food industry has been talking about the cost-effectiveness of cloud kitchen restaurants.  Swiggy is betting big on cloud kitchens, investing Rs 250 Cr to set up 1000 cloud kitchens (source: Business Insider). Faasos parent company, Rebel Foods is also raising funds from global investment firm Goldman Sachs and venture capital firm, Sequoia Capital India (source: yourstory) for its ambitious expansion plans. Cloud Kitchen restaurants are being referred to as the future of the food industry. But why are cloud kitchens taking the food industry by storm? Let's dig deeper to understand all the hype about Cloud Kitchen.
Decoding The Cloud Kitchen Business Model
The cloud kitchen business model offers no dine-in facility and relies entirely on taking online orders. Customers place orders through online platforms and that is a prime reason why cloud kitchens invest heavily on their website/mobile app and third-party aggregators. Food aggregators, Zomato, and Swiggy offered better discoverability to the cloud kitchens and hence are the biggest brand promoters of cloud kitchens. 
Being delivery-only restaurants, the cloud kitchen restaurants are devoid of the baggage of creating an experiential dine-in experience for the customers. The restaurateurs don't have to worry about high rental costs, large capital investments, restaurant interiors, guest facilities etc. The typical size of the cloud kitchen setup ranges from 300sq ft for a standalone kitchen to 1200 sq ft for large multi-brand cloud kitchens. The rental costs of cloud kitchens are much lower compared to traditional restaurants. 
Check out this detailed guide on the various types of cloud kitchen business model.
 Since their customer acquisition is achieved through digital platforms, cloud kitchens heavily invest in technology that leverages their entire business operations.  Apart from technology, major investment goes into well-equipped kitchen infrastructure and trained manpower. Some cloud restaurant brands rely on their own delivery fleet as the service is more personalized. 
Online food aggregators charge extra margins for providing delivery services using their delivery personnel but it saves the hassle for restaurants to invest in more manpower. Delivering good quality food is a critical need for cloud kitchen restaurants. That is why restaurateurs focus on good quality packaging. 
What Enabled The Cloud Kitchens To Gain Popularity
In physical restaurants, along with the food, location is a prime concern for driving the customers to the storefront. Marketing campaigns require additional expenses. High rentals, overhead charges, and direct and indirect competition eat into their revenues. According to the industry estimates, restaurant rentals account for 10% of the overall monthly costs, food costs for about 30% of food sales while overhead costs for labor and maintenance takes another 10-20% off the top line.
At the end of a busy day,  the majority of restaurant customers prefer to enjoy meals in the comfort of their homes. The rise of digital technology has given a boost to the business of delivering meals. Another reason that is responsible for the rise of cloud kitchens is the cost advantage relative to setting up and operating a traditional restaurant.
Online food aggregators like Zomato and Swiggy have further increased business opportunities for cloud kitchen restaurants. Customers prefer these platforms as they are more personalized and easy to use. 
Deliveries are handled very systematically and online platforms provide better discoverability to the cloud kitchen restaurant. With low investments, reduced logistics cost, more opportunities for experimentation, and concentrated deliveries, the economics of a cloud kitchen model have proved to be more favorable. 
Capturing A Wider Audience 
The shift from standalone cloud kitchens to a fully operational multi-brand kitchen was primarily to cater to a wider audience.  The audience that a standalone cloud kitchen can cater to is limited as the menu caters to a single cuisine and a small audience only. In brick and mortar restaurants, menu changes can be made with time but the brand name remains the same. If an Indian cuisine restaurant aspires to add Lebanese cuisine on the menu, it will be difficult to disrupt the customer's perception with the same brand name. 
Multi Brand cloud kitchens removed this limitation by allowing multiple brands to operate under one umbrella brand. What worked for Rebel Foods, the parent company of Faasos, was that they disrupted their own business model  – from a QSR model to a standalone cloud kitchen model and finally tweaking the model to diversify into multiple brands. All the cuisines being prepared by the same staff in a single kitchen. A multi-brand cloud kitchen utilizes the same infrastructure, the same staff, and resources to prepare dishes of different brands under one roof. This has been a productive move for brands like Faasos, which has cut down the food costs drastically while ensuring that they are able to capture a larger segment of customers. 
The Many Variations Of Cloud Kitchens
Rising demand has led to cloud kitchens partnering with online food aggregators to create a larger diversified service network. As their business volumes grow, the cloud kitchen business models will need to adapt further to provide value-added services. A major player in the online food delivery space, Swiggy, had launched Swiggy Access, an initiative to provide coworking kitchen facilities to restaurants who have partnered with them. Besides this initiative, Swiggy has two separate private cloud kitchen brands, 'The Bowl Company' and 'Homely'.
Another big player in the food delivery business, Zomato, has invested in a third party cloud kitchen, Loyal Hospitality after shutting down their in-house cloud kitchen operation, Zomato Infrastructure. The business focus of different cloud kitchen variations remains the same –  mass food production, increasing the total number of orders, and optimization of total food production time. Cloud kitchen businesses are now adopting the Hub and Spokes model where food is processed at a central kitchen, called hubs, and later delivered to the spokes, which is the food outlets for remaining preparations.
Dubai based Kitopi is a kitchen network operator that has introduced a relatively new concept in the cloud kitchen restaurant space. In this model, restaurant brands can outsource everything, right from the cooking, to delivery, kitchen, and even call center operations to Kitopi, saving time and cost. The opportunities for rapid expansion are tremendous in the cloud kitchen business model.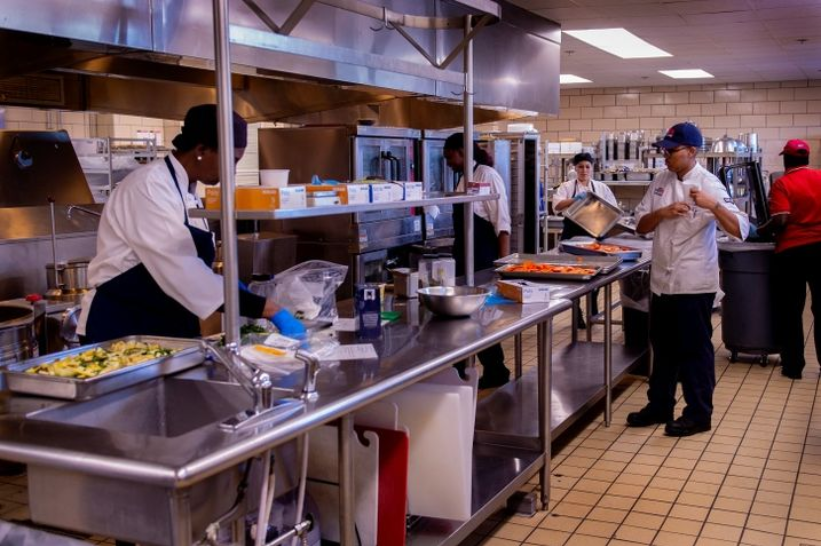 Staying Relevant Is The Key 
With newer opportunities and faster start-up time,  many restaurants are now entering the cloud kitchen space. The competition is cut-throat for standalone cloud kitchens that rely on food aggregators for generating most of their revenue. While the economics of a cloud kitchen model is better than the traditional restaurant formats, there are many factors that are of utmost importance for the cloud kitchen business. 
With no storefront or physical brand presence, and hardly any customer interaction, the cloud kitchen strategy relies on understanding the customer preferences intuitively while keeping the food consistent. The only way for cloud kitchens to engage with their customers is through digital mediums. Since customers don't know where the food comes from, on good branding and delivering the best quality in food and packaging is doubly important. In order to shut out the competition, the cloud kitchens model adapt innovation and powerful technology measures that support the economies of scale. 
"Cloud kitchens have the exclusivity to shut out the competition and primarily fuel the market", says Abhimanyu Maheshwari, Founder- Zing Restaurants 
The restaurant space has witnessed a paradigm shift with changing dynamics and evolution of the food delivery restaurants. According to DataLabs, the projected market size of the cloud kitchen business is expected to reach $1.05 Bn by 2023. With immense growth opportunities and versatility, cloud kitchens are bringing a revolution in the restaurant industry.