With the buzz that cloud kitchens have generated within the food and beverage industry, everyone seems curious about this new phenomenon. People wanting to open a restaurant are naturally asking themselves the question- what is a cloud kitchen. But first, let's learn more about the concept of cloud kitchen and how it is different from the ubiquitous dine-in restaurant, along with the basic difference between their business models. A cloud kitchen or virtual kitchen serves as a delivery-only kitchen. They thrive on online ordering through different food delivery websites and don't have a physical dining-in facility. Unlike cloud kitchens, dine-in restaurants are traditional brick-and-mortar outlets that have their own distinct branding. For example, an upscale Mexican restaurant might exclusively offer authentic Mexican fare which would reflect in its ambiance, service, and decor. This article draws a comparison between a cloud kitchen vs a dine-in restaurant. 
Comparing Cloud Kitchens And Dine-In Restaurants 
The business models of both cloud kitchen and a dine-in restaurant differs in terms of start-up and operational costs such as location, logistics, staffing, licenses, etc, Let's look at some of the key differences between the two business models.
i) Location
A dine-in restaurant should ideally be located in an area where there is high footfall and visibility among other things. After all, the fortunes of a new restaurant that jostles for space with other eateries are likely to be rather bleak. These restaurants need to be highly accessible, have ample parking space, and comply with the local zoning laws. This requires relatively higher investment in terms of rent, layout planning, safety approvals, interior set-up, and so on. 
Another important aspect to pay attention to is that dine-in restaurants need to be built according to the audience or clientele they hope to serve. From the ambiance to the cutlery, every element should be aligned to create the ultimate dining experience for patrons. This can help the restaurant carve a niche for itself and attract positive word-of-mouth publicity. On the other hand, you don't need to worry about the interiors of a cloud kitchen. 
A cloud kitchen does not need a parking space or footfall to be generating revenues. This kind of kitchen model thrives on online ordering and is generally located around residential localities. All you need is a kitchen area of about 600-700 square ft to work efficiently. A dine-in restaurant, on the other hand, needs a space of about 1500 square feet on average to seat 10-15 people and have adequate space for a kitchen. 
ii) Property Cost
The property costs for a dine-in restaurant and a cloud kitchen vary on the basis of their location and the area space that they cover. The average cost of renting a property of around 600-700 sq. ft. for a cloud kitchen is around INR 25,000 – 40,000 per month. 
When it comes to dine-in restaurants, the area required is obviously much bigger than that of a cloud kitchen. Since they need enough space to seat a reasonable number of customers, the rent can easily add up to the biggest overhead for a restaurateur. According to industry sources, the average rent for dine-in restaurants is about INR 50,000 and can go up to INR 1.5 lacs a month depending on the location.  
iii) Staff Cost
Next, let's consider the cost of hiring waiting staff. The minimum number of people that you need to hire for your restaurant also differs for both models. This is an area in which cloud kitchens enjoy a clear advantage in terms of cost-effectiveness.
"You can start with a minimum of 6 people, a head chef, two junior chefs, two helpers, and a housekeeper, " says a cloud kitchen owner, Vishal Sharma from Delhi's Hauz Khas. 
The numbers make a case quite compellingly in favor of cloud kitchens. For example, The average salary for staff working in a cloud kitchen is around INR 14,000-15,000 each. The housekeepers will charge you not more than INR 8000-9000 a month, whereas the head chef might ask you for a little more. An important thing to note is that the head chef needs to be chosen wisely as he/she would be responsible for  The overall culinary experience that you would want to be known for!
With a dine-in restaurant, the upfront costs of hiring can be substantial. You would need to give out the staff a month's salary initially. You must note that in some cases, the head chef may ask for the three-month worth of salary in advance. The average salary you'd need to pay out alone could be as much as INR 60,000-1 lakh. Another expense item is that of training staff and grooming them appropriately which includes their uniform. On average, your staff's uniform would cost you around INR 6000-7000.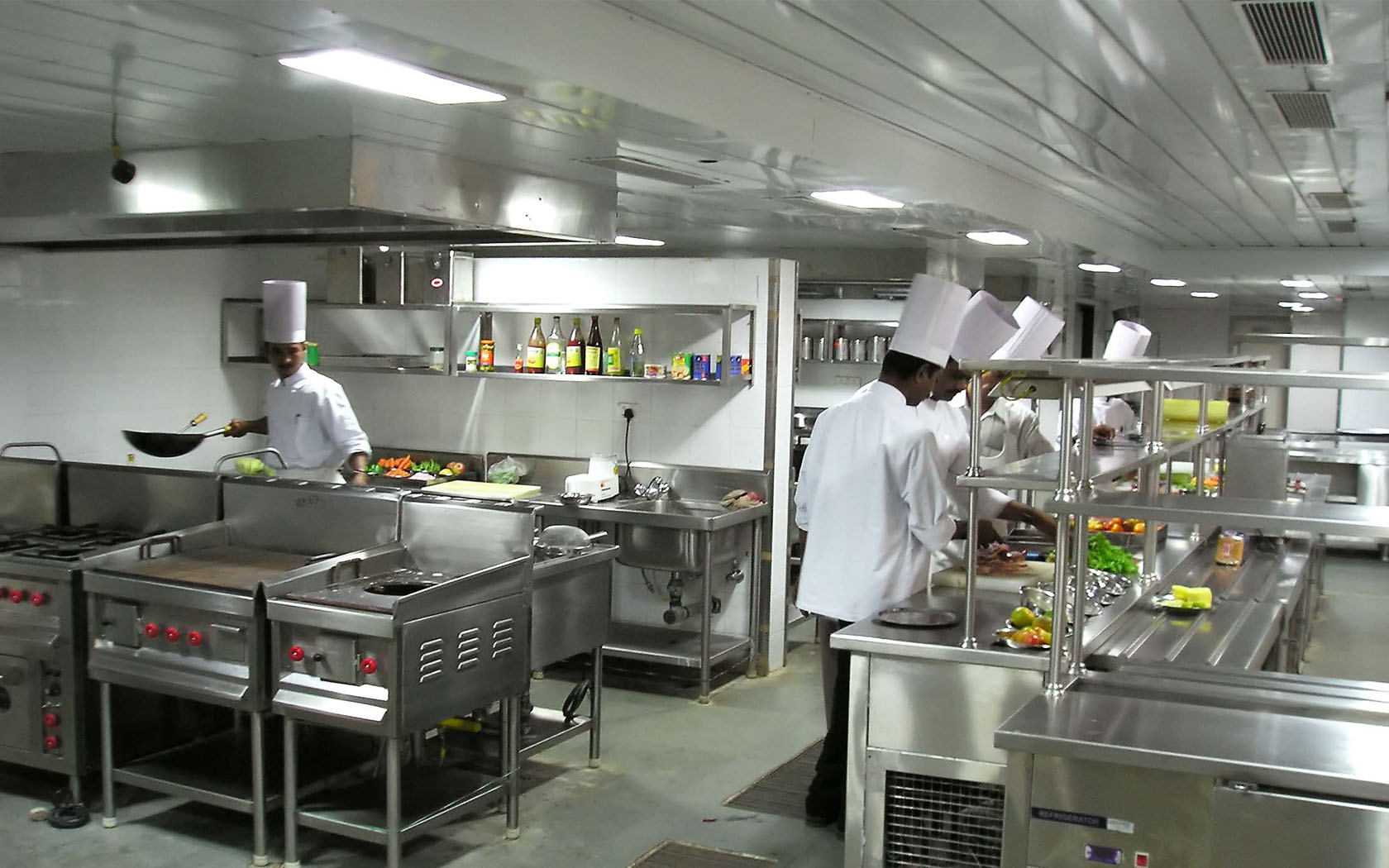 iv) Operational Costs
Operational costs include grocery, dairy products, packaging, and other material. Cloud kitchens offer different cuisines, which is why the operational costs could vary widely for different brands. A brand like Faasos and Behrouz Biryani, for instance, which serves both wraps and biryani, respectively may incur additional expenses than a single cuisine food service.
It is therefore difficult to estimate a particular amount for raw material in a cloud kitchen. With digital payments becoming the norm, POS payment processing is a necessity. Compatibility with e-wallets is also a key factor to ensure a pleasant customer experience and ease of bookkeeping. The infusion of technology streamlines daily operations for your business. The average cost of restaurant management software can go upto INR 25000, regardless of whether your operation is a restaurant and a cloud kitchen. 
A professional website is another aspect that is indispensable in the internet era of today.  The cost of maintaining a website for a cloud kitchen can be around INR 40,000. A dine-in restaurant, on the other hand, does not necessarily need a website. Of course, an online presence is advisable as it can significantly boost your sales and help you build trust among your customers. Other recurring operating expenses for running a dine-in restaurant include rent, labor, semi-variable costs. 
v) Kitchen Set Up Cost 
Up next is the cost of setting up the kitchen. It varies on the basis of the restaurant type, and the equipment needed. Multi-cuisine cloud kitchens, are arguably more expensive to set up as they need a broad variety of equipment. What you need to note is that the meaning of cloud kitchen is not to save up on the operating costs, or it's not a cheap way of opening a restaurant. 
A cloud kitchen will need under INR 2.5 lacs to set up all the basic equipment for different cuisines. The type of food that a restaurant specializes in decides the kind of equipment and the money that you would need to spend on them. For example, if your menu highlights barbeque dishes, you would need more grills. You also need to figure out what additional equipment may be required to help you in your daily activities. 
If you're just starting a hospitality business, it is advisable that you opt for proven solutions. KAAS is a co-working kitchen spaces provider that helps you get access to the right infrastructure, equipment, and maintenance that you need for your kitchen. You'd be working with several other brands from the same kitchen, hence cutting down considerably on your rental and food delivery costs. 
A common element between the two kinds of models is the HVAC (Heating Ventilation Air Conditioning) system, including hoods and fire safety. Basic utensils and equipment apart, cleaning and hygiene is another factor that is equally applicable to both scenarios. Most large and mid-size restaurant chains tend to outsource cleaning jobs to other companies, making sure that the food is prepared in a hygienic environment. 
vi) Profit Margins 
The average profit margin for any restaurant, taking the basic considerations like rent, payroll, utilities, advertising, equipment repairs, and general maintenance into account, is anywhere between 3-5 percent. Profit margin is the profit earned in a year, expressed as a percentage. It is needless to say that the higher the profit margin, the better it is for any restaurant. 
In comparison, a cloud kitchen business model is much more profitable in comparison. You could earn more than a 15% profit margin on the basis of your allocation across the cuisines offered. Since you save up a lot on the infrastructure and setting up costs, increased profits can be generated. 
vii) Marketing
For cloud kitchens, marketing can be a make or break factor as they operate virtually. A comprehensive marketing strategy centered around an attractive website and social media promotion can help you gain visibility. Your website can help you highlight your best features, best-selling dishes, and so on. 
Another important aspect to focus on is to integrate with food aggregators. It has been observed that a majority of the initial orders for new restaurants come from online food aggregator channels, such as Swiggy and Zomato. Sponsored Advertisements in the print media and outdoor channels can help you gain some notice. 
Additionally, a strong social media presence would add to the relatability of your brand. Since Instagram is one of the most popular tools for social media marketing in the present scenario, you could focus on that by creating engaging content and posting regularly. 
Who does not like a good bargain? An effective way to boost revenues and engagement is developing promotions/campaigns that offer discounts on buying select items on the menu. For instance, you could offer a 50% discount to people who buy from your cloud kitchen for the very first time. Also, you could provide giveaways to your regular customers as a token of appreciation. Dine-in restaurants can opt for complimentary meals for couples, families, and even senior citizens to attract attention and goodwill. The focus, of course, is on engaging and reaching out to new customers. Done well, the need for a website for a dine-in restaurant can become redundant.
Want to boost customer engagement even further? Run campaigns that offer redeemable points that could be used by customers the next time they visit. Such promotional campaigns can also help you to retain customers in the long run. 
All in all, a cloud kitchen vs a dine-in restaurant model is poles apart from each other. It's always interesting to answer an ever-rising question of what is a cloud kitchen. While each has its own distinct advantages, the factor that tips the scale on either side should be the customer experience you wish to offer and the return on investment you expect to earn.