The online food delivery segment has already disrupted the food ordering and delivery process in the restaurant industry. According to statistics, the Global Cloud Kitchen Market size is estimated to reach USD 71.4 Billion by 2027, with a CAGR of 12.0% from 2021 to 2027. With the growing popularity of mobile ordering apps, customers no longer have to yell for their orders on the phone or explain their orders. It also prevents missed orders due to busy phone lines or a lack of resources to monitor the phone. Food ordering mobile apps offer convenience to the customers and a better user experience while placing the order.
Delivery-only restaurants or cloud kitchens are readily incorporating mobile food ordering apps in their system to streamline the entire order receiving process. Empirical data suggests that 70% of all food delivery or takeout orders are placed via mobiles as mobile phones are the most preferred medium for internet browsing. According to an intricated report on the Restaurant Industry & Market Evolution, restaurant operators said that they received 43 percent of online orders via direct channels. Therefore, having an easily customizable, ready-to-use white-label mobile food ordering app is essential for a cloud kitchen.
Features To Look For While Setting Up A Mobile Food Ordering App For Your Cloud Kitchen
Here are the useful features of the Mobile Food Ordering App, and the ways it helps you facilitate the ordering process, and also increase the number of orders and revenues.
1. Customizable Layout For Maximizing Online Food Ordering 
The tailor-made mobile app can be customized as per the theme of your cloud kitchen. The mobile food ordering app features a customizable layout that is designed to match your brand's theme and allows you to tweak the plan and promote your cloud kitchen brand.
2. Real-Time Menu
The menu updating feature allows you to make changes in the app in real-time. This means that whenever a change is made in the POS menu, the same is instantly reflected in the app menu. This ensures no mix-ups in the order and provides a quick and smooth ordering experience for the customers. It is an added advantage when you are running multiple cloud kitchen outlets, and then, you will be able to avoid the need to update the menu in all your outlets.
3. Easy Ordering For More Number Of Orders 
The user-friendly User Interface (UI) of the Online Food Ordering App provides a smooth ordering experience for customers. Customers can select their preferred order type; if it's a takeaway or a delivery order. Next, the app prompts customers to choose their location with an easy drop-down button. It allows customers to select their city and the local outlet before they proceed to the menu and place their order.
To finalize the order, the mobile ordering app requests customers' mobile numbers. A One Time Pin (OTP) gets generated to enable and complete the user profile creation process. Customers can save multiple addresses such as a home address, office address, etc. Similarly, returning customers can create passwords to log in. The next point discusses customer profiles in detail.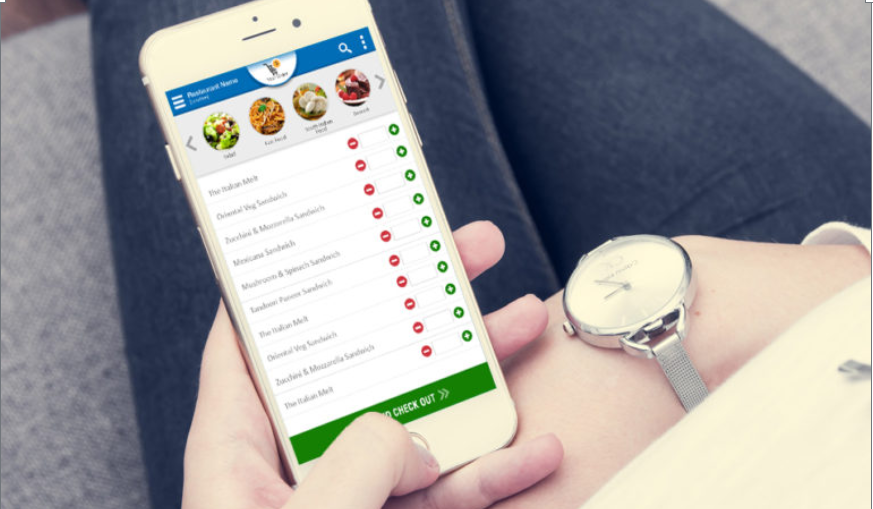 4. Customer Profiles
The app includes a customer profile section where the user saves his details. New users can register, log in, and navigate to the 'My Profile' section to manage their details. The following information is available in the 'My Profile' section.
Saved address: Customers can save and manage multiple addresses, such as office address and home address, keeping them from the hassles of typing their address each time they order.
Saved Orders:  All orders placed by the users are saved in the 'Order History' section that can be viewed anytime by them. Customers can go through the list and re-order their preferred items without having to remember those or to build a new order.
Favorite Orders: 'Favorite Orders' section lets customers view the saved orders and mark their orders as favorites to assist them place orders with just one click in the future. The app facilitates One-Touch-Ordering, where the customer can placer a previously ordered item, to be delivered to a pre-saved address in a single click. It saves the hassle of selecting the type of order and outlets, browsing the menu, and retyping their details again.
Reviews and feedback: The app also contains reviews and feedback section which allows customers to provide their feedback for the restaurant. The app furthermore gives customers the flexibility to write their feedback in their own time, thus, increasing customer delight. All reviews are directly sent to the cloud kitchen operators which helps them seek insights and analyze customer experience and expectations.
5. Push Notifications
You can further improve your customer engagement with the push notification feature through the Mobile Food Ordering App. It allows you to send and promote updates on the latest deals, offers, and discounts through the right to your customers' mobile phones. This is also a great marketing tool as it comes in handy in updating your customers about new items, new product updates, and new combo, etc., introduced to the menu.
6. Advance Orders
With the 'Advance Order' feature, your customers get the liberty of choosing delivery or pickup time, at the time of placing their orders. Customers can choose their usual order to be delivered immediately or set a particular time for future delivery. The delivery-only restaurant is immediately notified about your customers' preferred schedule.
7.  POS Integration
POS integration ensures that all orders received from the mobile ordering app get directly pushed to the POS terminal of the selected outlet. This enables your outlets to accept or reject orders in case you cannot deliver an order for any reason such as area not covered etc. Real-time integration with the POS eliminates discrepancies such as order mix-ups, order not received, etc., and simplifies the entire process.
Mobile Food Ordering apps streamline food delivery by speeding up the delivery process. It has become a must-have feature for restaurants moving into the delivery segment and cloud kitchen, as it improves the food delivery process, increases customer delight, and further boosts the restaurant profits. Know more about the mobile food ordering apps here, and let your customers order their favorite dishes right from their mobiles!