The growing demand for food delivery has led to an increase in the number of delivery-only restaurant formats, that is, the cloud kitchen. A Cloud kitchen, also known as Dark Kitchen, Ghost Kitchen, Virtual Restaurant, does away with the dine-in completely, which reduces the cost of setting up a restaurant. With no Front of the House and no struggle for finding a location with high footfall, the investment needed to open a restaurant comes down significantly. To further cut down the costs, co-working, shared kitchen spaces have come up, which makes opening a cloud kitchen business much easier.
Shared Kitchen Spaces are large kitchen infrastructures fitted with all the necessary equipment and utilities required to operate a cloud kitchen business. These are well-divided co-working spaces that can be inhabited by multiple restaurant brands. Storage and Refrigeration Units are common. An average co-kitchen working space is typically around 1200-1800 Sq Ft large and can accommodate 6-10 different restaurant brands at a time
The Kitchen Operators provide the Back Of The House services such as dishwashing and cleaning and often provide the technology to accept orders from online food aggregators as well.
Cloud Kitchen brands can hire these shared kitchen commercial spaces on a monthly basis or on the basis of usage. For instance, a brand that is operational only during the night for late-night food delivery can rent the space only during the night-time. The same kitchen space can be utilized by a brand that is operational during the day time.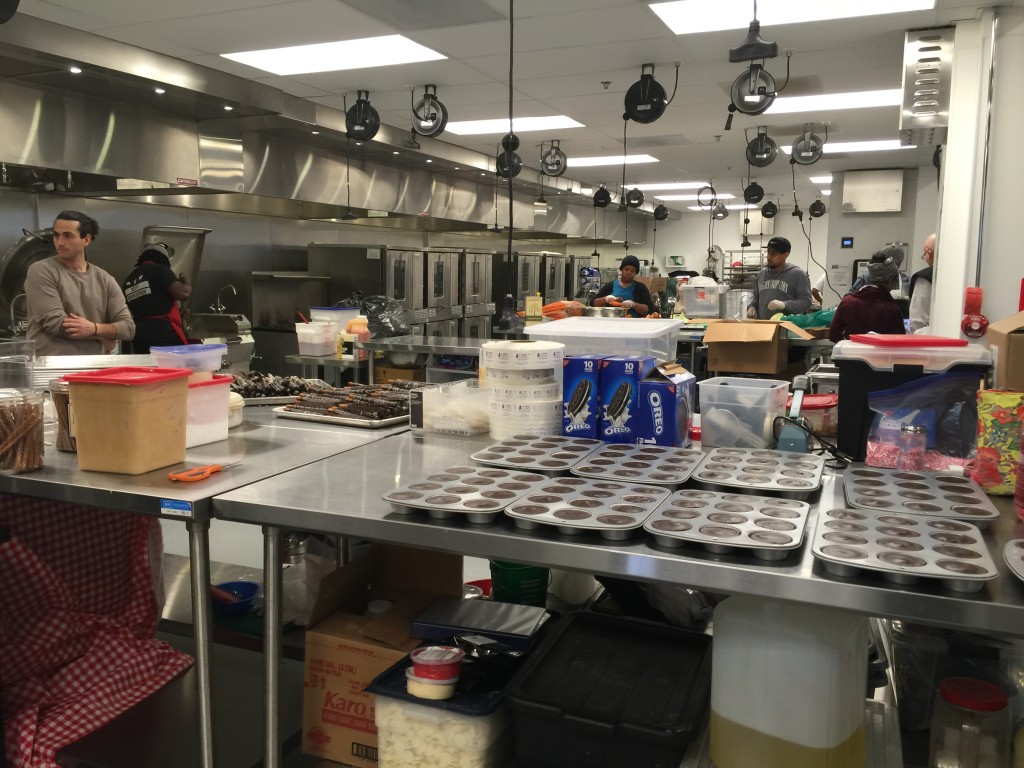 CloudKitchens, Kitchen United, and Food Coworks are some examples of Shared Kitchen spaces providing kitchen infrastructure and utilities for cloud kitchen brands.
Shared Kitchen spaces bring down the initial investment required to set up the cloud kitchen business significantly. Additionally, they are also great for established restaurant brands looking to expand operations in new markets. Low investment and risks make venturing into the cloud kitchen business much easier.
Here are the ways Shared Kitchen spaces are beneficial for cloud kitchens.
(i) Reduced Rentals And Equipment Cost
Although cloud kitchen businesses save up a lot on the property cost, this number can be further reduced through Shared Kitchen Spaces. Plus, the initial cost of setting up a cloud kitchen also requires one to invest in the equipment. In Shared Kitchen spaces, there is no initial investment required such as brokerage, or for purchasing the kitchen equipment.
Different Kitchen operators have different revenue models. For instance, some kitchen operators charge a certain percentage per order from the brands operating from these kitchens, while some charge an upfront amount plus a monthly fee. 
(ii) Ease In Obtaining Licenses
For opening a food business, a number of licenses and permits are required. Since these spaces are fully compliant, obtaining licenses and permits for opening a food business becomes a lot easier. 
(iii) Better Location And Reduced Risks
The Shared Kitchen Spaces are typically located in areas that are considered inaccessible or that do not have high footfall, but where the demand for food delivery is high. These can be residential areas or even unused parking lots. The Kitchen Operators choose the location based on the demand for food delivery, especially for certain cuisines. They typically have tie-ups with the online food aggregators that have the customer demand data. Based on this data, these paces allocate the space for new or upcoming cloud kitchen brands.
(iv) Reduced Food Delivery Costs 
One of the biggest challenges that standalone cloud kitchens face is the high commissions charged by the online food aggregator. In the case of Shared Kitchen Space, the overall order volume is high. Considering that these spaces generate more orders from the same location, a delivery executive can pick up and deliver more orders in the same time frame.
This reduces the unit cost of delivery and gives the cloud kitchen brands the opportunity to negotiate better deals with online food aggregators.
With Shared Kitchen spaces, the cloud kitchen business is further undergoing many variations. This concept has already become popular globally and working with popular restaurant brands to facilitate food delivery. Co-kitchen spaces facilitate easy operations for the cloud kitchen brands, making the processes more efficient and cost-effective at the same time! 
Read about the other types of cloud kitchen business models in this comprehensive ebook.