Simran Jeet Singh moved out of the corporate industry and shifted to the F&B space out of his sheer passion and dedication for food. Way back in March 2015, Simran Jeet and his partner Pulkit Arora used to enjoy milkshakes every day. That's when they realized that there weren't a lot of options out there in the market and thought it would be a great idea to bring back to Delhi some of the best food they had tasted around the world.
Jux Pux has revolutionized the beverage industry with their delicious milkshakes. In just a few years, the company is operational as a café parlor, take away outlet, and a café lounge model in Agra, Delhi, and Hyderabad. In a very short period, they have expanded quite fast with the Franchise model, which is only possible when you are making profits in your existing outlets, and have built a brand name which can be trusted upon.
Jux Pux is not just a profit-making company but has also become one of the trusted brands in the beverage industry in Inda.
In Conversation With Simran Jeet Singh Of Jux Pux
Jux Pux brought out favorite flavors from around the world under one roof. With every bite, their product aims to offer your taste buds a delicious experience from around the globe. In an exclusive interview with The Restaurant Times, Simran Jeet Singh talks about Jux Pux.
"To make people believe in an idea is a difficult task. It involves dedication, motivation, and power to make your dreams come true. Jux Pux has gone through all; the team strongly believes in its roots and thus never hesitates in giving support to startup projects through co-working spaces, events, and various tie-up projects."
Importance Of Location
According to Singh, visibility is the key factor, when scouting locations. It is vital to make sure that the restaurant is easily seen from the street. If the area isn't directly accessible through Google Maps, it's most likely not a good choice.
Accessibility is the second important factor while deciding on the location. Being accessible will make sure you can attract large volumes of people to sustain your business.
Stand outside the building where you're considering to open your restaurant. Analyze the base traffic and compare them with other locations you are considering
It is imperative to conduct market research with the team to understand the location and make sure it caters to your target audience. It's a good thumb rule to place your restaurant where your target market is. The first outlet for Jux Pux was opened in Connaught Place which is the hub of Delhi, and a lot of youngsters can actively be seen there. It is critical to choose a location that is famous and prominently visible. Location can make the difference between a successful restaurant and a good idea that never really got off the ground, shares Singh.
Service Is Key
According to Singh, instilling motivation isn't easy, but it's necessary for the employees to grow and stay satisfied with their jobs. This leads people to work harder, which means productivity for a brand, and the overall satisfaction among the staff, which leads to higher employee retention.
Incentives and recognition is the fundamental duty of any boss be it of a big or small brand. Providing some monetary reward increases the motivation amongst the restaurant staff. Programs like the employee of the month, not only advances the performer's will, it also encourages the staff members to perform well.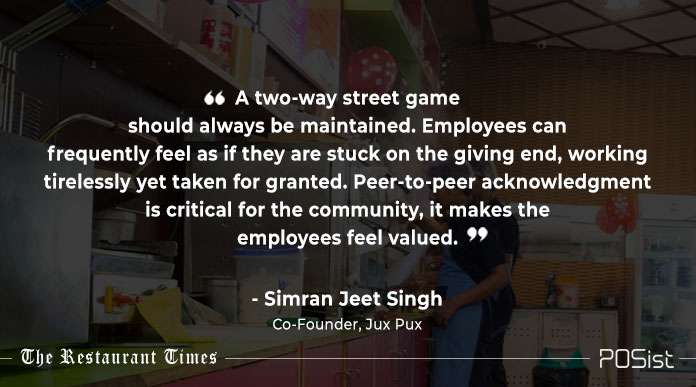 Selection Of Healthy Food In The Menu
According to Singh, healthy eating is not about deprivation, following strict nutrition rules, or starving yourself to lose weight. It is about eating healthy and staying healthy by making smarter food choices, limiting fat consumption, consuming natural and reducing processed food in the diet. It has become essential for restaurants to have a set diet menu that keeps the health-conscious crowd hitched.
The richness of fruits is preserved when they are freshly served and smartly customized. Jux Pux has it all, starting from shakes and lemonades to snacks and icecreams. It is a one-stop for all your healthy or not-so-healthy cravings appetite needs.
'Jux Pux is a complete package when it comes to serving standards and quality assurance. Jux Pux believes in hygiene, therefore compromising on sanitization is not an option; it is undoubtedly our priority. The team believes in making every customer's visit a healthy and memorable one to justify their motto 'the taste that keeps you coming back,' says Singh.
Importance Of Food Presentation
It is always said that before our mouth has tasted a thing, our eyes have already judged it. This makes visual application critical as much as the taste which is why food-styling and photography are reasonable and legitimate pursuit. According to Singh, the presentation and the plating makes an impression and a promise with the guest. If the food attracts a person, the beautiful plating is successful. The way that food looks can exceedingly change the way our taste buds perceive it.
For example, some people cannot stomach the idea of eating food that is green in color, and while it may taste delightful, their brain tricks them into thinking it will not be. The same goes for food presentation. When something is beautifully placed onto your place, your mind often changes the way you judge the food.
'At high-quality restaurants, food presentation is taken seriously because it is what the customers will judge the establishment on. In short, first impressions matter and presenting a beautiful dish in contrast to something messy is always going to win over the guests and critics', says Singh.
Technological Bedding
According to Singh, the food industry is booming with the support of technology. There is a massive development of technology which aids the restaurants and food delivery businesses alike. The food sector has managed to appear as a highly profitable industry due to its broad potential and due to insanely growing demands for restaurants of unique cuisines and themes in various cities.
'Belonging to a country with the world's largest youth population, we understand how vital it is to be easily accessible by the youth. Jux Pux is upgrading their technology base for the youngsters by introducing a mobile app and web app for online food ordering. Soon customers would be able to order and track their food from a user-friendly mobile app and with some additional features. Team Jux Pux is leaving no stone unturned to make it a huge success', says Singh.
The role of POS in managing the restaurant business can't be denied. Not only does it simplify the order taking and billing processes, but also streamlines the entire operations.
'Jux Pux has been using Posist since its inception in all its outlets. Posist has made the billing operations in all my outlets easier. As soon as the customer is done dining, the POS generates an automatic bill. The bill is created by the POS according to the Kitchen Order Ticket (KOT), thus eliminating the mixing up of orders and statements. Posist has a very efficient support service that assists all through the while,' says Singh.
Singh concludes by sharing that, Jux Pux has been highly appreciated. It has been recognized by one of the top 25 Indian companies who has acknowledged Jux Pux's quality and has awarded space for Cafe Lounge inside their campus. Jux Pux has also been featured in the Agra Times of India.