As a restaurant owner, you have a lot on your plate, literally and figuratively. Every day, you're focused on managing your staff, keeping your customers happy, and taking steps towards a healthy profit by adequately managing food costs.
At some point in the life of your business, you'll realize that you need to start offering online ordering. This simple step is an essential method for growing your top of line revenue — bringing new types of customers through the door, and allowing you to predict demand on any given day more accurately.
According to an intricated report on the Restaurant Industry & Market Evolution, restaurant operators said that they received 43 percent of online orders via direct channels. The majority i.e., 57 percent of orders still come from food aggregator platforms. Out of the 43 percent who choose direct channels- half of the respondents prefer ordering via WhatsApp or the Mobile number of the restaurant.
Online ordering and delivery are easy-to-implement and quick strategies to scale your business without spending a ton of capital. But how do you do it?
Nowadays, it is as simple as going online, building an online food ordering landing page, and optimizing it for all of your restaurant locations. By building the page, you'll be able to create a touchpoint that customers can quickly find and use to create an order. In this post, we'll guide you through how to set up a killer landing page, and how to quickly optimize it for conversion.
Key Elements For Your Online Food Ordering Landing Page
To get customers to submit their information and place orders on your landing page, you'll need to follow a few simple steps. After viewing thousands of landing page designs over the past decade, we've noticed that the following steps are essential when building out a new online food ordering landing page for your restaurant
1. Write A Captivating Headline
The first thing a customer will notice when landing on your page is the headline. Be creative with your copy, and directly provide a reason for the visitor to keep reading. Look at how OpenTable quickly intrigues visitors with the simple hook, "Find your table for any occasion." It's short, to the point, yet inviting.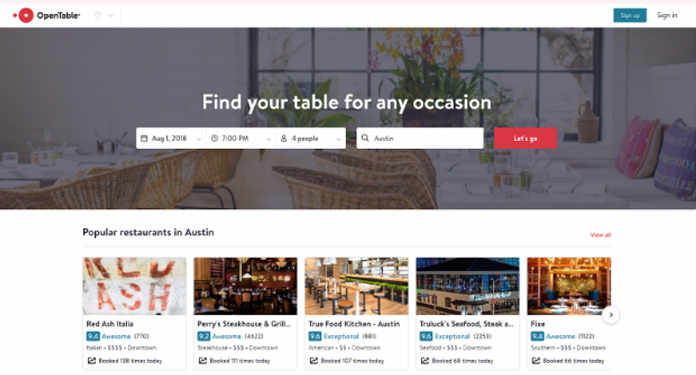 And here's another example, from the build-your-own burrito chain Chipotle.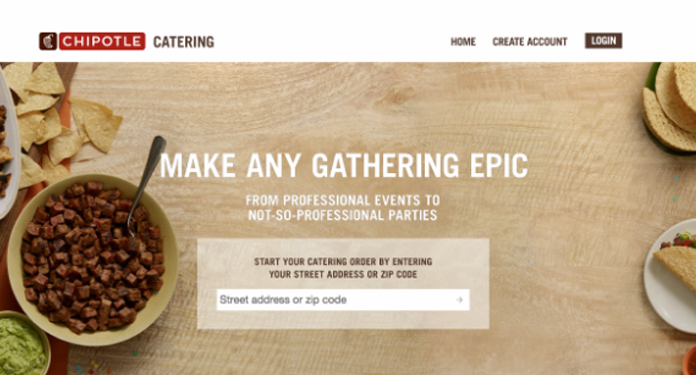 Chipotle's landing page is targeted towards customers interested in big-value orders (catering for offices and events). They create a captivating page by juxtaposing their copy on top of a tabletop with chicken, steak, tacos, guacamole, and chips. To convert customers, they use the line, "make any gathering epic." You can almost imagine you're at an epic event with a delicious Chipotle burrito bar in front of you!
2. Focus On Mouth-watering Imagery
The food business is all about taste. But what indicates great taste? Beautiful photographs of delicious-looking food!
The sad reality is that nobody is going to eat at a restaurant with delicious, but poorly presented dishes. Which dish do you think looks more appetizing — the dish on the left or the dish on the right?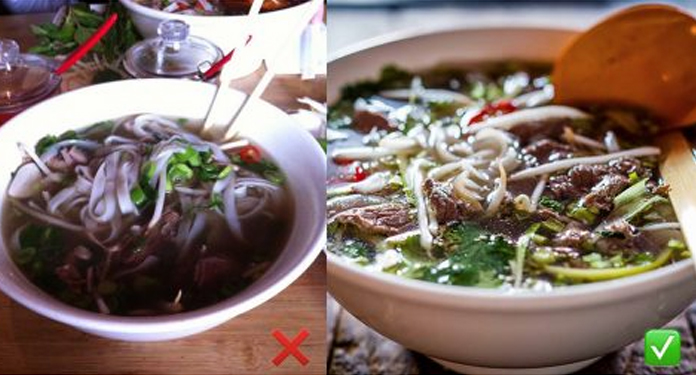 If you're like most people, you probably think the dish on the right looks a whole lot tastier. It's amazing how a change of angle and lighting can affect our perception of food.
Lucky for you, it's never been easier to get great pictures of food. Cell phones in 2018 are capable of taking professional-level photographs — so poor photography should never be a bottleneck on your landing page.
3. Optimize Copy For SEO
Your landing page is pointless if you aren't able to send any traffic to it. While this might not be the most top of mind thought for all companies, great Search Engine Optimization (SEO) can help lower your blended cost per acquisition (CPA) substantially. Rather than paying for traffic, SEO pages rank organically on search engines such as Google and Bing. So instead of paying for traffic, you get it for free!  
How do you get your online food ordering landing page to rank?
First, think of a keyword that you want to build your page around. Then, verify that there's search volume around the term (SEMRush or Ahrefs are great tools for keyword analysis).
Finally, make sure you're following SEO best practices. Here's a great post about proper on-page SEO if you're new to the game.
4. Offer A Deal
When a visitor lands on a landing page via Google Search or from a paid advertisement online, you have only a few seconds to make an impression. How do you get your potential customer excited? Easy!
Provide a quick incentive to encourage them to take action today rather than tomorrow. Consider the case of the Chinese food chain PF Changs.
On their landing page, they offer a 15% discount on takeout with the clever caption "Sure, You Could Cook." But the 15% makes it easy to decide to order PF Changs instead…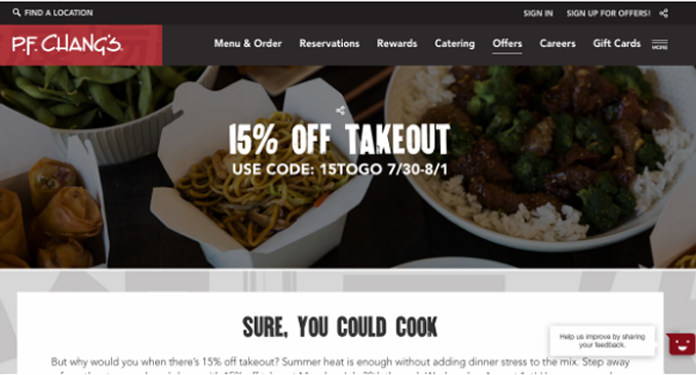 5. Add Clear And Relevant CTAs
Go online, and search for "pizza delivery." It's quite the competitive search term! The big boys—Papa Johns, Pizza Hut, and Dominos—all are bidding to drive search traffic to their sites.
And once they've spent money to get you on their sites, they want to make sure you order a pizza. How do they do it? Clear CTAs!

In the example below, Pizza Hut's CTA is direct and short, encouraging visitors to "Order Now."
And the color of the button is not accidental. In fact, red has been used by many restaurants to stimulate feelings of hunger. It is also known to increase heart rate and increase urgency — all factors that play into clicks on a CTA. Try it out on your online food ordering landing page!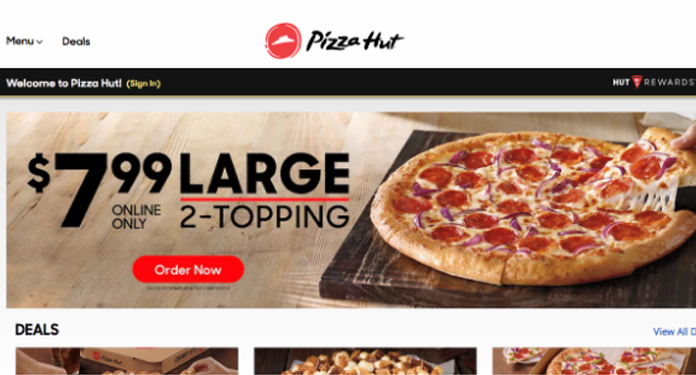 6. Include A Map
In a dream world, your restaurant would be able to serve every customer in the world. But with the food business, you have to be a realist. Setting a delivery radius is essential to maintaining that you can quickly, safely, and profitably deliver food to your customers.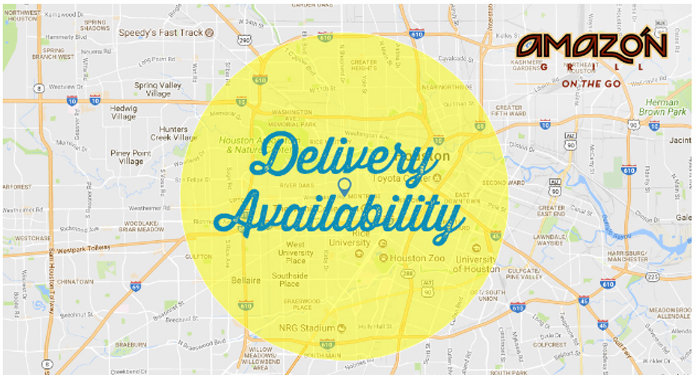 Be sure to include a map of this delivery area on your online food ordering landing page like the one Amazon Grill uses on their site. It'll help the visitor get a better sense of where you're located, and whether or not they can feasibly pick up or have your food delivered to their location.
Optimize, Optimize, Optimize
Now that you've got your online food ordering landing page up and running, it's time to perfect it!
The Internet provides a powerful toolkit for testing the effectiveness of a page quickly. Here are three quick steps that can make sure you that every landing page you create is converting highly!
Run A/B Tests
A/B testing is the growth marketing secret ingredient to success. Rather than throwing up what you think will perform best on a page, you can let the people decide for you. Using a tool like Google Optimize or Optimizely, you set up a test for an element on your page (a photo, a headline, a design) and show each version to a unique audience. Whichever version converts at the higher rate (to a significantly sized audience) is declared the winner.
Include Social Proof On Your Site
Ever notice how you're more likely to order something at a restaurant when your friend tells you it's good?
It's not a coincidence! There's underlying psychology to the way humans rationalize and make choices. We're more inclined to buy something if we know that other people are buying it as well.
That's the basis behind the concept of social proof. And lucky for you, now you can include social proof on your site with software offered by Proof. With Proof, you can display recent orders from other customers or total orders over a period to encourage customers to place an order now.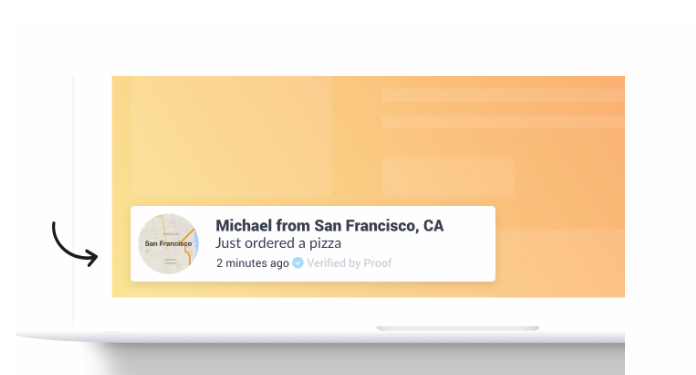 Introduce Exit Intent Or Chat Notifications
Wouldn't it be great if you could stop a visitor and show them a targeted deal right before they bounced from your site? Or what if you could display a chat notification offering to answer any questions?
Now you can!

A properly timed popup or chat can cause a customer to convert, place an order, and be a lifelong advocate for your restaurant. That's powerful! Check out Intercom, Opt-in-Monster, or Drift if you're looking for software options to increase the conversion rate on your page. 
Now that we've gone over the basics of launching and optimizing a landing page, it's time to put these principles into action.
But always remember, nothing suffices for great customer service and food. Focus on those two things, and you're well on your way to building a lasting restaurant empire.
This is a guest post submitted by Ben Johnson of Proof.