Planning to start a cafe of your own? That's a brilliant idea! A cafe is one of those formats that will always work and help your garner profits. However, you need to have certain things in place to ensure that your business will help you incur profit. A mere interest to start a cafe alone, will not definitely be enough, you need to have a proper business plan for it. A cafe business plan will act as a roadmap for the future development of your cafe and is essential to the success of your restaurant. 
How To Write A Successful Cafe Business Plan
It seems that you have made up your mind on starting a cafe of your own and that you are trying to create the best business plan that will help in the growth of your cafe. Your cafe business plan will be the skeleton of your cafe, hence make sure you do it diligently. Read below and garner the knowledge on how you can go about creating a winning business plan for your cafe.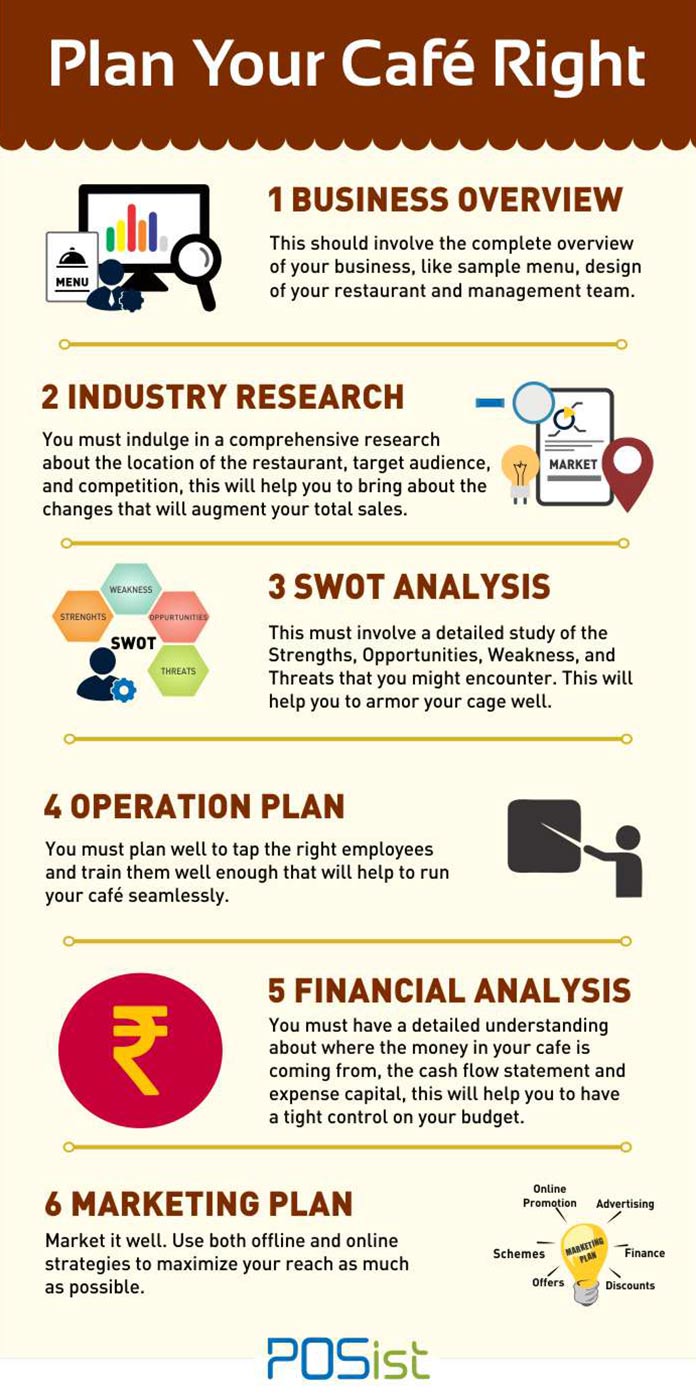 1. Business Overview
Once you have decided on the formate that you are planning to venture into, the second most important thing is to create is a business overview. This would involve a detailed analysis as to why you are planning to open this particular format, the return on investment that you are expecting and who will be your targeted clientele. This overview should particularly comprise of:
Sample Menu: 

You must create a sample menu for your cafe. While doing this you must do a market research and see what is working best in the market, and try and bring in some innovations in them. This will keep you ahead of the other competitors in the market.

For example, if you are planning to have waffles in your menu since it is selling like a hot cake now, you must consult your chef and try to bring in some new innovations of waffles instead of serving the plain classic waffles. In addition to this, make sure that your menu has a variety of items that can satisfy all taste buds.
Design Of Your Restaurant:

This should comprise of the layout of your cafe. The layout or the

design of your restaurant

should be in sink with the format of restaurant you are planning to start. Hence, while deciding on the layout, try and consult a professional. 

Management Team:

This should include the people who will be involved in the management of your cafe. This includes the owner, the manager, and the Head Chef. This will consist of the detailed

description of their job role.
2. Industry Research
This will involve a comprehensive research about the how the cafes are working in the surrounding area , what is the average footfall in a cafe in a day, by when can a cafe expect to reach its profit margin and such other valuable  insights from the market that will help you in the running of your cafe seamlessly. The main things to look for while doing the industry analysis are:
Location Analysis:

You must already know that cafes work better in college/university areas, high footfall shopping streets or malls. Since here you will be able to tap your targeted audience. The location must be easily accessible, must be Google-map friendly and if the location is near your vendor supplier then it will be a cherry on the top.

Targeted Audience Analysis:

Analyse the customer demographic and the behaviour of the customers you are planning to target.

Competition Analysis:

There are various cafes in the market, many of them may have the same theme as yours, the menu items of many of these can also be similar to what you are planning to offer. You must identify them since they will be your competitors and include them in your cafe business plan. Your analysis must include:




–

The market segment that your competitors serve
– The item that is purchased the most by the customers
– What promotion/marketing strategies are being used by the competitors
– The strength and weakness of the competitors
-The growth rate of your competitors
3. SWOT Analysis
This analysis would include the Strength, Weakness, Opportunities, and threats that your cafe may encounter. Your cafe business plan must include this analysis that will help you to understand the various factors that might impact in the running of your cafe.
Strength:

Under this, you can include the USPs of your cafe. For example, any new food innovation that you will offer in your cafe. This part of your cafe business plan would include all the things that will keep you ahead of all other competitors in the market.

Weakness:

It is very important that you include the weakness of your cafe that will help you to armour yourself against all odds. Once you can tap on your weakness you will always get the opportunity to work on it further. For example, starting cafe should not be your only motive, you must also try and establish it into a successful brand, and doing so might be difficult.

Opportunities:

If your cafe is located in a high footfall area where there are a number of cafes located, then you can rest assured that you will always have people in the locality who can be your potential customers. This is a great opportunity and you must always try and bring in innovations that will compel these people to choose your cafe over the others.

Threats:

Once you have your threats listed in your cafe business plan, you will be able to work on it and protect your business from unwanted complications. For example, there can be an inventory shortage or unable to retain customers or employees. You can hardly do anything about this, but at least knowing the possibilities of threats will keep your cafe prepared.
4. Operations Plan
Your operation plan is a very vital part of your cafe business plan. This must include all the things that will enable to run your cafe seamlessly on a daily basis. These would include:
Tapping the right staff:

This is a very integral part of running your cafe since you can hardly run your cafe without the right employees in place. This will include all possible areas from where you can expect to get the right employees, this includes, recommendations from people, advertising through newspapers, job portals or the various social media platforms.

Training The Employees:

Ones you have the right employees in place, the second thing you must ponder into is training them right. You can start the training sessions a month before the cafe actually starts. Give them a manual that all your staffs must follow. Training should now just include how to cook or serve food or handle the billing or the POS, it should include crisis and disaster management techniques as well.  




Hence your cafe business plan should include, the number of employees you are planning to hire, what should be their job role-whether in the kitchen or in the service area. It must also include requirement procedure, job description, and the training manual.
5. Financial Analysis
You can hardly have a successful cafe business plan if it does not include the financial analysis. This is because finance is no doubt the most vital component in any business. Your financial analysis must include the following:
(i) Cash Flow Statement
This includes the various channels through which the cash flows into your restaurant and the way it goes out. Having a control over the cash flow statement is excessively important and you must invest considerable time in it.
(ii) Where Money Is Coming From
This will include the details of the partners and the investors who are putting their money and energy into setting up your cafe. It must include the details of everyone who invests in your cafe, the details of the contract signed and their take on the business. This will help you to avoid any problems between the partners later.
(iii) Expense Capital
This includes all the expenses that are expected to include in the running of the cafe. Once your cafe business plan has the detailed expense sheet that is expected, it will be easier for you to manage your budget and plan money accordingly.the various things that this section must include are:
Fixed Costs: Fixed costs must be calculated and included in your cafe business plan. This includes the expenses that are fixed and are not recurring, these are the ones that will not be repeated. 

For example, the cost of the land, equipment, utensils, interior designing chairs, tables, cutleries and the like.

Expenses that are recurring in natures:  These include rent of the shop, salaries of the staff, costs of the raw materials, electricity and the like. Your expected footfall on a daily basis. Once you have established your business, you must have certain expectations from your cafe, this is exactly what must be included in your cafe business plan. This will help you to set a goal and have a target in mind.
Revenue Projection: Once you have the expected footfall on a daily basis, you can calculate the average amount you can expect to earn from each customer depending on your menu price. Once you have these numbers approximately, you can calculate the revenue projection by multiplying the expected footfall with the expected amount each customer would chip in.
 You can use the total expenses and revenue projection to calculate your gross profit. This will help you to set goals and strive hard to achieve it.
6. Marketing Plan
Merely starting a cafe will not help you garner a profit unless you market it well and create a budget for marketing itself. This is important enough to be included in the cafe business plan, which must have a detailed record of how you are planning to go about marketing your cafe. You should include both online and offline marketing strategies in your cafe business plan that will help you to bolster your overall profit. Here is a complete restaurant marketing manual for your restaurant. 
(i) Online Marketing
The reach of online marketing is huge. Hence, it is essentially important for you to dive into this lucrative domain. You can create a website for your cafe where you can update the changes in your menu, opening and closing time, upload pictures, update about all the new offers, discounts that you are providing and the new events that your cafe is hosting. This will keep your customers informed about all the happenings at your cafe.
In addition to this, plan to start a blog. Here you can upload articles on the various tips and trends of the industry. For this, you can either plan to have in-house writers or outsource them
You must plan to create social media pages, of Facebook, Instagram, and Snapchat. By doing so you will increase your ability to reach your targeted clientele.
Email and SMS marketing is yet another interesting way to reach right at your customer's inbox and further increase the customer engagement. You can also run Loyalty Programs to keep customers coming back from home. 
(ii) Offline Marketing
This is one of the traditional ways of marketing, yet it will be a profitable venture.You can try and harness this domain by engaging with food bloggers, hosting events like comedy nights, advertising through signages and hoardings and distributing pamphlets. Find out how to do the offline marketing of your restaurant the right way here.
Hope you are able to extract all the essential elements that are a must in your cafe business plan. Abide by and implement the cafe business plan and just wait to see a booming success of your cafe. You should also try these golden ways to increase your restaurant sales once your restaurant is up and functioning.