The food delivery business is prospering and gaining momentum in the restaurant industry. Observing the spike in food delivery business, the restaurant space has also witnessed a substantial increase in the number of cloud kitchens, also known as Dark Kitchen, Ghost Kitchen, Virtual Restaurant, or delivery-only restaurant. According to statistics, the global cloud kitchen market is expected to reach USD 2.63 Billion by 2026, at a CAGR of 17.2%. This concept operates entirely online while significantly reducing the cost of setting up a restaurant. The standalone cloud kitchen format has evolved into different variations over the years. A more recent and new concept of Kitchen as a Service (KaaS), better known as co-kitchen spaces, shared kitchen spaces, or commissary kitchens, cuts down on the overall costs immensely and provides foodservice operators with the ability to increase revenue by leveraging their delivery operations. 
Co-Kitchen Spaces- An Innovative Idea To Help Restaurants Excel
Despite the fact that the F&B sector has grown by leaps and bounds over the past decade, the rising rental costs, customer acquisition costs, setting up and operational expenses, etc. have led to the closing down of many brick and mortar restaurants. Restaurant rentals in some prime locations are known to wash away almost 25% of a restaurateur's revenue. 
Looking at the financially challenging aspects of running a restaurant, co-kitchen spaces are becoming a new reality in the foodservice ecosystem. A co-kitchen working space is a licensed, commercial food processing facility that comes equipped with infrastructure, equipment, and utilities such as stoves, refrigerators, ovens, etc. that are essential for running a delivery-only restaurant business.
As these spaces come with flexible rental plans, food business operators can hire the area according to their usage requirements. By setting up operations within pay per use kitchens, operators can cut down the overall expenses by almost 30-40 percent, saving substantially on rent, staffing, and equipment costs.
These are some reasons why co-kitchen spaces are beneficial for the long-term success of a restaurant business. 
Optimizes The Expenses
Although the delivery-only restaurant format saves substantially on expenses such as rental costs, labor costs, front-end maintenance costs, etc., kitchen equipment still constitutes a significant investment. 
Operating from a commercial kitchen space optimizes these costs further and helps the operators in reaching break-even quickly. Co-kitchen areas are adequately equipped to support food production on a large scale including all the necessary equipment and help operators avoid ongoing maintenance costs.  
The foodservice operators can begin making profits within a month of starting operations. Therefore co-kitchen spaces not only help in optimizing the overall expenses but also improve the emerging business models to penetrate faster. 
Low Entry Barriers
Living up to the name 'kitchen incubators,' these spaces actually serve as an incubator that encourages food delivery startups and young entrepreneurs to grow their businesses. Foodservice operators on a limited budget can easily experiment with different concepts and cuisines while leveraging the benefits of a fully equipped kitchen.
As these spaces are fully compliant, obtaining licenses and permits also becomes a lot easier. Co-kitchens also provide plenty of collaborating, networking, and sharing opportunities for independent entrepreneurs that hold a significant value while running a restaurant business. 
Better Order Frequency 
Unlike a brick-and-mortar restaurant, visibility and footfall is hardly a parameter for choosing a shared kitchen space. Co-working kitchen spaces are typically located in areas that do not have high footfall. However, these commercial spaces are located within areas where the demand for food delivery is high. These can either be residential areas, commercial buildings, or even unused parking lots.
Therefore, they can easily serve a larger market. According to the demand for food delivery, dark kitchen operators can cater to the specific cuisine preferences of customers. As they partner with online food aggregators, the customer demand data is data-driven, which helps operators in making better decisions.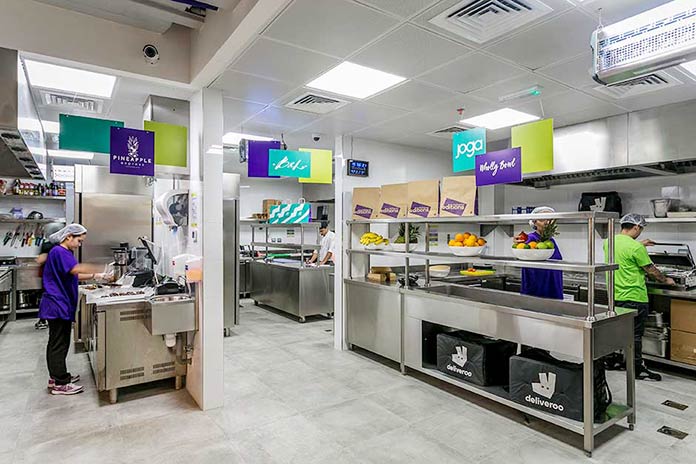 Efficient Food Delivery 
The food delivery business is booming, and a major contributing factor in its underlying success is the advent of third-party food aggregators. But this is no denying that online food aggregators charge a high commission that cannibalizes a significant chunk of revenue for food delivery startups.
Combating this issue, shared kitchen spaces offer a dedicated and sustainable infrastructure for businesses to grow and produce a high order volume. Considering that these spaces generate high order volumes from a single location, it becomes easier for the delivery executives to pick up the orders at once and fulfill more in the stipulated time.
As the per-unit cost of delivery is minimized, restaurant operators operating from the co-kitchen spaces have a better opportunity to negotiate better deals with online food aggregators, thus optimizing the overall food delivery costs. 
"A shared economy is the future for the F&B sector," says Rahul Singh, president of the National Restaurant Association of India.
Restaurant brands operating from co-kitchen or shared kitchen spaces are better placed to make the most of increased food orders, leverage the kitchen infrastructure's strength, attract the right target audiences, and deliver better. All this and even more is achievable while controlling the overall operating costs. 
This concept is finding a lot of traction in the global restaurant space and facilitating the growth of multiple food brands. If you're thinking of entering into the restaurant space and want to invest wisely, consider co-kitchen spaces to streamline the operational processes, and accelerate your restaurant business at the same time!