Having a very prominent online presence is exceptionally important. A properly designed and optimized restaurant website, that creates a proper engagement with the customers is very important, and that would be a determining factor in the sales of your restaurant. While you should not neglect the power of traditional ways of marketing, in the digital world if you overlook the power of digital marketing, then you might be missing out on a lot of potential customers. But chances are, you might not be entirely sure about how you should go about optimizing your site; hence we are here to help. Read below and unveil the mystery of how to optimize your restaurant website in the right manner to increase your restaurant sales. 
How you can Optimize your Restaurant Website?

According to the Posist PRIME Report, restaurant operators received 43 percent of online orders via direct channels. The majority i.e., 57 percent of orders still come from food aggregator platforms. Out of the 43 percent who choose direct channels- half of the respondents prefer ordering via WhatsApp or the Mobile number of the restaurant.
Optimizing your restaurant website is an art that not all can master. And if you are not aware of the tricks on how you can optimize your restaurant website, then all your efforts will go in vain. To avoid any such happenings, read below and garner knowledge on how you can go about optimizing your restaurant's website. 
1. Make Sure All the Necessary Information is There
When you start making a restaurant website, you must put yourself in the shoes of the customers and try and analyze what are the things that they would want to see on a website. Make sure the necessary information are there on the website, like the address, photos of the interiors, a detailed menu, customer reviews and ratings, and ways by which the customers can make reservations and place orders from your restaurant.
It is likely that when a hungry customer visits your website and fails to find how and where to order from, they will quickly visit the next restaurant website in line. You definitely won't like to miss out on your customers, will you? Therefore, it is important to have the SEO for a restaurant website in place when optimizing restaurant website. 
2. Choose The Correct Domain Name

The right domain name can go a long way and help you with having an oozing cash register. While you may think that finalizing a domain name is rather easy, it is a sphere where more restaurant owners fail. If possible, we advise you to take professional help, since the right domain name can do wonders. Try and keep the domain name as close to your restaurant as possible.
Avoid using any hyphens or underscores and try and incorporate keywords that will help potential customers to find your restaurant when they will be looking for the type of cuisine you serve in the search engine. For example, a restaurant named Cheelizza has a domain like www.cheelizza.com.
3. Put up Tantalizing Images
Putting up content that clearly explains what you are selling is not enough, on the contrary try and post tantalizing images of your dishes. Customers first taste your food through their eyes. Hence, images are especially important for a restaurant website. High-resolution pictures of your food items can do wonders. High-resolution and a close-up image of your mouth-watering dishes will compel the customers to convert the traffic from your site into actual customers at your restaurant.

4. Insertion of Keywords is a Must
Once you know what you are planning to sell and who you are planning to sell, then you would have an idea about which are the significant keywords which you would like to target and rank on, that will help you to reach to all your potential customers. Hence, you should optimize your restaurant website with all your targeted keywords. They help in SEO for a restaurant. However, be careful not to overdo it. Stuff keywords, subtly and in a natural fashion that flows with the voice and tone of your site.

5. Optimize Online Menu for Mobile
Since online ordering has become so prevalent nowadays, it is imperative for you to have a website that is optimized for mobile users as well. Not only that, this should be given due importance since most of the customers today order food from their mobile itself. This means that they in all probability will visit your menu before any other page. Nothing will prompt a user to move on to the next faster than a menu that they can't properly view. Ensure that your online menu is appropriately explained, easy to read, visually appealing and most importantly, optimized for mobile.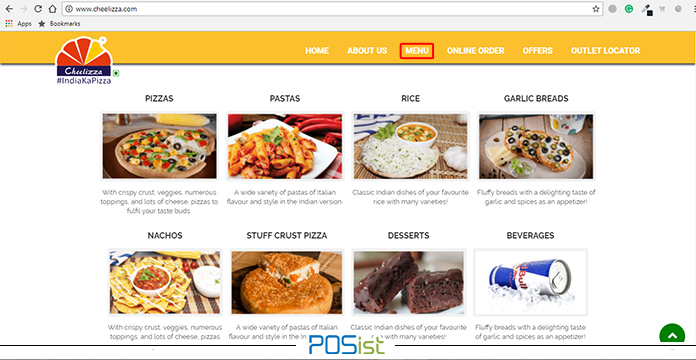 Learn how to optimize your online menu here. 
Once you have optimized your restaurant website then, the chances are that you would rank when your potential customers are searching for something similar to your restaurant on the search engine, this will help you to attract a large number of customers which in turn will bolster your restaurant's overall profit.