Restaurant Marketers have, over a period of time, witnessed a changing trend in how mobile phones have benefitted their restaurant businesses. Mobile devices have made it easier for users to search for anything related to the restaurants with only a single click. A study says that 81% of the consumers search for restaurants on their smartphones. For restaurants, SMS marketing is an instantaneous way to reach out directly to customers. It is one of the most cost-effective ways to capture a new audience and retain existing customers. 
How Can Restaurants Make The Most Of SMS Marketing?
With a 99% opening rate of text messages, SMS marketing is a great opportunity that your restaurant can explore. Before sending the text messages directly to customers, ensure that your text message campaign is concise and relevant. The CRM module in a robust POS system streamlines the entire process of reaching out to the customers. A centralized dashboard in the CRM software consolidates the customer details from all the platforms. It helps the restaurants to create targeted and customer-specific offers.
The restaurant industry is competitive and hence it is important for restaurants to stay connected and create a strong brand recall value. A Top-of-Mind Awareness is what all restaurant brands seek while strategizing their marketing campaigns. Similar to email marketing, too much of spamming in SMS marketing can slow down the opening rate of messages and may also ultimately lead to the customers opting out of messages entirely. Your SMS campaigns should be customer-centric, crisp and clever. Drafting short messages with a defined Call to Action and timely scheduling are some proven measures to generate better customer engagement.
Let's look at how restaurants can make the most of SMS marketing for retaining customers and growing the business.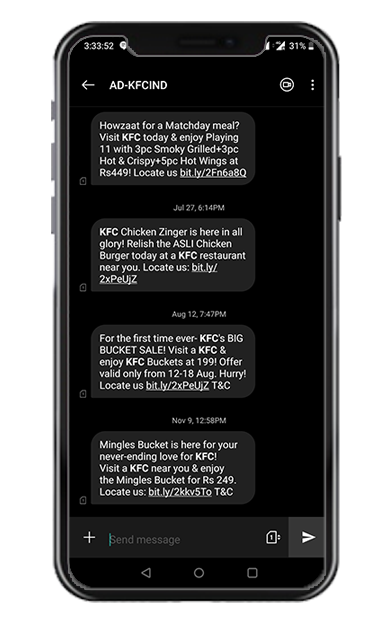 1. Customer Feedback 
SMS can be a great tool for the restaurateurs to gain an understanding of their customers' overall experience with the brand and improving the services. An advanced way of collecting feedback is by sending an SMS survey to customers, soon after they chose to dine-in or order meals at their doorstep. Similarly, you can take insights about what improvements would the customers want in your restaurant's food, ambiance, service, delivery etc. through a dedicated SMS feedback campaign.
2. Menu Offers
Added some items on the menu exclusively for Christmas? Decreased the price of a menu item? Let your customers know about your special menu offers through SMS. SMS can be a great medium for telling your customers about the menu and price modifications. You can send direct notifications to the customers informing them about limited menu offers, pricing updates, speciality dishes etc. 
3. Discount Coupons
One of the most common and engaging ways to attract customers is by sending customized coupons informing about exclusive offers and discounts. You can send bulk messages, include the customer credentials and even add personalized offers for your regular customers. Discounted coupons on delivery or dine-in would also help your restaurant in offsetting slow days and increase sales when the business is low. Similarly, you can set a predefined time frame on the coupons to avoid too much discounting.   
4. Retain Customers Through Reminders
Through SMS marketing, you can maintain an effective flow of communication with your existing customers. You can attract your old customers by sending them reminder messages with customized discounts or complimentary meal offers. You can delight your customers on their special occasions by sending personalized messages and greetings. Similarly, you can use the messaging platform to communicate any restaurant updates and changes such as the opening of a new outlet, menu offers, changes in the website/ helpline number etc. 
5. Social Responsibility
Large restaurant chains like Dominos offering special discounts on Voting Day, or famous cloud kitchen brand, Box8 sending personalized messages to Mumbaikars on account of heavy rains, are some fine examples of how SMS marketing can be more personalized and emotive. Restaurants adopting socially responsible elements in their campaigns deliver more value to the customers. Apart from boosting the business, SMS campaigns can be a phenomenal way of expressing care and concern towards the community.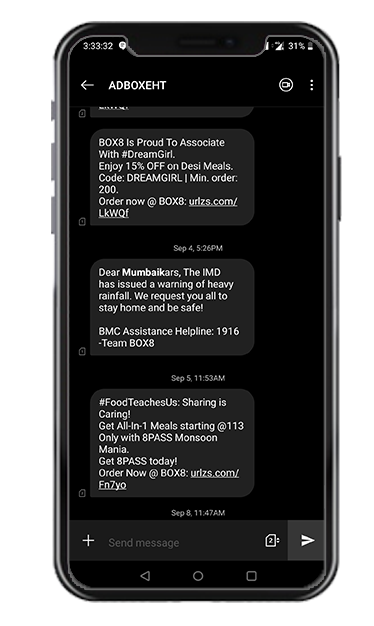 6. Promotion Of Events 
If your restaurant is hosting a wine tasting event or organizing a musical performance on a weekend, it is a good time to communicate the message through SMS. You can build excitement in your audience by reminding them about the event that is taking place in your restaurant. Based on the customer database, you can promote special access to the event to your regular customers. 
7. Loyalty Programs
Loyal customers are important for every business. You can create loyalty programs and send conversational text messages that offer customized benefits to customers. Involvement of your customers in the restaurant loyalty program would be based on the value that is being delivered to them. You can incentivize your customers when they sign up for your loyalty programs with special discounts or complimentary meals on their next visit. Sending loyalty program messages and updates on SMS would be a great tool to ensure that your customers feel engaged with your brand. It would also provide a good scope for your restaurant to improve its services.  
Restaurants today are utilizing multiple marketing channels for promoting their brand and acquiring new customers. From social media to billboards and flyers, restaurants today want to mark their presence and create a strong brand recall in the minds of customers. With Mobile devices becoming an important element of everyday lives, SMS marketing gives a good scope for restaurateurs to instantly get in touch with their customers. Diversify your marketing efforts with SMS marketing and let your customers connect with you over a single click!