Nobody could have predicted that the pandemic, which culminated in total lockdown in March 2020, would have such severe financial consequences. With restaurants shuttered, for millions of consumers staying home, takeout dinners were the only option. Thus, COVID-19 has accelerated the adoption of cloud kitchens in the food and beverage (F&B) industry. 
Cloud kitchen, which was dubbed a new trend a few years ago, is now a reality. Commercial kitchens designed solely for delivery are known as ghost kitchens, dark kitchens, or cloud kitchens. They're not in high-traffic locations, but rather within a delivery radius of a large number of online consumers.
Since there is no real storefront or dining area with ghost kitchens, you just need a few back-of-house employees to fulfil online orders.
The first wave of the pandemic was a learning experience for people in the business, and it was responsible for reviving growth for the international F&B industry when traditional channels ran dry. The food ordering market in India is expanding at a CAGR of 16% to reach $17 billion by 2023 as per DataLabs by Inc42. In comparison, the projected market size of cloud kitchens alone is expected to reach $1.05 billion by 2023. 
It is no wonder that with one foot firmly in the food delivery business, food aggregators are aggressively moving towards cloud kitchens to cash in on the frenzy.
Here is why clouds kitchen are the future of the restaurant industry 
The Future Of The Restaurant Industry – Cloud Kitchens 
Introduction To Cloud Kitchens 
A cloud kitchen, sometimes known as a "ghost kitchen" or "virtual kitchen," is a commercial cooking area that gives food businesses the tools and resources they need to produce menu items for delivery and takeaway. 
Cloud kitchens, unlike traditional brick-and-mortar facilities, allow food enterprises to manufacture and distribute culinary goods with low overhead. They are centralized, licensed commercial food production facilities where restaurants can rent space to create delivery-optimized menu items. The key difference is that in a ghost kitchen, a restaurant's focus is on delivery rather than dine-in. 
Moreover, one restaurant can operate numerous brands or virtual restaurants under one roof, or the kitchen operator can function as an incubator, with different vendors sharing the space. This provides restaurateurs with a low-cost, high-efficiency approach for maximizing delivery. 
Best examples of such kitchens are Behrouz Biryani, The Oven Story, and Faasos operated by one of the largest Indian restaurant (cloud kitchen) brands. Rebel Foods became a unicorn as it raised $175 million in its latest round at a $1.4-billion valuation. These restaurants have seen a significant portion of their revenue shift online due to the emergence of delivery apps, and are now leveraging their existing kitchens by adding delivery-only brands to their in-house menu. 
Power Of Cloud Kitchens 
Cloud kitchens have been on a rise since the pandemic and will continue to do so as it's convenient for customers as well as the people working for the restaurants. With the benefit of serving people with good food as well as being safe and secure about it, people prefer cloud kitchens more. 
Cloud kitchens can process their delivery orders offsite as opposed to the dine-in restaurants having long waiting during busy lunch and office hours. 
You can install recipe management software to automate your food preparation process, to help achieve consistency in the quality and amount of food cooked while also giving you a competitive advantage in the market. 
With a Supply Chain Management solution, you can automate your procurement and inventory management processes to better understand your wastage, food costs, and material stock. In the cloud kitchen, a POS (Point of Sale) must be established via which all online orders will be processed. This will aid in the seamless administration of customer orders. Because time is of the essence in cloud kitchen operations, POS is a lifesaver.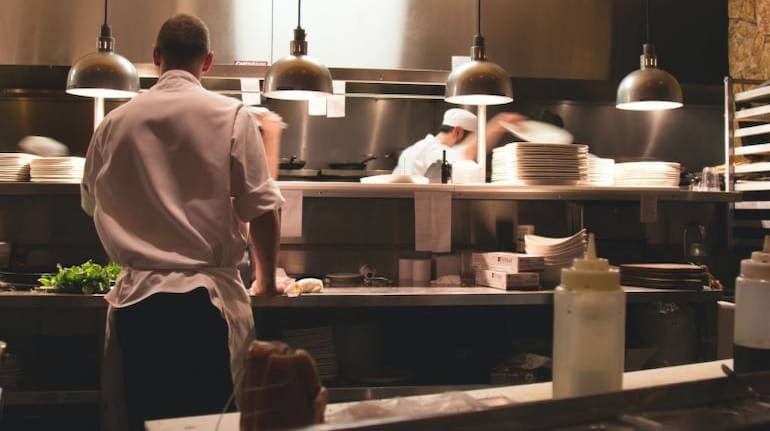 Exclusive Access To The Delivery Market
The benefits of partnering with food aggregators are numerous. One is the timely dispatch of deliveries. Another key aspect is delivering orders effectively and on time. By executing deliveries correctly, ghost kitchens can assist restaurateurs in building their brand. 
The way we eat has evolved, and ghost kitchens enable restaurant owners to capitalize on delivery demand without jeopardizing their profits. They're also a wonderful method to grow into new markets without having to invest time and money in a regular restaurant.
UberEats, Grubhub, DoorDash, and Postmates have all appeared on the scene to take on the burden of restaurant delivery in return for a portion of the overall order value.
Minimal Upfront Costs 
With cloud kitchens, there's no need to invest in real estate or pay a premium for renting space in a high-traffic area as you don't need to draw people to your site. There's also no need to spend money on exterior signs, interior restaurant decor, or other frills like furniture, plates, or silverware. With cloud kitchens, you only need to focus on the food that you are serving and its safety. 
All About Technology 
Cloud kitchens must be data-driven in their approach to business. After all, although delicious cuisine is important, knowing consumers is even more important for long-term success. Restaurant owners must know what their customers enjoy and dislike, as well as be able to anticipate what they will order at different times.
The more technologically oriented a cloud kitchen business is, the faster or greater the ROI is likely to be. In this domain, we've only seen the tip of the iceberg in terms of innovation. Additional services are emerging as the technology matures, such as smart food purchasing and production software to reduce food waste and increase per meal unit economics, as well as aggregating multiple delivery apps into one portal for easier production of multiple orders and delivery coordination.
The Cloud Revolution Is Just The Beginning
Post-pandemic, more guests are using ordering apps to specifically seek their preferred brands. In 2019, 51% of guests claimed they ordered food through a restaurant's website or mobile app directly. That percentage increased to 82% during the COVID period, indicating that visitors are actively searching for your brand online and on their phones.
If you are thinking about opening a cloud kitchen, the time has never been better. With your cloud kitchen, you can go beyond the skies especially after the COVID-19 pandemic.