Intending to open a restaurant in UAE? Determining a restaurant concept is the first step towards realizing your dream. Even before you start looking for a perfect location or for investments to open your dream eatery, you have to have a concept in your mind. The restaurant concept is the very foundation of your brand and will help you plan out other aspects of opening a restaurant seamlessly.
Restaurant concept can be defined as the style and the theme that represents a restaurant. It includes your restaurant's service style, menu, ambiance, decor and the style of the food. There are several types of restaurant concepts to choose from, and this can be overwhelming. 
The restaurant concept is the first thing your guests come in contact with and perceive the kind of food and service they can expect. Your restaurant concept reflects who you are and what people can expect from you.
The most common restaurant concepts in the UAE are –
Casual dining restaurant

Quick service restaurant

Cafe

Fine dining restaurant
How To Choose The Restaurant Concept
Clearly defining your restaurant's concept is beneficial for both the guests and the restaurant owner. The apt restaurant concept will help set the expectations right and help you streamline various operations when inaugurating and managing your restaurant.
This article will help you with everything you need to consider while selecting fro different types of restaurant concepts.
1. Know Your Service Style
Knowing your service style is the key to selecting the right restaurant concept. In UAE, there are three main approaches a restaurant owner can take into consideration depending on the type of restaurant they own. restaurant themes and concepts go hand-in-hand. You need to choose a concept that does justice to the theme you have in your mind. 
Fast-Casual or Quick Service

: These service styles are immensely popular amongst the food trucks and the QSRs in UAE. They emphasize being quick; since most of the raw material is pre-cooked and only assembly is required. Also, they are known to be budget-friendly. Quick service restaurants are usually self-service, where the customers place and receive the orders themselves. 

Casual Service: This kind of service style provides the affordability of a QSR with the comfort of fine dining. They have an elaborate menu and more options for the guests to choose from without being over-charged. This type of service includes taking and serving the order to the customers at the table by the servers or waiter.


Fine dining

: This is the highest and the most expensive form of service styles. They emphasize on everything ranging from the decor to the food. The service is focused on hospitality, and they are keen on providing an overall experience to their guests more than just providing good food. Therefore they tend to charge more as compared to other service styles. 
2. Decide The Cuisine
The cuisine you wish to serve at your restaurant also plays a vital role when deciding the restaurant concept.
For example, if you are using expensive ingredients like exotic fruits and vegetables for cooking, you cannot open a QSR and have a very high price to cover up the food cost. People will not relate to it since they have a perceived notion of QSRs being pocket-friendly.
Also, if you are serving Italian or Indian food, make sure your decor speaks for itself. Having a decor that glorifies your menu, and the cuisine will appeal to your customers. UAE has a diverse customer base, and people enjoy food from different cultures. Thus, make sure your restaurant concept does justice to the cuisine you wish to sell at your restaurant.
You can try and incorporate the essence of the cuisine in your restaurant branding, design your interiors with the elements that reflect the culture and food that particular cuisine belongs to.
3. Consider Your Target Audience
Not every restaurant owner wishes to serve the same customer demographics; therefore you need to consider your target audience when deciding the restaurant concept.
Understand if you wish to serve families, youngsters, etc. as this will give you a clear idea of what your restaurant concept should be.
To target the desired customer base, you need to ensure your restaurant concept is inviting enough to lure them in.
For example, the fine dining restaurant Moana is strategically located in Sofitel Hotel in Palm Jumeirah, Dubai which is the aptest location for a fine dining restaurant.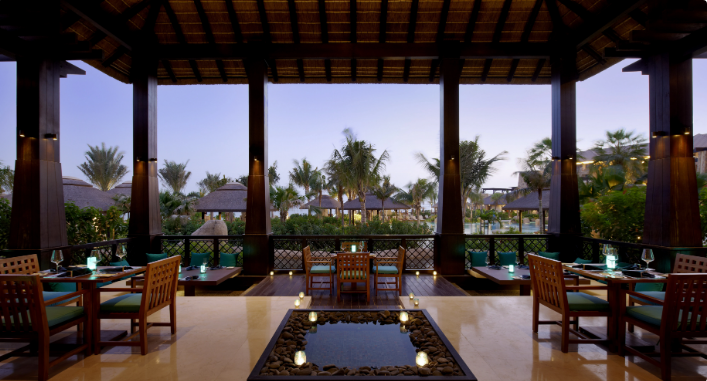 Palm Jumeirah is one of the affluent places in Dubai and has visitors from all over the world who are willing to spend extensively on food and dining experience. This makes it a great location for a fine dining restaurant.
4. Take Your Budget Into Consideration
In UAE, the average cost of opening a small restaurant is AED 500,000 to AED 1.25mn depending on the type of restaurant you own and the size of the restaurant. Therefore, it is essential to consider your budget before you decide upon a restaurant concept.
If you are just starting and want to invest less, you can opt for a food truck. The food truck culture is catching up in UAE and provides an excellent opportunity for new restaurant owners. In fact, opening a food truck is seventy percent cheaper than running a physical restaurant!
It is essential to analyze the capital you are willing to spend on a particular restaurant concept and if it would be profitable in the long run. Keep your budget in mind and select from an array of unique restaurant themes, that fits your pocket!
5. Consider A Unique Theme
The theme of your restaurant is something that would complement your restaurant concept. Your restaurant theme will make your restaurant concept unique and will help you outshine your competitors.
You can decide a theme that is in accordance with the restaurant concept and the target audience, but most importantly you need to ask yourself, is the theme unique?
Considering the steep competition in the UAE, it is essential for your restaurant to leave a mark and having a unique theme certainly helps!
Keep in mind the cuisine you wish to serve at your restaurant while deciding the theme. Your theme should accurately represent the cuisine as it will give your customers an idea of what they can expect from your restaurant.
The theme should be incorporated into your interiors, the color palette, furniture, etc. this will enhance your restaurant concept and will make it more appealing.
Deciding a restaurant concept can be a challenging task when starting a restaurant but with proper market research selecting a concept is not a difficult task.
In UAE, the competition is stiff, but the right restaurant concept will help you gain clarity on your goals for the restaurant.
Take your time, analyze your competitors and keep the points mentioned above in your mind when deciding a restaurant concept and you surely would succeed!