The restaurant industry has been hit hard due to the rapid spread of COVID-19 all over the world. The UAE restaurant industry is bearing the brunt of it even after a year. For example, dine-in facilities are curtailing their operating hours due to COVID-19 regulations. Several famous restaurants are being shut down, if found violating any COVID safety norms. However, shifting to or opening up a cloud kitchen means taking a new approach to kitchen management operations. 
Today's harsh times have taught restaurateurs that they need to shift their focus from dine-in services to building a new stream of income – for example, a delivery-only outlet. Resultantly, cloud kitchens have seen a rise in orders and have proved to be quite a saviour in coronavirus times. 
Top Essentials Of Restaurant Kitchen Equipment For Your Cloud Kitchen
A cloud kitchen must have the whole package of restaurant equipment to work efficiently. The right type of apparatus will help you cook better and deliver better. This article will provide you with insights into the kitchen equipment needed for setting up a brand new cloud kitchen. 
1. Cooking Lines Or Ranges
The cooking range is the most basic equipment of a cloud kitchen as it is the source of the heat required for food preparation. There are industrial gas ranges available in the market that provide easy heat and temperature control. Then there are electric ranges that offer an elegant, easy to clean and seamless design. Restaurateurs need to analyze the type of cooking line in terms of model and size that fits their kitchen appropriately. 
Industrial gas ranges are usually the recommended solution as they provide accurate temperature regulation. However, electric ranges are also a good choice if the electricity is cheaper or more abundant than gas in your city. 
2. Refrigerators and Freezers
Refrigerators are one of the most essential equipment of cloud kitchens. There are various types of refrigeration systems available in the market, such as reach-in coolers, freezers and walk-in coolers. You should choose the one that fits and aligns best with your cloud kitchen operations and brings out the maximum kitchen efficiency. Walk-in coolers are always recommended for large and co-working cloud kitchens as they provide enough space to store different brands' apparatus. However, the size of the refrigerator will entirely depend on the size of your cloud kitchen and your requirement.
Refrigerators and freezers act as storage area for vegetables and fruits, frozen foods, leftover ingredients and other inventory. A good refrigerator and freezer system will keep the items fresh and ensure that the quality of the food is not compromised. Therefore, choose the best refrigeration contractors in your city and get the desired refrigerator for your cloud kitchen. 
3. Sinks
Sinks are a source of running water. They provide the washing space for food, raw materials, and utensils in the cloud kitchen. Single, double, or triple-sink wash stations are available in the market, and you need to look at your requirements before installing them. A dishwashing unit can be further installed in your cloud kitchen along with the sink. 
Sinks are a crucial part of any cloud kitchen as they drain out the wastewater of the kitchen and ensure that the cleanliness of the cloud kitchen is maintained. 
4. Ovens 
An appropriate oven for your cloud kitchen should get due importance in your list of restaurant equipment. It is responsible for a broad range of functions, from boiling soup to baking cakes. If your cloud kitchen caters to bakery products or focuses on pizza delivery services, ovens are a must-have for your kitchen. They should be adequately maintained and chosen wisely.
Ovens should be chosen such that their functions are in line with your kitchen requirements and space. There are standard ovens, convection ovens, combi ovens, conveyor ovens, cook-and-hold ovens, deck ovens, rotisserie ovens and steam ovens. Each type of oven has a specified function that should be paid attention to before buying.
5. Mixers And Slicers
Mixers and slicers help speed up the slicing and mixing up the ingredients while cooking and thus, reduce the preparation time of dishes. 
Mixers are a must, especially when running a cloud kitchen that deals in the bakery or pizzeria segment. Large volumes of dough, sauces and other ingredients can be easily mixed using a mixer, saving a lot of time than doing it manually.   
Heavy-duty mixers: Heavy-duty mixers are a good option when raw materials need to be processed in large quantities continuously.
Countertop/stick mixers: These mixers can be bought if your cloud kitchen requires relatively small quantities of raw materials.
Spiral mixer

: Spiral mixers are the best for dense doughs like that of pizzas. They can accommodate up to six hundred pounds of dough and spin at really high speeds, making the mixing more even and thinner. 

Planetary mixers: If only light batters are required, then planetary mixers are a perfect choice. Their spinning speed is lower than that of the spiral mixer but works best for preparing light things like whipped cream or mashed potatoes.
Slicers are used to cut the raw materials quickly and efficiently. Different types of slicers allow the slicing of various raw materials like meat, fruits, vegetables, etc. They are an essential part of the restaurant equipment for cloud kitchens as they help maintain the consistency and uniformity standard set by different brands. 
6. Fire Suppression Unit System / Fire Extinguishers
Taking measures to safeguard your cloud kitchen from fires is always a wise thing to do while setting up your cloud kitchen. Commercial kitchens always have a lingering risk of fires originating from cooking surfaces getting out of control. Therefore, cloud kitchens should always be fireproofed for the safety of staff and chefs. Well-maintained fire suppression unit systems and fire extinguishers are essential components used to keep the fires under control. 
It is always advisable to check the local fire department guidelines before installing any type of fire safety equipment to avoid potential complications. While fire extinguishers are operated manually, fire suppression systems are to be directly installed in the existing hood of the kitchen. Furthermore, it is always recommended that one should opt for a multipurpose powdered extinguisher as it is effective against all kinds of fire. 
7. Kitchen Cooking Utensils
Kitchen cooking utensils are an integral part of a cloud kitchen. Since various cooking utensils are required for multiple stages of cooking, there should be a versatile range to carry out different functions like slicing, frying, baking, etc. They can be purchased brand new or second-hand depending on the revenue it generates in its initial stages. They are also available on lease.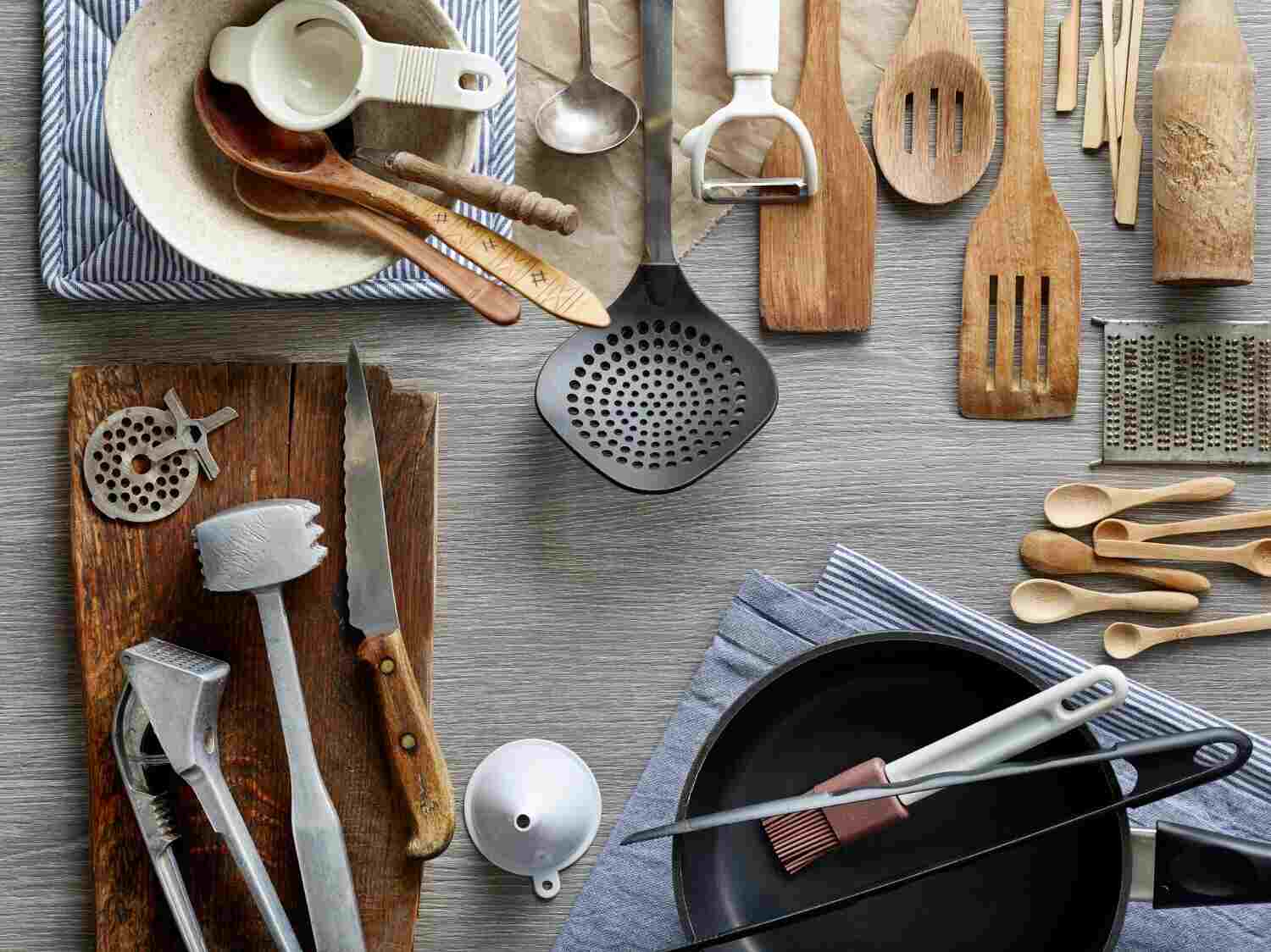 8. Shelves
A ghost kitchen must have a properly organized shelving area to store all types of food products, utensils, ingredients and raw materials. Shelving is beneficial for cloud kitchens as it allows easy execution of operations as there is a defined space for every type of raw material. Amongst the different sizes of storage areas available in the market, you need to choose the one that best accommodates your cloud kitchens' equipment. The ideal shelving should be spacious enough and provide a safe and contaminant-free environment to all the stored material.
9. Exhaust Hoods
Exhaust hoods are vital to maintain the temperature and humidity in the kitchen while cooking. It is essential to maintain a healthy breathing environment to ensure the proper functioning of the staff without any discomfort. There are two types of exhaust hoods: 
Grease hoods:

These hoods are essential if there is a lot of heat, smoke, and grease coming out as a by-product of cooking. Cloud kitchens where frying, grilling, or broiling are major tasks should have grease exhaust hoods. They come with a make-up air (MUA) device that ensures efficient ventilation in the kitchen and "makes up" for the contaminated air present in the room.

Condensate hoods:

Cloud kitchens that focus more on baking and steaming can opt for condensate hoods as their only exhaust is heat and moisture. Removal of extra heat, vapor, or odor should be regularly done to benefit chefs and the people working around. 
10. POS Software
Cloud kitchen POS software does not fall under the category of 'cooking' equipment but is still an important element of the cloud kitchen equipment list. Managing different brands from one kitchen is a cumbersome task. Having different kiosks for different brands will result in a waste of time and make the execution of operations slower. This is where POS software comes into the picture. 
A robust cloud kitchen software is crucial for cloud kitchen formats as good management of sales and operations is imperative while working with different brands. A good POS software will maintain all the information and display it on a unified dashboard, keep track of all types of reports, have third party integrations and many other crucial features that will make the cloud kitchen functioning easier. 
An ideal cloud kitchen should have a complete apparatus to function correctly and deliver the best results. Include these equipment in your kitchen and see the efficiency of your kitchen go up!