An efficient restaurant kitchen design should be high on your priority list whether you're opening a new restaurant, expanding an existing one, or remodelling an existing one.
The success of a restaurant kitchen design is defined by careful planning. Commercial kitchens with sophisticated layouts, containing all of the restaurant equipment that chefs want in the exact location that they require it, are critical to a restaurant's success. A badly constructed restaurant kitchen can wreak havoc and possibly result in injuries.
As a result, while opening a new restaurant or redesigning an existing one, you should carefully consider your kitchen design. A well-designed kitchen layout not only helps your back-of-house crew to prepare high-quality meals but also increases the speed and efficiency of your whole team, resulting in a better guest experience.
A restaurant kitchen's design and layout should allow food to flow smoothly from the prep area to the line. Occasionally, a new restaurant will have a fantastic location but limited cooking space, and you need to adjust your plans appropriately.
A number of factors must be considered, including ergonomics, workflow, layout, hygiene, and budget, as well as the installation process. The latter should be meticulously planned to ensure that it takes the least amount of time and causes the least amount of disruption.
Let's get started by learning where to start, what to think about, and borrow some inspiration from a few restaurants that are leading the way with their creative restaurant kitchen design.
1. Detailed Guide To Restaurant Kitchen Design 
From understanding your kitchen needs, and planning a menu to buying the best equipment, we have got you covered.
Here is a detailed guide to restaurant kitchen design.
i) Understating Your Kitchen Space
The kitchen is the heart of your restaurant, and it's here that your menu comes to life. Unlike at home, when you and your family are the only ones in the kitchen, a restaurant kitchen has hundreds of people coming in and out on any one shift, so being organized is essential.
Measure the area that you can work with and understand what kind of equipment will fit while leaving enough space for your chefs to move around. It will be easier in the long run if you take these dimensions before you start designing. It's also vital to know where windows, doors, and electrical outlets are located, especially when designing your kitchen's workflow.
Think about how you can make it a good environment for people who will work for you and then enjoy working. Include precise measurements of food preparation, display, refrigeration, and storage equipment, and be smart in determining what is most critical.
ii) Know Your Local Health Codes 
The greatest commercial kitchen in the world would be for waste if you didn't take your local norms and laws into account. Restaurant rules differ from state to state and must be taken into account when planning a commercial kitchen. Health and fire laws, as well as staff safety, practices, must all be followed.
Things like the practices between minimizing the distance between the food prep station and any sinks or disposal drain, the installation of vents and grease traps, the size and temperature capacity of hot water tanks, and the design and location of food storage spaces are usually governed by regulation. It's simple to find your local laws and regulations online, but they can be confusing at times. Make an appointment with a local inspector to learn more about how to comply with the regulations in your region.
You should always check the local health codes and research the latest updates before planning what kind of equipment would go where in the kitchen.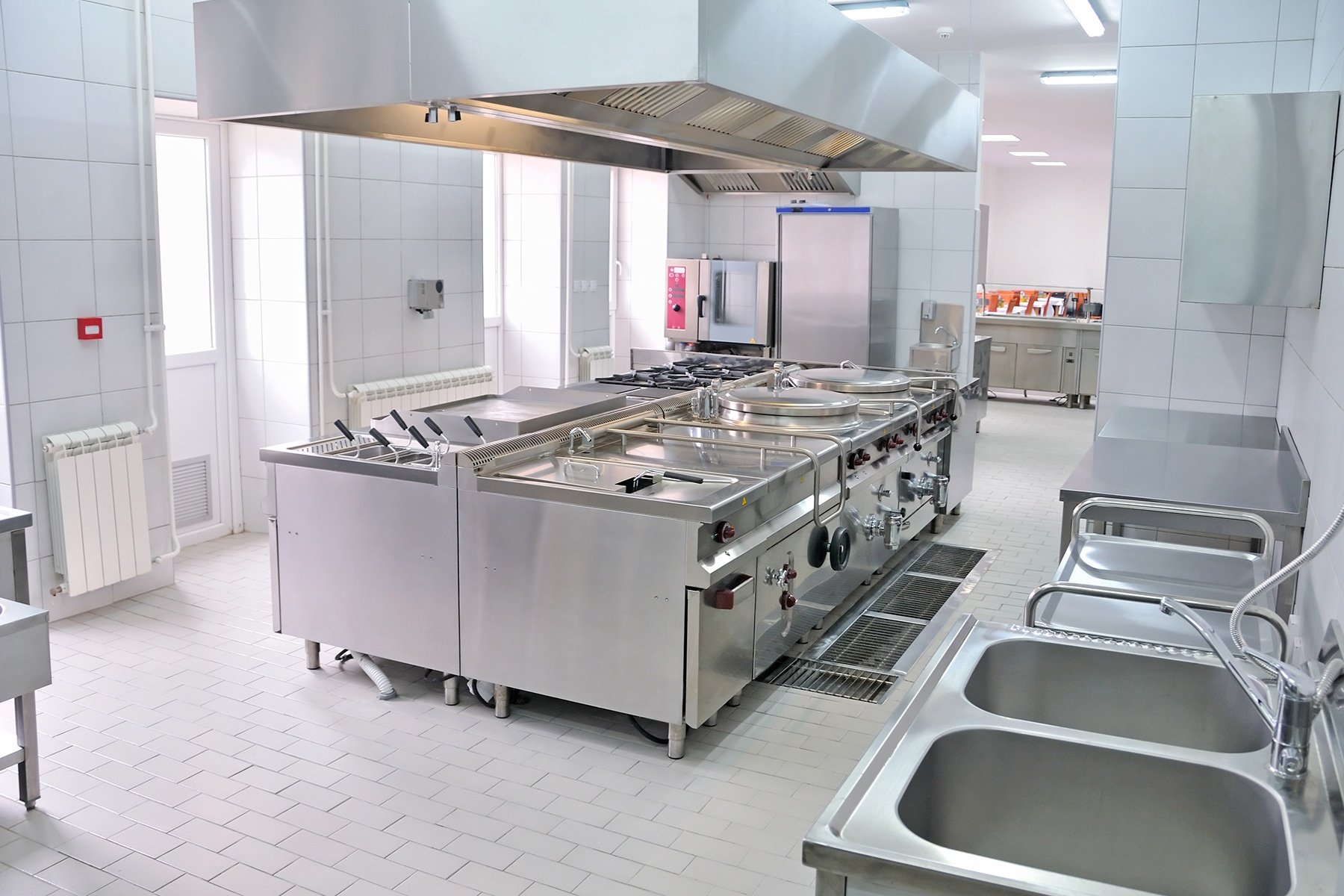 iii) Ask Yourself Which Configuration 
When it comes to kitchen planning, you should ask yourself which kind of kitchen configuration you want. Configuration means the shape that is made by the arrangement of the countertop, major appliances, and storage areas.
Here are 3 kinds of configurations you can incorporate in your kitchen.
a) Island Configuration 
With island configuration, the kitchen design has a centre 'island' surrounded by counter space on all sides, as the name indicates. The island is usually fitted with stoves and ovens and is used mostly for cooking, while the countertops around the perimeter are used for food prep and other tasks. Nevertheless, based on your kitchen's unique demands and preferences, you can modify the island's purpose to one that better matches your kitchen.
A cooking surface, prep bowl, and bar or wine fridge can all be found on the island. It can also be utilized as a simple prep area. While the kitchen must be large enough to accommodate an island, the right placement allows for a natural flow of traffic in the space.
b) Open Configuration 
With open configuration, all or part of the Back of House (BOH) is exposed to your visitors or customers. This is prevalent at pizzerias, and it can be an excellent choice for a business wanting to enhance openness in food production or just provide visitors with an interesting view into how their meals are made.
However, this kind of design puts more pressure on you to keep your kitchen clean and have fewer accidents so that patrons are not disturbed while dining at your restaurant.
c) Ergonomic Configuration 
Designing a kitchen with ergonomics in mind entails structuring it such that employees are comfortable while working and are able to perform duties with as little movement as feasible. Ergonomics is the science of designing the environment to fit the people that use them, not the other way round. Equipment and supplies are placed close together in kitchens with ergonomic configurations, so staff don't have to reach, crouch, or wander away from their stations to get what they need.
While the physical well-being of team members is a key benefit of such designs, minimizing mobility improves productivity and decreases accidents.
iv) Kitchen Floor Plan 
No two restaurant kitchens are alike, especially when it comes to operating models, for example, full service, fast service, and so on. Another key consideration that determines kitchen design is back of home operations. According to Victor Cardamone, President of Restaurant Kitchen Design at Mise Designs, an optimal kitchen plan is completely reliant on the size and form of your kitchen area.
It's critical to consider the demands that the kitchen must meet, as well as the equipment required to meet those goals when constructing a commercial kitchen area. It's critical to consider the demands that the kitchen must meet, as well as the equipment required to meet those goals when constructing a commercial kitchen area.
You will be able to design your commercial kitchen layout more efficiently when you know what components need to fit into the space from the beginning of the planning process.
2. Key Things To Consider Before Planning A Commercial Kitchen 
Here are key things to consider while planning your commercial kitchen.
i) Flexibility And Space Efficiency 
Making the most of a limited amount of space is what simplicity and space efficiency are all about. Learning what your kitchen doesn't require is as important as understanding what it does. As a commercial kitchen is such a dynamic environment, its layout must be flexible. Multi-use workstations or mobile equipment might be used to provide a flexible work environment.
Modular kitchens, with their reconfigurable equipment bays or workstations can be used for different activities, will help you make better use of your space. Your kitchen should be able to keep up with changing preferences and cooking needs, whether you have daily specials, change your menu based on what products are seasonally available, or just update it to reflect changing tastes and culinary techniques.
ii) Staff Management 
Instead of a maze-like kitchen with walled-off sections, use an open floor layout to encourage worker connection and communication. Allow senior chefs and managers to easily monitor what's going on in the kitchen so they can teach and interact with employees. Hiring good restaurant staff matters but so does retaining them. Therefore, creating an incentive program for promotion in the back of the house is extremely important.
iii) Sanitation And Safety 
Design and safety are inextricably linked. Restaurant food safety and associated health regulations should be emphasized in every section of the kitchen. While the cooking and prep spaces are the most exciting element of designing a kitchen, the cleaning stations are equally vital. Create a location where food can be safely consumed. For example, placing your receipt near the fridge and avoiding cleaning chemicals around food are two simple methods to achieve this.
Consider where you'll pile dirty dishes and where you'll put clean dishes so they're simple to reach while plating meals.
Sanitation is an important element of keeping your food service operation healthy and safe. When it comes to sanitation, pay special attention to your local laws and regulations, since they will likely include a variety of requirements, such as how far food prep stations must be from trash disposal stations and where handwashing basins must be located. Another important factor to think about is fire safety. Smoke detectors and fire extinguishers should be installed.
Work with your interior designer to incorporate regular kitchen equipment as well as emergency supplies. You can also incorporate fans or air purifiers throughout your restaurant kitchen floor design, as the back of the house may get rather hot.
iv) Energy Efficiency 
Beyond the social and environmental benefits of lowering your carbon footprint, the advantages of an energy-efficient design are numerous. While the equipment used in a kitchen contributes significantly to its energy efficiency, the space itself also plays a role. Foodservice Equipment & Supplies recommends "strategically placing cooking equipment so that the exhaust hood can whisk away hot air to keep the kitchen cooler, and putting cold storage as far as possible from heat sources to keep appliances from working overtime."
Equip your kitchen with energy-efficient kitchen equipment to keep your energy bills down. A well-designed restaurant kitchen not only keeps the food flowing to the dining room but also cuts waste. Food loss and spoilage may be reduced if your team knows where everything is and understands the FIFO (first in, first out) guideline.
v) Technology 
The latest technology can work wonders for the efficiency and profitability of your restaurant. Your back-of-house technology should also be modular, versatile, and simple to use. As seen in any restaurant, paper tickets known as chits are used and displayed to keep track of orders. This can be messy as the chits could be lost anywhere in the kitchen.
With a Kitchen Display System, your whole BOH team can view every ticket created, giving them all the information they need to validate order details quickly and correctly. This method is far more efficient than utilizing paper tickets or chits. With configurable routing options to prep stations, track ticket and fulfilment time, and interfaces with online ordering systems, kitchen display screens can improve accuracy and increase the number of tickets your kitchen can serve at a given time.
3. Hidden Components Of A Commercial Kitchen 
It's important to consider turnaround time and maintenance requirements along with the associated equipment required when designing a commercial kitchen area. These things often go unnoticed but are essential for a commercial restaurant.
i) Storage 
A shortage unit is a must for any kitchen whether commercial or non-commercial. All of your inventory goes into the storage and you don't want it to be small to not fit things. Keep a portion of the kitchen area free for storage and measure it properly. Separate storage units, such as a refrigerator for perishable items, a pantry for dry goods, and cupboards for place settings and equipment are a must for your kitchen.
ii) Washing Station And Dishwashers
The efficiency of a commercial dishwasher is a major incentive to get one for your restaurant. Dishes take longer to wash by hand, and it's easy for dishes to pile up during your busiest shift. To keep up with the workload, you'll need to recruit additional dishwashers. Piles of unwashed dishes not only make your kitchen disorganized and put you in danger of running out of clean dishes, they also pose a major sanitary concern.
Dishwashers (people, not machines) are necessary for properly scraping and spraying any food leftovers, arranging and running the dishwashing machine, and neatly putting away clean dishes. That's a big job for a busy kitchen, and it's a mistake to leave it to your waiters or chefs to do.
iii) Service Area 
The service area is the final section of a commercial kitchen. It is where foods are plated and handed off to servers to distribute to guests. Heat lamps should be installed in the serving area to keep the food warm. To reduce the distance between the kitchen and the table for waiters, locate the service section as near to the dining room as feasible.
Here's a broad list of all the restaurant equipment you would need for your restaurant kitchen, whether you buy or lease it. This, too, is dependent on the specifics of your cuisine.
Oven and Ranges
Grills and Deep-Fryer
Reach in cooler or walk-in cooler
Walk-in storage
Sanitiser Dispenser
Dishwasher and Compartment Sinks
4. Choose The Right Commercial Layout For Your Restaurant 
A good commercial kitchen layout allows a BOH crew to execute safely and efficiently, leading to decreased employee turnover and better customer satisfaction. You should actively analyze the space's possibilities when choosing a commercial location for your restaurant.
Create the best possible workflows and create an equipment list for each culinary station based on the menu you plan to offer. Design each station's configuration to maximize efficiency and employee experience. Talk to your team and engage experienced consultants to help you make the best trade-offs where required.
As the kitchen is the heart of any restaurant, plan it carefully and you will have a thriving restaurant. You are all set to design your kitchen with these ideas in your mind.