Even if your new restaurant has the best location, best menu, best staff, best ambiance, and best offers and discounts, if you are not doing your promotions right, you can be assured that you will not be able to attract the customers required, at least initially. All restaurants, be it new or old need to promote their restaurant online through campaigns. But, this is especially important for a new restaurant, since they have this huge responsibility for creating a customer base in the market. To capture all the potential customers hovering online, it has become imperative for all the new restaurants to promote themselves and create customer engagement online. Here we have for you some tips you can follow o promote a new restaurant online.
How To Promote A New Restaurant On Social Media
With the internet completely overtaking our lives, online promotions have become the need of the hour. Once you have created the skeleton of your restaurant, you can push yourselves across all limits to articulate the strategies on how you can promote a new restaurant online. Read below to understand how you can make a dynamic presence online.
1. Create A Stellar Website
The first step for a restaurant promotion online is to create a website. Get professionals on board for this process. Make sure that you design your website to make it functional and responsive. A website will be as important as your restaurant's physical address, hence publicize your restaurant website on advertising, promotional material and stationery. Your website must have all the information regarding your restaurant, and it must be optimized and updated religiously so that your website becomes one point of contact for all your customers.
2. Optimize Your Online Presence
Claim your listing in local directories and restaurant review sites. You can even send out press releases to local newspapers, magazines, schools and nearby manufacturing facilities to let them know your restaurant is open for business. Get your menu online on your website or through a third-party provider like online delivery platforms. Nowadays customers generally make reservations and place orders from their smartphones, so they need to be able to find your restaurant and menu online. You must also be able to employ your restaurant POS to enhance your restaurant marketing ideas. 
3. Employ Multiple Restaurant Promotional Channels
To promote a new restaurant, do not fix yourself to any particular type of marketing. Try and experiment with all forms of marketing. Unless you venture into them how will you understand whether it is beneficial for your restaurant or not and allocate budget accordingly? A good breakdown to promote a new restaurant is allocating 80 percent of your budget to digital marketing and 20 percent to traditional advertising, such as newspaper, directory, radio, television and billboard ads. Refer to your website for all advertising to get cross-promotional benefits.
4. Use Social Media Platforms
If you are not using social media to attract customers, then you are surely losing out on business. According to a report by Statistica, people spend an average of 135 minutes per day on social media. This audience can easily be leveraged to promote a new restaurant online on various social media channels.  
Firstly try and start with all the social media platforms only to find out which platform works the best for your cuisine and formate. Facebook has emerged as the clear winner when it comes to restaurant marketing on social media, closely followed by Instagram. Be sure to post pictures of your restaurant's interior, food, and the events that happen at your restaurant. You can also run paid campaigns on social media, at least in the initial days to appear in the eyes of the customers. You can even put forward educational posts about culinary topics and sponsor charitable or community causes. All these will increase your credibility on social media, which will, in turn, help you grow.
Learn how to do social media marketing for your restaurant the right way here.
5. Integrate With Online Delivery Platforms
Online Ordering has become a popular choice for customers to order food to be delivered or even picked up from restaurants. Not only is it convenient for customers, but it is also a marvelous way for restaurants to increase their sales and provide better customer support and engagement. Hence make sure that you have registered your restaurant on the various online delivery platforms, which will increase your online presence. These portals usually charge a registration fee of around 10-15% of the order placed online. By partnering with these platforms, you automatically become discoverable to potential customers and improve your visibility.

Apart from just registering, restaurant promotions could also happen on these online ordering and delivery portals. This way, your restaurant will appear above the sea of the other restaurants already registered on these channels.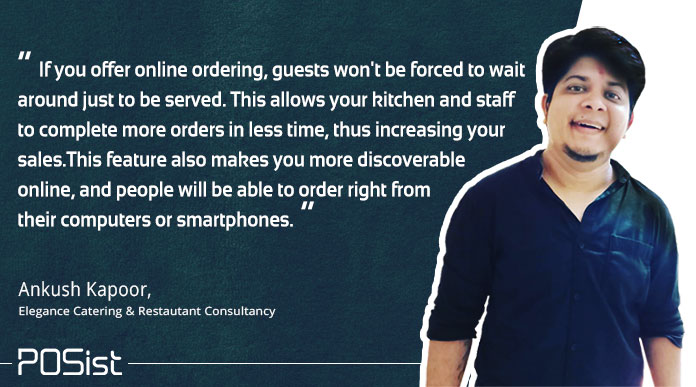 6. Cinemagraphs Are Catchy
It is very difficult to capture the attention of potential customers on social media. On these platforms, people generally go to pass their time and not to learn something valuable. Hence, if you want to capture someone's attention here, you got to be very creative. Here comes the importance of cinemagraphs. These photographic elements are a type of sophisticated GIF. At first glance, a cinemagraph may look like a high definition photo. But, if one looks at it closely,    one will understand that one element in the photo is continuously moving fluidly. So, cinemagraphs are one of the most interesting and innovative ways of attracting the eyes of the potential passing customers.
7. Ask For Feedbacks And Work On Them
You must engage and communicate with your customers. Ask for their feedback and their reviews and work on them. You can do so by utilizing digital tools, smartphone communications and social media platforms, you can communicate directly with your existing customers and targeted prospects. You must always encourage customers to write reviews, post photos and share their experiences online. You can even post videos while your chefs are preparing food and when the plating is done. This kind of communication engages viewers and attracts interest from social media users. Host special events, contests or scavenger hunts to engage online audiences. You could also use your restaurant POS to take the right feedback. 
8. Incentivize Well
Everyone likes incentives. But with the intention of attracting customers, you cannot offer an incentive that would run you into a loss. Hence, you must give out incentives very intelligently. For example, it is okay to give out complimentary items like a slice of pastries or an appetizer, but it is risky to provide 50% off on meals. Customers don't want to pay the full price of the dishes for which they had paid half a price last time. Buy one and get one free type of promotional incentive works the best and it never fails to attract the attention of the customers.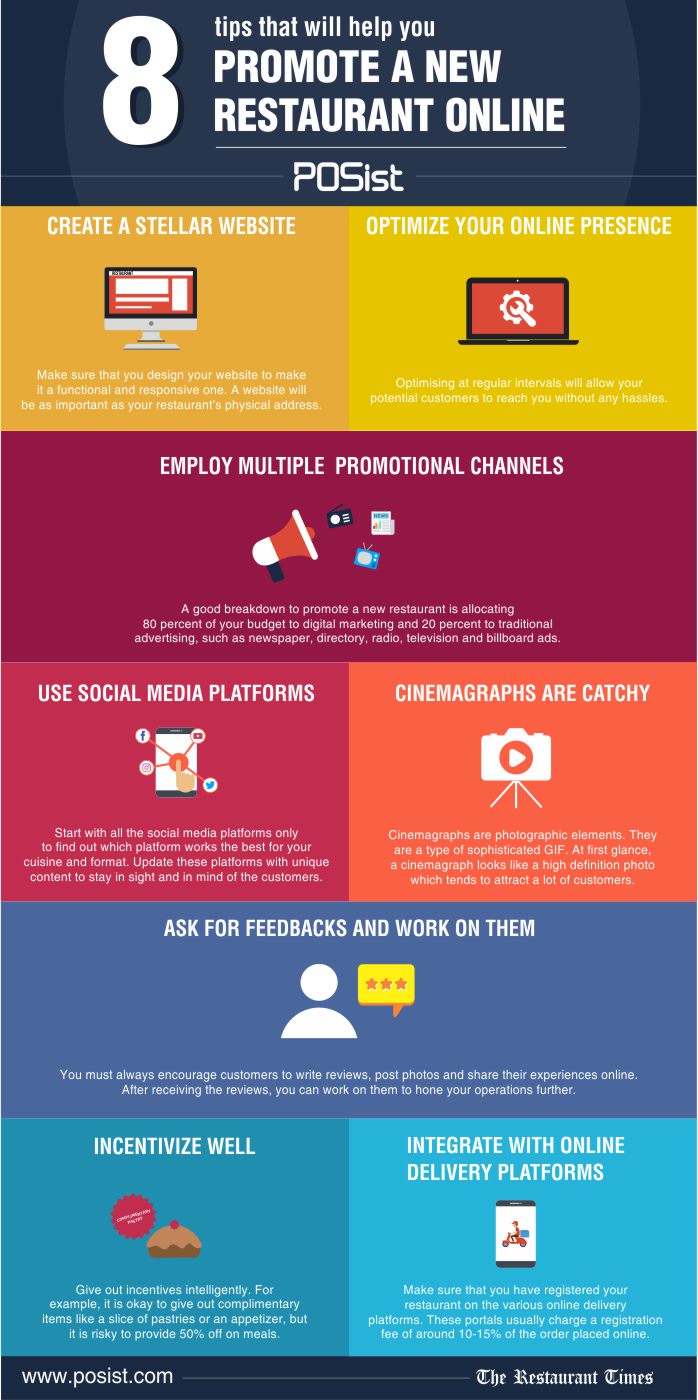 We hope that after reading this you have garnered the much-needed knowledge about how you can have a restaurant promotion that will help you to create a comprehensive engagement online, that will, in turn, help you to bolster your overall profit.