The F&B industry globally has witnessed an impressive growth of the concept of virtual or cloud kitchens. Since the competition in this domain is on the rise, it is imperative for cloud kitchen operators to ensure that their operations are completely optimized for peak efficiency so as to deliver better service to the customers.
Since a cloud kitchen business model does not have a dine-in facility, the primary operations are –
Sourcing the raw materials
Accepting online orders
Preparation of food
Maintaining Consistency
Packaging
Delivery
Automating and streamlining these operations will help you boost your cloud kitchen business like never before.
How To Streamline The Operations Of Your Cloud Kitchen Business
While one may think that running a cloud kitchen is much simpler than running a full-fledged restaurant, it takes a lot of effort to make a cloud kitchen successful. Since the initial investment of starting a cloud kitchen is minimal if compared to a restaurant, competition in this domain is exceptionally high.
To counter this massive growth, you need to make your cloud kitchen the best in the market and be on top of your customers' favorite list, which will increase your cloud kitchen's sales exponentially.
The steps that you can take that will optimize your cloud kitchen operations are – 
1. Source The Right Ingredients
The first step of delivering the best food is having the best quality of raw materials. Since your food is your only selling point, you need to ensure that you source only the highest quality of ingredients from the vendors. Choosing the right vendor and managing the supply of raw materials become critical in this case.
Proper vendor management becomes even more imperative if you have multiple outlets and are sourcing ingredients from multiple vendors.
2. Automate The Cooking Process
Maintaining consistency in the quality, and quantity of food is something that all customers ordering from a cloud kitchen expect. Your head chef might not be present on a particular day to monitor the dishes prepared; this does not necessarily mean that your cloud kitchen can compromise the food delivered to your customers, right? To avoid any such situations, it is highly recommended that you automate your cooking process.
Get a stellar POS on board, that comes with a recipe management feature. Here you can update all the recipes in detail. All the ingredients that go into preparing and presenting the dishes along with their quantities are stated, along with the process of cooking, and the approximate time required to prepare a dish. Once all these are clearly mentioned, you can be sure that all your chefs will be able to prepare the dishes while maintaining consistency and quality. 
Apart from this, you should have a Kitchen Display System in your cloud kitchen that would notify the kitchen staff that an order has been received so that they start preparing the order immediately. Once the order is prepared, the kitchen staff can update the KDS that notifies the Delivery Executive that the order is ready to be delivered.
3. Accept Online Orders Centrally
Once you have sourced the right ingredients and have set up the food preparation process, the next step is to streamline your order-taking process. Most cloud kitchens depend on online food aggregators for receiving orders, which is, of course, the right way to go. However, receiving orders from multiple online ordering sites such as Swiggy, Zomato, Foodpanda, etc can be difficult.
To streamline this process, you should get a cloud-based POS on board that would allow you to accept all orders centrally. This would help you keep a track of all orders, manage your inventory well, and also eliminate the need for updating online orders into the POS.
You should also consider having your own online ordering website or mobile ordering app that would ensure an in-stream of online orders.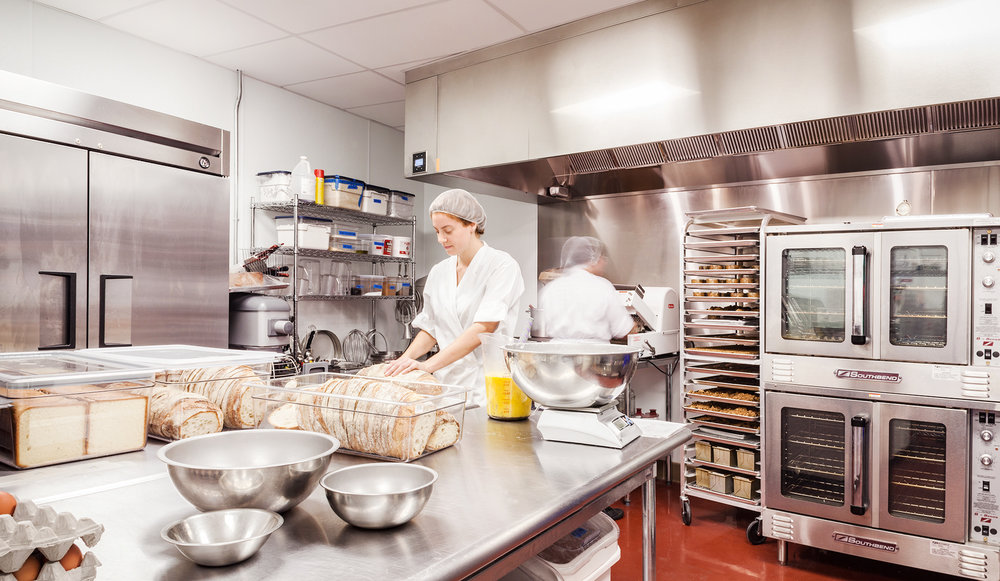 4. Maintain Consistency
If you are running multiple cloud kitchen outlets, then maintaining consistency becomes all the more difficult and important. One of the easiest ways to do so is by creating a base kitchen. All the raw materials will be delivered by the vendors to the base kitchen, where the raw materials will be semi-processed and then will be distributed to the cloud kitchen outlets depending on the requirement indents raised by them.
A restaurant management software that comes with a base kitchen management feature will help you manage your base kitchen like a cakewalk. Usually, cloud kitchens function on the Hub and Spokes model that has a central base kitchen, and multiple outlets. Having a central kitchen where the food prepared and then sending it out to the outlets help you in mass production, standardization, and a proper supply of food across outlets.
Automating the cooking procedure, will not only reduce your importance in manual labor, and help you run your cloud kitchen with limited staff, but it will also help you maintain consistency which will enhance customer satisfaction.
5. Enhance The Packaging Process
The packaging is one of the most critical aspects of running a cloud kitchen business which takes a lot of time as well as money to be done the right way. Unless the food is packaged properly, there are high chances of the food getting spoiled through leakage, or the food becoming cold and making it unsuitable for consumption. Thus, it is important to have proper packaging that prevents food tampering and protects the food from air inflow and leakages. 
6. Optimize The Delivery Services
Since a cloud kitchen is heavily dependent on delivery services, it is recommended that these setups integrate themselves with the online delivery platforms. While traditionally, restaurants used to have in-house delivery boys who managed delivery orders, with the passage of time, this was considered time and energy-consuming.
Having in-house delivery boys increases your task since you will have to hire them and spend a considerable amount of time and resources to train and retain them. Considering the emergence of multiple online delivery platforms, the delivery boys are far more interested in associating themselves with these platforms instead of being restaurant employees.
Considering the surge in online orders, it is advisable to link your cloud kitchen with the online delivery platforms and not relying on in-house delivery boys entirely.

However, if you want to have a team of in-house delivery boys, it is recommended that you take refuge in a restaurant management system that comes with a delivery app. This app will help you manage all your delivery boys from one central place, receive real-time reports about their availability and hence assign them delivery orders accordingly. Such an app will help you streamline the management of in-house delivery staff like never before.
Keep the points mentioned above in mind; this will help you optimize your cloud kitchen operations immensely. Preparing food, packaging, and delivery are the three major areas of concern for a cloud kitchen, hence go that extra mile to optimize these areas. Implement the tips mentioned above and see how it helps you to streamline your cloud kitchen operations.