Buying restaurant equipment is one of the most tedious tasks of opening a restaurant. Unless you are acquiring an already functional restaurant, you need to pay due attention when you buy equipment. High quality and efficient equipment for the restaurant ensure better performance and increased output in operations. Since there is a substantial investment involved in purchasing them and requires a one-time investment, you should take care while buying it. This article will serve as a restaurant equipment buying checklist for you.
Essential Restaurant Equipment Buying Checklist
There are several things you need to keep in mind while purchasing restaurant equipment, which we have explained in detail below.
1. The Need of the Restaurant
The type of restaurant equipment that you would require would very much depend on your restaurant's concept, theme, and the cuisine that you would be offering. The most important part of purchasing restaurant equipment is deciding what all equipment do you need in your restaurant. Thus, you first need to determine your menu and then analyze what all kitchen equipment would be required to prepare it.
Different restaurant formats have different equipment requirements. For example, a Quick Service Restaurant that offers self-service needs a serving counter that a fine dining restaurant does not. Create a list of features that you would require for each equipment that you plan to purchase.
Here is a checklist of the most commonly used equipment in restaurants. 
2. Cost and ROI
While buying equipment for a new restaurant, it is easy to get drifted and purchase everything that seems useful. However, this is where you need to be careful! If you are operating on a tight budget, analyze what all equipment you need. Ideally, you should be able to recover the cost of the equipment. In this case, you can consider looking at used equipment as well, as they are budget-friendly. 
3. Space Utilization
You must always keep the space requirements in mind while buying restaurant equipment. It is essential to define the space required for each equipment and then purchase the item accordingly. Unless you do that, you may end up with a cluttered kitchen and workspace that will further hinder the operations.
Remember to measure the size of the equipment at the time of purchase to ensure proper space utilization. You can also go for multi-purpose equipment to save up on space. For instance, go for an all-in-one blender, mixer, and chopper instead of buying this separately.
4. User Friendliness
Another important aspect of purchasing restaurant equipment is its ease of use and user-friendliness. Ultimately, it is your restaurant staff who would be operating it; thus, choose that equipment that your employees can use easily.
Restaurant equipment is used to reduce manual labor and improve efficiency; therefore, if it is too complicated for your staff to operate, it nulls the need for the equipment in the first place.  For operating heavy machinery such as an electric tandoor, ensure that the equipment supplier properly trains your staff before you start using it.
5. Speed
Remember to check the speed of the equipment before you purchase it. See if the time taken to get the job done is faster than what it would take to do it manually. If you are working in a fast-paced, high order volume kitchen, then the equipment should not take a lot of time for operations.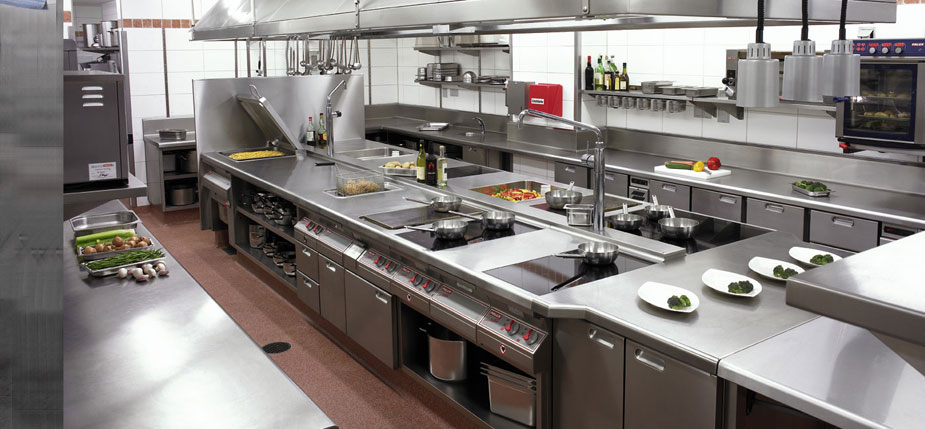 6. Maintenance
Proper maintenance ensures the longevity of the equipment and improves efficiency. While purchasing the restaurant equipment, ask about the maintenance required for it. Ask the dealer how frequently the equipment needs to service, and if the supplier would be providing it. Once you purchase the equipment, create a schedule. Apart from this, create a cleaning schedule as well. There are specific types of equipment that need to be cleaned daily, such as kitchen tops and counters, while some can be cleaned every week.
7. Energy Efficiency
You must choose those types of equipment that are energy efficient. The electricity cost to operate e is a recurring one and would add to the monthly restaurant costs; hence the equipment should not consume a lot of energy. 
8. Material
The material of the restaurant equipment plays an essential role in the lifespan and the usability of the equipment. Stainless steel, galvanized steel, aluminum, and wood are popular types of material for food service equipment.
Stainless Steel: Stainless steel is the most recommended material for purchasing foodservice equipment. It is resistant to corrosion and discoloration, although quite expensive. It is also a popular choice for kitchen utensils.
Galvanized Steel: Galvanized steel is steel coated with zinc. Although reliable, galvanized steel is not recommended for counters that get wet as the zinc coating eventually chips and exposes the steel to rust.
Aluminum: Aluminum is an excellent choice for buying kitchen equipment as it is rust-resistant, does not burn, and reflects heat and light.
Wood: Avoid wooden equipment in the areas that are prone to get wet as they absorb moisture. You can go for laminated wooden service counters since they are attractive and can be used in the customer service area.
9. Purchasing New or Used Equipment
One of the major dilemmas that restaurateurs face while buying restaurant equipment is whether to purchase new equipment or second-hand. You can save almost 70% of the cost if you are buying used equipment. Always compare the price of new equipment and see how it fares with the used one.
Check for leaks and rust. If the equipment requires repair, then buying it would not be a great deal since the damage is likely to happen again. Try to purchase a previously used equipment that is still under warranty.
Read in detail the things you must consider before purchasing old equipment here. 
10. Safety
Proper safety measures are essential for the well-being of both your restaurant staff as well as your customers. According to the National Fire Protection Association, almost 57% of all the restaurant fires are a result of the kitchen cooking equipment. Thus, ensure that the restaurant equipment is safety compliant.
11. Taking a Demo 
Always see the equipment in action before you purchase it. Ask for a demo at the dealer showroom from where you are buying it. You can also take your restaurant manager or chef or the staff that would be using the equipment and see if they can use it properly.
Even after the purchase, ask who would be installing the equipment at your restaurant. If the supplier is delivering and installing the equipment, then ask them to give it a test run to ensure that it is working correctly.
Here's a ready-reckoner for you that will help you choose the right equipment for your restaurant.
Buying restaurant equipment is a critical task and should be chosen with care since it can save time and costs and also improve the efficiency of your restaurant.