Starting a restaurant isn't easy, more difficult is to find the right equipment in place. There is no harm in using used kitchen equipment in restaurant during the initial years. Getting proper equipment as per your requirements can cost you a lot. Hence, many restaurant startups venture into purchasing used restaurant kitchen equipment which is available at a much lesser cost instead of buying brand new equipment. Look up the pros and cons of purchasing new and old equipment here. 

However, this does not mean that you can buy any used equipment, without proper research and without taking into consideration several factors. You must check whether all the parts of the equipment are in place, whether the equipment is energy saving and consider several other factors into consideration. Comprehensive research will ensure that you will be spending your money on reliable equipment that will help you to garner the ROI.
5 Things To Consider Before Buying Used Restaurant Kitchen Equipment
Buying used restaurant kitchen equipment is a great way to cut down on your cost of setting up the restaurant. However, there are several things that you must consider before you go about purchasing these second-hand restaurant kitchen equipment.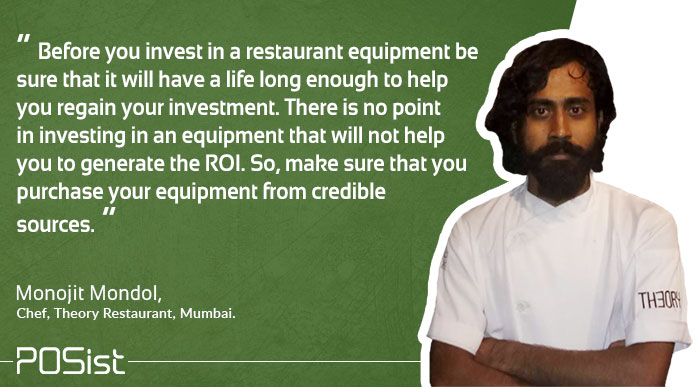 1. Is the Restaurant Equipment On your Priority List?
Before venturing into buying the second-hand equipment, it is recommended that you check your priority list. Mostly, restaurant startups purchase used restaurant kitchen equipment which is not directly needed to prepare the dishes in the kitchen. For example, you can buy shelves, prep tables, and such other equipment second hand. In addition to this, there are specific restaurant equipment that has very less shelf life, and hence it wouldn't be worth to buy a new.  These items generally include ice machines, dishwashers, coffeemakers, and coolers. On the other hand, ovens, grills, stoves, refrigerators and such equipment directly required in the making of the dish should be bought as new as possible.
Purchase easy to use and less complicated equipment second hand. And try and get relatively newer equipment which is considered to be the heart of your kitchen, which will ensure that your restaurant keeps running.
2. Is the Second Hand Restaurant Kitchen Equipment Reconditioned?
Try and find reconditioned second-hand restaurant equipment. Reconditioned equipment is always a better bargain. Several retailers have in-house employees who recondition the used equipment before putting them up for sale. This option is very lucrative since mostly these are the employees who you can contact in case the purchased equipment needs maintenance or repair. This is will make it easier for you while using used kitchen equipment in the restaurant. 
3. Is the Used Equipment a Branded One?
With the attempt to keep the cost as low as possible do not compromise on the quality of the used restaurant kitchen equipment that you are planning to purchase. Imagine you buy non-branded equipment, and it doesn't last a month? The money you invested in purchasing the used restaurant equipment will be a complete waste, and you will have to replace that equipment immediately since a restaurant can hardly operate without the right equipment. This clearly shows that brand equipment is not manufactured with the same intention to adhere to the quality as a branded product. In addition to this many times, it becomes difficult to get the parts of the off branded equipment in case replacement becomes necessary. Considering this, it is always recommended to get hold of branded used restaurant kitchen equipment.
4. Find the History
Once you like used restaurant equipment and plan to buy it, try and extract the information about the history of the product from the retailer. This is fundamentally important, just because, there is no point in buying an old restaurant kitchen equipment whose shelf life is almost on the verge of ending and whose finding a replacement of parts will be difficult. Try and catch hold of those used equipment which had just one owner before you. 
You also need to check if the equipment still has a warranty. Try to purchase a previously used restaurant equipment that has a brand warranty, as it will be easier to get repairs and maintenance done if required.
5. Is the Second Hand Equipment Star Energy Certified
Restaurant equipment that is energy star certified will help you to save money over time. You will not want to have a headache every month, in clearing all your bills, will you? Instead of wasting money on paying bills you can easily invest that amount in the other areas which will help you to bolster your restaurant operations to a great extent.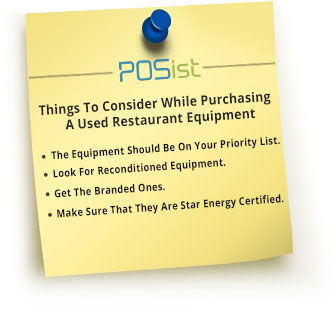 Used restaurant kitchen equipment has managed to capture a lot of eyes in the past few years. It is one of the best ways by which a restaurant can cut down on its cost. 
Always keep these 5 points in mind while purchasing a used restaurant kitchen equipment. To save money do not invest in a machine that will not help you to enjoy its ROI. Follow these steps diligently and be sure to have the right used restaurant kitchen equipment in place.