With the outbreak of COVID-19, consumers have become more aware of the importance of health, hygiene, and food safety which will play a huge role in how restaurants operate in the new normal. A recent report on Restaurant Industry and Market Evolution highlights an interesting fact: more than 80% of restaurant operators feel that food quality and safety will surpass price as a decision-making factor for cost-conscious customers. It has now become more critical than ever for restaurant businesses to develop, implement, and maintain a remarkable record of food safety and ensure that best food safety practices are implemented across the entire restaurant operations. This will ensure higher customer confidence and translate into better revenues. This article provides useful tips on how to implement a robust restaurant food safety system and ensure that customers' needs and concerns are being heard. 
Tips on How To Implement the Right Restaurant Food Safety System 
A Food Safety System is primarily a set of established standards to direct and control all aspects related to food safety.  A restaurant with a certified Food Safety Management System gains customer trust as it already meets the Food Safety Policy requirements dictated by ISO 22000. However, you must maintain proper records of all food safety-related activities to prove to the food inspectors that your restaurant is compliant with all the food safety norms. 
Implementing a proper food safety program should begin with a clear understanding of the risk factors and cleanliness levels needed to prevent contamination of food, equipment, and wares. Before implementing a food safety system in your restaurant, you must start with the food safety basics that are explained below.
Create a Restaurant Cleanup Plan
One of the best ways to put together a highly effective cleanliness plan is by first identifying the potential contamination risks within your facility. Conduct a cleanliness audit by inspecting everything, right from the kitchen equipment, food contact surfaces, and small wares, to the floors, and drains. Once you identify the risks, create a cleaning schedule, and outline the cleaning duties for different staff members.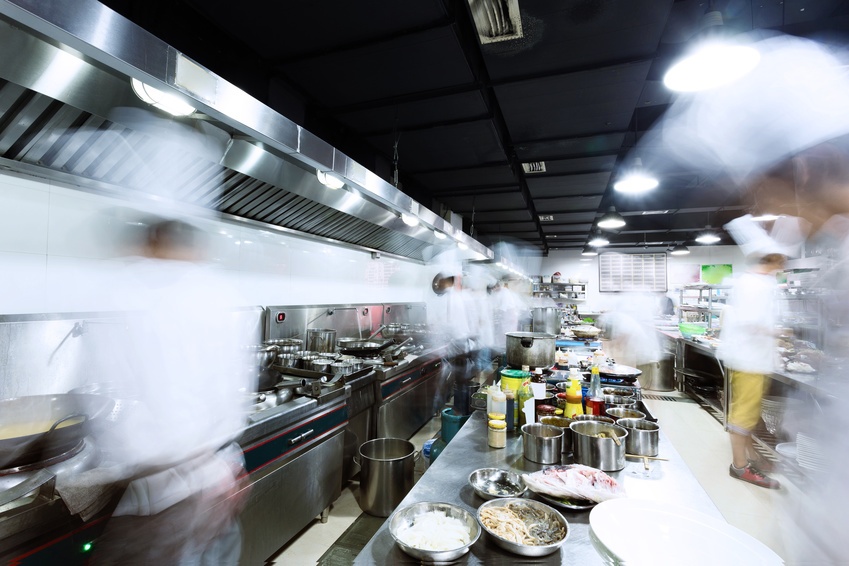 Utilize The Right Cleaning Tools
When it comes to achieving your restaurant's food safety goals, using the right cleaning products and tools is imperative. You must stock your kitchen with the necessary tools to safely prepare and serve food. Good quality products not only make cleaning easier but also reduce the number of products required, thereby minimizing rework. Investing in proper tools and equipment saves time by reducing the complexity of the job, streamlines staff training, and makes inventory management simpler.
Operators can also reduce the overall time and cost to clean a restaurant by putting efficient cleaning processes into place. Cleaning tools, such as brushes, mops, etc. can be sources of cross-contamination. Therefore, restaurant operators must have the right procedures in place to properly clean and sanitize these tools regularly.
Conduct Regular Inspections
Restaurant operators must conduct regular inspections to ensure that the employees are following and complying with proper protocols. Regular self-inspection is necessary to ensure that adequate kitchen sanitation and food safety rules are being followed. Operators can also hire third-party inspectors to examine the facility and provide inputs accordingly. Their feedback can be hugely beneficial for the restaurants in avoiding foodborne illnesses, handling notices from the health department, and other potential issues.
Food Safety Training 
A good training program provides employees with a clear understanding of why proper cleaning in the restaurant premises is essential. For food safety training, restaurant operators need to take into consideration the different learning styles of their employees in order to ensure compliance with the most rigorous cleanliness standards.
In-store training, video training, regular monitoring, and consistent feedback are some training tools that can serve as constant reminders on how to do things correctly. Remember to also review employees' personal hygiene as it can have a significant impact on food safety. 
Form Strict Cleaning and Sanitation Protocols
Food safety within the restaurant requires an end-to-end cleaning and sanitation regimen that must be continually monitored and reviewed to achieve the overall goals. Train the employees on how to follow and promote personal hygiene such as washing hands properly, coming to work in good health, taking individual precautionary measures to combat the spread of germs and viruses, maintaining social distancing to avoid contamination, etc. 
Also, provide periodic training to the existing employees to reinforce good practices and procedures. With the current turn of events and the recurring safety issues arising in the food industry every now and then, it has become indispensable for restaurant businesses to implement a Food Safety System on their premises. An efficient Food Safety System can help immensely in gaining the trust of your customers, which is an absolute must at the present time. 
By evaluating your restaurant facility and equipment needs, having an eye towards the safety and hygiene of both customers and employees, and selecting the most effective sanitizing and disinfecting products, you can create a positive impact on your restaurant's overall food safety and productivity. 
Utilize these effective tips and implement the right food safety system for your restaurant!