As a restaurant owner, your topmost priority is to keep your restaurant clean and hygienic. COVID-19 has been the restaurant industry's greatest challenge to date, as well as a terrible public-health disaster. Restaurant owners who prepare their staff to adapt to the "new normal", and develop their restaurant model accordingly have a better chance of surviving. 
While restrictions on gatherings are gradually being lifted and restaurants are being permitted to reopen, owners and operators must now deal with certain very general obligations. Many localities only allow a percentage of the original floor layout to be used. A clean restaurant and access to hand sanitiser are essential steps towards reopening, in addition to decreased capacity. 
The back- as well as front-of-the-house staff must follow the appropriate protocols to ensure customer safety and satisfaction. To account for the constraints on your potential in-house volume, your business must run leaner than before. Fortunately, some interesting new off-premises income opportunities are available to assist organizations in augmenting their earnings while they wait to return to full capacity. 
How To Train Your Restaurant Staff For COVID-Appropriate Behavior 
This article will list down the things you need to implement in your restaurant while adjusting to the new normal.  
1. Social Distancing Protocols 
Various social distancing rules and procedures will have to be considered in day-to-day restaurant operations. When it comes to your restaurant staff, whether in the kitchen or out in the restaurant, you must make sure that they are safe and not carrying germs to your customer's table. 
Try to stagger staff schedules so that they work on alternate days and make sure they follow the social distancing protocols. Encourage them to stay at home if they are feeling sick to ensure their safety as well as that of your restaurant and its customers. WHO guidelines are to maintain a distance of at least 1 meter (3 feet) between fellow workers.
Where the food production environment makes it difficult to do so, employers need to consider what measures to put in place to protect employees. You can provide PPE kits to your restaurant staff as it is possible to minimize the space between workers when they are wearing PPE. 
2. Conduct Daily Health Check-Ups For Your Restaurant Staff
Asking employees to perform a brief daily health check before commencing work is one method to persuade people to stay home when they're unwell. This might be as easy as requesting that staff check their temperature before starting their shift.
Conduct daily COVID testing or encourage them to provide a negative report before working at your restaurant. This way you and your staff can ensure your own safety as well as that of the incoming customers. Make sure your health check policy is constantly enforced to ensure that staff is doing checks regularly.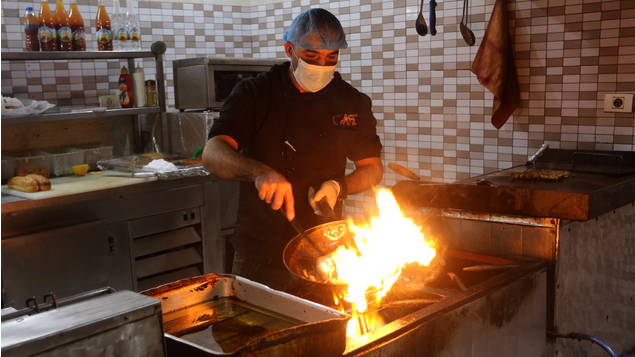 3. Mask Up
One thing that the pandemic has taught us is that even water droplets can get you to the emergency room. Make it mandatory to always wear masks when working at your restaurant, this way you are protecting your workers and your customers.
The CDC and FDA have both advised food workers to wear masks during work. Masks help prevent respiratory droplets from the mask wearer from spreading. This is important in preventing the spread of COVID-19 if a food worker has the disease without knowing it.
Kitchens are hot, uncomfortable places to work, and they have only gotten more uncomfortable with the new guidelines. While you are separated from customers in a conventional closed kitchen setting, and COVID-19 is not known to be transmitted through food, wearing masks or other facial coverings can help protect you and your co-workers. This is critical as restaurants reopen in earnest, only to close again as the virus spreads among employees. 
Provide personal protective equipment (PPE) for employees, such as face masks, hair nets, disposable gloves, clean overalls, and slip-resistant work shoes. PPE would be required in high-risk sections of food manufacturing facilities that produce ready-to-eat and prepared foods. 
4. Emphasis On The Staff's Hygiene 
Emphasize the importance of good hand hygiene, which includes washing hands for at least 20 seconds, use of an alcohol-based hand sanitiser that contains at least 60% alcohol, and avoiding handling unwrapped or exposed goods. Workers in the food industry should never handle food with their bare hands, especially ready-to-eat meals.
It's a good idea to display signs reminding staff of the specific safety precautions they should be taking, in addition to teaching them about your reopening strategy. Consider putting up signs for your customers as well, so they understand why adhering to the social distance standards you've established is so essential. Ensure that new hygiene and safety protocols are highly visible throughout the restaurant. 
Your restaurant safety and hygiene are your topmost priority and taking care of your staff comes next as they are the people helping you run a successful business. Train your staff for COVID appropriate behaviour as you adjust to the new normal as well as protect your reputation among customers. Remember, prevention is better than cure for businesses too!