Marketing is essentially both an art and a science, which may take years to master. Notwithstanding the difficulty at hand, you can hardly avoid venturing into restaurant marketing, since it is one of the most lucrative ways by which you can attract crowds through the doors of your restaurant. You must also remember, that it is not only new restaurants that need aggressive marketing. Since new restaurants are cropping up every day, if you don't market your 2 or 3 years old restaurant well enough, you will go out of sight and hence out of mind for your customers. Thus regardless of whether you are new or an old, your restaurant marketing campaigns must be centred around creating a recall value of your brand.
Only then your restaurant campaign will bear any results. If your restaurant marketing strategy merely informs the consumers regarding your restaurant but does not bring them to you, that means that it is incomplete. In this article, we will discuss what different types of restaurant marketing campaigns are and which smart restaurant campaigns you must follow.      
Types of Restaurant Marketing Campaigns
There are different types of restaurant marketing campaigns that you can run at your restaurant.
Informational Campaigns: Such campaigns are used for informing people about the new ventures of the restaurant, for example, when they are opening a new restaurant nationally or internationally. It also includes running campaigns that let the customers know about the changes that happen in the restaurant from time to time. Here the restaurant generally speaks about the product, the offers that the restaurant will be conferring.
Promotional Campaigns: Promotional campaigns are the ones that are aimed at bringing in more sales by running offers and discounts, and employ restaurant marketing to reach out to customers.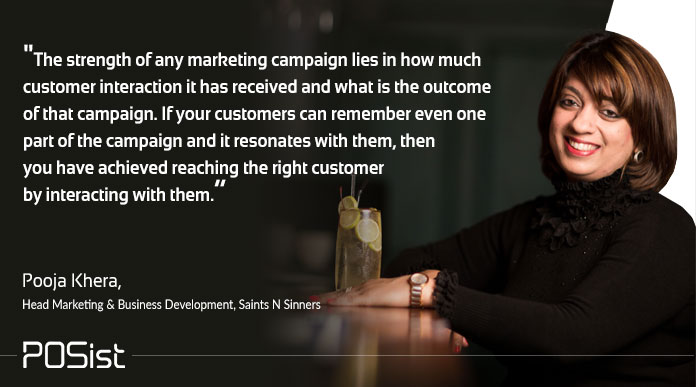 Saints and Sinners, a bar and grill in Gurgaon known for its great music and ambience did an interesting online campaign.
"At Saints N Sinners, we just did an online campaign called Identify yourself where true to our name, we invited customers to explore various aspects of human personality and moods that they can explore and experience with us with our music, food and cocktail offerings." – Pooja Khera, Head Marketing & Business Development, Saints N Sinners
Some Smart Restaurant Marketing Campaigns
Your restaurant must always try and cultivate some innovative marketing campaigns which will keep them ahead of all other competitors in the market. Marketing is a very integral part of your restaurant operations, and hence you must squeeze out new ways to keep your customers hitched.
1. Capturing all Types of Holidays
Holidays are a great way to capture that extra crowd in your restaurant. You must remember that during festivals and holidays, people don't mind indulging in that extra luxury. This is precisely what you need to tap into. Bring in some innovative food items, offer some discounts and offers on these special days that will enable you to attract that crowd. Some of the obvious days include, Diwali, Christmas, New Years, Valentine's Day and the less obvious ones can be National Ice Cream Soda Day, Fathers Day, National Chocolate Eclair Day and just a few to name. For example, on National Ice Cream Soda Day, you can bring in some innovative flavoured ice creams and sodas in your menu, this might be anything like a kiwi flavoured ice cream or soda, something that you initially did not have in your restaurant and you will not over offer them in your menu after the specific day. This will increase the sense of speciality for the day.  Read how including festivals in your restaurant's marketing plan can be beneficial for you here. 

"We run hashtag campaigns from time to time, like Valentine's Day, Halloween and the like. Such examples of marketing campaigns that Barcelos ran, in the recent past, were #saynotocrakers on Diwali." Rohit Malhotra, Business Head, India Operations, Barcelos India
2. Food Blogger Outreach Campaign
With social media in the scene, the restaurant marketing game has changed completely. To completely understand how huge an impact social media has had on marketing for restaurants, read this. Your main intention with this restaurant campaign must be to create a community of all the foodies out there. The best and the most viable way to do that is to get hold of all the food bloggers who have proved their credibility in the market. You can arrange a blogger's meet and invite local, well-known food bloggers for a free full course meal. You could also invite them to try your out of the world coffees, lattes or expressos. In turn, you can ask them to write a review on their blog after their visit your restaurant, so you better make sure that they have a fantastic experience. 
3. Partnering With Local Business
You must be having many local businesses near your restaurant. Why don't you partner with them and then pass on the customers from yours to them, or vice versa? This will be a win-win situation for both you and the other local business. For example, you must have a dry cleaner in your vicinity, where you send your tablecloth and other used cloth materials. Why don't you partner with them, and put up posters and adds of your restaurant at the dry cleaning shop and in turn you can promote that dry cleaner to all your customer who might mistakenly spill food or drinks on their clothes.
4. In-House Restaurant Marketing Campaigns
In-house marketing works quite well for restaurants when executed smartly. In-house marketing works well when you are trying to create a brand recall value, and earn repeat visits from customers. Thus, it is essential to utilise your restaurant's theme and logo for branding, wherever you can. For instance, right from the paper napkins to your staff uniform, everything should be aligned with your brand and have the logo on it. You can also take in-house marketing a step further and release your brand's merchandise. Cafe Coffee Day utilises this quite well. Not only does this bring in revenue, but it also creates a brand recall whenever someone drinks from a CCD mug from even outside the outlet. Similarly, Hard Rock Cafe t-shirts have their exclusivity that helps create a buzz.
In-house restaurant marketing campaigns also work best when a restaurant is celebrating regional festivals. This stands especially true when you have multiple outlet chains across the country and have a single brand presence on social media and online platforms. 

Restaurant marketing campaigns are an innovative way to attract all the potential customers who are waiting to indulge in and experience some delightful dishes and ambience. Just try and avoid all the marketing mistakes, and if you do it right, then your profits will be bolstered beyond doubt!