Restaurant owners, consultants, critics, and even bloggers spend a lot of time talking about selecting the right location for a restaurant. Location plays a crucial role in its success or failure. Great establishments have been known to shut down because of poor restaurant location. While it is true that it takes considerable efforts to find the right mix of a triad- Location, Food, and Service for the success of a restaurant, it is essential to realize that location is just one of the crucial factors.
Certain legendary food outlets boast of a prolific food business, flourishing out of a small nook and cranny of some crowded street. Such examples spell hope for a lot of aspiring and existing restaurateurs; making them believe that they do have a chance to succeed even if they are running their restaurant from a relatively 'poor location.' That being said, it is necessary to understand how to overcome bad restaurant location. It is not easy, but it is possible.
What is a Poor Restaurant Location?
A restaurant location can be considered as poor if it satisfies one or more of the following conditions-
Low visibility- The interior of a market or the rear of a building can make it difficult to find your restaurant thus making the site a bad location for your restaurant.
Poor accessibility- Lack of parking space or the lack of an elevator if the restaurant is situated at a higher level can be a major turnoff for customers and drive them away.
Isolated areas- Areas with low footfall, such as residential areas make bad restaurant locations.
Wrong customer targeting- Even if you have chosen an area which satisfies the criteria of a good location if you open the wrong format of the restaurant in the wrong area, it is bound to fail. For example, a posh, fine dining restaurant at a student-centric area is most likely to incur huge losses and shut down.
How You Can Overcome Bad Restaurant Location
Now that you know what a bad restaurant location is, it is time to understand how you can overcome the disastrous effects of the said poor location. Here is what to do:-
Use Your USP: When you have a unique USP which ignites the curiosity of people or a reputation which makes people want to visit you, rest assured customers will travel to get to your restaurant.
Use Your Food: If you serve good food, never mind the location. Good or bad customers will come to you.
Employ Effective Marketing: No one can deny the advantages of marketing. If your marketing strategy is well in place, people will know about your establishment regardless of how bad the restaurant location is.
Explore Food Delivery Options: In the world of Swiggy and Zomato, customers don't care where you are located as long as your food is good. Explore these food delivery options to maintain your sales.
Conduct Market Research: Sometimes you may feel that a location is bad, but the solution to it may not be far. Conduct a market research of the location, talk to locals and customize yourself according to what they need and you will certainly see an increased footfall.
If you are succumbing to the bleak fate of your restaurant location, here is how you can overcome it by employing other factors in its absence! Now as to how to employ these factors, read ahead:-
1. Have a USP
If you want your customers to go out of the way to come to your restaurant, you need to entice them with a USP. The USP of your restaurant can be anything- a signature dish or a quirky theme; anything that sets you apart from other restaurants, and compels people to try you out.
You can have a signature item, a particular food or drink that is your invention- a specialty for which your restaurant becomes famous. Customized food items, fusion dishes, 'Chef Specials' and sample celebrity dishes are the new fads that are enticing people.
Your signature item can be anything from a spirit which is mixed with 2-3 other beverages or croquettes, sandwiches, burgers with options of 7-10 stuffings. Just make sure that it is lip-smackingly delicious, and the poor restaurant location will not affect your restaurant sales and popularity.
2. Serve Outstanding Food & Service
There is no denying that even though the brand status and ostentatious interiors of a restaurant attract a majority of customers, the actual reason why people consider a restaurant is for food.
You should invest the money which you saved in rent by not going for a mainstream location in hiring talented cooks and servers. Most people think that restaurants in poor locations and less traditional markets serve bad quality food and pay little attention to service. You can use this to your advantage by providing great tasting, good quality food along with a wonderful service which will make you an exception and more of an urban legend that people would like to visit.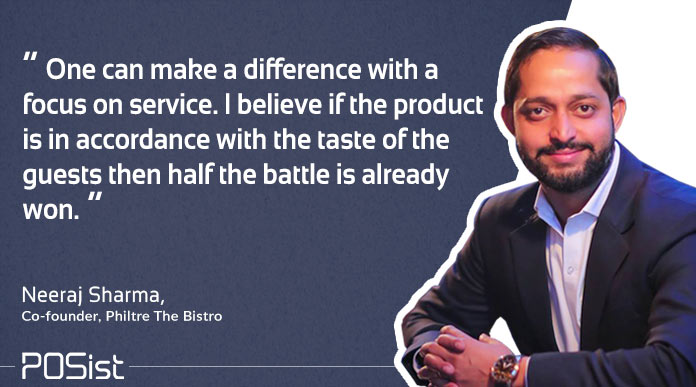 3. Employ Effective Marketing
If you decide to go for a relatively poor restaurant location, you would be saving a substantial amount of money, that would otherwise go in paying an obscene amount of rent for a prime location. You can use this money to market your restaurant aggressively. In the end, the restaurant location is not everything. Spending on the marketing of your restaurant can turn out to be a better investment, since once you get the word out, and customers start pouring in, you can cut down on the marketing cost. The rent of a pricey location, however, would only increase over time.
For a restaurant situated in a poor location, grass-root level marketing works wonders. Send out fliers/pamphlets in the local newspaper or to houses/offices located within 1-2 KM radius of your neighborhood.
Use effective signage. If you have a restaurant which is not in a front location or not easily visible, you should make sure that your restaurant's hoardings and billboards are actively displayed where they are easily visible. Give attention to check that the hoardings shout of your special dishes, discounts, happy hours and offers that lure customers into visiting your restaurant.
Portable signage can be a great idea too! You can deliver food in catchy and colorful paper bags with your restaurant's name and details, or invest in some more money and give out mugs/spoons with your restaurant's name to your customers.
Give out exclusive discount/offers to your customers, like 10% off on their next visit to your restaurant.
Incorporate an online marketing strategy with social media pages, review sites, listing your restaurant with restaurant search and discovery services like Zomato and Yelp. Having a social media presence drives customer loyalty which is an invariable factor for the success of your restaurant.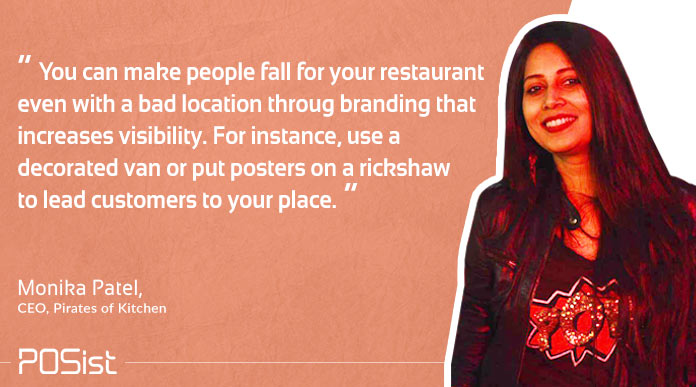 Nevertheless, effective marketing can only bring customers to your restaurant. Retaining them is an entirely different thing that can only be achieved with outstanding food and great customer service.
4. Explore Delivery Options
If your customers can't come to you, why not you go to them? Often restaurants located in poor locations are known to have a thriving food delivery business model.  Food delivery options- online and via call can be a game changer and increase your revenues manifold.
With an incredible growth in online food ordering in the past few years, more and more customers continue to give preference to the ease of ordering in food, which is highly beneficial for small and take-out restaurants. You can leverage this for the profit and growth of your restaurant business. Check out Posist's Online Ordering for managing your online deliveries.
5. Conduct a Market Research
Lastly, before you daringly decide to start a restaurant in a lesser or poorly known location, channel your inner detective and conduct a little search of the market you are about to enter.
Engage with the locals and understand their needs and requirements. You can also ask about the failed businesses earlier founded. It could be that you alone aren't the daring one, and someone else in the past did try to open a food outlet there but could not make it to last. The failed businesses can be great teachers for you! You can drive conclusions and relevant information on how you should be running your business. Looking at the mistakes the failed restaurants did, you can equip suitable techniques for your business and identify all the possible mistakes you should not be making in your restaurant.
It can be construed that the restaurant location is more of a moderating variable and it is not a causal one. So, even if you fail to find that perfect restaurant location, do not lose hope because you can still give competition to other restaurants that are situated in the finest location in your city.