Customer Data is vital for the long term sustainability of any business. However, for the restaurant business, customer data is also integral for growth and expansion. When this information is captured, tracked, and optimized, it helps restaurants improve their performance, provides a competitive edge, and allows them to align products and services according to customer preferences. This article discusses how restaurant operators can capture customer data, and use it to their advantage.  
Why Capturing Customer Data Is Important For Restaurateurs
Customer satisfaction plays a crucial role in the success of any restaurant business. To get a competitive advantage, restaurants collect and analyze data on everything from which menu items sell the most, the efficiency of promotions, which source has the highest online ordering rate, etc. By interpreting consumer habits and preferences, restaurants can utilize this data to full potential. These are some reasons why capturing customer data becomes extremely important for a restaurant business. 
Optimize the menu: Capturing customer data helps restaurant operators understand which menu items are most preferred by customers and the items that are not performing well. With this data in hand, they can better manage the restaurant inventory, avoid food wastage, and decide which menu items to promote. The customer information also ensures that restaurants are adequately stocked for busy days and that the menu is optimized with better, more profitable food options.
Generating Repeat Business:  As personalization is the key to establishing long-term customer loyalty, this data helps marketers create personalized offers and give regular customers an exclusive experience. Restaurants can build a better bond with regulars by offering customized discounts or promotional offers, encouraging them to return.
Establish a better relationship with customers: By recording critical customer information such as contact details, personal information, order preferences, etc., restaurants can build a better connection with customers, which in turn drives sales and helps a restaurant to grow. For example, on a customer's birthday or anniversary, restaurants can send out gift coupons, promote customized offers, or offer a comp meal to alleviate the guest experience. 
Form Better Marketing Strategies: With the customer data in hand, your restaurant marketing efforts are almost guaranteed a massive success as your campaigns will be customer-oriented. Based on the data points like order history, restaurant operators can generate insights and segregate customers into various categories, which helps them make data-driven decisions and create better marketing strategies. The promotional outreach also creates a unique and personalized dining experience for customers, giving your restaurant a competitive advantage. 
How To Capture Customer Data For Enriching The CRM Database
While the standard method of capturing customer data by directly asking or filling customer feedback forms is still prevalent,  it is a tedious process that is often not considered very accurate. If you are running a large restaurant chain, finding multiple ways of collecting customer information becomes even more crucial. 
Here are some tips to capture customer feedback to enrich your restaurant's CRM database, and leverage it to drive footfall and generate revenue. 
Online Surveys
Online surveys are one of the most common methods to capture customer feedback for restaurant businesses. There are a multitude of online tools with which you can create simple surveys quickly and easily. To begin with, you can consider creating surveys with free online tools such as SurveyMonkey. In order to increase engagement rates, it's advisable to offer some incentives such as exclusive coupons, promotional deals, etc. 
Online Table Reservation System
Apart from offering convenience,  an online table reservation system also represents an excellent opportunity for restaurant operators to gather customer information even before they walk through the door. You can harness this data to secure repeat business, reduce delays, decrease table turnaround time, and optimize table management.
Make Your Websites And E-mailers Interactive
Collecting customer information from your website and emailers is one of the most straightforward and effective methods of increasing restaurant sales and creating a band of loyal customers. You can utilize this information to develop better online marketing campaigns, optimize sales funnels, and reach a wider audience.
Promote QR codes and URLs using signage, receipts, and links within your restaurant website and emails. Send targeted newsletters to your customers via emails and provide them with an incentive to engage with your brand which will increase footfall and ultimately boost revenue.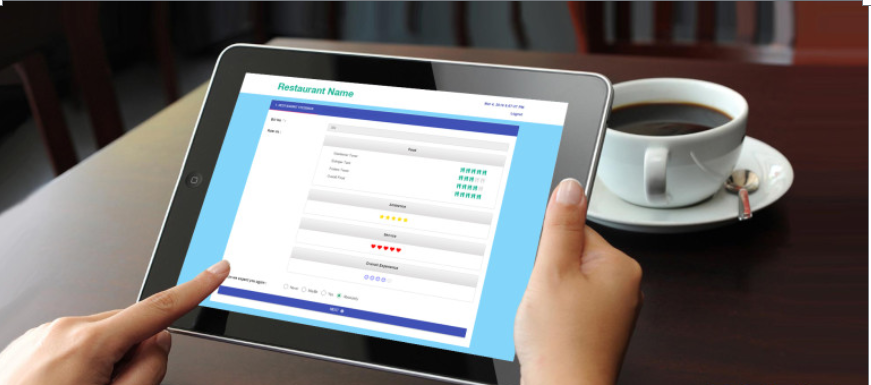 Collect Information By Offering Free Wi-Fi
Offering free Wi-Fi in restaurants is not only convenient for customers, but it is also an incredibly effective way of collecting their details seamlessly. You can obtain the customer details via the traditional Wi-Fi login form that asks for their contact details, but a more effective approach is through social media login.
The social media login feature enables customers to skip the traditional guest Wi-Fi login form and log in directly through their social media accounts. Both options give operators an excellent chance to harvest valuable insights into the customer psyche.
Online Ordering Platforms
The rise of delivery orders has led to many restaurants setting up an online ordering platform. Setting up an online ordering platform provides convenience to the customers and provides restaurants with important customer data such as contact details, email address, phone number, street address, etc. Establishing online ordering platforms such as websites, mobile apps, etc. are great ways to collect and retain accurate customer data. 
Loyalty programs
Loyalty programs are an excellent way to gain new insights into customer buying behavior. This data can be fed back into CRM systems for richer insights and data-driven decisions. According to a survey, 34% of respondents said that customers enrolling in loyalty programs are willing to provide more data and information that marketers can leverage in campaigns and programs. Create a loyalty program and encourage customers to sign up in order to drive repeat business. 
Integrate Data With POS system
A robust POS system processes the customer data and collates it into a single database. Restaurants can integrate the entire data collected through loyalty programs, online campaigns, feedback forms, etc.
Customer information via third-party platforms and online ordering platforms can also be combined with that from the POS system to provide comprehensive insights into the emerging customer trends. Invest in a robust POS system with customer relationship management (CRM) feature that automates the marketing campaigns and enriches your database. 
Take these necessary steps to capture the customer data and improvise your restaurant business!