The restaurant business is no longer just about the type and quality of food offered to customers. It is also about the quality of services and finer aspects which are largely intangible but highly noticeable in nature. The choice of a customer to eat at a particular restaurant is influenced by a lot of factors. We categorise these factors into two broad arenas, tangible and intangible factors. Factors like customer service, staff behavior and high convenience to the customers are some of the factors affecting customer experience and retention that can not be quantified.
The gap between customer expectations and what a restaurant is able to serve him is an area of opportunity for a restaurant. It is also a challenge on the flip side. You must know by now that a dissatisfied customer can do way more harm by telling their friends about their experience at your restaurant, undoing your carefully cultivated brand image. t Hence, customer satisfaction should be on the top of your list. 
A 2017 Deloitte report showed that a positive experience will encourage 60 percent of guests to be more frequent at visiting a restaurant. Your restaurant interiors should be designed to be comfortable enough for your target audience, otherwise, they may find the overall experience lacking. Restaurants are no longer just a place where people go to eat, it has become a lifestyle need and a platform to socialize and entertain. This is why, the interiors should be able to resonate with the vibe of your brand. 
Here are some of the most important intangible factors affecting customer experience at your restaurant.
i) Food Quality
ii) Staff Behavior
iii) Value For Money
iv) Location Preference
v) Restaurant Interiors and Ambience
vi) Unique Menu
vii) Convenience
viii) Customer Selection Behavior- Menu Innovation
ix) Ensuring Customer Privacy and Entertainment
x) Service Time
"Serving quality products with premium ingredients helps in earning your restaurant a good reputation and compels your guests to return for repeat visits. This ensures brand loyalty as well. By using high-quality ingredients, Brownie Heaven delivers consistent taste across all its outlets," – Nishant Vijay Kumar.
A couple of things that destroy the image of your brand completely are mentioned below. Watch out for these service infractions to prevent customer impact.
Rude behavior or arrogance of waiters/employees

Longer wait

Inappropriate or poor processes

Too many people in the restaurants

Low quality of food

Cooking smell

Too much noise

Improper parking area

Differences in services for males and females 
Key Factors Affecting Customers' Experience At Your Restaurant
Here is a five-step strategy that never fails to enhance customer experience overall:
Engage, empower, hear, delight and know.
1. Food Quality
According to the Food Services report from NRAI for 2019, 23% of customers choose to dine out at a restaurant because of the quality of food that they offer. Around 7% go back because they like the taste of a specific dish. The quality of food is certainly the most important factor determining the success of a restaurant.
For generations, customers have kept the quality of food at the top of their checklist when choosing a restaurant. The patrons are mainly concerned about the food. They would ignore the wait time taken for preparing the food if the food offered is of premium quality and gratifying. So, it is important to get your food right. 
2. Staff Behavior 
Your staff acts as the face of your restaurant to your customers. Many restaurateurs believe in hiring their staff through a rigorous process, while others believe in hard training. Either of these methods, helps you ensure that the brand image is not compromised. Your staff training should include norms that are aligned with the desired customer experience and brand promise that you want to deliver.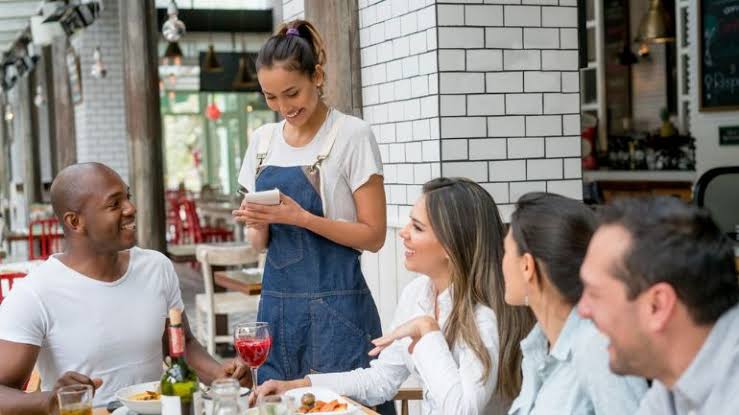 Another thing to keep in your mind is retaining your staff. Staff retention is actually closely related to providing customers with a better experience as well as making them want to come back. The cost of attrition and training has a significant impact on revenues in the long run. Develop a customer-centric culture and reward good performance to gain the trust of your staff. It will pay rich dividends in terms of ensuring a quality customer experience. This holds true for almost all the restaurant formats, be it a QSR or a fine dining restaurant.
3. Value For Money 
Surveys suggest that people might not want to go back to a pricey restaurant, or where the food quality is not justified for the price they're selling it at. It's not about how expensive the place is. It's only a problem when the vibe of the place is not clearly reflected in the quality of the food you're serving. This is why you must think of food costing on a priority basis, and ensure that your menu is neither too pricey nor is causing you losses! 
4. Location Preference 
Understanding consumer behaviour is the first step to providing them with a stellar experience at your restaurant. According to the Food Services report from NRAI for the year 2019, 60% of all consumers would choose a restaurant that is located in their neighbourhood, followed by 15% of consumers who would go to the mall for dining out and around 9% who would rather choose high street as their destination for dining out. 
According to Abhijit Gupta of The Pizza Bakery, he decided to set up shop in Indiranagar because Indiranagar was an upcoming high street location and they saw an opportunity where they could flourish efficiently.
5. Restaurant Interiors and Ambience 
Your restaurant interiors can easily dictate the perception of your restaurant brand in the eyes of your customers. As they say, the first impression is the last impression', it is crucial that you create an ambience that reflects the uniqueness of your brand so as to create a positive impact. The interiors are not only about the colour or the layout of a restaurant. It should have the power to create an emotion or experience for the customer and make him want to come back. A unique dining experience is as much about a visual appeal as about the level of service provided. It does not have to be an expensive remodelling, though.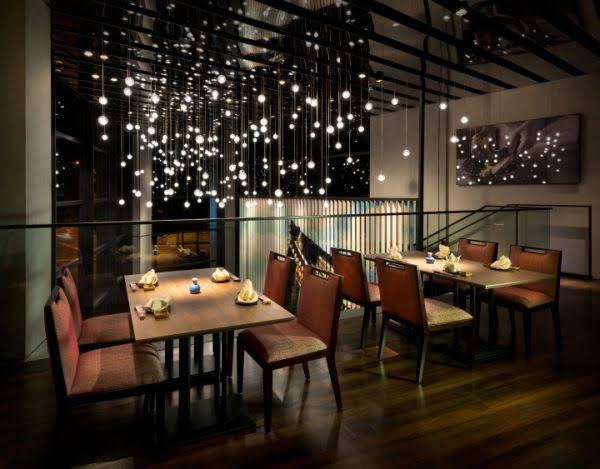 However, here are some ways you can transform your place without having to spend lakhs!
Ambient Light and Interior Colors: 
Red and yellow are the most popular colour choices among fast-food restaurants because they apparently attract customer attention and stimulate their appetite. Even though blue is shown to have a decreasing effect on customer appetite, formal restaurants tend to use it often because it has a calming effect on the senses and is shown to be relaxing bringing them into a state of comfort and satisfaction. Colours also influence how customers react to long wait times. Research shows that the colour blue seemingly lends a perception that the pace has become quicker, while the colour red seems to have the opposite effect
The layout of your restaurant dictates whether or not a customer would want to eat at your restaurant. Apart from the basics of not placing the tables too close, or having enough space for customers to walk between the aisles throughout the restaurant, there are some other recommendations that we would want to share.
What we recommend is to design a functional layout that maximizes the use of the floor space. A clear blueprint that aligns with the vibe of the place, can help you identify possible bottlenecks, saving both time and effort. For instance, Byg Brewski has multiple sections across the colossal space that the restaurant is spread over. These sections have different vibes and experiences for the customer.
One section, supposed to be romantic, has cosy seating for a maximum of three people. For a large group, or people coming in as singles, they have another section offering games, drinks, bartenders interacting with the diners, and a nice view. You can take some inspiration home, and come up with your own bespoke design!
Living in the Instagram generation, people want to click their food and the place they're in, before actually eating the food. Having an aesthetic environment at your restaurant/cafe helps to attract more customers. After all, who doesn't like a cute place to hang out in?
What we recommend is a lot of indoor plants and live music or art collaborations with various artists to make the place more lively. Add in a decent colour scheme and beautiful decor, and you're ready to dazzle your guests.
6. Unique Food in The Menu 
Apart from the convenience, the quality and deliciousness of the cones are what attract customers to restaurants. Here are two examples of such unique restaurants, attracting a high footfall.
The Conical Twist- They have their dough specialized to make the perfect crispy cones. Nothing is pre-made or re-heated, all cones are made-to-order. Bringing a twist to their food has really helped them aggravate sales.

Another example of such a restaurant is Laa Unico, they believe in serving unique food. They serve an assortment of Italian, Mexican, Continental, Indian and Oriental cuisines. Their Paw-bhaji sizzler attracts a lot many customers from all over the city.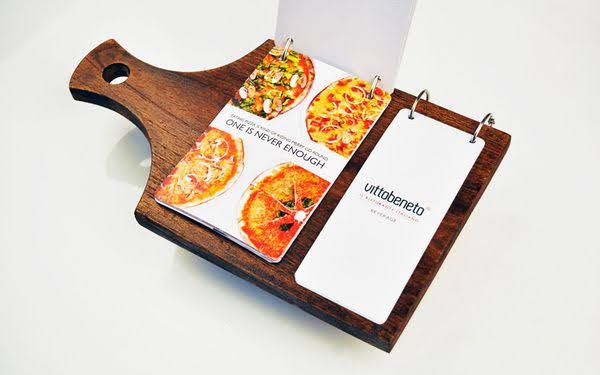 7. Convenience 
Nothing makes you lose a loyal customer like delayed order taking, discrepancies during payments, and so on and so forth. Since you are always in constant competition with the restaurateurs around you, your customers need to feel most at home while at yours. Here are some ways you can ease the customers' lives and eventually cater to more customers. 
Easy Ordering: After settling down at their tables, the customer must not be left alone for more than 5-10 minutes. Late order taking causes major inconvenience! What we recommend is to have a tablet billing feature incorporated at your restaurant. This would handle everything from quickening up the process to ensuring that there are no errors.
Easy Billing With Multiple Modes Of Payment: More often than not, customers are highly disappointed with a particular restaurant if they don't have multiple options for payment. Also, a lack of billing features, like split billing, might make them not want to come back. This is why you need to be ready beforehand with a restaurant POS that includes these features.
Interactive Feedback: The primary goal for any restaurateur is to have a restaurant full of happy faces. An open feedback system helps to achieve a better customer experience. Instead of having the same feedback form for everyone, you must have a customized feedback form for each of your customers

, based on their individual orders. The questions in your form could be 'How was the Dal Makhni?' 'instead of 'How was the food?'
8. Customer Selection Behavior – Menu Innovation
Menu innovation or providing customers with what they like in different seasons is a great way to give them the utmost satisfaction. Using the same raw material for different dishes, or having dishes around the raw material that is easily available in that season, are all included in menu innovation. 
"Using similar ingredients or raw materials for multiple dishes and revising your menu from time to time would cut down your food costs by a minimum 15%", says Sadaf Hussain, ex-Masterchef contestant and food enthusiast. Win-win!
One such example is the Beer House. They launched a drink called Kombucha, during the winter season, somewhere around January. It's a food beer cum health drink and is rarely available in the country. We got to know about the drink through extensive market research, and it has been quite popular among our customers," adds Yudhveer Singh of The Beer House.
9. Ensuring Customer Privacy and Entertainment 
The first rule to a great restaurant is ensuring that the customers are engaged consistently. Having said that, there might be times when your customers would want the restaurant to respect their privacy. This is where staff training comes into play. Your staff needs to identify the kind of table he's catering to, and hence provide them with the kind of services it requires.
10. Service Time
The lower the service time, the happier your customers will be! You can optimize your operations to serve your customers in the least time possible using restaurant management software. Here's how:
Introduce a Kitchen Display system, that pushes all the orders directly to your kitchen the minute they are punched.

During peak hours, ask customers waiting in queues to give their orders before getting a table. This way, they'd be getting their food early, and the table turnover rate also increases.

Train your staff well so that they are able to cater to more than one table at a time.
Besides the million things that you take care of during a typical day at your restaurant, customer satisfaction should be given top priority. Truly caring for your customers and valuing them is the only way forward. Since you need to be consistent while providing your diners with the best experience, you must leverage technology to be the best at your game!