The restaurant industry is innovating rapidly with new restaurant concepts flourishing each day. For your restaurant concept to outshine the competition, the focus should not be limited to just good food and exceptional service but offering a unique dining experience to customers. The interiors of a restaurant play a pivotal role in elevating the overall ambiance. A research study also proves that the interior design of a restaurant is an influencing factor in leaving a customer feeling satisfied. Beautiful interiors attract and retain more customers. An increasing number of cafes and restaurants are now revamping their interiors to offer an experiential dine-in experience to their customers. In this article, we have listed down some of the best restaurant and cafe interior design ideas that will help you retain more customers. 
Interior Design Ideas To Retain Customers In Your Cafe
While you might pay a lot of emphasis on your restaurant's food and services, ensure that you give equal importance to the interior design of your restaurant. An excellent interior cafe design also contributes largely to elevate the entire experience of your customers with your restaurant brand. Here are some stellar interior design ideas for your cafe!
1. Play With Colors
Your customers are likely to notice the color scheme of your restaurant the moment they step into the restaurant. A thematic color scheme will elevate the look and feel of your restaurant. Depending on the theme, you can either choose relaxed neutral colors to your restaurant's walls or add a dash of colors to different sections of your restaurant. Keep the color scheme in accordance with your restaurant's decor and furniture for a seamless visual impact. 
2. Brighten Up With Lightning Fixtures
Lighting is core to the restaurant's interiors. It adds up to the overall ambiance of a restaurant and enhances its aesthetic appeal. Select lighting fixtures that can enhance the vibe and create different moods in the minds of patrons. If your cafe is a relaxed spot that attracts book readers and coffee lovers, choose bright or golden lights that would add a warm, comfortable tone to your restaurant.
If you host live music sessions and DJ nights in your cafe, create an intimate space by keeping the lights dim. Decorative light fixtures like pole lightning, classic candle sconces, pendants, chandeliers, table & floor lamps, etc can add a dramatic visual impact to your restaurant's interiors. 
3. Keep It Simple
If you want to create an atmosphere of leisure and comfort in your restaurant and want your diners to take a closer look at your cafe's offerings, opt for minimalistic interior design. Modern minimalist designs offer a warm touch to the cafe's ambiance and personality.
Typically the overall appeal of a minimally designed cafe follows the 'less is more' approach. Remember to separate different areas in your cafe by creating large spaces. Use subtle undertones of white to brighten the space. The uncluttered and minimal look is one of the most popular trends in interior design for cafes.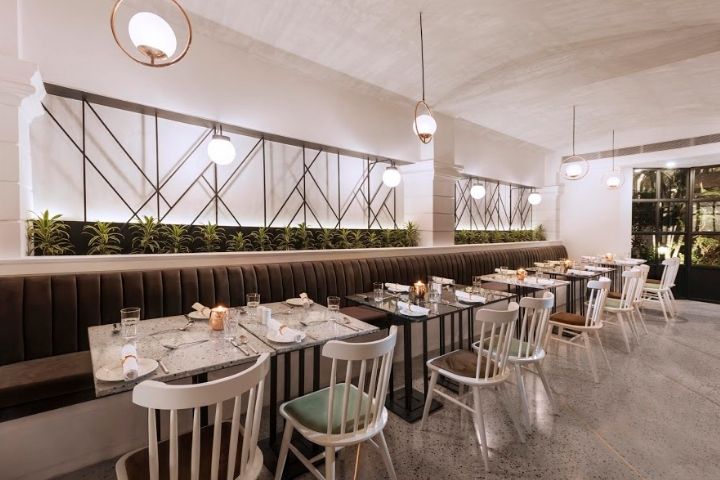 4. Connect With Nature
Cafes equipped with fresh plants and greenery are gaining popularity amongst nature enthusiasts. Adding a dash of greenery in your cafe creates a fresh, vibrant environment and is the perfect backdrop for selfies! Outdoor cafes can furnish the space with green details to enhance the overall look, giving a peaceful charm to the place. You can soften the aesthetic appeal of your indoor cafe with green walls, hanging pots, or plant-based accessories or add an array of plants to fixtures on the walls or ceilings in a variety of ways.
5. Repurpose Furniture 
Merely changing the furnishings of your restaurant can instantly uplift your restaurant's environment and refresh its look and styling. Add a touch of elegance with unique cafe furniture rendered in wood, cane or leather. High street cafes attracting an elite crowd can go for smart yet functional furniture such as stools and high-end tables to accommodate more on-the-go customers or comfortable sofas, cushioned chairs, and low-level tables for guests that like leisure dining.
While choosing the right furniture for your cafe, keep in mind the comfort of your customers. You may select any kind of cafe furniture options complementing the theme of your restaurant, but ensure that it blends well with the layout and space available. 
6. Get Artistic
A wise selection of artwork that complements the theme of your cafe can do wonders in elevating the guest experience and overall ambiance. Adding modern contemporary artworks or artifacts in your cafe would create a visually appealing environment and attract patrons who are fond of the arts.
You can add gigantic art pieces or a collage of paintings or posters according to the cafe theme and target audience. For vintage and rustic themed cafes, keep the classic touch intact. You can simply revamp your cafe walls with graffiti, bold graphics, chalkboards, etc. Adding these artistic elements in your cafe would create an enthralling atmosphere in your cafe and attract more customers. 
These interior design ideas will help you in revamping your restaurant's decor and would bring your restaurant positive reviews besides attracting more customers. Warm cafe interiors are capable of increasing the average amount of time customers spend at your restaurant which can significantly increase revenues over a period of time. Take inspiration from these stellar restaurant decor ideas and leave your customers awestruck!