Shakeel Jivraj is Head of Operations at Queensway Group, a  family business founded in 1973, by his Grandfather, Nurdin Jivraj. Its portfolio includes hotels, coffee houses, restaurants, residential properties, and a private member's club. Queensway Group runs brands like KFC, Starbucks, Point A Hotels, Montagu Place, Ibis Styles, and the Sloane Club.
As Head of Operations for the multi-site Starbucks assets, Shakeel comes with extensive experience in developing businesses into profitable endeavours and promoting a culture of internal growth. He has over 15 years of experience in QSR franchising and operations, managing portfolios of up to £15mm. Shakeel is a graduate in Business Economics from the Queen Mary University of London.
In Conversation With Shakeel Jivraj, Head of Operations, Queensway Coffee Houses
In a candid conversation with The Restaurant Times, Mr Shakeel Jivraj discusses the factors that make franchising a viable business model and highlights the key focus areas that create long-term sustainable value for businesses and their stakeholders.
Making Franchising A Viable Business Model 
Unfortunately, the pandemic has brought multiple changes across different industries. Franchisors, franchisees and business owners, in general, have had to rethink how to operate in the post-Covid world. Restaurants also need to diversify their service models and bring in technology to serve their customers better.
The rapid rise in technology adoption over the last 14 months across different franchise models has helped them adapt and grow into more viable ventures. The last 14 months have witnessed market shifts that should have happened over a period of three to five years. 
The franchising business has become complicated more than ever. Then how can one decide which model to explore? Shakeel expresses some keen observations from his experience on this subject. 
Perform due diligence on brands that interest you and have a preferably proven concept within your market. Speak to the existing franchisees or business owners within the market. You will get the most accurate information from those who are already working in these industries and sectors. To assist in gaining access to existing franchisees & brands, introductions from franchise brokers are the most effective. They will provide a guided route with support along the way.
When choosing a franchisor, Shakeel emphasizes that it is extremely important to find a cultural fit. 
Do their values and philosophies align with yours and are they looking to build your legacy as well as theirs? These should be the first items on your checklist. Transparency is key to the foundation of the relationship and disclosure of financial performance representations from the franchisor will build trust. If you are unsure about any information that is not forthcoming from the franchisor, it could be that they are initially unfamiliar with your market.
These are some of the most critical questions one must consider when choosing a franchisor. 
A good franchisor according to Shakeel would always encourage and acknowledge the level of due diligence conducted by the franchisee rather than taking it as criticism. With a strong foundation of trust and cultural alignment, one can develop great relationships in the franchise business.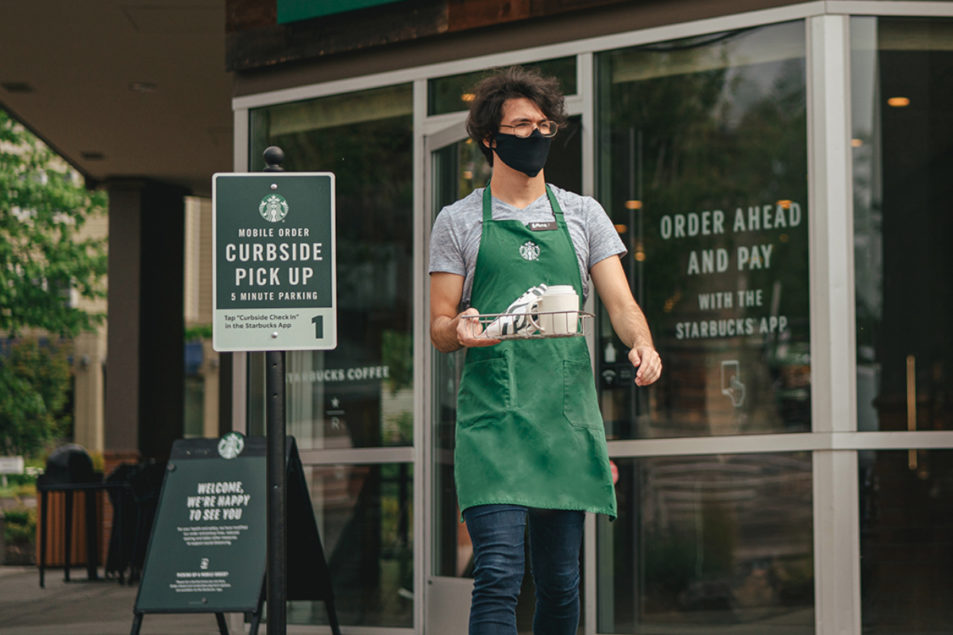 Leveraging Technology For Increased Customer Loyalty
Within the Starbucks portfolio, 20% of sales came from the doorstep delivery of coffee during the pandemic. Shakeel says that the delivery volumes haven't changed in spite of lockdowns, mainly due to the convenience factor. 
The convenience that is being offered to the customers by the aggregators, transparency in product offering, multiple payment methods, ease of ordering from home etc., has been working tremendously in the favour of customers.
The group is working towards converting their organic takeaway customers to 'Mobile Order and Pay' & 'Curbside' car pickups. With the 'Mobile Order and Pay' feature, customers can order ahead and pick up their beverage from a nearby Starbucks store. The 'Curbside' feature is alike and allows the customer to remain in their vehicle whilst the barista brings their beverage to them.
Despite the vaccination drive and easing of lockdown restrictions in the UK, ordering takeaway- where customers would have to wait in the queue or stand next to a member of the public, is still going to be a concern for customers in the foreseeable future. 
Amplifying this feature will help the brand in increasing order frequency in a number of ways. With Mobile Order and Pay, they can enter the cafe and exit within a couple of minutes rather than forming a queue and waiting for their orders to arrive. Secondly, it makes rewards redemption easier as the Starbucks app and payment gateway of the platform is linked. This is likely to increase customer loyalty and boost revenue growth for the business. 
Maintaining The Entrepreneurial Spirit Of The Team 
A heritage family business, Queensway was founded in 1973. With a team of 900 people, the group is currently operational across 45 locations. Queensway Group has a good mix of some very senior members across all the leadership and management teams and talented youngsters. This greatly helps them drive an entrepreneurial mindset. This also helps the team to feel empowered and enables them to take proactive decisions. Not only this, it increases innovation, creativity and helps them grow as individuals and professionals.
This is all about mindset and the individuals that we work alongside. We continue to seek enhancements in our operations. We are always honing in on new opportunities and the only way to do that as a management team is to cultivate the philosophy of ownership and take pride in what you do as owners of the business.
The pandemic has been tough across industries worldwide. Shakeel advises the restaurateurs to be resilient as the industry tends to get more competitive in the near future. 
The further we can advance and leverage the use of technology within our operating model, the better it will work in favour of attracting & retaining future custom. Think in advance of what changes or developments the market is dictating in order to maintain your share but also remember that not all customers want a total switch to automation; some will still want the choice of the human connection at your counter.
Watch Shakeel Jivraj in an exclusive F&B Talks session with The Restaurant Times.