Delhi, apart from being the capital city, is also officially the land of foodies. It is also often known as the restaurant hub of India, because of the increasing number of restaurants coming up in the city. And hence the restaurant biz is one of the most talked-about business plans among families and friends. On average, every third table you find in a restaurant is talking about the great heights that the restaurant industry has reached. Only a few of those dreamers are successful in fulfilling their dreams, and the first step to fulfil these dreams is by choosing the right restaurant location for your business in Delhi.
More than dreaming and wishing on a star, the establishment of a restaurant requires a lot of hard work and planning. You need to be proactive and be able to adapt to the everyday changing trends. One of the toughest tasks while thinking about your dream restaurant, apart from choosing the right restaurant location, is to keep the restaurant successfully running once its been established.
It is highly advisable that you invest least in rent but never compromise on the quality and surroundings of the place to run a successful restaurant business. We have therefore tried to make your life easier by listing down everything you want to know about where and how to establish your own restaurant in Delhi.
Frequently Asked Questions Related To Choosing The Best Location For Your Restaurant!
i) Why Is Location Important?
Choosing a restaurant location is one of the core driving factors of a restaurant. Metropolitan cities like Delhi and Mumbai see a forever rise in their population curve, which points towards lack of space available, or the lack of that perfect space for your restaurant. Preparing everything beforehand and getting all the licenses and rent before time would help you to have options among different locations. The better your restaurant location is, the more profits are bound to flow in.
ii) What Are The Factors To Consider When Choosing A Restaurant Location?
A restaurant needs to be at a place with a higher footfall, and places where your target audience visits frequently. Different kinds of restaurants have different needs in terms of space, visibility and target audience. So here are some common factors for different kinds of restaurants to look for while choosing the perfect place.
a) Visibility:
The first and foremost factor that you should consider should be the visibility of your dream place. Your restaurant's place needs to be compliant with your theme. You must also understand what kind of people are walking in and will those pedestrians be willing to stop by your restaurant. A little bit of research is needed on which part of the day brings you the most traffic. Once you figure that out, you're all set to launch your rocket!
b) Parking
Whether you're planning to open a fine dining restaurant or a Quick Service Restaurant, you must make sure that there is enough place to park near your place. Parking problems generally lead to loss of potential customers, and eventually a big loss to your business.
c) Space-Size
A larger space size might not be your lookout when you consider space for your restaurant, but an appropriate space. According to statistics, there is a need for five square feet of kitchen space for each table that you decide to put in your restaurant. This space lets your chef work in a calm manner, and also avoid accidents while slipping, trimming or messing around.
d) Crime Rate
You can't get rid of crime when you talk about Delhi. It's always important to include all the risk factors that might hamper your business. Considering the crime rate, there needs to be a strict provision in your head of what kind of traffic you want to target. Casual dine, restrobars and fine dining are mostly affected by this factor.
e) Surrounding Competition analysis
As a restaurant owner, you must choose your perfect location on the basis of the surrounding competition. The already established competitors drive the market already, which needs to be changed by your new place. So you must set the place accordingly.
f) Your Cuisine:
Once you decide on the theme of your restaurant, you must quickly skip to the cuisine and menu engineering. Your cuisine will tell you a lot about the most suited place for your restaurant. "Cuisine should be your primary concern while choosing a location for your restaurant," adds Luv Khosla, a restaurant consultant from Champ Foods, Delhi, "Mostly because the crowd in different areas of Delhi have a dramatically different taste".
Finalizing your cuisine also involves choosing whether or not you want to include non-vegetarian food into it. There are markets like that of Prashant Vihar in Rohini that are explicitly available for vegetarian cuisine. Apart from that, some areas of North Delhi are also popular for vegetarians because of the population living around.
A north-Indian/Punjabi cuisine works most in areas like Rajouri Garden and Punjabi Bagh. You can't expect to flourish with an Italian menu there. A breakfast place would be best suited in either Gurgaon, Lodhi Road or even Majnu ka Tila, so on and so forth.
g) Accessibility:
Accessibility is a crucial step while choosing a restaurant location. Other restaurants that are more accessible but have an inferior quality of food and other services might turn out to perform better than yours.
A well-established market like Rajouri Garden has restaurants working extremely well whereas restaurants shutting down every six months. This is major because the inner market of Rajouri Garden is not as accessible as the main road market. This is why Rajouri is a really tricky market to be in.
h) Safety
According to reports from OSHA, nearly 40% of the accidental deaths in the restaurant industry happens due to falling. Other possible reasons could include fire, struck by object or electricity.
As a restaurant owner, you must make sure that all the safety measures are in place, like the installation of a slip-free floor and proper precautions for a fire or electricity breakdown, keeping the safety of its employees as its first priority.
i) Popularity /Market Research
Complete market research will help you to know about the popularity of the place among different kinds of customers. This will also indicate your future endeavors and scope of growth in that area. For example, a fine dining restaurant like Themis Barbeque might work best in an area like NSP, than that of Kamla Nagar, due to the lack of intent for dining out in people frequenting Kamla Nagar market.
Researching a market space is more than knowing what kinds of customers come there. It is to make sure what your target audience should be, what they wear, what their tastes are, what their music choices are and all of that.
j) A Unique Selling Point:
Choosing a restaurant location according to your theme is one thing, and still having that unique selling point is another. You must ensure that everything from your design to your menu to your interiors and the quality of your food helps you to stand out even among a lot of competitors
k) Marketing:
How you market your restaurant should be one of your major concerns. When you pick up a restaurant location, you must also take note of the factors that affect the marketing strategies of your restaurant in that area. From formalizing your brand to targeting the right audience, you would need.
A restaurant management software will help you decide what kind of campaigns could give you better output. The customer's information can be stored all at one place in this software and be used to give out personalized promotional emails or text messages.
l) Room for Growth:
You must choose a location that has a constant room for growth. This is an important factor as, after a while, there comes a saturation phase for a restaurant after which it only declines. You don't need your restaurant to be the best only in a particular niche, right?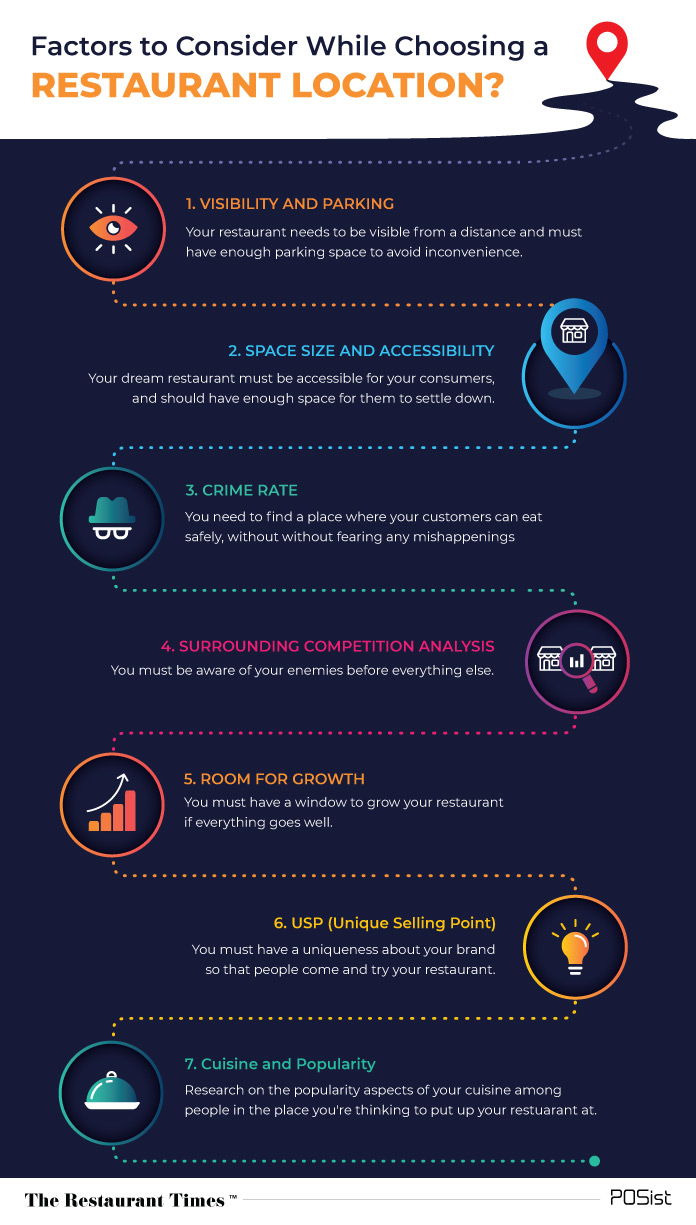 m. Check Zoning Laws
Zoning laws dictate what can be done with real estate in a particular place. In some areas, they allow restaurants to be built but limit the kinds of food served, like alcohol. Therefore, before committing to a site, you should consider the area's zoning laws and other permits.
n. Consider Foot and Car Traffic
Cars or people walking by should be able to view your restaurant – this helps them make a split-second decision to dine in. The more people who walk by your restaurant, the more likely it is that they will come in. A signboard that stands out or an area for car parking is also an advantage. This could also help you opt for strategies such as letting the scent of the food waft outside the restaurant to engage more and more people.
p. Study Space Turnover
Don't take a chance on a retail property where many other companies have attempted and failed. Even though the places might seem great to start a restaurant, there's a reason why others have failed before. If you're considering moving to an area you don't know much about, study it for a few months to identify turnover (how many people move in and out).
q. Look for Complementary Businesses
While you might want to avoid direct competition, certain local businesses may direct customers towards your restaurant. For instance, a coffee shop close to a corporate office or a juice shop next to a gym would experience strong sales. On the other hand, positioning yourself next to different sorts of eateries, such as a pizza shop next to a burger business, will diversify your audience.
r. Consider Setting up Shop at a Collective Venue
Being an independent business has benefits like visibility, but joining a collective venue like a food truck park gives you access to more customers. This strategic placement will draw a crowd of customers visiting other establishments in the area to your company. Additionally, all businesses could mutually profit from the exposure to each other's customer base.
iii) How Does Costing Differ From One Location To Another In The Same City?
In a metropolitan city like Delhi with a population of about 1.2 crores and an area space of just 1484km, finding the perfect affordable restaurant location becomes a nasty business. As for someone on a budget, it is better that you know about all the hardships that come your way.
This is where costing finds its importance. Delhi is a perfect blend of posh areas along with areas with local 'dhabas' and food trucks. It has a place for each type of restaurant. Costing of a particular area is dependent on the fixed cost, surrounding competition and the population coming in.
iv) How Do You Choose The Most Appropriate Location For Different Types Of Restaurants?
Different restaurants demand different kinds of audiences and therefore it is important to know the right location or 'hotspot' for your kind of restaurant. Five kinds of restaurants are mentioned here with their respective hotspots.
a) Quick Service Restaurant
A Quick Service Restaurant needs to be around universities or schools where they are able to meet the right kind of audience. Since people come to Delhi from all over the country for their studies and other purposes, they need places like these to take care of their hunger pans and also are pocket-friendly.
Places like North Campus, GTB Nagar, Kamla Nagar, Netaji Subhash Place and places surrounding these areas are well-established teenage-spots, which is why they are popularly the best location for fast food restaurants. People with vegetarian as their specialty cuisine should choose areas from North Delhi.
Accessibility and popularity is one aspect which you won't have to worry about here. Along with that, there is ample room for growth here. Whereas, the downside of choosing these places is that you will have to face a lot of competition.
Other places like Greater Kailash, South Campus, and Khan Market work for all kinds of restaurants as there is a lot of corporate crowd for your visibility. Another advantageous aspect would be the popularity aspect that you gain there.
Some university students might also be attracted once you have a name in the market. All said and done, you need to focus on the quality of your menu and place, to stand out from your competitors.
b) Casual-Dining Restaurant
There is a mixed population in Delhi, which means there are people from villages, students and families. To consider a casual dining place, you need to either focus well-established malls or markets near households as walk-in traffic is one of the major sources of revenue for them.
A few of my suggestions would be the Khan Market, where you can expect a lot of families. It is a safe area for families, with a minimal crime rate, you'd get enough space for your restaurant and also would be able to grow more. The property costing here would vary from Rs. 600-800 per square feet.
On the other hand, places like Greater Kailash part1 and Epicuria Mall in Nehru Place, where you can expect a rental costing of about Rs. 300-500 per square feet. There are a lot of families expected here, and there are no issues related to parking.
For vegetarian cuisine, Prashant Vihar in Rohini is one of the hotshot markets for casual dines. In fact, they would not allow non-vegetarian restaurants a space in the market. Whereas Indian and Chinese cuisine would mostly work in Janakpuri but would be priced a little on the lower side.
CP is the central part of Delhi, and thereby attracts a lot of traffic. Marketing will be a cakewalk for a restaurant in CP, as there are spaces for advertisements and the word of mouth being an extensive strategy. The best part about choosing a restaurant here is the accessibility from all over Delhi. You'd find people from Gurgaon and those of Noida hanging out in CP. Renting a place here would cost you a little extra but there would be an altogether profit of about 4 times. Having the right technology to streamline operations and handle higher footfall in these restaurants becomes crucial.
Some areas of Rohini including Sector 7, Sector 9 and around M2K market could be a nice place for casual dining. You can expect a lot of family crowd as there are a lot of societies around.
You could also try Hudson Lane in North Delhi to be your ideal restaurant location as it is quite famous among families and teenagers. Being near to household areas, walk-in traffic would be the best way to make a profit here. You would have to loosen your pockets a little here and can expect a rent of about 300-500 per square feet. Also, beware of the competition!
c) Fine Dining Restaurant
A fine dining restaurant is best suited in areas where there are people who have a better paying capacity and want to live a higher standard of living. There are many such areas in South Delhi including Greater Kailash, Lodhi Road and Khan Market where the property rate might be a little high but the profits are equivalently higher. Other important advantages of getting a place here are safety, minimal parking issues and adequate space.
Since it is a well-known fact that South Delhi has posh traffic, it would be a wiser decision to invest in those markets if it fits your pocket. Other than those, Connaught Place being the hub for all foodies, you must consider getting a space there. The best fine-dine places presently are all in CP, due to accessibility, popularity, room for growth and marketing perspectives.
A very few areas in Dwarka have some Fine Dine restaurants in Delhi. It is mostly a residential area and the rental costings are touching the sky, due to which not all restaurants survive. The delivery market overpowers other kinds of restaurants in and around this area.
Since investments are one major issue, you could think of Indirapuram and Noida as your go-to places for a fine dining restaurant.
d) Restrobar
A restrobar is a major attraction for office going crowd and younger generation. There is often loud music and a vibe unmatching that of a family. The hotspots for resto-bars in Delhi are CP and Punjabi Bagh. There is regular traffic along with it being the highest on weekends. Some of these places don't have parking facilities as they promote no driving after drinking, which is ideal.
Along with these Sector 29, Gurgaon is also gaining popularity among youngsters. Apart from extensive crowd, you can also expect competition, and space issues. The major issues here would be getting all your licenses in place, there are about 20-25 licenses that you need to put in order before you serve your first pint!
The main market of Rajouri Garden is completely famous for Restrobars, but you will mostly find a family crowd in there. This is why you must choose this place in case you're bringing in your non-vegetarian and the place has a theme focusing on families.
e) Food Truck
Food trucks are generally accepted well enough where people are ready to experiment with newer cuisines and aren't pocket sensitive. This is why Gurgaon, which is the corporate hub of Delhi NCR sees more food trucks than any other part of Delhi.
A couple of areas in Gurgaon, especially Sector 29 should be your ideal space for that. However, the newer food trucks in Sector 29 are losing their charm. We would suggest that you try other areas from Gurugram, like the Golf Course Road, Sohna Road, Sector 60, Sector 61 and a lot more around these markets
A mixed crowd of families, youngsters and the office crowd is generally seen here. Along with that, you can expect to sell different kinds of cuisines here as families are expecting a touch of newness. Your marketing strategies could turn out to be super successful for you here as there are regular food bloggers and social media influencers stepping in this area.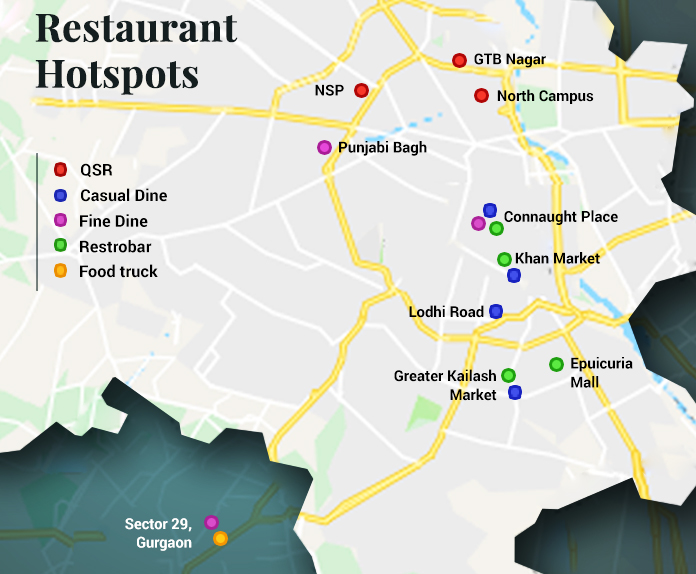 To sum up, a restaurant owner must be prepared for both the adversities, the best and worst of the outcomes. Choosing the right restaurant location would only add to the better side of outcomes and could turn it into a bigger success than predicted. Whereas you must also understand that the statistics and population are constantly changing, affecting your decisions thereafter.