A lot of efforts go in the running of any restaurant. Starting from tempting menu items to competent staff to a mesmerizing ambiance for your customers so that they have a memorable unique dining experience, all of these are the pre-conditions for making any restaurant successful. However, one crucial thing that is generally understated is the restaurant menu design and layout.  Any menu if appropriately designed can be used as a tool for persuasion and influence your customers to order more.  Your menu is the most powerful tool for your restaurant marketing if used judiciously and should never be executed in haste. Read this article about Menu Selection Tips that tempt customers to spend more that will help you better in creating the best menu for your restaurant.
Restaurant Menu Design & Engineering
Restaurant Menu Design & Engineering is the simple process of placement of your restaurant menu items. The main benefit of menu engineering system is understanding the profit contribution for each of the items present in your menu. This system can be used as a valuable tool for analyzing the various combo products on your restaurant menu that becomes an essential factor to promote sales.  Menu engineering is the study of the profitability and popularity of menu items and how these two factors influence the placement of these items on a menu. The goal is simple: to increase profitability per guest.
Menu engineering can be in simpler words be defined as the process of the methodical selecting, costing, pricing and evaluating of your menu items.  Through Empirical Data, evaluation of current and future restaurant menu pricing can be done. With an extensive view of your restaurant's menu items popularity and profitability, it has become possible to identify which items on your restaurant menu is leading to more sales and the profit contribution for each of your menu items.
Use this Restaurant Menu Engineering Checklist to create the perfect menu for your restaurant business that not only tempts customers to order more but is also high on profits.
5 Effective Steps to Creating a Stellar Restaurant Menu Design
Creating a perfect Restaurant Menu requires a delicate balance between the art of Menu Designing and the Science of Menu Engineering. While Menu Designing focuses on the aesthetics and keeping the customer psychology in mind, Menu Engineering gives an understanding of profit and cost levels, ensuring that the restaurant works within budgets and maintains its targets. The end goal is always to increase profitability per guest. It requires knowledge about customer psychology and analysis into your restaurant's food costs, menu item prices, and contribution margins. We have discussed the points to create an ideal restaurant menu in the points below.
1. Menu Food Costing
Identifying the Menu Food Cost is essential as it tells you how to price the menu items for selling. Based on the costs, you should decide if you should include the item in the menu or not. The ideal menu food cost should be 28-30% of the Selling Price of the item. Thus, if the final Selling Price of the item comes out to be too high, you should then consider if your target customers would be willing to spend that much on an item, and whether or not it would be a good idea to include that item in your menu.
The menu food costing of each item is done by this formula:
Cost of each ingredient + Cost of purchasing = Item Food Cost.
Cost of purchasing not only includes the price you paid for the item, but any delivery fees, interest, return charges, or other expenses related to purchasing inventory (excluding labor costs).
How to Calculate the Costs of Each Item On the Menu
List all the ingredients. Even small amounts of ingredients like ketchup, mayonnaise should be included.
Calculate the cost of each ingredient that goes into the making of the dish.
Add the total cost of the ingredients to calculate your food costs for that dish. Do not include the labor costs to prepare or serve the dish.
2. Menu Pricing
The Menu Pricing needs to be done carefully; keeping in mind the Menu Food Costs, while still being pocket-friendly and having the Value-for-Money for customers. The price of the Menu Items will also depend on your restaurant format; if it is a fine dining restaurant in a posh area, you can charge a higher Menu Price. Quick Service Restaurants typically have lower Food Costs and minor investments; thus the Menu Price of their items is also on the lower side. Read this definitive guide to Menu Pricing and Food Costs that would help you price your menu items better. 
You should keep the surrounding market and competition in consideration while deciding the Menu Price. If your competition is serving the same dish with a similar service at a lower price, then your sales are going to see a drop.
Chef Aman Puri, Executive Chef at Imly and Too Indian says "While designing the menu for Imly and Too Indian we made sure that we are not just delivering taste and presentation but gifting comfort to people by providing them with everything under one roof. If Menu designing is considered to be difficult, deciding on the pricing of the menu is all the more difficult.  No matter how different your food look or taste, if your pricing is not in line with your competitors', survival inevitably becomes a little tricky. You can go levels up in your presentation but not in pricing."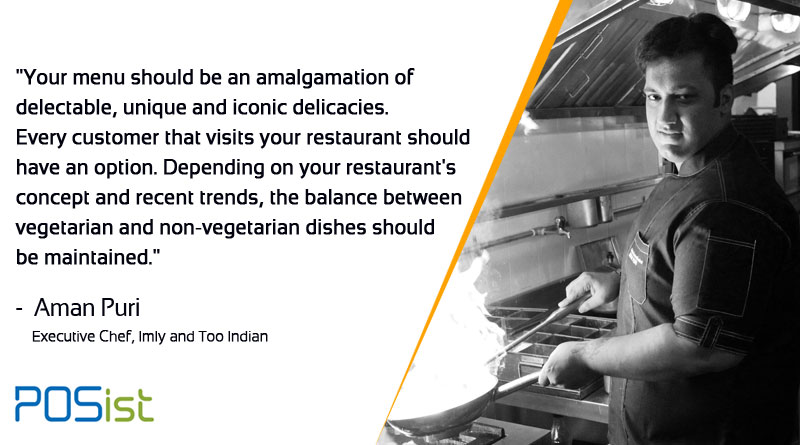 Also, try these menu pricing hacks to maximize your restaurant profits.
3. Create your Menu Engineering Graph
The menu engineering graph helps you in organizing your menu items into Stars, Puzzles, Plowhorses, and Dogs. This is a critical aspect of restaurant menu design. The primary factors which this graph plays on are popularity and profit of each item on the menu. The chart compares menu dishes depending on popularity to profit from the recent period say 30 days.
Piyush Jain, Executive chef at Molecule Air Bar who specializes in the Mediterranean style of cooking says that "This menu engineering graph though being a European concept is important in India as well as it helps you identify which dish is not contributing to your restaurant's profits and which dish is worth all the efforts depending majorly on its popularity."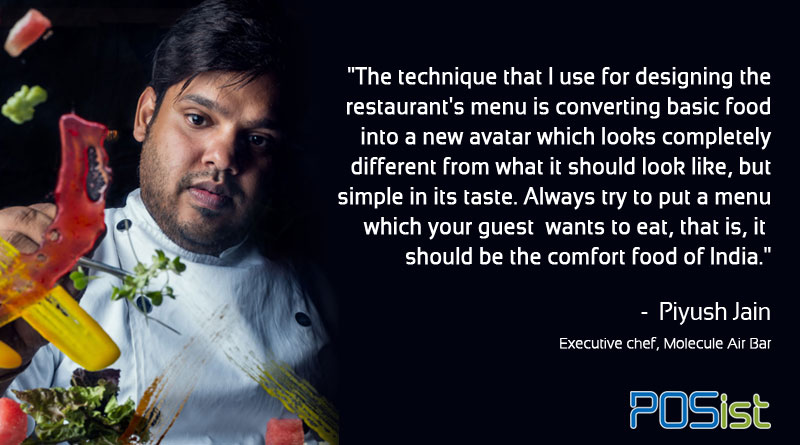 a) Stars- The Stars on your restaurant menu design are the ones with High Profitability and High Popularity.
The stars on your menu should be highlighted and promoted to ensure maximum sales.
b) Plowhorses- Plowhorses are the dishes on your menu which have Low Profitability and High Popularity.  Since these are frequently ordered items, you can club them with high profitability-low popularity items and sell them in Combos.
c) Puzzles- Puzzles are the menu dishes that carry with itself High Profitability and Low Popularity. These items can be promoted through specials, server recommendations, and Combo Offers. Your Chef can also be innovative and experiment by reinventing and renaming the same dish. You can also try repositioning the Puzzle Menu Items close to the popular items on the menu design to increase sales.
d) Dogs- Dogs are those items on your menu that have Low profitability and Low Popularity. It is always suggested to remove such items from your menu as they don't just contribute to your profits. It is also difficult to maintain the inventory of these items as they are likely to perish if not consumed within their expiration date.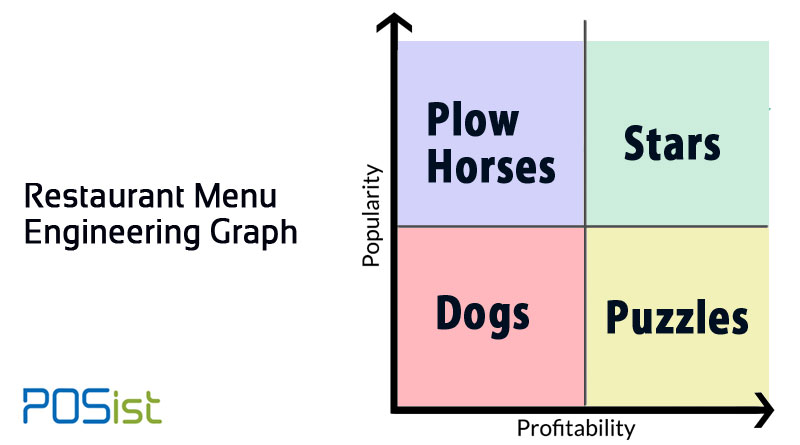 4. Categorization of the Menu Items In The Menu 
The most critical step towards menu engineering is breaking down your menu into broad categories which will include Quick Bites, Soups/Salads, Appetizers, Main Course, Desserts, and Beverages. These Categories might vary in restaurants but precaution should be taken that there is no overlap between the menu items in all the categories.  The layout of your menu becomes organized after these divisions.
While deciding on the restaurant menu dishes, some specials should be there which will make your restaurant menu unique and stand out.
5. Restaurant Menu Design and Layout
Once you are done with the technical aspects of finalizing the menu price and categorization, you should focus on the layout of the Menu. It is always recommended to have a short and simple menu. Having a lengthy menu not only confuses the customers but also makes it difficult to maintain.
a) Menu Layout
While designing the menu, colors, designs, fonts, all the design aspects should be considered. The theme of your restaurant brand should reflect on your menu as well. Warm and earthy tones are known to stimulate hunger and are thus the most popular choice for menu colors. The font of the menu design should be elegant and catchy and easily comprehensible. You can also choose to include the Special Items in boxes to attract customers' attention.
b) Item Placing
The placing of the items on the menu design also impacts their sales. People usually begin reading from the top right corner of the menu. This is where the high-profit items typically go. Another trick is to place the high-profit items next to a low profit yet expensive dishes. For example, Mutton Raan is a costly dish that takes time to be prepared. Compared to this, a low cost yet high-profit Chicken Gravy dish is likely to be ordered by customers.
c) Menu Descriptions
The menu descriptions should be kept short and simple. Including Ethnic names of the ingredients in the menu, description lends a flavor to the dish and propels customers to order it. Spending extra effort to tastefully describe your higher-priced menu items will lead to more sales. A sentence or two if written well is enough to tempt the customers. Words like sizzling, flavorful, tangy, tasteful, and refined, exquisite should be used to stimulate the senses of your customers and create a craving for your food.  However, ensure that the descriptions don't contain jargons and words that are difficult to understand. Read in detail how to write mouth-watering menu descriptions that tempt customers to spend more here.
You can also consider adding high-quality images of your menu items along with the menu descriptions that display the color, texture, and versatility of a dish. Make sure to highlight the best-selling, higher-priced or chef recommended items. It can attract customers easily and boost sales.
Restaurant Menu Design: Pointers To Keep In Mind
Before you begin writing your menu, ample time should be given to studying with which restaurants you are competing with, which will be your target customers, what your menu can offer those other restaurants cannot. It goes without your saying that you should only include the items that your Chef can prepare expertly. Thus, include your Chef in deciding the menu items, their costing, and pricing. Other factors to consider while designing your restaurant menu are as follows-
1. Keeping the Target Customers in Mind
The first thing that you need to consider while designing the menu is what you plan to offer should match the taste of your target customers. The vision that you have for your restaurant menu is undoubtedly essential but it should not mainly be driven by the tastes and assumptions of just the owner or chef. It is also essential to create a menu design that propels customers to order more. This article will tell you how to utilize customer psychology and incorporate it into your menu for higher sales.
2. Conducting Adequate Menu Research
Creating your restaurant menu design demands creativity which will only come with proper detailed research.  When you start designing your restaurant's menu, your first step should be collecting data from various sources.  Conduct sufficient research about your competitors by examining their websites, menu, marketing strategies, strengths, and weaknesses. After that, consider your location and how it relates to the immediate neighborhood around you.
3. Checking the Availability of the Raw Food Items
One of the most common mistakes that restaurateurs often make is having a fancy menu, but not being able to cater to dishes on the menu. Ensure that you'd have a consistent supply of raw material before you finalize that exotic cheese dish. Settle upon the various vendors you need for the supply of the inventory items. Find about the other major menu mistakes that you should avoid in your restaurant business.
Your menu is your primary means of representation. Your restaurant menu design creates enough of an impression so that it stays with your customer even after your server has walked off with it. Besides, it must convey your restaurant's brand in a manner that makes diners excited to be there, want to come back, and to recommend it to family and friends.