Food catering as a business can be quite overwhelming, as there are a lot of players in the market. The estimated size of the catering industry is about 15,000-20,000 crores in India with an approximate annual growth of 25-30%. Starting a catering business does not involve higher initial investments which makes it lucrative for people who are thinking of starting something of their own, especially the homemakers.
"Catering is more than cooking," says Denise Vivaldo, in her book, "How to Start a Home-Based Catering Business" and we couldn't agree more! To begin with, think about the size of your business and target audience. In case you're planning to start a small scale catering business, you need to focus on getting orders for 12-50 people. On the other hand, if you're confident enough to get into a large-scale business, all you need to do is to sort your capital and plan on distributing it well enough. 
Either way, here is everything you will need to know before starting your very own food catering business. Go through it step by step and make a checklist to ensure that you don't miss out on the tiny details.
A Step By Step Guide To Start A Business In Food Catering
i) Make a proper business plan and finalize your niche.
ii) Get your kitchen location and rent.
iii) Sort out the sources of your capital.
iv) Get the most important equipment first.
v) Find out your source vendors for your catering supplies.
vi) Get your licenses and permits.
vii) Decide on food costing and menu engineering.
viii) Hire adequate and proper staff.
ix) Market your brand well.
x) Use technology – for getting orders, managing stock.
i) Make A Proper Business Plan And Finalize Your Niche
Your business model must revolve around your availability, the space rented and storage requirements. It should cover all your investment costs and expenses for the initial few months. Only after identifying your potential customers and researching the marketplace should you start to think about the same.
In case you're planning for a full-time catering business, you need a permanent storage and cooking facility. Along with that, there must be enough plumbing so that it's easier to set up your kitchen. You could also get a place near a storefront to put in some tables and chairs for customers to taste your food right away.
If you are only looking to start a part-time catering business, you must look for a model that includes renting the kitchen space on a day-to-day basis. This would allow you to save money and work on the weekends or a few times a month.
After setting up your kitchen, you need to finalize your cuisine. Get authentic feedback from the consumers and work on the negative ones. This helps you to gain more customers and pre-orders even before the business is completely set up. Some of the niches that you can stick on are banquet lunch boxes, contract catering service, and private chef service.
ii) Get To Know About Your Kitchen Area And Rent!
The minimum required kitchen area one would require even in case of a small scale catering business involving 20-25 people is around 70-80 sq. feet. Any order serving more than 25 people will need 100 square feet of kitchen space at the least.
Setting up your own kitchen would bring you more clients due to efficient and hygienic food making. The rent for such places would differ for each place, whereas an average rent for 100 square feet kitchen area would be somewhere between Rs. 8000 to Rs 10,000, location being a prime factor.
iii) Sort Out The Sources Of Your Capital
The next step has to be penning down the sources of your capital, and how to use them efficiently for on-site equipment, rental costings, licenses, and other expenses. Use your research skills to know about the right sources for your capital. It could be coming from other investors, from your own funds or a bank loan.
An average budget to start a catering business in India is ideally around Rs. 20 lakh, which includes an initial few months of expenses, kitchen rent, transport, licenses, and other permits. This budget may vary according to your preferences. You must also take note of the smaller costs involved like that of table decoration, napkins, workers, etc.
You can seek help from a bank in case of a loan. All you need to do is convince them with your business plan and revenue generation model. There are many such schemes in various banks that help you get a loan without any hassle.
iv) Get The Most Important Equipment First!
Once you have enough capital, you need to invest in this on-site equipment for your kitchen. Fryers and refrigerators, storage cabinets, a few burner stoves, 2-3 compartment sinks, and stainless steel prep tables are the major requirements for a base kitchen. Apart from these, here is a list of other equipment that you would require.
Cooking Oven

Serving Equipment

Coffee/Beverage Station

Cambro

Tin Foil

Plastic Wrap

Garbage Bins

Disposable Containers For Storage
v) Find Out Your Source Vendors For Your Catering Supplies
The raw materials or products for your business could come locally from farmers or a supply distribution agency. In the initial phases, you can use a wholesale club to buy your raw materials, as it saves up on a lot of your money plus they are fresh! It is always easier to do business with a larger supply company.
Once you take up a few orders, start growing your network of supply vendors and agencies. You can then use to do business with the best ones in the market.
vi) Get Your Licenses And Permits
It's time to get moving with your business plan now. We have listed down the criteria for registration of a catering business in India. Once you have these in place, you can apply for a basic vendor registration from FSSAI, which would cost you only a hundred bucks annually. This registration is valid either for a year or five years depending on what term you choose.
Once you expand your business and start increasing your turnover to more than 12 lakhs a year, only then you need a few other licenses and permits. But before all of that, make sure that you get your FSSAI license by ensuring that the following parameters are taken care of.
The location of your business must be free from external pollutants.

There must be proper and adequate storage in the most hygienic condition possible.

The stalls or counters should be clean and proper.

The food that you're using must be free from any contamination.

Only freshly prepared food should go out for delivery to consumers.

The staff that you hire to help in your business must also maintain the proper conduct of personal hygiene.

The containers that you use for cooking and delivery must be free from dust or any other contamination.
The licenses that need to be in place are mentioned here. These licenses are for different kinds of businesses, so see which all do you need for your kind of business. Check for Health Trade, eating the house, shop, and establishment, GST registration, NOC from the fire department, etc.
Food Establishment License – This one is a necessity to have for all kinds of catering businesses. To obtain one, you will be inspected by state compliance. Your kitchen space and the staff should all be prepared well enough for the inspection.
Liquor License – In case you are serving in any events or parties that include alcohol, you must make sure that you have obtained an alcohol license.
Other Licenses Or Permits – Other state agencies and jurisdictions might impose some additional licenses and permits on the food and beverage sector. You might come across Quality Assurance and Health Insurance. Other important licenses are Fire and water licenses, sewage licenses and permits to ensure that your labor is above 18 years of age.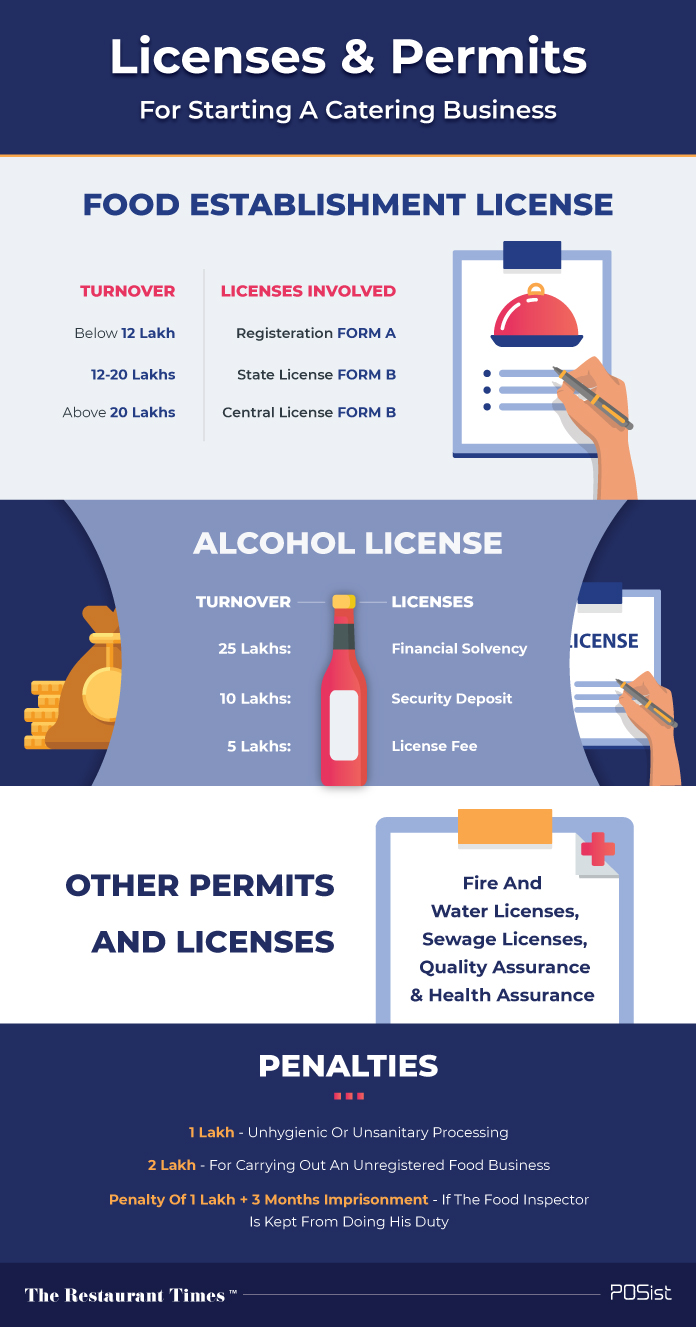 vii) Decide The Menu
Menu engineering has been unanimously said to be one of the toughest tasks of handling a food-related business. You need to consider the raw material cost, the quantity, the change in rates and so on. Competitors are one of the last, but important factors to be considered. It is important to know what your competitors are charging to sustain in the market. 
Standardizing your recipe helps in reducing food costs to a higher margin by defining the exact quantity of raw materials required for each dish. A proper POS system will help you achieve that. It maintains a standardized recipe for you, ensuring constant taste and quality. 
Your per-plate costing may vary according to demand and services added. Initially, try to have a moderate rate and consistency in your food quality to get more orders flowing in. Apart from that, the magnitude of the event will also decide the prices.
viii) Hire Adequate And Proper Manpower
Any new business needs a spoonful of dedication and hard work to come out as successful. In order for that to happen, adequate and dedicated staff is required for your business. In the initial stages, you could try out an agency to hire your cooks and servers, and then hire permanent staff when you have enough funds.
Maintain a uniform for all the staff members and make sure they are well trained. The minimum number of people that you can start your catering business with is around 10-12 people including a head chef, junior chef, other cooks, menu designer, and delivery people.
ix) Market Your Brand Well
You can't deny the importance of marketing in a newly established catering business. You need your leads, and you need to convert them into potential customers. Most importantly, there are some major marketing techniques that you shouldn't let go of, and they are mentioned here.
Word of mouth could work wonders! – Unlike other businesses, a catering business prospers way too fast solely on the basis of word of mouth of their existing customers. Target cold calling and give it a personal touch.
Use powerful social media platforms like Instagram, Whatsapp, and Facebook –
Since most event planners and millennials are on either of these platforms, it is important that you put your best work here. Food presentation and consistent presence on these platforms make your business grow like no other.
Create your own website and work on your blogs – Creating your own website is highly required in a catering business, especially in the present times. This is to showcase your work through a catalog to people so that they are attracted to your business. This also brings about a trust factor within customers. Along with that, your website could play a major role in getting your prospects for potential customers.
Networking – 

B2B advertisements to grow your network with event planners, DJs, cake makers, etc. 

It is a highly competitive market, and there are hundreds of people trying to get into the catering business. The only difference between them and the top few successful ones is their constantly growing network.
Target your consumers – 

Make sure that there are repeat buyers, especially banquet halls and businesses. Put out different offers, campaigns and other upgrades that help you attract referrals. Email-marketing could also help in your case as it helps in retaining customers by making them realize that you care about them.
x) Use Technology For Getting Orders And Managing Stock
Automation of your catering business becomes an absolute necessity in today's generation as it prevents human errors in taking orders, and saves from you situations of overlapping of a particular order. While taking care of a particular order, you need to note down each of the specifications to avoid any discrepancies in the future.
Along with that, it helps you to take care of your inventory and analyze your per day consumption. Having a detailed analysis of your consumption and wastage helps you manage your inventory better. A smart catering software would help you streamline your operations and reduce the manual labor up to a great extent. 
All in all, as we have already established that it takes more than just cooking to start even a small scale catering business. You need to be extra careful and follow this detailed checklist. Once you do that, we ensure you that you will be absolutely ready to start your own catering business and a flourishing one at that!