Starting a food cart is one of the most ideal and affordable ways to enter the food industry. Lower risks and investment makes the business one of the most popular high-profit food business ideas among the various restaurant formats for opening a food business. However, for making your food cart business successful, you need to have a good product that should be in demand and a good location that will ensure your long-term viability in the market. In recent years, the food cart business has been flourishing with street food lovers flocking from miles around. A food cart business is a manageable way to get started in retail without committing a lot of money that goes into the setting up of the restaurant.  
Conduct a Comprehensive Research
You need to conduct detailed research on the following aspects before starting your food cart business.
The Product and Market Research.

Who is your target audience and what is their demographic?

The location where the business will be set up.

The licenses and certificates that would be required for your Food Cart Business.

The vendor from whom the cart will be purchased.

Examine your existing competition.

How do you plan to ensure hygiene in your Food Cart Business?
You should also think of getting restaurant management software while thinking of opening a food truck. Keeping a separate budget to get an ideal restaurant POS would help you streamline operations as well as scale up your business in lesser time.
A Step By Step Guide On How To Open A Food Cart Business In India in 2023
Here are a few things you may want to take note of about starting and running a food cart business.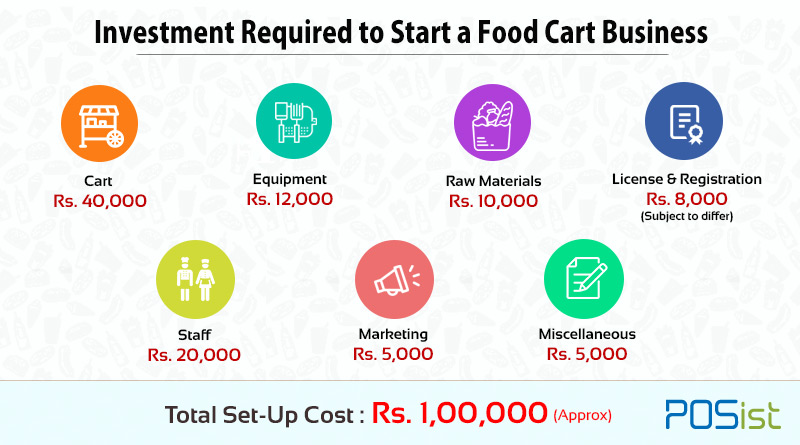 1. Product
While starting up a food cart business, the first thing you have to consider is what product you will be selling. Your choice of product will also determine the equipment that you are buying. Since food carts are essentially a variation of the quick service restaurants, fast food, and items that can be prepared easily and quickly should be preferred. Momos, noodles, sandwiches are some of the popular items that are sold on a food cart. However, there is extreme competition in the food cart business; thus, you need to have a USP that would set you apart from the local vendors. It could be an innovation or variation of an existing product, but at the same time, it should be affordable.
2. Deciding the Location 
Besides your target market and competition, the location is a key consideration in setting your price. Before finalizing the location understand your target audience and competition. It is better if the competition is less in your area. Food cart businesses are more successful and have better prospects near offices, supermarkets, train stations, terminals, colleges and universities where there is a good crowd because of busy interjections. It is advised to assess the security and the accessibility of the area in which you are setting your food cart. You should go around and observe your location for a few hours on both weekends and weekdays before you go ahead.
Moreover, it assesses the security and accessibility of the area. It is recommended that you go to and observe your planned location for several hours on different days, before pursuing it. Choose a location depending on your product and income. Aside from the food itself, setting your business up in a good location is essential for your success. Your market research should have determined which areas are better than others.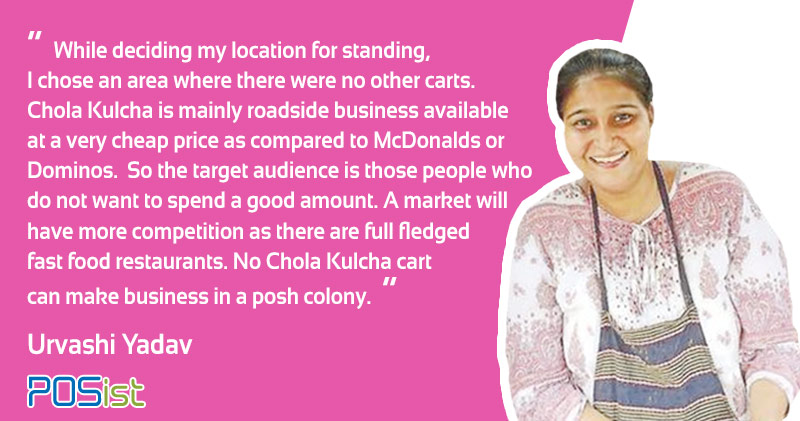 3. Licensing and Registration 
Just standing on the road is not allowed for any food cart Business. In 2015, The Food Safety and Standard Authority of India (FSSAI) started the registration of the Street Vendors in the whole of India under the Municipal Corporation.
In exercise of powers conferred under section 92 of the Food Safety and Standards Act, 2006, FSSAI has proposed Draft of Food Safety and Standards Regulation, 2010 under which Part 3.2 makes it mandatory for all Food Business Operators in the country to be registered or licensed in accordance with the procedures laid down in the regulation.

Contact the municipalities where you are planning to set up your food cart Business and inquire about necessary licenses and permits to operate a food cart in their jurisdictions. The government has directed the setting up of specific vending zones where registered street vendors will be allotted space.
The Registration of food vendors has started in 2015 in various cities across India. The food vendors can go with valid documents to nearby General Resource Centers of their cities and do the registration. The Registration fees vary depending on the area. The MCD people register your cart and allow you space according to the area.

For Example, in Gurugram, there is a 5000 fee for the registration of your food cart that you can pay in instalments. 1500 is your allotment area security charges. Every cart has to pay this amount irrespective of what you are selling. The 1500 amount goes directly to the municipal corporation of Gurugram (MCG) as they give the food cart owners the cleaned area, the security of the cart and nobody can touch the stall. According to the area, the charges will be different for each cart.
All the vending areas and every cart are handled by Municipal Corporation whether in Delhi or any other city.  
4. Cart and Equipment 
Starting a food cart in India does not need much of investment.  The cost of your food cart will depend on the type of cart you wish to purchase. You can get a decent quality aluminium cart for around Rs 40,000. You can also get them customized according to your needs. Carts are also fairly easy to maintain. You will have to purchase a commercial cylinder for your business which will cost you around 2000 and every month you have to pay Rs. 1000. Your choice of product will also determine the equipment you need.
For example, if you want to sell Chole/Kulche, You will be needing Tava and a pot like Handi for keeping Chole or a jar for keeping water if you are selling gol gappe. Likewise, if you want to sell French fries, it will mean getting frying equipment and a strainer. Overall the equipment that you would need for your food cart business will cost you not more than Rs 10,000. Your Miscellaneous Cost will be around Rs 5000. The total investment required for a food cart business is around Rs 1 lakh.
The raw materials that you would require will depend on what you are selling. It is advisable to start with a week's worth of raw ingredients and then make the weekly or monthly purchase according to your sale.
5. Menu Pricing
For deciding on the pricing of your product, first, you need to research your competitors and their target audience. Even if in the locality you are the only one serving Pizza or anything, you cannot raise the price high because that will lower down your profits as your customers can go to another vendor who will be selling at a cheaper rate. You should price higher in an upscale mall and much lower if in public markets.
6. Staffing
Since a food cart is a small food business, you do not need a lot of employees. Two people are sufficient to run a food cart, during rush hours. For slow hours, you can employ one person who would prepare the food items as well as sell them. However, since 90% of the preparation of food items is done beforehand, you'll need two people to prepare the semi-finished items. For example, momos and sauces are already prepared in advance. At the time of sale, the momos are only steamed and sold to the customers. You can hire cooks for Rs 8000-10000.
7. Profits
Food carts are one of the highest profit food businesses. Although the net profits very much depend on your sales, the profit margins are on the higher side, with the average being 50%. Granted, that the food costs and the other infrastructure costs are minimal, however, the low selling price and high competition eat into the profit margins.
It is advised that you have at least 6-12 months' worth of running capital before you venture into a Food Cart Business. Because in the worst case, there might be a possibility that despite your best efforts, your food cart business fails. However, the money invested in starting a street food business is very less as compared to a full-time restaurant. The overall investment required to set up a food cart is around Rs 1 lakh and can go up or down depending on the type and quality you want to open.
The Pros and Cons of Opening a Food Cart
Like all food businesses, the food cart also comes with its own set of benefits and challenges.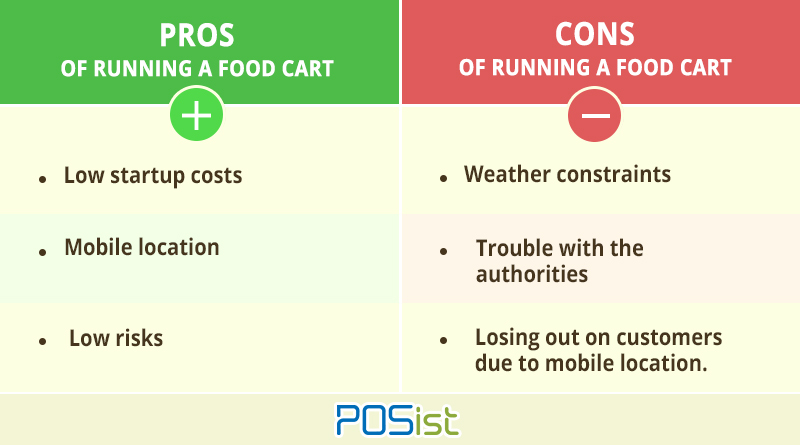 The Advantages of Starting a Food Cart Business
There are many advantages to launching your own food cart Business:
The start-up costs are low in a food cart business as compared to a restaurant. Setting up a food cart business is easier than setting up a restaurant.

Even big fast-food chains are using food carts for their events or promotions.

Another advantage of this business is that if you picked a poor location, you could move your cart to another place.

Another reason is that depending on your target market and marketing strategy, you can make your cart either mobile or stationary.
The Challenges in a Running a Food Cart Business
While there are a lot of advantages in a food cart business, there are also a few challenges that cannot be ignored.
There are many regulations and laws to comply with which might be difficult at times. For example, a lot of times the local police can be uncooperative and issue a

Challan

against

these street vendors.

At times, if there is a restaurant near or in front of the food cart, the restaurant owner might create a problem for you as it is highly likely that customers may go off to the restaurant.

There is a lot of competition out there already.

There might be days when the business is extremely low because of the weather. 

Also if you are changing your location because of any reason, keeping your customers updated about your latest location is a challenge.
Undoubtedly, starting and running a food cart business requires a lot of groundwork. But it will work well if you focus on the quality of your food and proper hygiene is maintained. If you are interested in starting your venture in the food business industry, beginning with a food cart business is a great idea, to start with.