A fine dining restaurant serves more than just great food; they offer the best dining experience. They are fancier restaurants as opposed to the casual eateries, family-style restaurants, etc. The market value of the fine dine restaurant industry in India is projected to grow from thirty-two billion to thirty-seven billion by the year 2020. These stats clearly show how opening a fine dining restaurant can prove to be a good investment, if done right!
If you are planning to open a fine dining restaurant keep in mind that you will generally cater to the upscale clientele who are willing to spend huge amounts for a wholesome experience. Purveying to such a customer base can be a little daunting, it would require you to pay utmost attention to all the molecular aspects of opening and operating fine dining.
This article aims to provide you with the erudition that you'll require to open a fine dining restaurant in India.
How To Open A Fine Dining Restaurant In India 
Fine dining restaurants are best known for pairing art with food, make sure you live up to the expectation. If someone is spending a large amount when dining at a fine dining restaurant they want that meal along with the experience to be memorable else, they might leave feeling deceived.
There are several things you can take into consideration when planning to open a fine dining restaurant and we have prepared a comprehensive list of those things. This list will help you open the restaurant of your dreams.
1. Planning and Budgeting
When preparing to open a fine dining restaurant you come up with a business plan, it would act as a guide for you and is a calling card for investors.
Opening a fine dining restaurant business requires a hefty investment; therefore before you start a restaurant, you should jot down necessary expenses to avoid wasting money on random things. Opening a fine dining restaurant could cost you anywhere above 70 lac between a few lakhs or even crores depending on your location, rent, cuisine, etc.
Starting a restaurant is no child's play, here are some of the costs to consider before you start a restaurant:
Licensing

Rent or expense of buying a new property

Staff training programme

Software for daily operations

Insurance

Working capital

equipment
Before you venture into the restaurant industry, you need to ask yourself if this industry is for you? Do you have enough funds to sustain for more than four years or not? These questions will help you gain some clarity.
2. Obtaining Necessary Licenses
Before you open the restaurant doors for the public, you need to ensure you have all the required permits. To start a fine dining restaurant in India, you require licenses from different departments. Some may take months to process; therefore start applying as earliest as possible.
Here is the list of all the necessary licenses required to open a fine dining restaurant:
Food Safety License

: This license is to be obtained from the FSSAI (Food Safety and Standards Authority of India). It is one of the most important licenses required to operate a restaurant in India. It will cost you INR 7,500.




Click here

to register for the FSSAI license.

Health Trade License

: This license is acquired by the local authorities. You will have to check the local authorities website to apply for this license, for example, if you are planning to open a restaurant in New Delhi you will have to check the MCD website. This license can cost you INR 500 to INR 30,000 depending on the size and type of the restaurant.

Eating House License

: It is provided by the Licensing Police Commissioner of that city. In case you open a restaurant in Delhi, you need to go to the site of Licensing Police Commissioner of Delhi. This license costs you INR 300.

Fire Safety License

: You need to get your restaurant inspected to see if it is compliant with the fire safety guidelines before you approach the Chief Fire Officer and seek a NOC. The department does not charge you for this job.

GST registration

:

GST registration

is state specific, so if your restaurants have outlets in different states, then you need to have a separate registration for each state.




If you have outlets in the state itself, then you don't need to take separate registration for each outlet.

Click here

for the GST registration.

Liquor License

: This can be obtained from the local Excise Commissioner. This license is state specific. It will cost you INR 5000 for registration and 50,000 for additional spirits.

Lift Clearance

: In case yours is a restaurant that requires an elevator, you need to get clearance from an inspector from the Electricity Department as well as the Labour Commissioner of the city.

Music License

: This is necessary if you wish to play recorded music or video in your restaurant, you need to obtain this license Phonographic Performance Ltd. (PPL). It can cost you INR 3,500 to INR 10,000 depending on the seating capacity.




Click here

to register for the Music License.
Note: The prices may vary depending on which state you are in and the size/seating capacity of your restaurant.
3. Deciding The Location
The location of your restaurant determines if your restaurant would be successful or not. If your restaurant is in the wrong place, you won't attract the number of customers you will need in order to stay in business. The same is true if your location is inundated with competitors, or has poor visibility, or is hard to find. There are many things that must be considered like accessibility, parking, building amenities when looking for a location to open your restaurant business at.
For a fine dining restaurant locations like hotels work the best because they attract an upscale clientele, which is an ideal crowd for a fine dining restaurant. If your location is as per your desired audience, this will help you serve them better.
You also need to take into account the average size and the cost of the property. You have to see if the location has an ample amount of space to implement your plan. The cost is also a significant factor to take into account; if the place demands a high-cost forecast if it is worth the extra cash.
For example, the luxury fine dining restaurant Bhukhara is strategically located ITC Maurya, New Delhi which is one of the most renowned hotels.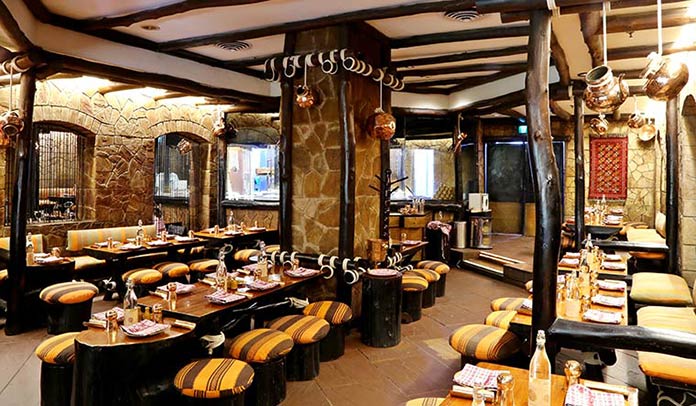 The restaurant's stone-clad walls and rough-hewn furniture evoke the rustic origins of the cuisine, which provides the guests royal dining experience. There are people from around the world staying at ITC hotel which makes it an excellent location for Bhukhara.
4. Determining The USP
There are several fine dining restaurants, how do plan to make yours stand out? You will need to have a unique concept in your mind, something that would help you stand out from your competitors.
Your restaurant concept includes the service style of your restaurant, the food you serve, and the ambiance of your restaurant. If you have an unusual idea, it will help attract a lot of customers; therefore experiment and inaugurate what has never been done before!
For example, the Spice Route restaurant situated in the Imperial Hotel, New Delhi has extravagant interiors. It has been designed to reflect the journey of spices from the Malabar Coast in Kerala through Sri Lanka, Malaysia, and Indonesia to Thailand and Vietnam.
5. Hiring The Best Staff
Fine dining restaurants are known for their exceptional hospitality and the best food; therefore you need to ensure you are hiring the best people for the job.
Having good employees is a clear indication of a good restaurant and the best service; therefore it is essential to hire the best staff.
When interviewing a person, you need to see if his/her thoughts are compatible with the goals of the restaurant. Remember, the most qualified candidate can be arrogant and difficult to work with, you cannot hire someone on the basis of the experience he/she has.
You need to check through the previous responsibilities of the candidates; this would help you determine how dedicated the person is towards their work.
The final step of retaining good staff is by providing them with adequate training. If the training is not proper people would lose interest and leave. Proper training helps in avoiding any mishaps that might discourage employees. A good training program gives a sense of assurance to the staff. Good training strategy becomes a good business strategy.
Determine the approximate number of staff to be hired, and if it coincides with the budget you have set for the labor, this will give you an approx idea of the cost you'll require to sustain the restaurant staff.
6. Investing In The Right Restaurant Technology
When planning to open a fine dining restaurant it is important to invest in a good POS system that will help smoothen out the daily operations.
As a restaurant owner, you are expected to be present everywhere, supervising various departments but, it is physically challenging and nearly an impossible task. Using technology becomes very important if you wish to keep an eye on the daily operations and for maintaining the high standards of a fine dining restaurant.
A POS system would enable you to perform various day-to-day tasks like the ones mentioned below seamlessly.
Billing

: A good POS system can

perform billing operations smoothly.

Billing is one of the most critical activities in any restaurant; therefore you can entirely rely on a POS system to eliminate any errors. It can also help you analyze the customer's preferred mode of payment and develop offers regarding the same.

Pushing orders

: POS systems let you push the orders directly to the kitchen which eliminates any delays and misunderstandings.

Stock & inventory management

:

Manage your inventory levels

efficiently using a POS. You can check how much raw material is required or how much is available at present. Managing the inventory properly will help you manage your capital wisely and prevent any loss, which is very crucial for anyone just starting off in the restaurant industry.

Get accurate reports

: You can

get real-time reports

and analyze them on the go using a POS system which would eliminate the need of being present everywhere.

Marketing

: Not just managing the restaurant activities a POS system also enables you to

reach out to your customers

and help market your restaurant to them by sending out emails, SMS, etc. You can also run loyalty programs using a POS system.

Table reservation and queue management

– Ditch the old school way of taken reservation via phone, a POS system will make the task easier for you. You can effectively manage the customers and assign them a table. This is much more accurate and avoids any miscommunication.
Opening and operating a fine dining restaurant can be a little daunting but a little research will ensure the smooth sailing of your restaurant. The restaurant industry is sure to grow in the future and so will your fine dining if you abide by the points mentioned in this article.
Make use of the opportunity and make your dream of opening a fine dining restaurant come true!