Restaurant kitchen equipment plays a critical role in the proper functioning of the restaurant. It impacts the quality of the food and the service that you offer to your customers. The right kitchen equipment enables your staff to prepare food quickly, which in turn impacts your service time. Commercial kitchen equipment also impacts the safety of your restaurant staff and customers and need to be maintained regularly. This article discusses the key factors to consider while purchasing the equipment for your restaurant kitchen.
Things to Consider Before Purchasing Restaurant Kitchen Equipment 
Let us look at the points that any restaurant owner or chef should consider before investing in their restaurant kitchen equipment for a commercial kitchen.
1. Quality
Before purchasing the restaurant kitchen equipment, it is always recommended to check the quality in person. This will provide assurance on whether all the parts of the equipment are functioning correctly. As an owner, you may want to cut costs wherever possible.
Still, to do so while ensuring there is no lapse in the quality of your material, we suggest procuring kitchen equipment from recently shut down restaurants that have not operated for a long time. Most restaurants shut down in their startup age because they can not control their costs and so you may get the right quality restaurant kitchen equipment for a meager price. To know how to manage the costs of your restaurant, explore the 7 Golden Rules of Restaurant Cost Control.
2. Space Consideration
While planning to purchase your restaurant's commercial kitchen equipment, you should first think about how much space it will take up. Otherwise, your kitchen might get too cluttered and hinder staff movement, thus not allowing the kitchen staff to perform at their full efficiency.
Nealy 60% of your restaurant space is taken up by the dining area, which means the kitchen area is left with a little less than 40% of the remaining area. You can consider buying multipurpose equipment if you are low on space.
3. Pricing
One of the most important factors to consider while purchasing a new restaurant kitchen equipment is the price. First, you need to understand how frequently the use of the machine is. If the equipment is not used as often, you can go for a second-hand option which will save you some money that you can invest elsewhere.
We suggest that you make a restaurant kitchen equipment list in order of use and priority. See which restaurant kitchen equipment you need and can spend on and which pieces you can do without. Also, check what all can be avoided by investing in multipurpose equipment. This way, you will be able to manage your kitchen equipment expenses without overstepping your budget.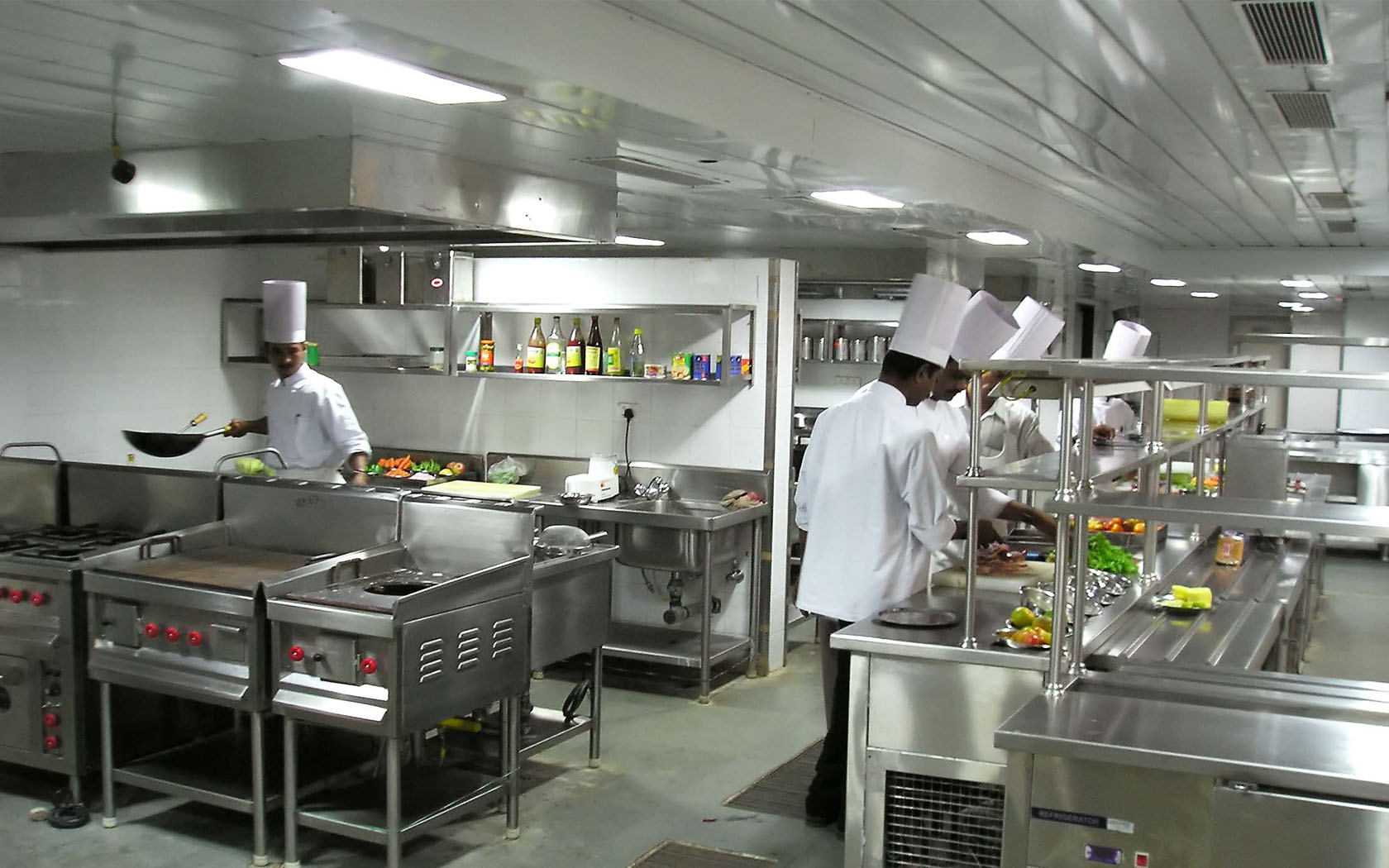 4. Ease In Using The Equipment and Cleaning
It does not make sense that the restaurant kitchen equipment that you choose is the latest in looks but is challenging to use and maintain. The equipment that you want for your restaurant should be comfortable to use, clean and well-maintained. At the same time, it must be made of alloys like stainless steel, so it does not become a hub of hiding bacteria.
5. Choosing the Right Supplier
The best restaurant commercial kitchen equipment suppliers are those that will help install your new equipment on site. They should also be responsible for providing repair services and the needed maintenance. Such a facility will ensure the smooth operation of your restaurant, and therefore, the satisfaction of your customers. 
There are a lot of different brands available in the market that sell both new as well as used restaurant kitchen equipment. One should conduct detailed research about every supplier before investing. 
6. Hiring a Restaurant Kitchen Planner
If this is the first time that you are purchasing restaurant kitchen equipment, you should consider hiring a professional restaurant kitchen planner. Because there might be a possibility that because of inexperience, you might end up buying that equipment that you will never end up using. Spending money at this stage will help you in saving money in the long run.
7. Checking for Leasing out Option
Leasing is another option to consider when choosing a restaurant supply company if you do not have the required amount of money to invest in your restaurant business in one go. Equipment with short life spans, like ice machines, is suitable for a monthly lease. At times, your vendors also offer leased equipment like coffee makers and coolers. The restaurant kitchen utensils are readily available second-hand in the market.
Essential Commercial Restaurant Kitchen Equipment List 
Different types of restaurant formats have varied requirements of commercial kitchen equipment, depending on the food that needs to be prepared. However, there are some types of kitchen equipment that are basic and must be purchased by most restaurant kitchens. 
Here is a restaurant commercial kitchen equipment list that is essential to run a restaurant kitchen. 
1. Refrigerators and Freezers
The first restaurant kitchen equipment that you will require for your restaurant kitchen will be the refrigeration unit. Choosing the right commercial refrigeration equipment is essential for maximum kitchen efficiency, both in energy and ease of food preparation. The different types of Refrigeration units will include Reach-In Coolers, Walk-In Coolers, and Restaurant Freezers. 
An integral part of restaurant kitchen equipment is the refrigeration systems. Restaurant refrigeration ranges from small coolers to large walk-in refrigerators and freezers. Choosing the size of the unit will be dependent on the size and the nature of the restaurant. If you run a restaurant that uses food items that need to be frozen on a large scale, then you should go for a walk in the freezer as it will have maximum space and promote ease of operations. If you are a small restaurant with frozen food as not your necessary inventory, a reach-in freezer would be just fine.
With a proper refrigeration unit in place, you will have a place to store all the perishable foods that your restaurant needs and keep them fully stocked. A high-quality refrigerator will ensure that the quality of your diet is maintained and prevents them from perishing quickly. It will ensure that your kitchen is a safe environment to work in, and secondly, the quality of your food will depend on it. The last thing you want during a busy period is for your equipment to break down.
Factors to Consider Before Purchasing the Refrigeration Unit
Read below to understand the specifications to consider before you buy the refrigeration unit for your restaurant kitchen.
(i) The Exterior and Interior Dimensions of Space: The Refrigerators and Freezers come in different shapes and sizes. So the first thing that you should do is determine the exterior and interior dimensions of your kitchen space. The entryways and doorways should be measured before you choose your equipment because they will be needed to fit through the entryways to your kitchen. Although they have larger cold storage space and can be custom built to fit any kitchen, smaller restaurants may not require a walk-in cooler. There are even outdoor refrigeration and freezing options available in case of a space crunch. Also, larger refrigerators and freezers require more maintenance.
(ii) Restaurant Operations, Menu, and Cuisine of your Restaurant: The use of your refrigerator will depend on the menu of your restaurant. The type of Refrigeration that would be required to preserve meat will be different from if you want to maintain Chinese food and likewise. The size of your refrigerator will depend on how vast your restaurant's operations are and that how many customers you serve daily. The owner/chef needs to understand beforehand what they are buying the refrigerator before investing such an amount.
According to Chef Sabyasachi Gorai or popularly known as Chef Saby,
80-90% of restaurants shut down in the initial months itself because people don't have an understanding or know-how of their restaurant operation and thus are unable to build a functional kitchen.
The refrigerators should be bought first hand as the new equipment comes with a warranty period. A second-hand Refrigerator will have high maintenance costs, and there is no assurance that when it might stop working. Used Refrigeration is less expensive, but most used equipment doesn't come with any guarantees or transferable warranties.
It is always suggested to research different industrial brands/manufacturers that produce refrigeration units for a commercial kitchen. Then after reading their catalog carefully, the owner/chef should choose which brand they want to go with depending on your specific requirement. Alternatively, you approach a fabricator that can make it for you after taking your kitchen measurements.
Approximate Price- Four-Door Refrigeration – Rs.85,000 onwards 
2. Slicers
After the Refrigeration unit, another vital restaurant kitchen equipment that you would need in your kitchen is a Slicer. The main task of any slicer is cutting meat and other foods quickly and efficiently. Another benefit of investing in a slicer machine is that consistency and uniformity will be maintained. This is especially important for QSRs, where consistency is the key. There are different slicers available like food slicers, vegetable slicers, meat slicers, among others.
A slicing machine prevents inconsistency, and a perfect slick thickness will be maintained throughout no matter which employee slices it. Consistent slice thickness shows your customers that your kitchen provides quality food they can count on day after day and helps you maintain portion control. Portion control will ultimately enable you to bring own your food costs and so investing in a slicer now will be beneficial in the long run.
Factors to Consider while Buying Slicers
Keep the following aspects in mind that will help you purchase the best Slicers for your restaurant kitchen.
(i) Speed: If most of the functions in your kitchen are done with the slicer, you will need a high-powered unit that will slice food faster with higher speed, more efficiently. This will also prevent it from over-heating.
(ii) Use: The second aspect that you will have to think before investing in a slicer is what purposes you will use it for. With this, you will be able to figure out the thickness you will require or whether you need the machine with a lot of power, which will depend on the wide range of uses. Also, slicers are of two different types- manual and automatic. If your slicing is low in volume or infrequent, going for a manual food slicer makes more sense. If your slicing is high in quantity and size-specific, investing in an electric slicer makes more sense. Because of its precision and consistency, the electric slicer is perhaps one of the essential pieces of equipment in a QSR Kitchen.
If you invest in a higher-powered model, it is likely to be made of more durable parts that will be able to withstand a wide range of uses before it needs to get replaced.
The slicing machine is mostly automatic and can save you time and labor. Investing money in the slicer machine will prove beneficial in the longer run.
Approximate Price of a slicer: Rs. 5000- 10,000
Bread Slicer (0.5 HP Motor): Rs.40,000.00      
3. Ovens 
Every restaurant has different needs, and selecting an oven according to what you need to cook is of primary importance. Your commercial oven will perform a wide range of functions starting from heating a simple soup for your customer to preparing different dishes. 
In any restaurant kitchen, there is usually 'n' number of tasks happening. In such a scenario, it might become very chaotic if your commercial kitchen is difficult to be used. The USP of your commercial oven is that you don't need an expert to operate it and will work regardless of who is operating it. They should also be easy to clean and maintain.
If your restaurant also has a bakery or includes baked goods in the menu, an oven with the setting of a convection oven must be on the top of your restaurant kitchen equipment list. Unlike regular ovens, convection ovens have a fan and an exhaust system that blows hot air around the food. This makes them perfect for making pies or cookies and even for dehydrating. Cakes, bread, and custards require a regular oven, though, so it is better to go for an oven with a convection setting. Convection ovens are also high appliances for roasting and toasting, making them multipurpose restaurant equipment.  
It is generally suggested by chefs that the oven being an electrical item should be bought new. The filament of the stove after repetitive use gets worn out, and it won't be energy efficient. If you purchase a new oven, you will also get a warranty period with it, thus more security.
Factors to Consider Before Buying a Commercial Oven
Read below to find out what all you should consider while purchasing a commercial oven for your restaurant kitchen.
(i) Usage: There are different types of ovens available on the market, but the most common one is the electric oven or gas oven. Electric ovens are cheaper and effectively distribute heat while being powered by electricity; however, this can often result in a higher heating cost for the restaurant.
On the other hand, Gas ovens are more economical in the long run, even though they are initially more expensive to purchase. For instance, for a pizza outlet, if power is not a problem, the electric oven might seem a more suitable option.
However, just buying expensive equipment does not ensure your kitchen's efficiency, but one needs to understand the technical aspects so that the equipment can be used most effectively.
(ii) Reliability and Durability: Both Reliability and Durability are essential factors to consider before you invest in the commercial oven in your restaurant. It is always suggested to do prior research before investing in the industrial oven about the brand you finally choose. For more assurance, you can talk to different restaurant owners and chefs about their experiences.
(iii) Size of the Commercial Ovens: You will have to determine what proportion of the commercial oven will fit in your kitchen space and also how much food you need to be able to fit into your oven at one time to provide your customers with the prompt service. Before you invest in your commercial oven, you will have to consider the number of items that will be in the oven and for how much period and how many customers will you be serving then. Microwaves with two shelves are efficient, allowing you to use space efficiently.
Approximate Price- Oven Single Double Deck Tray Electric- Rs. 40,000 onwards.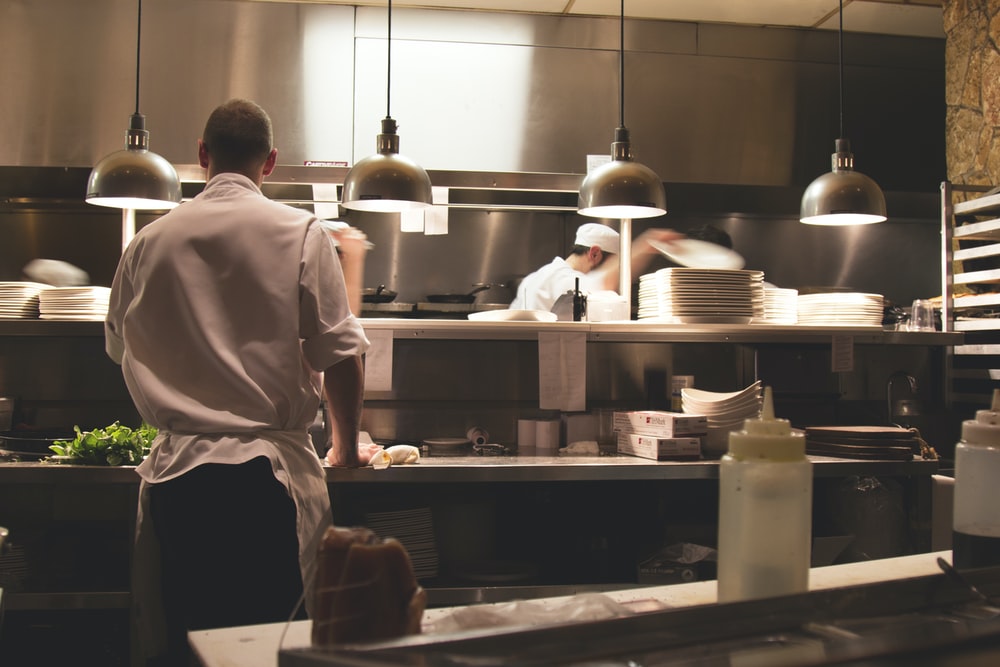 4. Ranges / Cooking Line
Any commercial range in a restaurant is responsible for performing a wide range of functions. A commercial range is the cooking equipment that includes separate cooking areas using gas, electricity, or induction, allowing you to use several methods of cooking in one piece of restaurant kitchen equipment. It consists of a range top and a range base.
The cooking ranges for any restaurant should be purchased new as they might not look rusted from outside but internally because of continuous use the iron gets worn out. So to purchasing a second-hand cooking range is not suggested.
Factors to Consider While Choosing Commercial Ranges
Commercial ranges are an integral part of the restaurant kitchen equipment, and the following points must be considered while purchasing them.
(i) Gas or Electric Range: The first choice that you have to make before investing in any commercial range is whether you want to install a gas range or electric range. The industrial gas range is more popular because of its ability to provide more precise and instant temperature regulation. A retail electric range is generally chosen when gas is not available when electricity is cheaper than gas per unit, or due to the specific room or building not allowing proper venting for a commercial gas stovetop. But that does not mean that electric ranges don't have their uses. Actual gas ranges make it easier to judge heat and change temperature settings faster, but electric ranges have smooth, elegant, and easy to clean design.
While standard electric ranges use coils to prepare food, you can cook directly on the flat surface of smooth top electric ranges. Electric induction ranges come with stovetops that stay cooler than continuous high electric ranges but require unique magnetic cookware to work.
(ii) Size of the Ranges: Various sizes and top configurations are available to suit a restaurant's specific needs. Most restaurants will need either a heavy-duty or standard-duty commercial range. Large restaurants will want to go with a heavy-duty model because it is designed to keep up with the demands of a high-volume kitchen as compared to smaller restaurants should that would only need a standard, restaurant-style model. Before purchasing the ranges, make sure there is enough space in your kitchen. 
Approximate Price- Three Burner Cooking Range: Rs. 18,000 onwards. 
5. Mixers
The mixers are indispensable to any restaurant, primarily if your restaurant business deals with baking or bread making.
Factors to Consider while Purchasing a Mixer
Keep the following aspects in mind while purchasing a Mixer for your restaurant kitchen.
(i) Type and Size of the Mixer: If you are running a bakery or a pizzeria where large volumes of dough, sauces are continuously needed and in large quantities, then buying a sizeable heavy-duty mixer will be a better option. Conversely, if you are cranking out a minimal amount of the things mentioned above or if you don't need a mixer every day, a countertop or stick mixer might be the better option.
Then if you need to mix dense material for doughs like those of pizzas, use a Spiral Mixer. This category of mixers can spin at a fast speed and are capable of handling fifty to six hundred pounds of dough. If you do not need to mix a heavy batter, go for a planetary mixture. These have a relatively lower mixing speed as compared to a spiral mixer but can be used to make various things ranging from whipped cream to mashed potatoes. Planetary mixers come in both countertop and floor types so you can go for whatever suits the size of your restaurant more.
(ii) Type of Usage: The light-duty mixer is best suited for establishments that only need a mixer for occasional use. Whereas the standard duty mixer is ideal for a restaurant or cafe that makes batter and dough in-house. The heavy-duty mixer features a more durable construction suited for applications where the thick, massive mixture is continually being mixed. For example, the heavy-duty mixer is the perfect mixer for pizzerias, which are consistently making large batches of pizza dough.
Approximate Price- Palantry Mixers 20Ltr- Rs.35,000 onwards.
6. Sinks
Sinks are vital to any kitchen because they provide running water as well as washing space for food and dishes. They are an essential part of your kitchen and food safety goal as it ensures that hygiene and cleanliness are maintained in your restaurant.
Approximate Price- 1 unit sink: 8500, 2 unit sink: 14000, 3 unit sink : 20000
7. Fire suppression unit system / Fire extinguishers
According to the National Fire Protection Association, 57% of all restaurant fires are a result of cooking equipment.
In a commercial kitchen, there is always a risk that kitchen fires can go out of control. Most of the fire starts from the cooking surface; having a fire suppression system in place becomes essential and becomes your first line of defense.
Suppression systems come in many different size variants, which are usually installed into the current hood of a kitchen. Having a fire extinguisher is crucial for the safety of your restaurant, your employees, and your customers. 
 Any restaurant owner before investing in a fire extinguisher should be well equipped to understand associated components and terminology so that you know how to choose a fire extinguisher that would be viable for your restaurant kitchen. A multipurpose powdered extinguisher will help with most other types of fire, including electrical. The fire extinguishers get refilled/replaced every year so you can either buy it first hand or second hand. 
Approximate Price: Fire suppression system- Above 1 Lac, Fire Extinguishers- 800-1000/Piece 
8. Shelving
Appropriate shelving is essential for storing food, both perishable and non-perishable food products. Your kitchen operations can be executed with a smooth flow once you have an organized storage system in place. The shelves and racks are available in different sizes and materials from which you can choose the most viable for your restaurant storage needs. 
They should be affordable and a practical storage solution that can provide a safe, contaminant-free environment for ingredients, food, dishes and serving tools, and much more. They can be purchased second-hand by the owners after getting in touch with the suppliers.
Factors to Consider before Installing Shelves
Consider these points before you purchase or install shelves in your restaurant kitchen.
(i) Mobile or Stationary Shelves: Because stationary shelving units cannot be moved, maintaining aisles large enough for an employee to walk down is essential when designing a storage area with stationary shelving units. On the other hand, mobile shelving units can be pushed together to save space when no one is working with them and can be rolled apart when an employee needs to access their contents. So, if space is limited, a mobile unit is for you.
(ii) Area of Shelving: If you're buying a shelving unit to be used in areas like walk-in coolers that will be cleaned weekly or monthly, then you should consider purchasing a mobile unit. Mobile shelving units give you the flexibility to move your shelves so that floors, walls, and other vital surfaces can be thoroughly cleaned and sanitized.
Approximate Price Rack/ piece- Rs.14,000.00
9. Kitchen Cooking Utensils
Any restaurant kitchen needs a versatile range of utensils for different functions in the kitchen, like preparation, cooking, baking, and others. The large commercial kitchen equipment can easily be purchased second-hand from the suppliers if initially, you are not able to invest such a high amount. All the Kitchen utensils are also available on lease.
Utensils Required for Food Preparation
Chef's Knife

Cutting board

Can Opener

Measuring Cups

Measuring Spoons

Mixing Bowls

Colander

Vegetable Peeler

Potato Masher

Whisk Salad

Spinner

Grater

Shears

Citrus Juicer

Garlic Press

Paring Knife

Bread Knife

Honing Steel

Knife Sharpener

Food Processor
Utensils Required for Cooking
Spatula

Stirring

Spoon

Tongs

Ladle

Oven Mitts

Trivet

Splatter Guard

Thermometer
Utensils Required for Cookware & Bakeware purpose
Stainless Steel

Skillet

Sauté Pan

Small Saucepan

Medium Saucepan

Large Pot

Cast Iron Skillet

Grill Pan

Baking Sheet Pan

Casserole Dish

Broiler Pan

Stockpot
Other Miscellaneous Utensils
Food Storage

Containers

Aluminum Foil

Towels Sponges

Heavy Sponges

Dish Rack

Ice Cube Tray

Small Trash Bags

Large Trash Bags

Small Trash Bin

Large Trash Bin
The kitchen is the heart of a restaurant, and restaurant kitchen equipment is the most critical part of a commercial kitchen. It is a stated fact that one thing that all the customers expect from the restaurants is a fast turnaround of their orders. This can only be possible if your restaurant kitchen equipment is well placed and in perfect working condition so that you can deliver quality food at the expected time.
Investing in this restaurant kitchen equipment will indeed cost you a lot, but in the long run, each penny that you spent on this will be worth it!