Craft beer has gained immense popularity in India in the last couple of years, paving the way for the growth of the microbrewery business. Beer consumption has grown steadily in India, especially among the urban millennial generation. With the increase in personal disposable income and higher living standards, people are preferring to go out to the local watering hole or brewpub after working hours.
The beer sales are predicted to see an increase of 6.9% annually between 2018 and 2022, which is why many restaurateurs in India prefer to start a microbrewery business instead of a regular bar.
Before getting into the details, we must understand what a microbrewery is and why people are going crazy about it. Typically, microbrewery, also known as a brewpub, or craft beer brewery is the kind of brewery that is responsible for the production of smaller quantities of beer. It is generally independently run by brewmasters who have prior knowledge about the process of production of craft beer.
How Much Does It Cost To Start A Microbrewery? 
Microbreweries are no longer just a means to an end, if they ever were, for today's youth consider craft beer an art or something equivalent. Plus, considering how easy it is to apply for a license for breweries in 2022, the microbrewery business is taking off in India. However, before applying for a license, you might want to know how much it costs to start a microbrewery. 
Some of the most important costs are rent, license, production, equipment, and staffing costs. Plus, you need to consider other costs, such as utility bills, buying raw materials, and advertising costs. 
There are additional license costs to consider as well – the costs vary from brewpubs to microbreweries and state to state. This is because the state excise department usually gives out the licenses and accordingly decides the pricing. On average, this license costs about Rs 25,000 per month. 
Putting all of this together, the total cost of starting a microbrewery in India might add up to over Rs 10 lakh per year.
A Step By Step Guide On How To Open A Microbrewery Business In India In 2021
Once you've understood how you want your microbrewery to be, you need to get into the technicalities of it. But before everything else, you should know what the factors to consider for starting a microbrewery in India are.
You need to know the structure and size of your target market and your potential customers. A microbrewery set up works most where there are more people indulged in going out and drinking.

You need to look into the preferences and popularity of beer as a drink in your target market.

The right location will always be a promoting factor.

Before you get your hands dirty with all the work, get all your licenses, distributive trade practices, local approvals, and product approvals in place.
Once all of this is sorted, you can move forward with the step by step procedure.
1. Finalize The Design And Theme
The first and foremost step to include in your to-do books is the finalization of the design of the place. The perfect design of your dream microbrewery should have adequate space and attractive interiors. These interiors are solely dependent on what type of vibe you want for your place. Most of the microbreweries go for a classy venue with a hipster vibe, which goes with their customers' preferences.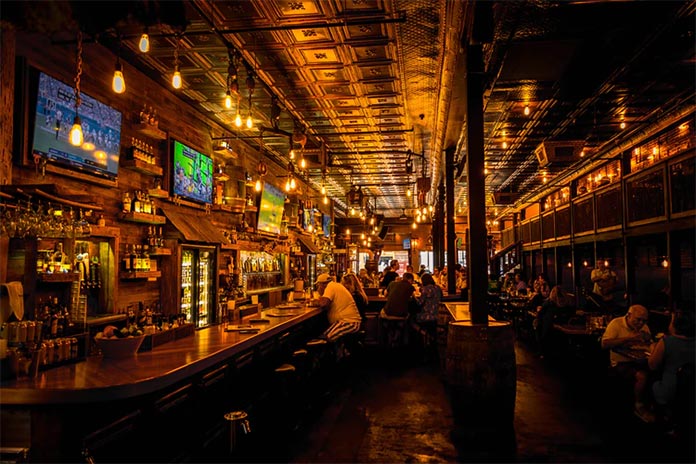 Since people typically visit microbreweries after office hours or over the weekend, to relax, the interiors and the furniture must be comfortable.
2. Choose The Location Of Your Microbrewery
Location becomes one of the driving factors in the success of a brand. Different cities have varied limits for liters of beer produced, which impacts the size of your microbrewery. There is a minimum space requirement of approximately 0.1 square meters per liter of beer produced in a microbrewery.
Also, on average, 5000 liters of beer is produced each day in a microbrewery, so you must decide your space according to the production units. The minimum space required to open a microbrewery is 700-800 square feet.
Apart from the spatial requirements, the microbrewery must also be located at a place that is easily accessible by your target customer base. Areas nearby corporates make a great location for microbreweries as they can attract the working population looking to rewind after a long day.
3. Sort Out Your Resources And Capital
There are many subparts to the capital that you would need, like equipment cost, production cost, licenses, rent, and staff. The one-time permit fee for starting a microbrewery is Rs. 2.5 lakhs.
The major expenses for you would be for your production cost, as different cities will have different excise duty. If we talk about the brewery, it would cost you about 50 lakhs to 1 crore for the setup. The total cost, including licenses, rental costings, and other minute costs, will be around 1-2 crores as a whole.  
Investment and operational costs are some of the significant challenges while starting a microbrewery.
"Operational costs and wastage costs are generally higher in a brewery, as the shelf life of raw materials is too small. This means that if you don't sell enough fresh beer, it will all be a waste," says Ashish Dangwal, Restaurant Consultant, The Hospitality Solutions
4. Know About Your Machinery Equipment
We have listed the essential set of equipment that you'll need to run your business smoothly. In case you are adding a microbrewery to your existing restaurant, you may also use the existing infrastructure for it.
The necessary equipment that you would need in a brewery would be a separate water tank, water softener machine, an RO machine setup, and separate fermenters. Other types of equipment that you may require are mentioned below.
Mashing tuns and Kettles

Refrigeration machine

PHEs (Physical Heat exchangers)

Electric Cabinet

Beer Filters

Boiler

Distribution Tanks

PLC touch-type process controller

Serving System

Lauter Tuns

Fermenters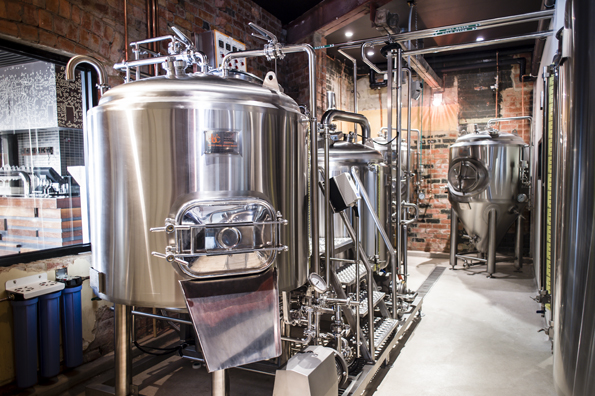 5. Keep All The Licenses And Permissions Handy
Obtaining the liquor and food license along with fire permits should be your top priority for opening a microbrewery business. After you obtain these, you must focus on the brewery licenses, which would cost you around 2.5 lakhs to 6 lakhs, varying from state to state. 
You are not eligible to even stand in the queue for getting a liquor/brewery license before setting up your place and machinery. This is why licenses and permissions come at number 5 on your to-do list. Getting these licenses are crucial and equally hectic. 
"The first barrier I

faced while starting a microbrewery was licensing issues, working with cops and BMC officials to procure liquor licenses, etc.

Luckily, because the industry is booming at such a fast pace, it has created consultants of every kind"-

Dishant Pritmani, Founder, The Daily Bar & Kitchen
To ensure that you get these licenses in the first go, you need to keep a checklist of the factors that would help you in obtaining all these licenses. Here is a list that you can keep for the last minute to avoid discrepancies.
Commercial Electricity Line

Commercial water-line- Municipality/ underground bore water

Land registration/ Lease sanction

Company Registration

Wastewater disposal certificate from the pollution control board

Fabricated equipment quality certificate
6. Find Your Head Brewer
Since the microbrewery business is still in its early stages in most of the cities, some of the people even related to the food and beverage industry don't have a clear insight into it. This makes it difficult for you to find your dream head brewer or even to train your bartender to be your brewer.
The head brewer that you hire should have deep insights into the process of brewing and should be familiar with the technical terms related to it. He/she would be required to have analytical and managerial skills to make sure the process of brewing is not distorted. The head brewer must also be aware of all the business trends going around in his/her city to be able to come up with different campaigns to attract customers. He should also have a fair idea about the post-production processes of brewing and fermentation
7. Take Care Of The Beer Production
Reaching this step does not mean the end of your process of starting a microbrewery business. It means you've just begun. Generally, hiring a head brewer or having some training sessions for your bartender would be beneficial. There is lesser wastage expected during the beer production process if your staff knows about each step of the process.
Craft beer production involves malting, boiling of grains, and fermentation. The head brewer should be able to identify the consumption of barley/wheat grains at each step, to optimize production. The grains are then put into hot boiling water to activate enzymes that extract sugar out of these grains.
After that, the fermentation process takes place in huge fermenters enabling alcohol production. These four steps lead to the production of freshly brewed beer. The head brewer, therefore, needs to know the process, equipment involved, and the technical details for each of the steps for the best possible outcome.
8. Decide The Right Menu 
While you offer freshly brewed craft beer to your patrons, you must not forget about the food menu that would go along with the beer as well. Food sales contribute to a significant portion of the overall revenue of the microbrewery. Thus, choose menu items that complement the drinks and are also preferred by the customers. For instance, if you are offering a global cuisine menu, take the time to analyze the highest selling items on the menu, and the ones that are not contributing to the sales as much.
Come up with variations of the menu items that are performing well. For instance, if French Fries is a high selling item at your brewpub, you can include variations around French Fries, such as Peri-Peri Fries.
9. Promote Your Microbrewery Business
By researching your market place, you need to find that missing element in your market and how your brand can fill the void. Making a social presence is an absolute priority, be it your website or through other social media platforms. This needs catchy advertisements, a classic brand name, an exquisite quality of the beer, and an ambiance people can't resist coming to. '
Many brands work on different marketing campaigns to excite craft beer in such a way that the customers get excited about it. Pravesh Pandey, the owner of the Byg Brewsky Company, tried a campaign to promote its craft beer, which was earlier not accepted by its customers.
Incorporating it as a campaign called October Fest, the customers were more than ready to try the new beer, and it eventually became a huge success. Microbreweries need to work consistently on their marketing campaigns to ensure awareness among their customers and to maintain the hype.
These promotional activities need to be decided based on the strengths of the microbrewery business. For instance, you can come up with a drink-themed festival around the highest selling drink. This would help you retain the customers who are already partial to that drink and also spread word-of-mouth to attract new ones.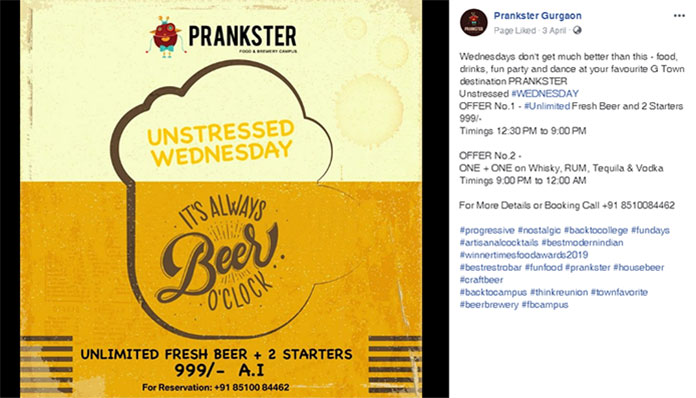 10. Choose The Right Microbrewery POS
While taking care of production and distribution, the presence of a restaurant management software streamlines the processes by an essential factor. A proper POS software manages your brand's inventory, maintains a standard recipe for your beer, and also helps you analyze your sales and growth all on one screen.
A right POS will also help you to analyze how well your marketing campaigns are working by giving you illustrated data on the number of sales during the duration of that particular campaign. This will also help you decide happy hours and when to run a specific campaign.
The most important job of a restaurant management software in your microbrewery business is taking care of the inventory and your raw material. Since a microbrewery is functionless without proper management of the raw material and a productive relationship with your suppliers and vendors, it becomes crucial that you have an efficient Point-of-Sale software.
Summing it up, going through each step from this guide will help you take care of the smallest of details and help you flourish your business in no time. Starting a microbrewery business is a substantial risk-taking business, but once you have a checklist, the process becomes easier.