Cloud kitchens are delivery-only restaurants with no storefront or dine-in facility. A cloud kitchen business primarily accepts orders online from third-party online food aggregators and its own online ordering enabled website. It can also accept orders over the phone from a central call center, wherein the orders are routed to the nearest cloud kitchen outlet. 
Since orders are placed via the internet and there is no physical storefront for the customers to walk into, these delivery-only restaurants are also called dark kitchens, ghost kitchens, virtual restaurants, and satellite kitchens. 
Understanding The Cloud Kitchen Business 
In this article, we discuss in detail the future of the cloud kitchen business and the market size, decode the different types of cloud kitchen business models, what it takes to open and run a cloud kitchen, and how to grow and scale the cloud kitchen business. 
The Promising Future of Cloud Kitchens 
As the demand for food delivery continues to soar, cloud kitchens are becoming a popular option when it comes to opening a new restaurant business.  
Read more about why cloud kitchens are the hottest investment options here. 
The global COVID-19 pandemic and the subsequent lockdowns imposed by most of the nations led to restaurants being closed off. However, even during the lockdowns, food delivery continued in full swing. 
To keep up with the changing times, restaurants switched to delivery-only operations, turning themselves into potential cloud kitchens to make up for the lost footfall.
According to an intricated report on the Restaurant Industry & Market Evolution, 52% of foodservice operators placed their bets on setting up a Cloud Kitchen or a delivery-only outlet of their brand.
While online food delivery and the cloud kitchen business was steadily gaining popularity even before COVID-19, its relevance has skyrocketed in the current situation. The cloud kitchen business model is now being seen as the best way to survive the pandemic and keep the business afloat. 
Check out this guide which talks about how you can switch to delivery-only operations.
 The online food delivery model incorporates social-distancing guidelines, which further led to an increase in the prominence of cloud kitchens. 
Restaurants have introduced Contactless Delivery, wherein the delivery executive delivers the food order without any physical contact with the customer. 
By ensuring proper safety standards, cloud kitchens can ensure hygienic and safe food delivery. 
Here are the ways in which you can implement Contactless Delivery for your cloud kitchen. 
Demystifying the Cloud Kitchen Business
A cloud kitchen acts as a food production unit where orders are prepared, packaged, and dispatched from. The location and the property are the biggest discerning factors between a cloud kitchen and a traditional dine-in restaurant. Since there is no Front-of-the-House, the cost involved in the interiors and wait staff is eliminated. 
You can open a cloud kitchen at one-third of the cost and time taken to open a traditional dine-in restaurant. 
Read more about the differences between a cloud kitchen and a traditional dine-in restaurant here. 
The cloud kitchen business model gained popularity as it allows operators to experiment and bring innovations in the way food is prepared and delivered to the customers. The low investment and operating costs involved in setting up and running a cloud kitchen, the ease of experimentation and expansion, along with the immense market opportunity, makes cloud kitchens an extremely lucrative restaurant format. 
Types of Cloud Kitchen Business Models 
The cloud kitchen business model has undergone several variations and has diversified into the following types – 
(a) Standalone/Single Brand Cloud Kitchens
Standalone and single-brand cloud kitchens are kitchens that accept orders online and operate under a single theme and concept. They typically offer 1-2 cuisines and have a small menu with 10-15 items. 
(b) Virtual Restaurants
Virtual restaurants are brands that exist solely online on third-party online food aggregators or their own online-ordering enabled website. They utilize the kitchen infrastructure and resources of an established restaurant and have a unique identity. They offer food items that are different from the restaurant housing the virtual brand. This way, the two brands don't compete with each other, and the revenue coming from the virtual brand is incremental to the overall business. 
(c) Multi-brand Cloud Kitchens 
A multi-brand cloud kitchen is a large kitchen space accommodating the operations of multiple brands. The same kitchen infrastructure, staff, and resources can be leveraged to run the operations of multiple brands. 
Read more about how multi-brand cloud kitchens operate here. 
(d) Shared Kitchen Spaces 
Shared cloud kitchen spaces are large coworking kitchen spaces with individual kitchen units for each brand. These units are well-equipped and replete with the modern amenities required for a standalone cloud kitchen. 
Shared kitchen spaces typically provide a common storage facility and cleaning and dishwashing services, making it easier for the individual to simply focus on food preparation. 
Read how shared kitchen spaces are ideal for opening a new cloud kitchen business here.  
(e) Aggregator Cloud Kitchens
Aggregator cloud kitchens are also large, shared kitchen spaces. The only difference between an aggregator cloud kitchen and a shared cloud kitchen is that the brands operating from aggregator cloud kitchens are exclusive to the aggregator. They cannot accept orders from their own websites or any other online aggregator. 
(vi) Operator Managed Cloud Kitchens
Operator managed cloud kitchens are like shared kitchen spaces, but in this case, the operator takes the onus of the entire cloud kitchen operations from the brand. These follow the virtual franchising model. 
Here is a detailed guide on the different types of cloud kitchen business models, how they function, and who are they best suited for.
Cloud Kitchen Setup 
Now that we have the basic idea about a cloud kitchen business, let us look at what it takes to open a cloud kitchen and set up the operations. 
1. Opening a Cloud Kitchen 
Opening a cloud kitchen is quite different from opening a traditional dine-in or takeaway restaurant. Here we have discussed how you can choose the location, acquire the licenses, decide the menu, choose the right equipment, hire the right staff, etc., for starting a cloud kitchen business. 
(a) Choosing the Right Location 
Despite the rentals being less in the case of a cloud kitchen, the location and property must be chosen with extreme care to succeed. The cloud kitchen can be located in a relatively inaccessible area and does not require high footfall or visibility. You can easily operate a single brand or standalone cloud kitchen within a 300 Sq Ft area. However, it should be located in an area where there is a high demand for the food you're planning to offer. 
(b) Deciding the Menu 
The quality of food is perhaps the most critical factor that decides the fate of your cloud kitchen business. A total of 10-15 menu items are ideal for a single brand and standalone cloud kitchens. The menu must be chosen based on the demographics of your audience and specific customer demands. For instance, if you are positioning your cloud kitchen in a residential area, it is a good idea to offer family meals. 
It is also essential to create a menu that can be easily packaged and travels well. 
Avoid including fancy items on the menu that require food presentation and turn soggy after being packaged.
(c) Choosing the Right Equipment 
The equipment required in a cloud kitchen depends on the type of cuisine you're planning to offer. However, there are some basic equipment that is common for all commercial kitchens, such as – 
Cooking Equipment –

Essential cooking equipment includes ovens, electric or gas range, grills, deep fryers, etc. 

Refrigeration Equipment –

Refrigeration equipment consists of refrigerators, freezers, ice machines, and beverage dispensers.

Storage Equipment

– Storage equipment includes shelves, food storage containers, drying, and dunnage racks, carts, etc. 

Food Preparation Equipment –

Food preparation equipment includes food processors, mixers, and blenders. Smallwares such as chef knives, cutting boards, mixing bowls, pans, pots, etc., are also required for preparing food in the cloud kitchen. 
In the case of multi-brand cloud kitchens, you can utilize the same kitchen equipment to prepare different types of food. For instance, a dough-mixing machine for making the pizza base can also be used for mixing the batter for the South-Indian dish dosa.
Here is a list of the essential cloud kitchen equipment and a quick guide on how to choose the right ones for your business.
(d) Hiring the Right Staff 
Since there is no Front-of-the-House, you don't need a wait staff in a cloud kitchen. You can easily open a cloud kitchen with just 5-6 kitchen staff. You would need at least two cooks for preparing the food and a few helpers for packaging and cleaning. 
As the number of orders increases, you can always add more people to your team. 
(e) Licenses 
It is important to secure the right licenses to open and operate a cloud kitchen smoothly. 
The major licenses required to open a cloud kitchen are FSSAI licenses, GST registration, Food and Safety License, Fire License, No Objection Certificate (NOC), etc.  
(f) Sourcing the Raw Materials 
The quality of food depends on the raw materials that you'd be using. Hence, choosing the right vendor and sourcing proper raw materials is essential for running a successful cloud kitchen. Choose vendors that are located near your cloud kitchen and who can provide timely delivery of the raw materials. 
Remember to decide the terms of the payment for the raw ingredients. You can also purchase ingredients on credit. And it is a good idea to buy non-perishable items in bulk since the cost of raw materials would come down. 
2. Opening a Virtual Restaurant 
Opening a virtual restaurant is pretty easy if you have an established restaurant already. Since the virtual restaurant exists inside the kitchen of the established restaurant, the location, basic equipment, staff, and licenses are already in place. You only need to decide the menu and source the raw materials for it.
Based on the number of orders, you can add more staff and equipment to facilitate the virtual restaurant's operations. 
3. Opening a Multi-brand Cloud Kitchen 
The operations of multi-brand cloud kitchens are more complicated than that of a standalone or single brand cloud kitchen. 
First, you need a larger space to accommodate the functioning of multiple brands. An 1800 sq. ft. – 3000 sq. ft. property can comfortably accommodate 6-10 cloud kitchen brands. 
The process of deciding the menu remains the same in multi-brand cloud kitchens. Certain items on the menu of different brands can overlap in this case. For instance, if you are offering French Fries in a regular burger, you can include the same French Fries for a gourmet burger brand as well. 
The same kitchen equipment can also be used to prepare the order for different brands. However, as the number of orders increases, you would need more equipment so that food for multiple brands can be prepared simultaneously. 
You would also need at least four staff per brand to prepare and manage the orders. We recommend that you start with fewer people and hire more people as the number of requests increases. 
You would need the same set of licenses required for a cloud kitchen to open a multi-brand cloud kitchen. You do not need new licenses for adding new brands in the cloud kitchen setup. 
Read in detail how you can manage the operations of multiple brands from one cloud kitchen with ease. 
4. Opening a Cloud Kitchen in a Shared Kitchen Space 
Shared kitchen spaces are great for first-time restaurateurs or even for established restaurant brands for starting a cloud kitchen business. These shared kitchen spaces can be independent kitchen spaces or aggregator managed cloud kitchens. 
Shared kitchen spaces are replete with the basic kitchen equipment and infrastructure required to run a cloud kitchen. Since these kitchen spaces are safety compliant, acquiring licenses to open a cloud kitchen also becomes easier. 
You only need to bring in your staff and the raw materials, and you can start with the operations. 
Read in detail how you can leverage shared kitchens for opening a cloud kitchen here.
5. Opening a Cloud Kitchen in an Aggregator Managed Cloud Kitchen Space
Opening a cloud kitchen in an aggregator managed cloud kitchen space is similar to opening one in a shared kitchen space. In this case, as well, you just need to bring in your staff and raw materials. Acquiring licenses becomes easy since these kitchens are already food safety compliant. The difference between aggregator managed cloud kitchen and a shared kitchen is that you can only accept orders from the aggregator's online food ordering app and not from other sources.
6. Opening a Cloud Kitchen In an Operator Managed Cloud Kitchen Space
Opening a cloud kitchen in an operator managed cloud kitchen is perhaps the easiest way of entering the food delivery business. The operator takes care of the licenses, equipment, staff, and location. The entire order acceptance, preparation, and delivery are also taken care of by the cloud kitchen operator.
You only need to provide your brand name, recipe, and training to the cloud kitchen operator staff. 
In return, you get a certain percentage of the revenue generated from online orders. 
Running a Cloud Kitchen  
Once you have completed the setup of the cloud kitchen, you need to focus on the operational aspects of the food delivery business. 
There are four aspects of running a cloud kitchen business – 
Accepting orders

Preparing orders

Packaging 

Delivery 
1. Accepting Orders 
Online food aggregators are the most popular source for generating orders since they already have the desired target audience. You must get your cloud kitchen business listed on all the food ordering platforms as they become an additional sales source. 
Read how to partner with popular online food aggregators such as Swiggy and Zomato here. 
Apart from accepting orders from online food aggregators, you can also have an online-ordering enabled website. The website must be optimized so that customers can easily navigate through the website and place their orders. 
Here is how you can build a great landing page for accepting online orders. 
You can also have a mobile food ordering app to make it easier for customers to order food from your cloud kitchen. 
2. Preparing Orders 
The kitchen operations of a cloud kitchen are not very different from that of a regular restaurant. Kitchen Display Systems that reflect the order details in real-time in the kitchen play a crucial role in ensuring the efficiency of cloud kitchen operations. 
The orders received at the POS are reflected in the kitchen in real-time at the Kitchen Display System. This is similar to the Kitchen Order Ticket that is sent to the kitchen once a waiter places the order into the POS. 
Read in detail how a strong technology partner can help you accept and manage online orders with ease. 
3. Packaging 
Once you have the right technology and tools to accept and prepare the order, you need to focus on the other critical aspect of running a successful food delivery business – packaging. You would need plastic containers, cardboard boxes, plastic spoons and forks, paper napkins, etc., depending on the type of food you're offering. 
You need to allocate a separate team for packaging the prepared food items. You should allocate at least 5-6% of the total order cost to packaging, which can even go up to 8-9% in order to deliver a great customer experience. 
Read more about the importance of packaging here. 
4. Delivery 
Delivery is another essential aspect of running a cloud kitchen business. Ideally, the food should be delivered within 45 minutes of ordering for good customer experience. Apart from getting the food orders delivered on time, you also need to ensure safety and hygienic practices while delivering.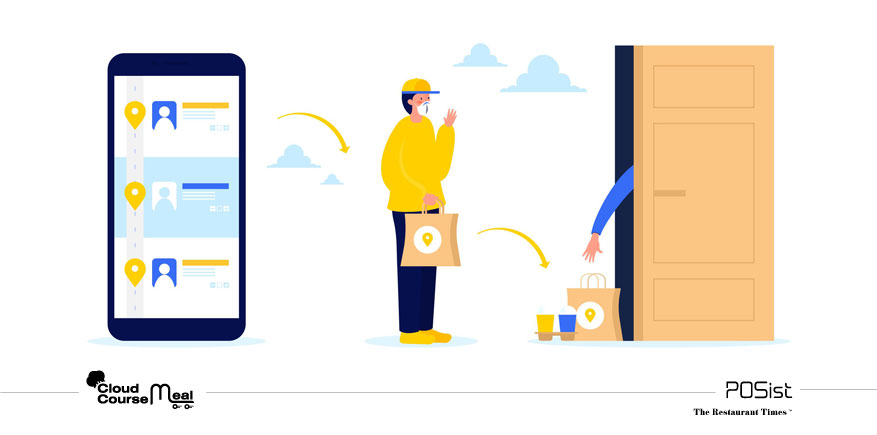 There are three ways you can get your food delivered to your customers:
(a) Partnering with Online Food Aggregators for Delivery 
This is the easiest way to get your food delivered to the customers as the online food aggregator is in charge of accepting the order and getting it delivered. The order and the customer details are already available to the delivery executive, and he simply needs to pick up the order from the cloud kitchen and deliver it to the customer's address. 
(b) Partnering with Third-party Delivery Services 
You can choose to partner with third-party logistics companies to get the orders delivered to the customer. As soon as the order is received, the third-party delivery executive is notified and the order and customer details are passed on to him. This is possible because of a POS integration that connects the online ordering platform and the delivery mechanism. The delivery executive picks up the order from the cloud kitchen and delivers it to the customer. 
(c) Having an In-house Delivery Fleet
Having an in-house delivery fleet is more profitable in the long run. You do not need to pay hefty commissions to the online food ordering platforms or the logistics partner, and you also have more control over the deliveries. However, you need to invest in maintaining your own delivery fleet. 
Getting the food delivered via the online food aggregators and third-party delivery providers is a good idea if you don't want the hassle of maintaining an in-house delivery fleet. Otherwise, you would need at least 5-6 delivery executives, depending on the order volumes. You also need to decide a delivery radius within which you would be delivering the food. 
Here is how you can deliver orders on-time despite a shortage of staff.
You can invest in building a Delivery App to help you manage the food delivery process. As soon as the order is received at the POS, you can assign the order to the nearest available delivery executive. The delivery executive is notified about the order through the app, along with the customer details. You can monitor the order status on the Delivery App through real-time GPS tracking. The customers are also notified about the order status through instant SMS updates. 
Here is how you can choose between having an in-house delivery fleet versus relying on third-party platforms to get the food orders delivered. 
Growing the Cloud Kitchen Business
Once your cloud kitchen business is set up and running, you will be looking at how to increase online orders, boost sales, and eventually expand the cloud kitchen business.
1. Marketing the Cloud Kitchen Business
It is highly advised to spend on marketing on the online aggregators' app or website, at least in the initial stages, to reach out to potential customers and to create brand awareness. At the same time, you must also work to build organic channels for generating orders. 
(a) Marketing on Online Food Aggregators
There is stiff competition for cloud kitchens even on the mobile food ordering apps, and more than often, there is a high chance that your cloud kitchen would not even appear before the customers. 
There is no dearth of options on the online food aggregators, and without proper marketing efforts, generating online orders can become a tedious task. 
Read how you can promote your restaurant on online food aggregators here. 
(b) Creating an Online Brand
Creating an online brand organically is tedious and time-consuming, but it reaps great rewards in the long run. It is imperative that you build organic sources for your orders, such as an attractive website and by leveraging the power of the social media platforms, right from the initial days, even if these don't convert to sales immediately. 
(i) Website – An online ordering enabled website is essential for a cloud kitchen business, not just for generating orders, but also for establishing an online presence. You should have a single website with different sections for each of the cloud kitchen brands. Each section should showcase the USPs of the brands along with the menu. The section should also include a clear Call-to-Action button that would lead visitors to the online food ordering page. 
Ensure that the website is mobile as well as search engine optimized. The content on the website should include keywords and phrases that talk about your food and offerings. This would help your website rank better on search engines. 
Learn how you can optimize your restaurant website here.  
(ii) Social Media – It is essential to have individual social media pages for each of your cloud kitchen brands as it helps to attract new customers and engage with existing ones. Post images of your food consistently on these social media pages to increase your online reach. Remember to include the link to your food ordering page so that potential customers can visit the page and directly order from there. 
It is also a good idea to partner with local food bloggers who can review and post about your food. 
(c) Garnering customer reviews & feedback  
Online customer reviews and ratings are an oft-ignored, although a critical part of the cloud kitchen business. Since people do not get to visit and experience the brand physically, they rely on the reviews and ratings on the food aggregator's platform or restaurant review sites. A restaurant with a high rating has a much higher chance of generating orders.
Thus, you must focus on delivering a great experience to the customers, right from day 1. 
It is a good idea to send out an automated SMS to your customers 30 minutes after the order is delivered, asking them to rate your restaurant on the review sites or aggregator app. You can also include a link to a Feedback Form that takes customer feedback digitally. 
It is also important to act on the feedback given by the customers. In the case of negative feedback, delve deeper into the problem. It is a good idea to apologize and offer a discount or a complimentary item to appease the customer. This would help you build a better relationship with the customer and generate loyalty. 
Loyal customers eventually turn into evangelists and spread the word-of-mouth, which is hugely beneficial for a cloud kitchen business. 
(d) Using Packaging to Create a Brand Recall 
Packaging plays a vital role in creating a brand perception in the minds of consumers. If the food is packaged beautifully, customers will take delight in unboxing the food package. The packaging must reflect the theme of your food business and include the logo on the containers. 
If the containers are recyclable, customers may use it for other purposes and keep it instead of throwing it away. This way, you would be able to create brand recall each time the customer uses the container. 
The food must also be packaged well so that the food quality remains the same as if it were consumed at a dine-in restaurant. If the food becomes soggy or dry during the time taken to deliver it, the customer experience is dampened. Ensure that you use sturdy and air-tight packaging so that the food remains just as good as when it was prepared. 
Here is how you can package the food better to deliver a great guest experience.
(e) Customer Engagement
Engaging with customers for generating customer loyalty is just as imperative for a cloud kitchen as attracting new ones. This is because loyal customers tend to spend more and also act as brand evangelists. 
It is a good idea to leverage SMS and email marketing to engage with existing customers. You can capture the customer details in the POS integrated CRM when a customer places an order through your website. Then you can segment the customers based on their ordering history and behavior, and run highly targeted SMS and email marketing campaigns. 
It is also a good idea to incentivize your customers through Loyalty Programs to generate repeat orders. 
Here are seven effective customer retention strategies that would help you engage with and retain customers. 
2. Improving the Operational Efficiency of a Cloud kitchen 
Cloud kitchens operate on the principle of high order volume. Since profit margins per order are not very high, owing to the overheads, food costs, and high commissions charged by the online food ordering platforms, you need to increase the volume of the orders to achieve profitability. 
High operational efficiency is critical if you want to accept, prepare, and dispatch online food orders on a large scale.
Ideally, the time taken to accept and get the order delivered to the customer should be under 45 minutes. It should not take more than 1 minute to accept the order. Next, the average order preparation time should be around 10-12 minutes. Give another 5-6 minutes for packaging, and the order should be out for delivery at the 20th minute. 
If the number of orders is high, it cannot be prepared and dispensed in a timely manner when there is a lack of operational efficiency. And this is where you need the help of technology. 
When you're running multiple brands, wherein, each brand is receiving orders from various sources, it can get tedious to accept orders and send them to the kitchen without delay. 
An integrated POS solution allows you to view the orders coming in from different sources for each brand on a single dashboard. You can accept the orders with a single click, and send it to the Kitchen Display System in the kitchen.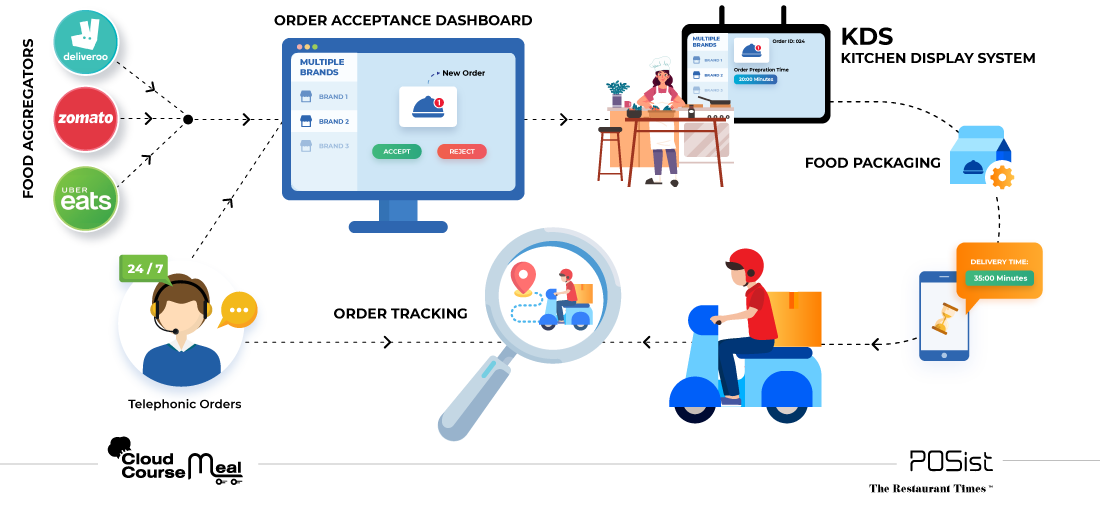 The chef can view the order details, along with the time it needs to be dispatched. The priority of orders is also highlighted at the Kitchen Display System. This way, the chef knows which order to prepare first. 
Once the order is prepared, the chef can mark the order as prepared and send it for packaging. As soon as the order is packaged, it is sent to the delivery station, from where the order is picked up by the delivery executive. 
Each stage of the order can be tracked through the POS system. 
This way, you can analyze the time taken to accept, prepare, package, and deliver the order. In case of any delays, you can identify the exact area of delay and further delve into the reason to optimize the order preparation time. 
The POS system also gives you detailed reports about which menu items and brands are performing well. You can identify the best and the least selling items from the menu performance reports, and eliminate the ones that aren't selling well to reduce your food costs. 
You can also run marketing campaigns to further promote the popular menu items and offer discounts during the slow hours and days of the week to generate more revenue. 
By optimizing operations, reducing costs, and promoting the strengths, you can ensure an operationally efficient and profitable cloud kitchen business. 
Here is how Cape-town based multi-brand Darth Kitchens employs Posist's cloud kitchen management software to ensure streamlined processes and optimized operations.
3. Expanding the Cloud Kitchen Business
Launching a new brand in an existing cloud kitchen is extremely easy and can be done under an hour. You only need to get the brand listed on the online food aggregators. You have to upload the new menu and the brand logo on the aggregator app, and the brand is ready to accept orders online. The entire process takes less than one and a half hours. 
Branching out to a new location is comparatively easier than opening a traditional restaurant. 
However, there are certain things you need to consider before you open a second (or third) cloud kitchen outlet. 
The first thing that you need to do is to evaluate your current business model. 
Is it profitable?

The current cloud kitchen business should be profitable before you open a second outlet. If the first outlet is not profitable, chances are that the second outlet would also result in a loss. 

Is it scalable?

Analyzing the scalability of the current business model is critical. You need to check if the cloud kitchen is a one-time success, or has the potential to be successful in other markets as well. For instance, if the cuisine you're offering has a high demand only in your current location, it can fail in other locations. 
Second, you need to check if you have the resources to ensure consistency in different locations. Building a brand presence is difficult in the case of cloud kitchens, and an inconsistency in the food quality and service would negatively impact the minds of the customers. 
Other factors are the same ones that are mandatory for opening a cloud kitchen business, such as market demand, customer demographics, financial analysis, etc. 
The best part about the cloud kitchen business is that it gives you ample opportunities to experiment with significantly reduced risks. 
If a particular brand is not working well with the customers, you can remove it from the online food aggregator apps, and start again with a new brand. 
Here are some tried and tested strategies for expanding the cloud kitchen business. 
Advantages and Disadvantages of Cloud Kitchens 
Despite the cloud kitchen business model being a highly lucrative format, like all businesses, the cloud kitchen model comes with its share of benefits as well as challenges.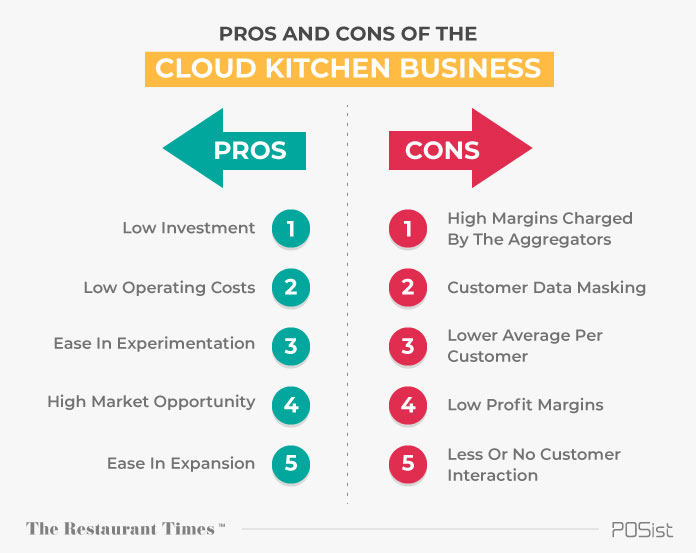 Read in detail the pros and cons of the cloud kitchen business here. 
The cloud kitchen business is continually thriving and revolutionizing the way people prepare and consume food. As per the NRAI Food Services Report 2019, in India alone, the cloud kitchen market is worth INR 928 crore in 2018-2019. The chain segment dominates this format, with a 66% share with the standalone format having a 34% share in the cloud kitchen market space. 
Lower risks and investments, reduced operational costs, and a steadily increasing demand for food delivery are making cloud kitchens the most preferred restaurant format in the F&B space.