Considering the massive potential the online food delivery segment has, many restaurants have been swift to establish a delivery system and improve their online menu options. Ghost kitchens, also known as cloud kitchens, virtual restaurants, dark kitchens, and delivery-only restaurants, rely entirely on delivery orders. As the popularity of home delivery is growing day by day, along with improving the quality of service to ensure timely orders, foodservice operators are looking for more efficient ways to improve the packaging for the delivery-only restaurant to deliver a better experience to the customers. 
The Role Of Proper Packaging In Food Delivery
The selling point of a ghost kitchen is food delivery to the customer's doorstep. An important element in food delivery is packaging. The material, design, quality of packaging, and how it is handled plays a vital role in communicating your brand values to customers. In the food delivery business, packaging serves the indispensable function of preserving food quality, prevents product spilling or leaking, minimizes food wastage, and communicates the brand messaging to customers. 
In the contemporary food delivery business, the packaging is not just only about practicality but also about gaining a competitive advantage over other players. Along with delivery-only restaurants, QSRs and other restaurant formats are also innovating their packaging standards to create differentiation. Cloud kitchen operators are putting more consideration and effort into selecting the correct container and packaging materials. Famous brands like Faasos and Box8 use food-grade plastic containers with lid wraps that are recyclable, microwave-safe, and ensure proper presentation. 
Food packaging is also of utmost significance for the marketability of a delivery-only restaurant. So much so that brands invest in design thinking and seek the help of professional packaging services to obtain the best quality packaging available in their budget. The use of design thinking principles in developing brand packaging provides better convenience and enhances product appeal.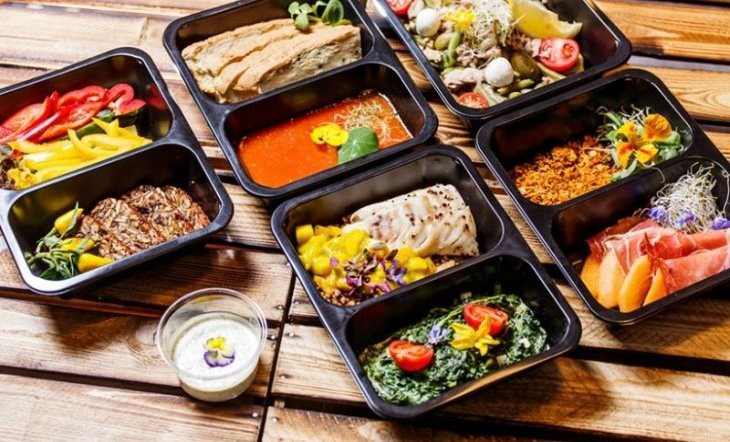 Tips For Choosing The Right Packaging
For a competitive advantage, ghost kitchens must make smart decisions about the food packaging right from the beginning. Consider these points while choosing the right packaging for your brand. 
Choose The Right Packaging Material
Select the right materials for providing more convenience and durability. Plastics, paper bags, cardboard boxes, corrugated boxes, paperboard cartons, boxboards, and styrofoams are some of the most common food packaging materials. Cardboard material is biodegradable and easily printable.
Plastic material is sturdy and prevents food leakage when packed and designed properly. However, plastics are non-biodegradable, and some forms of plastic can leach toxic substances into the food. Styrofoam is a good insulator for maintaining the temperature of food items, but it is non-biodegradable. 
Accommodate The Latest Packaging Trends
Restaurant brands are turning towards packaging that is cost-effective, functional, and affordable. Customers today view food delivery not as a convenience but as a necessity. To enhance the food delivery experience, ensure that the packaging reflects your brand personality and aligns well with customer perception. Opt for the latest packaging trends such as minimalistic and convenient on-the-go packaging, sustainable packaging, edible packaging, etc. 
Look Out For The Important Details
While you pay emphasis on maintaining appropriate packaging standards, don't overlook the functionality, presentation, and sustainability of the packaging. Consider upgrading to a new packaging design that is easy to transport and saves storage space. Design the packaging in such a way that it is aesthetically pleasing and protects the food contents inside.
As a social responsibility and to mitigate the perception of food delivery being wasteful, choose materials that are environmentally friendly or recyclable. Choose disposable containers and packaging to avoid the need for cleaning. In case your ghost kitchen brand decides to use reusable containers, implement appropriate hygiene and sanitation protocols. 
The growing demand for delivery-only services ultimately means more orders, which can exert pressure on ghost kitchens to delivering a premium experience, despite negligible interaction with customers. This indicates that packaging will continue to be a differentiator with more operators seeking out better and more functional packaging systems. Choose the best packaging that highlights your cloud kitchen's specialty dishes, and don't forget to market it well!