Dubai is known as the world's one of the ripest tourist destinations. Attracting over 15 million tourists in 2017, Dubai is breaking records and heading on with its diversification plans in full charge by keeping the hospitality industry at its center. Understanding the power that Dubai has as a tourist destination, restaurants are coming up with newer, fresher concepts and restaurant interior design to attract customers. Tweaking the interiors and coming up with quirky themes to attract customers is all a part of surviving in this tough industry. Learn how you should be leveraging your restaurant interior to attract more customers here.
Even though Dubai sees an influx of tourists, the competition is exceptionally high in the market. Because of Dubai Expo 2020, investments in hospitality and F&B Sector are being made like never before, but that has led to an increase in competition while the average spend per person is still the same. This problem of plenty has created a unique dilemma for restaurateurs who now must not only focus on getting new customers but also retaining older ones. One way that restaurants are handling the crisis is by offering a little extra than just food or dining experience- a fun element produced through restaurant interior design and themes. An increasing number of restaurants depend upon their vibe and idea which is created through restaurant interior design to attract customers. Here we have some of the best restaurant interior design tips for you!
Restaurant Interior Design Ideas
Here is a list of restaurants that take their theme a level up using their restaurant interior design. Follow them carefully and understand what they do or don't do to make your restaurant a league above! Here are some great restaurant interior design tips, inspired by the best!
1. Tribes Carnivore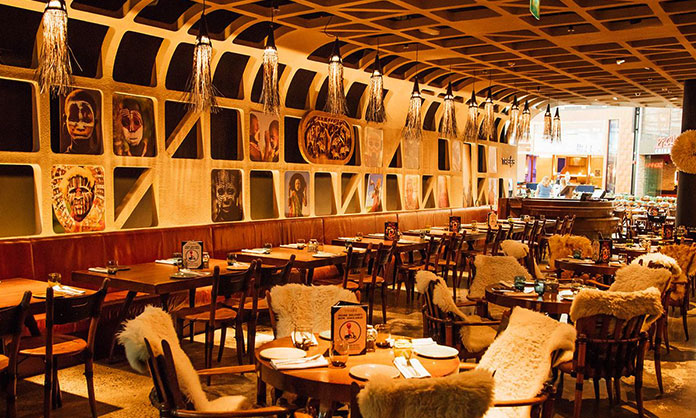 [Image Source Facebook]
African food, tribal dance and pre-colonial African-American music? Finding this combination in the arid desert of Dubai may seem impossible to you, but that would mean you have not done your research right. The Tribes Carnivore restaurant in Dubai has it all. With thatched grass-covered lamps, tribal wall art, and a carnivorous menu; men are advised to not sit with their backs to the doors or else intruding lions may attack their dates. Complete with African cuisine, song, and dancing to feverish drums, Tribes Carnivore transports you to pre-colonial Africa and all sublimities of it. This restaurant serves some exceptional restaurant decor ideas that you can use while designing your restaurant.
2. BBQ Donut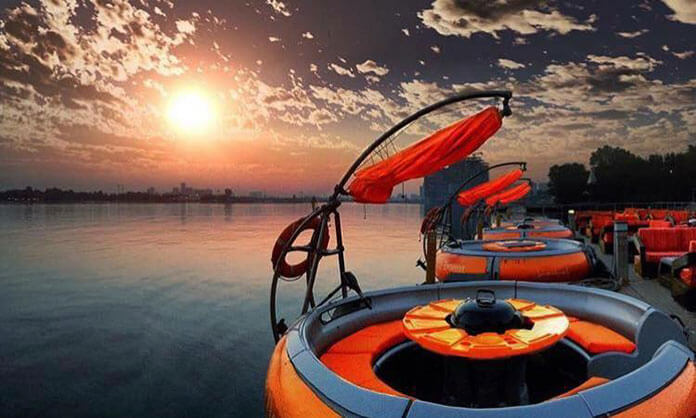 [Image Source Discover Dubai]
Holding a barbeque may not be your thing if you live in the middle of a desert, but even that is not the only reason why this restaurant so unique. Donut shaped dinghies that can seat up to 6 people are fixed with a central grilling station and let off in the Arabian Sea. There is no need left for restaurant interior design as the concept is wild and so is the experience, making this one of the best-known destinations among both tourists and locals. The best part, you can even pay for a captain for the way if you do not want to handle (the otherwise simple) navigation system.
3. Aprons And Hammers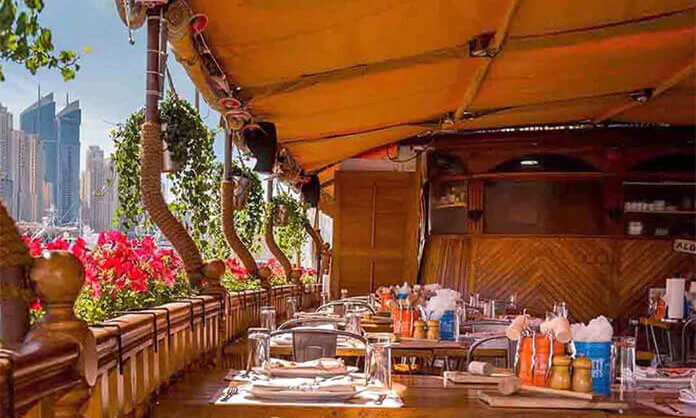 [Image Source Zomato]
Aprons and Hammers take you to the old Dubai, the one sustained by fishing and pearl diving. Merely a stone's throw away from the Barasti beach, Aprons and Hammers is a restaurant on a revived sailing vessel called dhow. Once aboard, the restaurant interior design reinforces the theme- tables are shielded from the sun, using fishing nets festooned with baskets of plastic crabs, starfish, and lobsters. Little lighthouses are a part of tableware which adds a minimalistic pleasure to the entire theme.
4. Ossiano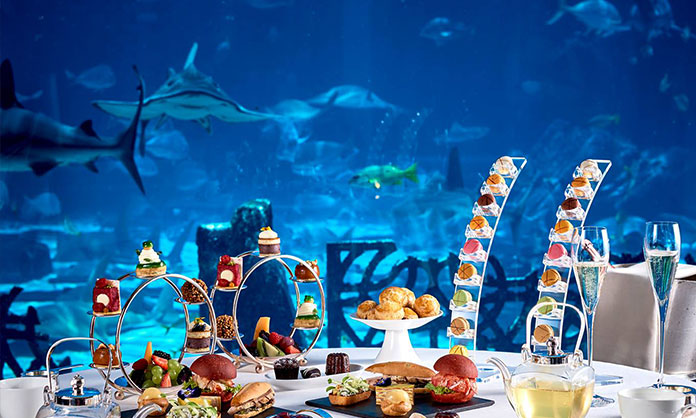 [Source Facebook]
Ever wondered what living in an aquarium would feel like? Or maybe dining underwater in the middle of the ocean? Ossiano in Atlantis, the Palm Hotel hinges its theme on this thought, and the restaurant interior design does not fail to deliver it. The entire restaurant is made of glass aquarium walls instead of regular concrete, and the gold color scheme not only adds a royal touch but makes you feel like a royal of the ocean itself. Serving some of the best seafood in the city, Ossiano lets its restaurant interior do the talking. Look for restaurant decor ideas that take your customers into a different world.
5. Royal Express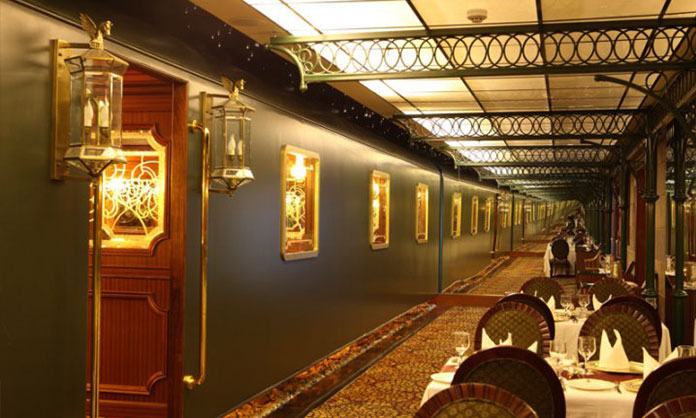 [Image Source Facebook]
Out of Dubai and in India at the time of the Raj, that is where the interior design and the theme at Royal Express take you. Permanently stationed in a Dubai hotel, the train restaurant comes complete with waiters dressed as porters, regular platform announcements in Hindi, train track sound effects and plush scarlet and gold furnishings.
In an industry as competitive as F&B, you can not expect to go half the way. The restaurant interior design of these five restaurants and the theme they portray makes them some of the best theme restaurants in not just Dubai but all over the world. Look for low budget restaurant interior design and make your restaurant unique! We hope this list was helpful and you came up with if not an interior design idea for your restaurant, then at least some clarity as to what all you can do.