UAE has always been a place best known for its luxurious indulgence and lavish hotels. Despite the pandemic, a report by PWC states that Dubai continues to be the prime most destination for tourists. Hotel restaurants that were shut for in-premise dining during the pandemic are gaining momentum again and now is the right time to apply restaurant marketing strategies. Here is a list of UAE hotel restaurant marketing ideas that would help you attract more customers.
Effective Hotel Restaurant Marketing Ideas To Grow Your Restaurant Business In The UAE
Here are some effective UAE hotel restaurant marketing ideas you can utilize to grow your business.
1. Running Seasonal Promotions
A hotel's business year is divided into two, the peak season and the off-peak or weak season. UAE's peak season starts in November and continues till March. June, July, and August are typically the off-season in UAE as the incoming of tourists are substantially less during this time. 
The business during the peak season is exceptional, but the success of a hotel restaurant success is majorly dependant on how well the weak seasons are managed.
During peak seasons when you know the number of checked-in guests would be more, devote your time and budget in marketing your restaurant within the hotel premises. Put up posters in the hotel lobby or near the front desk to make your guests aware of the FnB outlets within the hotel.
You can create special discounts and coupons for checked-in guests. This would entice them to eat at your restaurant instead of stepping outside for a meal.
During the weak seasons focus more on attracting the walk-in guests. Try doing something unusual, such as, celebrate international holidays like Environment Day, International Dance Day, etc. You can also organize small events to attract the local crowd. For example, on International Dance Day, you can have a small dance party at your hotel restaurant.
Offer your restaurant space for corporate parties or get-together, these things will work all year-round. All these tricks are great for luring in walk-in guests.
2. Social Media Marketing
Social media marketing is one of the biggest platforms for advertising your hotel restaurant business. There are millions of people engaged on social media in UAE, with approximately 7.75 million on Facebook and 5.01 million on Instagram, etc. Hence, the chances for you to reach out to your potential customers automatically increase.
You can use the hotel's social media profile or create an independent page, especially for your restaurant.
Creating a social media page on Facebook, Instagram, etc. is free of cost. Make sure you are regular with your posts as it would increase your restaurant's visibility. Post actively about any upcoming events, food/restaurant interior pictures, menu updates, etc.
Another effective way of using social media is by seeking help from food bloggers and by asking them to talk about your hotel restaurant. It would help you reach the right people since their followers would predominantly be interested in the food and beverage industry.
That's not all! Social media also provides you with various marketing tools that give you reports and help you analyze how many people are interacting with your posts. This will give you more clarity and let you examine if more input is required from your end.
For example, The Wavebreaker restaurant at Hilton Hotel Dubai had organized a rugby screening which they actively advertised on their Facebook page. Along with the screening they had some exciting discounts for the hotel guests and daily appealing deals for walk-in customers.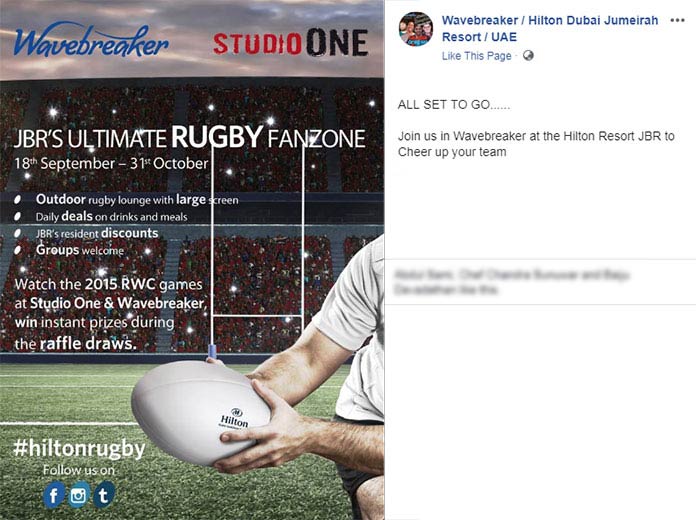 3. Online Restaurant Listing Sites
Another way of marketing your hotel restaurant is by listing your restaurant at popular restaurant listing and review sites. It increases the awareness amongst the walk-in customers who may or may not know about your hotel restaurant.
Listing your restaurant on the leading sites would mean more people would come across your hotel restaurant. You can mention the complete details like opening or closing time along with the contact details and address on these websites.
Online listing sites also allow your customers to rate you and if you have a good rating more people would prefer visiting your hotel restaurant over others.
Some of the popular websites in the UAE for listing your restaurant are :

4. Listing On Google My business
Searching on Google is the very first step a guest takes while looking for a restaurant, be it a hotel guest or localities. Google is a credible source that people trust for accurate results; therefore use it to your advantage. Make Google a part of your hotel restaurant promotion strategy.
Listing your restaurant on the Google My Business page will show your restaurant details to the people looking for similar services nearby.
Add every detail of your restaurant to the listing — the operating hours, phone number, website URL, pictures, and any additional information you want to make easily accessible to your guests.
For example, here is a Google My Business listing of Miss Lily's restaurant at Sheraton Hotel, Dubai.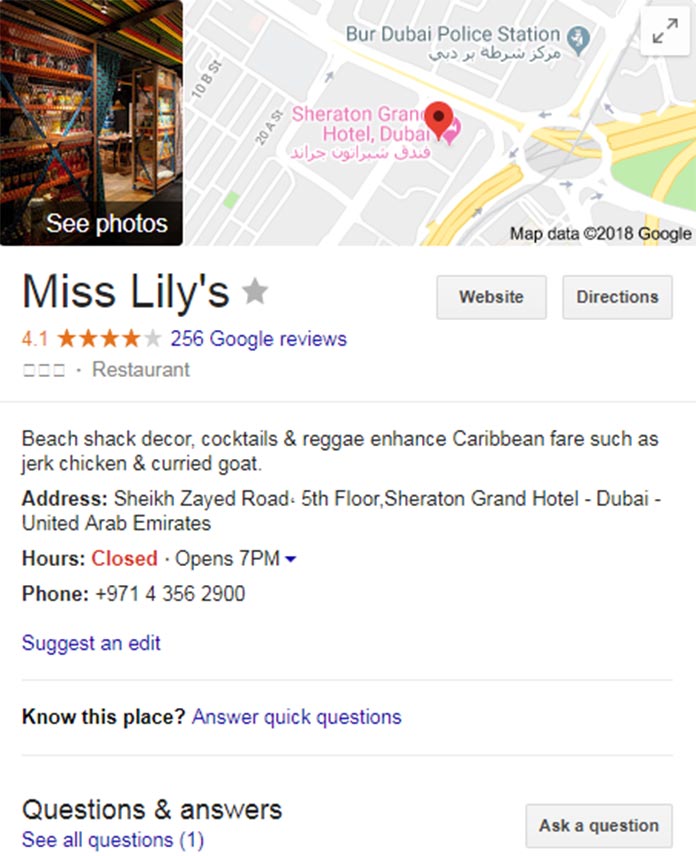 It has all the information listed along with a Google Map and pictures on the very first search results page. Google My Business listing is an excellent way of ensuring your hotel restaurant shows up for local Google searches.
In the last few years, UAE has seen a growth in the number of hotel restaurants which has made it imperative for the hotel restaurant owners to up their marketing game. The possibilities are endless for the hotel restaurants as they cater to both checked-in as well as walk-in guests. Strategically planned marketing ideas help in running your hotel restaurant profitably and assist in building a reputation.