A Point-of-Sale (POS) system is a great tool to manage all the moving parts of a cafe business while ensuring maximum customer satisfaction. Whether you have a single cafe business or an expanding coffee empire, having a modern POS system can be an invaluable source of the essential data you need to grow your business. An excellent  Cafe POS software provides the ultimate quick and convenient, solution to process sales, track inventory, run sales reports, etc. This article discusses how a robust cafe POS can streamline the entire operations and help you run your cafe more efficiently.  
How A Cafe POS Can Help You Streamline your Operations in the UAE
It is vital to invest in an efficient coffee shop POS system that will help ease your business in the long run. Here's how investing in the right POS solution can streamline the entire operations of your cafe or coffee shop. 
1. Intelligent Menu
A smartly engineered cafe menu generates curiosity and tempts customers to order more. An intelligent restaurant menu management feature enables operators to view the best selling items on the POS menu. The items change automatically in the POS menu according to the changing customer demand, making it easier for the servers and cashiers to upsell.
Along with the complete menu display, cafe, or coffee shop owners can highlight their top-selling and high-profit items so that it can drive sales further. Cafe operators can also modify the menu, including everything from the visual design to scheduling marketing campaigns promptly. One can also automate the entire process of making menu modifications based on customer trends or outlet performance.  
2. Tablet Billing
A good cafe or coffee shop POS system can perform billing operations smoothly. Since the restaurant format is similar to the casual dining restaurant, operators need to quickly accept and process orders. With a tablet billing feature in the POS system, your servers can place orders and process payments directly at the tables.
All orders taken via tablet are pushed directly into the POS, making it user-friendly and simple to use. As tablets are handy devices, they increase customer delight and also save up on the hardware cost of bulky POS terminals.
3. Detailed Reporting & Analytics
A POS system must ideally provide real-time and detailed business reports that you can analyze to understand your business's overall growth. It should also have a mobile reporting feature that allows you to track the daily progress of your cafe or coffee business anytime, anywhere. 
By investing in a robust Cafe POS, you can keep up to date with key performance indicators (KPIs) like hourly sales, highest selling items, total bills generated, etc., and make data-driven decisions. Accessing real-time reports also provides complete control over the business,  without being physically present at the outlet.
4. Online Ordering
Online orders today contribute to a significant share of revenue generated by different restaurant formats. With customers placing orders from multiple online channels such as websites, apps, and third-party aggregators, you can easily accept all the orders directly at the POS, thereby reducing the hassle of manually processing them.
The customer data is also automatically updated in the central CRM. An ideal Cafe POS can also segregate orders from multiple sources based on their origin and identify which source is bringing in the most business. 
5. Automatic Offers Integration
In a cafe business, offering meal combos and special offers works very well to attract customers and increase the overall sales. Suppose you are running a large cafe chain with outlets in multiple locations. In this case, a stellar POS software can help you create customized offers and combos as per the demography and performance of a specific outlet. The staff can easily apply combo offers or discounts at the time of billing without any hassles.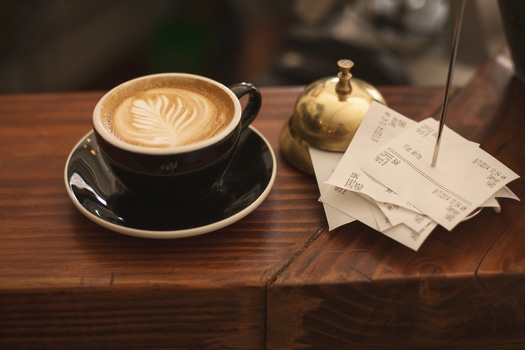 6. Inventory Management
A robust Cafe POS system lets you manage the inventory levels easily. Even if your business is limited to a single outlet, you would still need to ensure proper stock management with the base kitchen and external vendors kept in the loop. A smart inventory management system would allow you to view the daily stock consumption and manage the supply of stock efficiently.
Operators and managers can avail in-depth insights into the amount of stock consumed, along with calculating the amount left at the end of each day. A good Cafe POS generates detailed variance reports that help in keeping track of the wastage and pilferage happening at the restaurant, preventing huge losses. 
7. Third-Party Integration
One of the best advantages of investing in the right POS system for your Cafe is that it is open to third-party integrations. To never miss out on even a single customer, many cafes or coffee shops in the UAE use many different tools for multiple restaurant operations. However, the tools need to sync with each other for maximum performance.
Seamless integration with third-party applications such as online food ordering, delivery partners, payments, loyalty programs, accounting, cloud telephony, etc., will have a massive impact on your business capacities. Therefore, it is always recommended to invest in a cafe POS that allows integration with most third-party services. 
8. Enterprise Module
While running a single restaurant format is in itself an enormous task, it is more difficult to streamline the operations of chain restaurants. Operators need to maintain tight control of all the restaurant outlets in real-time and analyze their performance constantly to make appropriate changes and bolster profits. A robust restaurant enterprise software automates the entire process, offers central control over the enterprise, and optimizes resource utilization. 
With an Enterprise Module, it is easier to control multiple cafe outlets from a central location. Operators can ensure consistency in service delivery across all outlets and view item-wise reports for different outlets to analyze specific performance metrics in a particular area or region.
Investing in the right Cafe shop POS solution can help you manage business operations seamlessly. By implementing a POS solution, cafe operators can automate routine processes that earlier required manual intervention, driving efficiency, and cost savings while delivering a better overall experience to their customers in the UAE.