The idea of food trucks is gaining traction worldwide. The UAE too has seen tremendous growth in the number of businesses operating food trucks. It is pretty evident that this segment is poised to grow substantially in Dubai and Abu Dhabi over the next few years. All it needs is a good food truck business promotion plan.
However, food trucks face stiff competition from QSR chains, full-service restaurants, cloud kitchens, and other restaurant formats. Besides, they face competition from other food truck brands too. Thus, an effective marketing strategy is essential to survive in a competitive market. 
This article highlights some of the innumerable ways that food truck owners can adopt to grow their business. 
Top 9 Ideas For Your Food Truck Business Promotion Plan In The UAE
The food truck business has been thriving in the UAE for many years now. Desert Chill was the first mobile food company launched in the country in 2008. Starting from Dubai, it expanded to Abu Dhabi in 2010, initiated home deliveries in 2011, further expanded to Al Ain in 2016, added a variety of new cuisines in 2018, and finally launched an app and launched a production arm, namely "Desert Chill Kitchen" in 2019. 
If you look at the growth of the company since 2008, it's immense. If you wonder – "How?" – then the answer would be, it all depends on how you promote and advertise your food truck business! The greater the creativity, the greater the success. Read on to get acquainted with creative ideas that you can use as a part of your food truck business promotion plan in the UAE. 
1. Unique Branding 
Creating a brand is the first step of the food truck business promotion plan. A unique brand name, logo, and caption attracts customers, which is why you need to know your food truck's Unique Selling Point (USP). The USP can be presented in different ways. It can be a particular cuisine, for instance, Arab cuisine, Chinese, Emirati cuisine, or simply any other cuisine.
The truck design also plays a role in communicating the unique selling point of your business. A creatively decorated food truck will leave an impression in the customer's mind and encourage frequent visits. What's more, even your packaging style can be used to create brand recognition. 
2. Adopt Card Practices
If you want to promote your food truck, it is essential to adopt card distribution and exchanging practices. A business card contains the details of your food truck, contact number, website, and other important information. It is crucial for you to hand out business cards while attending food festivals or any local event to make your customers aware of what you do, what you offer, and where you put up. 
Besides business cards, the distribution of flyers or menu cards of your food truck is also important to help new customers discover your business, especially when you are in another town. Flyers or pamphlets must contain every little detail of your food truck and help the customers know better!
3. Optimize The Menu
Sticking with the same menu that you started with would only provide diminishing returns over a period of time. Menu alterations can do wonders if carried out effectively. There should be at least one signature dish offered by your food truck to attract customers whenever they're around. Creating combo meals and daily specials can be good practice for promoting your food truck and increasing its sales. 
Furthermore, seasonal dishes can be introduced to the menu. For example, dishes consisting of roasted chestnuts as a key ingredient can be introduced in the winter season, or mango flavoured dishes can be launched in the summer season. Innovating with new dishes and ingredients would lead your food truck business promotion plan to success.
4. Roam Around The City 
A food truck literally gives you the liberty to roam around the city. Exploring new sections of the city and discovering a new target audience every time you move can be healthy for your business. Instead of sticking to one place, try and take your truck to crowded areas where the number of customers or tourists is likely to be high. This will increase the customer base, enhance sales, and expand brand awareness all over the city. The targeted locations should be easily accessible for customers.
5. Deliver The Best Service
The first impression is the last impression. The way you deal with your customers contributes a lot to how customers perceive your brand. Engagement with customers, polite and courteous behaviour towards them automatically promotes your brand, drives repeat sales, as well as referrals and word of mouth publicity. 
Follow up with your customers from time to time through drip marketing campaigns. Use promotions and discounts to create more value for customers. Moreover, you should also consider investing in a personalized app to receive online orders. 
6. Build Your Own Website
Building a website is crucial as customers need a platform where they can explore your business. The website can be used to promote as well as expand your business. If your customers are unable to locate you, they can always reach out to you via your food truck website. It can be a central hub in your marketing strategy where you can upload information about upcoming events or locations for which your food truck would be catering. Creative and user-friendly food truck websites, like that of Desert Chill, can draw customers' attention to your business. 
7. Participate In Events
Participating in events is one of the best ways to get yourself discovered. All you have to do is spread the word, both online and offline. Ensure your presence in the nationwide and local food truck festivals to attract new customers to your food truck. Corporate events also present an ideal opportunity to promote your brand. 
Another creative way to publicize your business is to participate in charity events. It is a more cost-effective way when compared to sponsoring an event. No funds have to be invested. You just have to do your bit to serve the needy and homeless for a day, and the impact will be worth your effort. This practice not only will expand your business but also work in building your reputation and enhance the CSR (Corporate Social Responsibility) value of your food truck.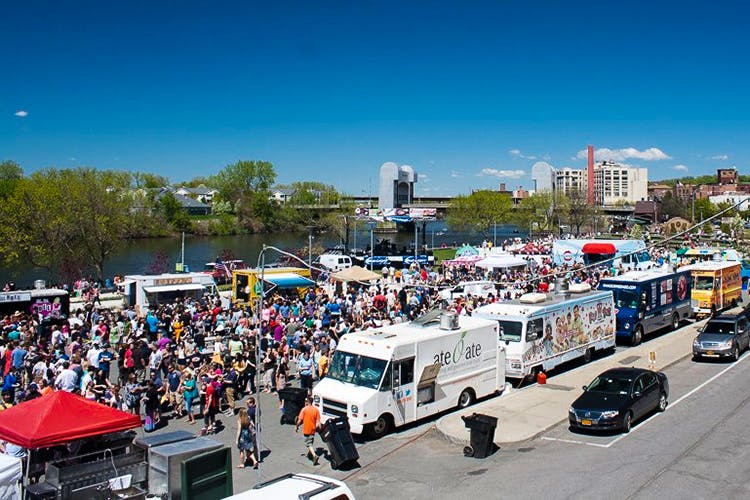 8. Organize Activities To Popularize Your Food Truck
One creative way to popularize your food truck is to conduct contests and prize draws. Giveaways and contests create a sense of excitement among customers and keep them coming back to your brand. If funds are available, you can also choose to sponsor some events, in return for which the event organizers would publicize your food truck into their group of people.
You can also initiate activities that align with the national and global holidays observed in the UAE. For example, if your food truck specializes in selling snacks, you can try selling vegan food on World Vegan Day to catch vegan customers' eyes. 
9. Social Media And Marketing
In this technologically advanced world, the internet plays a great role in connecting customers to restaurants. Food truck business owners should leverage the most out of it and market themselves extensively. There are literally so many ways to advertise themselves on Facebook, Instagram, Twitter, and other social media platforms. Following are a few proven strategies:
Getting your food truck advertised on an online wedding platform could fetch you a large customer pool as almost everyone wants something unique to be served at their wedding. 

Reaching out to influencers like local food bloggers or YouTubers is an excellent way to increase brand awareness. They can organically promote your food truck via vlogs, blogs, social media story mentions, pictures, and videos, which will prove quite lucrative to your business in the long run.

Roll out complimentary offers in return for referrals, story mentions or tags.

Customer engagement is necessary. Responding to negative feedback, retweeting the posts which mention your food truck, posting polls on social media are some of the ways you can enhance customer engagement. 
Food trucks are continuously witnessing a surge in the UAE. Starting a food truck can be a tricky business and needs a proper roadmap in order to be executed successfully. But once the setup is done, never forget that the food truck's promotion is as vital as setting it up. Follow these ideas religiously, apply them in your food truck business, and see the results!