The novel COVID-19 virus has transformed the restaurant industry like never before. Technology and automation, once considered an additional expense, has now become a necessity in the F&B industry. Technology and automation have helped restaurants transform in the way how they operate and thrive in the new connected and contactless era. Given the potential for increased revenue, restaurants today can no longer afford to miss the latest restaurant technology trends that are helping businesses reinvent themselves. 
6 Technology Trends For Restaurants In 2022
The restaurant technology trends mentioned in this article will help restaurants to stay competitive and be able to better align better with any unforeseen changes or upcoming trends in the year 2022. 
1. Contactless Payments
New payment technologies and contactless modes of payments have accelerated greatly since the pandemic. Contactless payments have helped reduce human-to-human contact or surface virus transmission to a bare minimum. A report by Juniper Research states that contactless payments will triple to $6 trillion worldwide by 2024.
From a cash flow point of view, it's also more efficient. Health organizations are still recommending that consumers use touchless payment solutions whenever possible. Restaurant POS systems that support multiple contactless online payment touchpoints will continue to have a clear advantage in mitigating a lot of customer concerns and adapt better in 2022.
2. Contactless Wi-Fi-based Ordering
In spite of restrictions being eased on dine-in restaurants, customers might still be apprehensive about touching the same menu card that has been touched by many. Diners might still prefer placing orders without handling physical menu cards. A wifi-enabled Contactless Dining Feature is probably the safest bet for customers to place an order on their mobile devices. Customers can request bills on their mobiles, and also pay via digital apps. This robust technology will minimize contact between patrons and servers, thereby maintaining social distancing.
3. QR code-based ordering
According to Posist's PRIME Report, 33 percent of restaurants have installed an e-menu using QR code technology at their outlets. In this era, when contactless and no-human touch has become the new reality, barcode scanning via smartphones will allow customers to access online menus, order, and pay contactless while keeping themselves safe. This technology doesn't require downloading an app.
It allows patrons to place orders by scanning the QR code displayed on each table. Diners can view a virtual menu on their mobile browser through which they can select their desired menu items and place the order seamlessly. Offering a number of convenient benefits to both restaurant employees and customers, QR code technology is going to be a 'must' in 2022.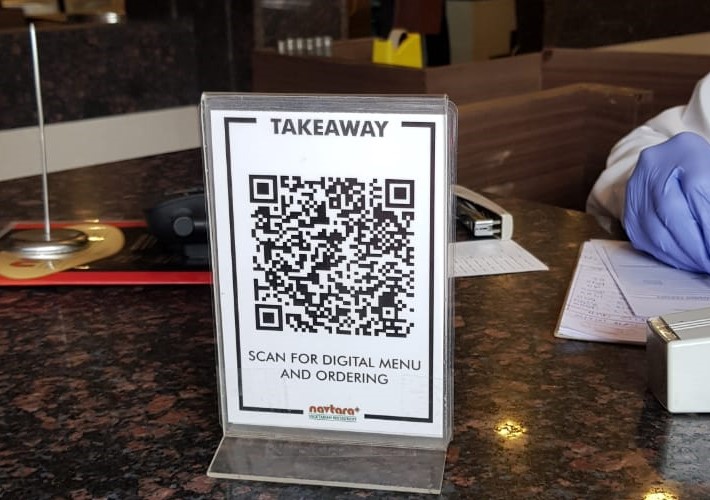 QR code scanning at Navtara Restaurant, Goa
4. Robust Online Ordering Systems 
During the lockdown, online food orders and contactless home deliveries tremendously helped restaurants survive. This trend is likely to stay as more customers still prefer ordering food online rather than visiting the restaurant. Despite the availability of third-party food delivery services, many restaurants are developing their own integrated online ordering systems and offering customers a one-stop solution to directly order from their restaurants. 
The many benefits of restaurant-owned online ordering platforms and apps include better audience reach, enhanced customer experience, targeted customer offers, and hassle-free order management. This is one such restaurant industry trend that will enable restaurants to stay closely connected with their customers.
5. Marketing Automation

 
In the restaurant industry, marketing has become automated, analytical, and more data-driven. With these platforms, targeting potential customers is no longer based on intuition alone but can be supported with data. 
While running targeted marketing campaigns through email, SMS, website, and social media channels might seem overwhelming, these platforms automate the data from these channels and help restaurateurs to improve the customer experience.  Integrating restaurant marketing platforms such as restaurant CRM software that consolidate customer data from all platforms can provide invaluable insights that can be utilized to develop customer-centric loyalty programs. 
6. Complete Restaurant Management Software(POS system)
Cloud POS solutions have transformed restaurant operations across the industry. The latest cloud POS systems are not just limited to billing functions but have integrated multiple modules such as inventory management, CRM, kitchen management, supply chain, online ordering platforms, guest-facing technology, etc into a single platform.
With just a single click, restaurant operators can view a variety of reports and track all the highs and lows of their business, thus making this an evergreen trend in the restaurant business. 
The need of the hour in the restaurant industry is to invest wisely in cost-effective solutions. Technology and automation is one aspect that will reap the most benefits for businesses and restaurant operators cannot afford to miss this moving forward. Look out for these restaurant technology trends and transform your business like never before!