According to NRAI Food and Services Report 2019, the food and beverage industry is expected to grow at a rate of 10% annually, and the online food delivery and the takeaway market is forecasted to grow at a CAGR of 15.25 percent till 2021. Identifying the opportunity, Swiggy, and Zomato decided to expand their business to smaller cities. 
This is also thought of as a comeback into the game for both Swiggy and Zomato after the losses that they incurred in the last financial year. Since both the players faced major losses, and were expected to cut down their discounts because of the same, it is highly beneficiary that they are expanding their business to capitalize on the market of small cities.
The Smaller Cities To Get Online Food Delivery Benefits
In 2019 alone, Swiggy and Zomato have started operations in 185 and 300 towns and cities, respectively. These cities contribute to 15% of Swiggy's business whereas the newer members (cities) of the Zomato family make up to 40% of the total business. 
Since there is a huge gap between the way 'eating out' scenario in metropolitan and tier-II/Tier-III cities, there is an urgent need for the change to happen. While there is a huge demand for on-demand food delivery in the cities, there also is a need to create job opportunities. It is expected that the business expansion of both these online food aggregators would contribute to filling the gaps.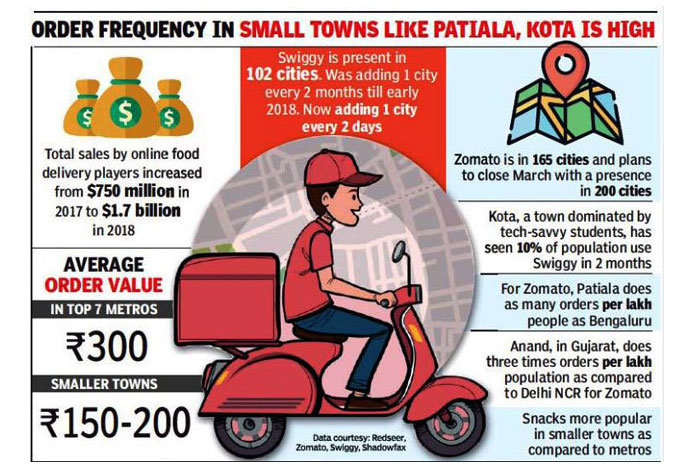 The expansion might also lead to the proliferation of restaurants in smaller cities. "Emerging cities are a major growth avenue for us and we expect them to constitute more than 50% of our total order volume by the end of the year," said Deepinder Goyal, the CEO of Zomato. "We are developing Zomato Kitchen (cloud kitchen) hubs in smaller cities in India to drive growth for our restaurant partners." 
The Business Approach 
The two-step approach that Swiggy is expected to follow includes collaborating with restaurants and training them at first, after which it focuses on increasing the reach of the restaurant. Extensive training of the restaurant staff would be required to fill the status gap between metropolitan and tier-II/tier-III cities. 
"In smaller towns, the biggest issue is that there are limited restaurants which mean lesser supply," said the founder of a restaurant partner, requesting anonymity. "So, what platforms like Swiggy do in small towns and cities is that they partner with local brands, exclusively through Swiggy Access, which provides 10-12 kitchens a cooking space under one roof."
Collaborating with different restaurant kitchens and providing them co-working spaces actually cuts down on rental costs and food delivery costs to a marginal level. Zomato, on the other hand, is quite hopeful about generating new orders in newer cities. 
Given the pace of growth, "we expect these (new) cities to constitute more than half of the order volume by the end of the year", said Mohit Gupta, chief executive of food delivery at Zomato. The loyalty programs of Swiggy, called Super Swiggy is still intact in tier-II and tier III cities, focusing on attracting newer people onboard. 
The kind of discounts offered by Swiggy and Zomato in these smaller cities are also likely to go down, as the average order is already lesser than it is in metropolitan cities. It would be interesting to see how they cope up with the issue. "Discounts are merely a mechanism to encourage user participation and cannot explain the phenomenal demand we have witnessed in these cities," added Zomato's Gupta.
The Problems That Come With It 
There are a couple of problems that are expected to follow the changing trend of penetrating into smaller cities. There is a cultural difference between metropolitan cities and smaller ones. People are still not in favor of ordering food online in smaller cities. It is even considered a taboo in some households.  
Apart from the cultural differences, there are some status and operations differences, if we talk about the restaurant space. The disposable income of people residing in smaller cities is not as high as compared to metropolitans. This might lead to them spending lesser on ordering in. Even with all these differences, there is a huge scope of growth opportunities in smaller cities. 
"But, in smaller towns, the average order value could be 20-30% lower when compared with metros. So, if they are making less money with the same logistics and customer acquisition costs, I am not sure how sustainable this can be", said an investor tracking the online food delivery space, requesting anonymity. 
Even though disposable income is low, the demand for online food ordering is steadily increasing. It is expected to have a positive impact on smaller cities and the food and beverage sector as the scope of the industry is growing.