The F&B industry in Singapore is expanding and evolving, like never before. DBS Asian Insights Reports states that Singapore's F&B foodservice market is worth about S$8.3bn and is expected to grow by a 2.1% CAGR up to 2023. The restaurant space has witnessed a steady rise in the total number of restaurants. More restaurants are now adopting different technological inventions to boost efficiency and streamline food ordering for consumers. Utilizing technology innovations in the restaurant space provides restaurants with an edge in terms of better connectivity between the organization and consumers. From fully automated kitchen to multifunctional vending machines, in the year 2020, the restaurant industry in Singapore will continue to adopt powerful technological innovations that will automate the restaurant operations and entice customers.
Singapore Restaurant Technology Trends To Look Forward To 2020
When it comes to adopting technology, Singapore's restaurant industry will aim to provide a hassle-free experience to the customers and disrupt the market. Here's a list of top restaurant technology trends in the F&B industry in Singapore. 
1. Robots
Singapore is a leader in the robotics game. Singapore boasts one of the highest robot-to-human-worker densities in the world. In the year 2020, robots will automate kitchen operations or take orders from customers. Observing the paradigm shift towards introducing robots in the restaurants, a Singaporean food tech company launched Singapore's first robotics concept restaurant, Hawkee, where robots are programmed and trained to cook and take orders from the customers. Organizations and businesses are also working towards developing robots that use facial recognition technology to offer customers a personalized experience. Robotic technology in the restaurant space fastens the order management, results in less food wastage and better food handling procedures. 
2. Self Service Terminals
First deployed by McDonald's and the Golden Village Cinemas in Singapore, self-service kiosks or terminals have gained momentum in the Singapore F&B restaurant space. Large chain restaurants and franchisees have been swift in adopting self-service terminals in their restaurants, and this trend will continue to evolve in the upcoming years. Self-service kiosks are incredibly useful in boosting the customer experience and accelerating the ordering procedures even during rush hours. For customers, kiosks or self-service terminals provide a personalized and hassle-free experience. Moreover, for restaurants facing labor shortage and rush during peak hours, kiosks reduce the scope of order mismanagement to a great extent.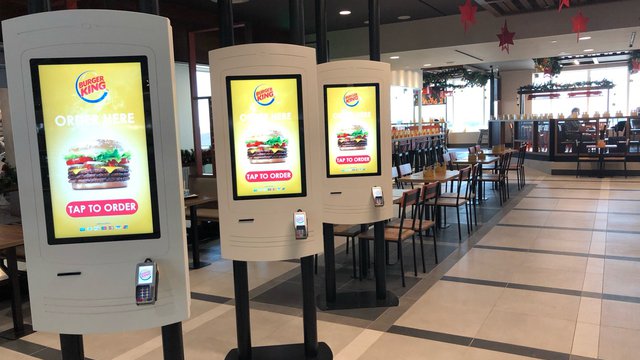 3. Vending Machines
Vending machines have been in existence for a long time. However, today the vending machines in Singapore are no longer simply metal boxes dispensing packaged food packets and drinks. House Of Seafood, a Seafood Restaurant in Singapore, has introduced the country's first ready-to-eat crabs vending machine! The machine dispenses fresh ready-to-eat meals that are served hot, including chilled packets that can be stored for later use. With these unique vending machines in Singapore, customers can avail of a variety of culinary delights in a matter of minutes. 
Vending machine in Singapore
4. Pre-Order Apps
Restaurant operators in Singapore have to bear the loss of many potential customers due to the problem of long queues at lunchtime. To tackle this problem, many restaurants are either developing their own apps or integrating with pre-order food apps. Itacho Sushi, a Singaporean restaurant, has developed an app that lets customers place an order before entry. Pre-ordering apps like Waitrr reduces wait time by allowing customers to pre-order the food, pay for it, and also choose between dine-in or takeaway options. This will also help restaurateurs never miss out on their potential customers.
5. Voice Technology
Voice technology has existed for almost a decade, with many businesses utilizing it's potential and benefiting from it. Many restaurants in Singapore will likely make use of this technology that streamlines different functions of order management. Implementing Voice assistance provides easy navigation to customers. With voice-enabled features in the restaurant owned app or website, customers can place orders with better accuracy. 
6. POS systems
The push for better and efficient technology adoption comes as F&B services contribute majorly to Singapore's economy. Considering the lucrative competition in the restaurant business, it is imperative for restaurant operators in Singapore to implement new-age technologies. Robust POS systems facilitate the entire restaurant operations including smart order management, inventory control, customer data integration, with a single click. 
Cloud POS systems greatly help in cutting down operational costs and improve the profitability quotient of a restaurant. Also, considering the shortage of skilled restaurant staff in the Singapore F&B space, POS will also significantly reduce the dependency on the workforce.
As technology continues to advance with every year in the Singapore restaurant industry, businesses will benefit from improved operational efficiencies, and deliver a seamless dining experience to customers. Implement these technological inventions in your restaurant and gain a competitive edge over your competitors!