Singapore's restaurant industry is witnessing a steady rise in the total number of restaurants and is expected to grow by 2.1 percent CAGR by 2023. Customer experience is likely to remain the most prominent growth factor in making a restaurant business successful. Therefore a robust restaurant ordering system in Singapore is the need of the hour and an incredibly important part in prospering the restaurant business. As the foodservice space is expanding and customer preferences are evolving, adopting tech innovations would streamline order taking and create a hassle-free experience for both customers and employees. 
Restaurant Ordering Automation: The Key To A Great Customer Experience
An integrated system  capable of providing complete order management can streamlines orders coming in from the following channels;
Restaurant premises

Third-Party Aggregators

Restaurant Website/ Mobile App
A POS-based smart restaurant ordering system merges orders from multiple platforms whilst ensuring efficiency and speedy delivery. Let us discuss how restaurants in Singapore can offer an exceptional customer experience with a centralized restaurant ordering system.
1. Optimizes Order Taking Management
A Robust POS system facilitates order management by integrating all in-premise orders, takeaway, and delivery orders on a single system. Being an entirely automated solution, it decreases the chance of manual errors and optimizes the overall table turnover time. 
For taking the orders on-premise, the user-friendly interface of the restaurant POS allows the staff to access the entire menu along with the table numbers. This helps them to generate instantaneous KOT eliminating delays or confusion. Orders taken on mobile or tablets reflect directly in the system and integrate easily with orders received from other ordering platforms.
2. Increases The Order Efficiency
As a centralized ordering system integrates orders from different platforms, it allows restaurant operators to view the most preferred items which in turn helps them in making informed decisions about the restaurant's performance, setting offers, replenishing stock, etc. The CRM data integrated into the POS also assist restaurant staff in upselling and cross-selling items to the customers. Based on orders received from different platforms, restaurateurs can run loyalty programs, set customized offers, and send personalized discounts to retain more customers. 
3. Offers Hassle-Free Experience With KDS and Kiosks
Kitchen Display Systems enable better kitchen management by reducing the ticket time significantly and leaves no scope for manual errors. An integration of KDS with POS software streamlines order management. On-premise orders, orders from the website/mobile app or third-party aggregators are pushed directly into the kitchen. This speeds up the order delivery cycle significantly.
The trend of implementing Self-service terminals or kiosks was first introduced by McDonald's and Golden Village Cinemas in Singapore and will continue to gain momentum in the Singaporean Foodservice market. Self-service terminals or kiosks offer personalized customer experience and accelerate order taking particularly during rush hours. The orders placed by customers on self-service terminals integrate with the POS system on a central level, thus providing a holistic view to the restaurant operators about sales performance.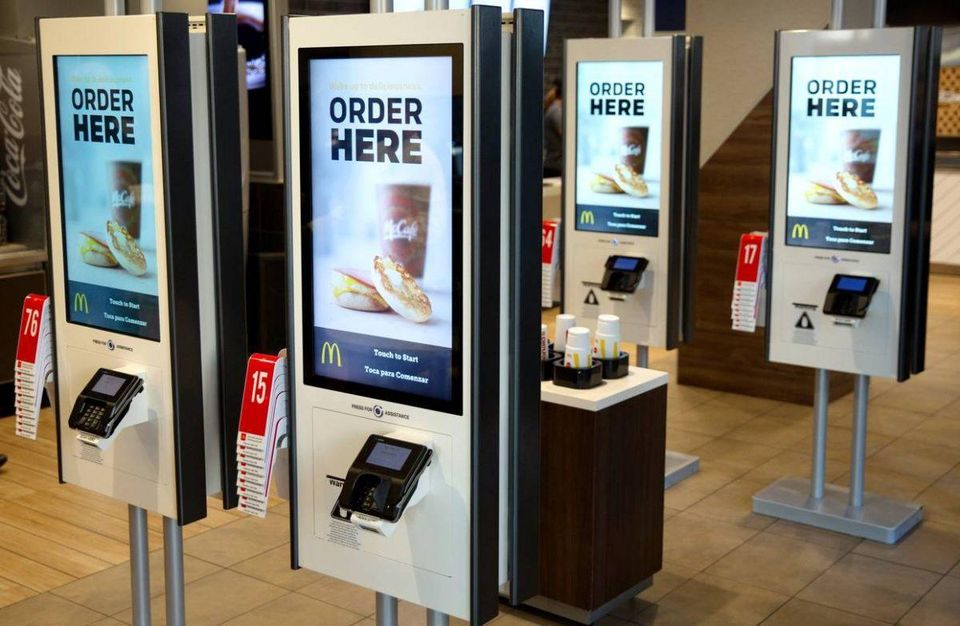 4. Integrates With Online Delivery Platforms
With a growing demand for online food services, integrating with Singapore's online delivery platforms such as Deliveroo, Ubereats, FoodPanda, What to eat delivery and Food Matters is a must for every restaurateur. Integration with third-party platforms requires no hassle of consolidating the data manually or working on multiple screens. All the orders received from third-party platforms integrate directly into the POS systems. Thus it helps in maintaining a proper record of all the orders whilst eliminating the need to add order details manually. 
5. Accepts Orders From Restaurant Owned Website/Mobile App
A robust restaurant ordering system integrates all the orders received from all channels including website/mobile and reflects real-time orders in the POS. Collecting the order information from online mediums gives insightful information to restaurant operators such as most ordered items, the preferred mode of payment, most preferred ordering platform, etc. Any changes made on the central menu reflect automatically on the restaurant's website and mobile apps as well. 
6. Retains Customers
Customer experience is vital to the long term success of a restaurant. With a smart restaurant ordering system, retaining customers is reasonably straightforward. A centralized CRM collects customer information via third party platforms, pre-order apps, website/mobile apps, feedback forms, and helps restaurant operators in creating customized offers and running loyalty programs to retain them. 
As an integral contributor factor to overall business growth, a restaurant ordering system bolsters profits and helps restaurants deliver exceptional customer service. Backed by powerful POS software, a restaurant ordering system will streamline the entire order taking mechanism of your restaurant and ensure that your customers always have a great ordering experience, whether dining-in or ordering online!